Top 10 Things to do in Porto, Portugal
If you're looking for a new vacation spot that's still flying under the radar, look no further than Portugal! A lot of people haven't caught on to just how amazing Portugal is.
Visiting Porto is one of the best things to do in Portugal!
As you know, we've traveled around to much of Europe, and it takes a bit to surprise us. Porto surprised us in a great way!
We got an experience that was much better than we expected, and we would happily return. I normally don't want to return anywhere! It's clear that Portugal has something special.
Located right on the coast, Portugal has beautiful beaches, gorgeous and unique architecture, friendly people, and affordable accommodations.
Many people know to visit Lisbon or the Azores (we just recently finished the Azores and loved those islands – check out the top 10 things to do in the Azores). Porto, though, Porto is a destination that doesn't get visited or mentioned enough. An absolutely stunning city, Porto is a mix of classic European with gorgeous Atlantic Ocean beaches. And I'm talking real beach climate, beaches you can actually lounge on.
Porto is the second biggest city in Portugal. The metro area has just over 2 million people. There's great public transportation (much cheaper than other cities, too).
It features one of the oldest European city centers. Port win is the source of the city's name. "Porto wine" is still one of the city's most important exports. With a name like that, how could Porto not be a party?!
Porto Attractions: Top 10 Things to do in Porto
Port wine isn't the only attraction in Porto. We've got a great list of the top 10 things to check out while sightseeing Porto.
1. Cais da Ribeira
Cais da Ribeira is one of the most famous areas in Porto. Because of its fame, there are a lot of tourists, but it's still not overrun. Cais da Ribeira is right on the Douro River. Colorful buildings line the promenade – bars, cafes, views of the Dom Luis Bridge.
There are locals and tourists alike as Cais da Ribeira is the old city district, the center of the action and the perfect place for a stroll. You can just take in the views, enjoy great food, or even hop on a Douro River Cruise.
2. Dom Luis Bridge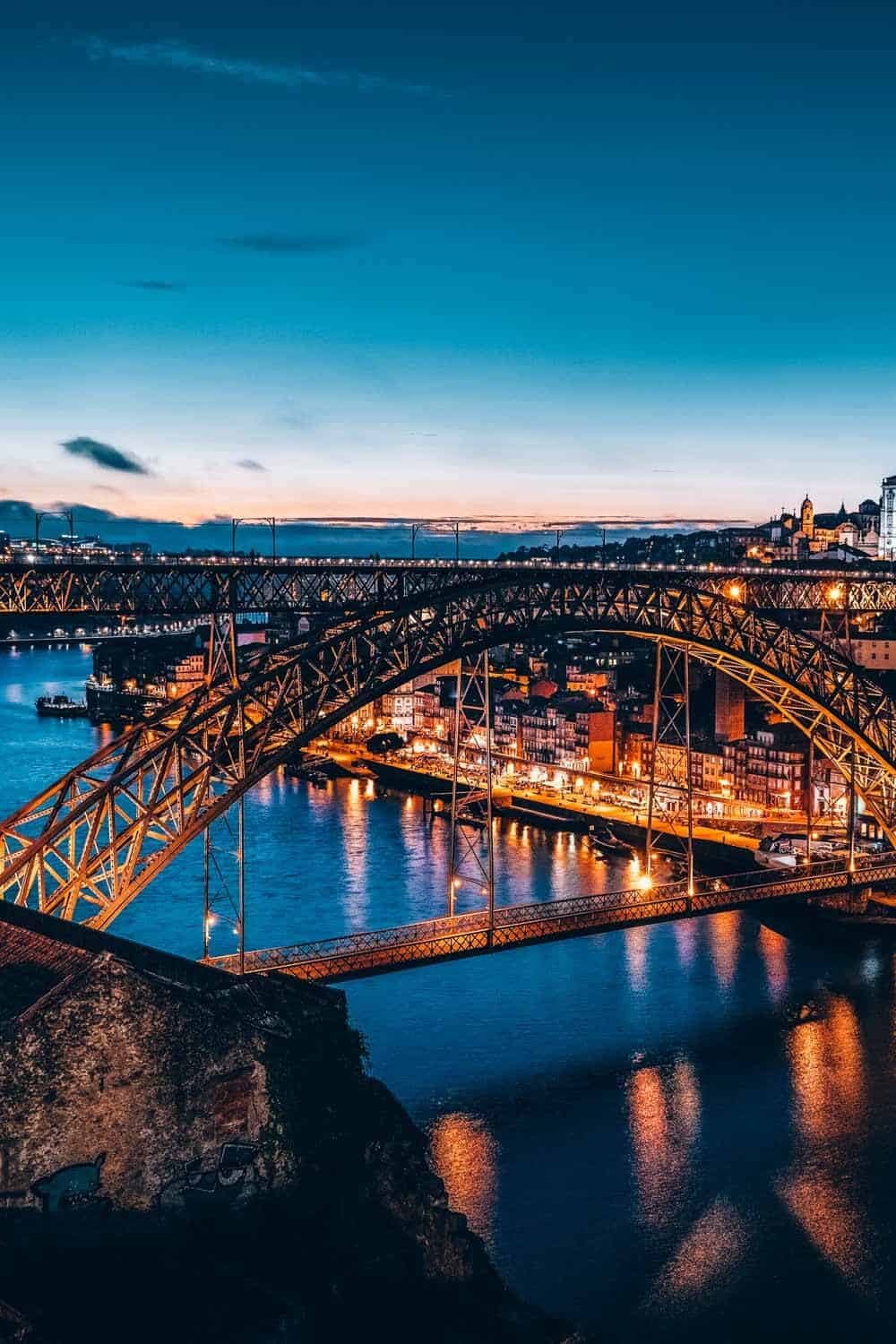 45 meters (147-ish feet) tall, this bridge is a cool sight to see. A student of Alexandre-Gustave Eiffel, creator of the Eiffel Tower, designed the bridge, and workers finished construction in 1886. You'll notice similar architectural design between the two structures.
The bridge is two stories! That means trains run across the top, and cars run across the bottom. Pedestrians can also walk across the bridge. In fact, the Dom Luis Bridge is a great place to take pictures of Cais da Ribeira. We took some of our best shots on that bridge.
3. Porto Cathedral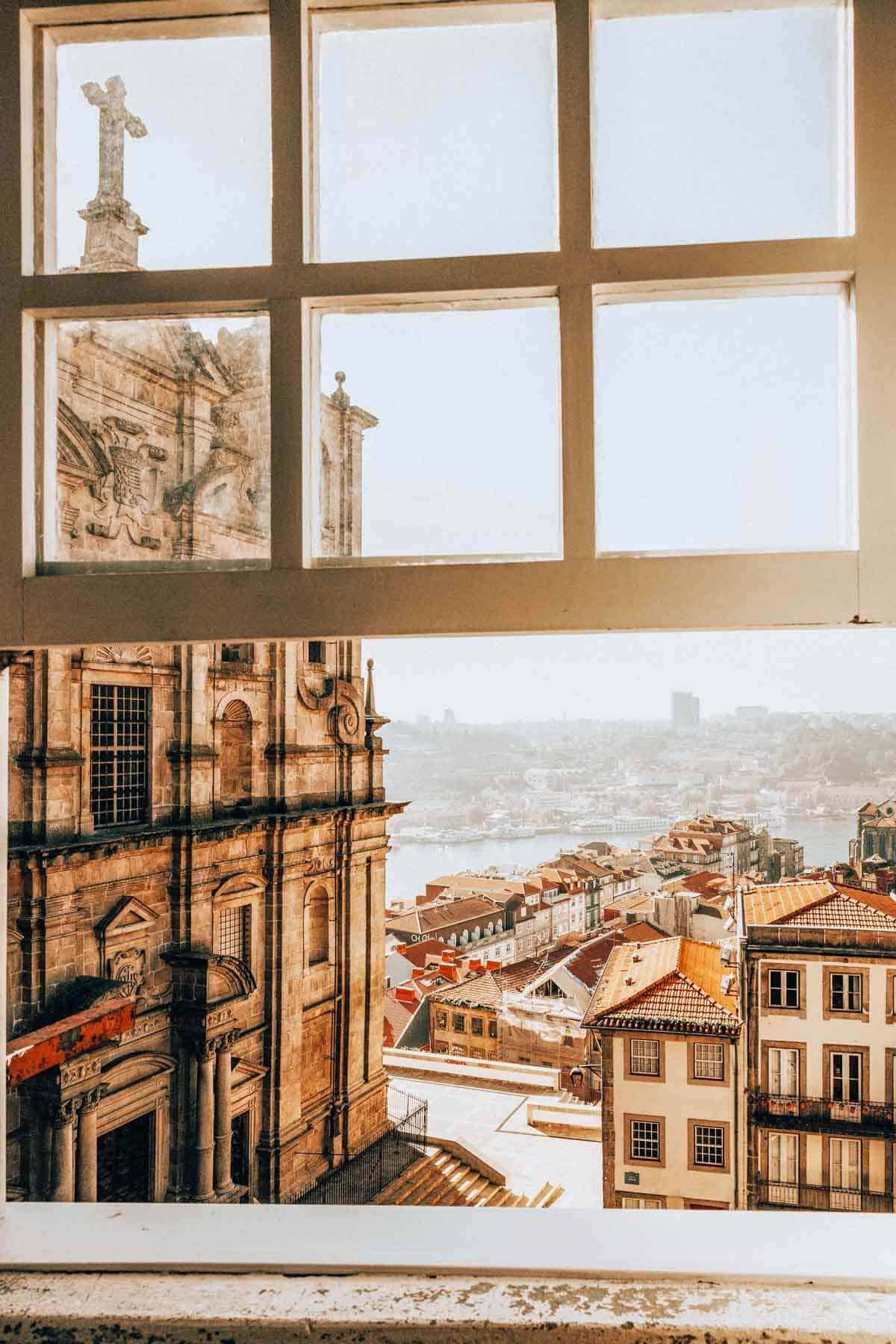 Porto Cathedral is a 12th-century cathedral that sits on a gorgeous hilltop. Standing high above the rest, its gothic architecture and extremely intricate details make it a difficult building to overlook. The price of admission is worth it, but even if you're not a cathedral person, you have to at least peruse the grounds. There are great views of the rest of the city, the bridge, and the river. You really can't miss this on your trip!
4. Estacao de Sao Bento
Estacao de Sao Bento is a fascinating railway station. Yes, a train station can be an attraction rather than just a means of transportation (just think of Grand Central Station or Kings Cross)! This train station is famous for the intricate tile artwork on the walls. There are more than 20,000 blue and white painted tiles. The mosaics are jaw dropping pieces of art. There are decorated tiles all over the city, but Estacao de Sao Bento is an awesome free example. It's also a functional train station, so there's plenty of action.
5. Porto Beach (es)
Did I mention there are amazing beaches? Full disclosure: Don't expect the clear, turquoise waters you can find in the Mediterranean. Turquoise water isn't everything, though. Porto beaches tick the boxes in all other aspects. There's nice sand, crashing waves, and perfectly relaxing environments.
I think the best beaches are in the Foz neighborhood. They are close to the city center, so you don't have to go far, and they're easily accessible by public transportation. Ingress, Carneiro, and Luz are worth a visit, just to name a few.
6. Livraria Lello and Irmao
Livraria Lello & Irmao is a stunning library and bookstore. People also call it Lello bookstore. If a library seems like a weird attraction to you, just trust me. I've never seen a bookstore that's so beautiful.
It was a big inspiration to JK Rowling while she was living in Porto and writing Harry Potter. Because of this, and it's general beauty, Livraria Lello is extremely popular. The entrance fee is 3 Euro, and expect a line. I'm a huge Harry Potter fan, so I was totally cool with the wait, but get there early and don't plan on getting pictures of it empty.
7. Clerigos Tower
The Clerigos Tower "towers" over Porto. This is another place to catch amazing views and see unique architecture. Built in 1750, the tower follows baroque architecture. It quickly became a symbol of the city. You can easily access it by public transportation, pay 3 Euros to climb the stairs, and take in endless views of the whole city.
8. Mares Swimming Pool
This is a great find! Mares Swimming Pool is built into rocks that are along the ocean shore. A truly unique setting, it's a contained seawater pool separate but literally right on the beach of Lea da Palmeira. It's a great place to escape the heat and feel the salty seawater spray as it crashes, but…experience it in a safer setting. It's perfect if you're traveling with kids. Before you go, check the opening schedule. Unfortunately, it was closed when we were there, so we missed it but heard such great things.
9. Porto Wine
As the city's namesake, there are, predictably, plenty of port wine cellars around Porto. Since I'm not a drinker, wine cellars aren't our thing, but for most travelers, this is a must. There are ample opportunities to sample port wine, visit wine cellar tours, attend sampling tours. From the reviews, we've heard that it's hard to go wrong with the tour choices. Most of the many tours in the city are great. The most famous cellars are probably Caves Ferreira and Caves Calem.
10. Chapel of Souls Porto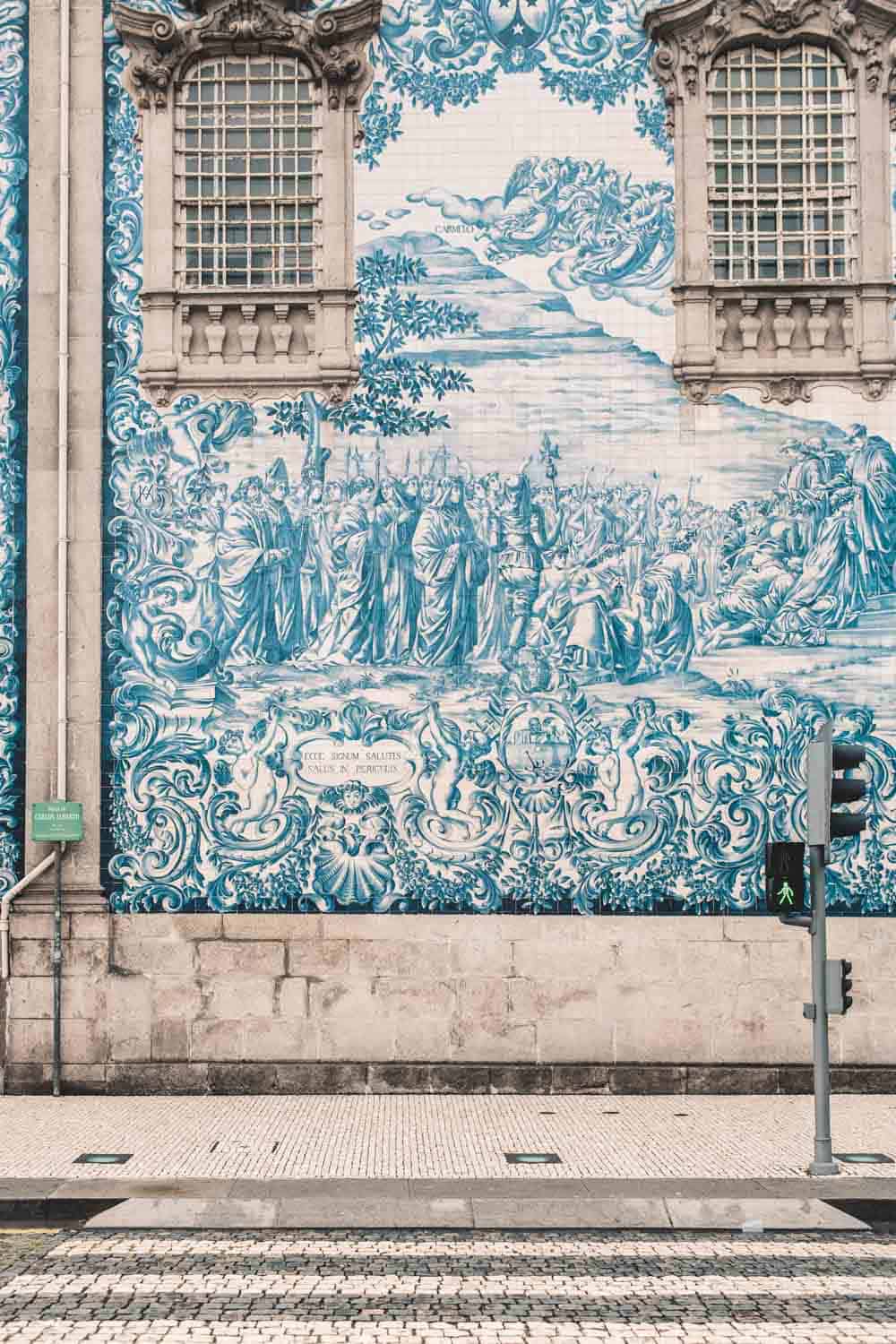 Estacao de Sao Bento is decorated with tiles on the inside…Chapel of Souls is decorated with tiles on the outside. Porto is known for decorating the outside of buildings with tiles. You see tons of it, everywhere. Some of the best tile mosaics are hand painted on the sides of churches.
One of the most amazing examples is on the side of the Chapel of Souls, also known as Capelas das Almas. The mosaic expertly portrays the drama of the life and death of saints.
These 10 attractions are really just a small peek at the gem that is Portugal. If it's not already on your list, add it!