There are two national parks in Alberta Canada that you can't avoid on Pinterest and Instagram. Even if you don't know them by name, I guarantee you would recognize the iconic shots that almost look too beautiful to be real. They aren't fake, Banff and Jasper National Parks really are that gorgeous.
Getting from Calgary to Banff or Edmonton to Jasper – Planning an Alberta National Parks Visit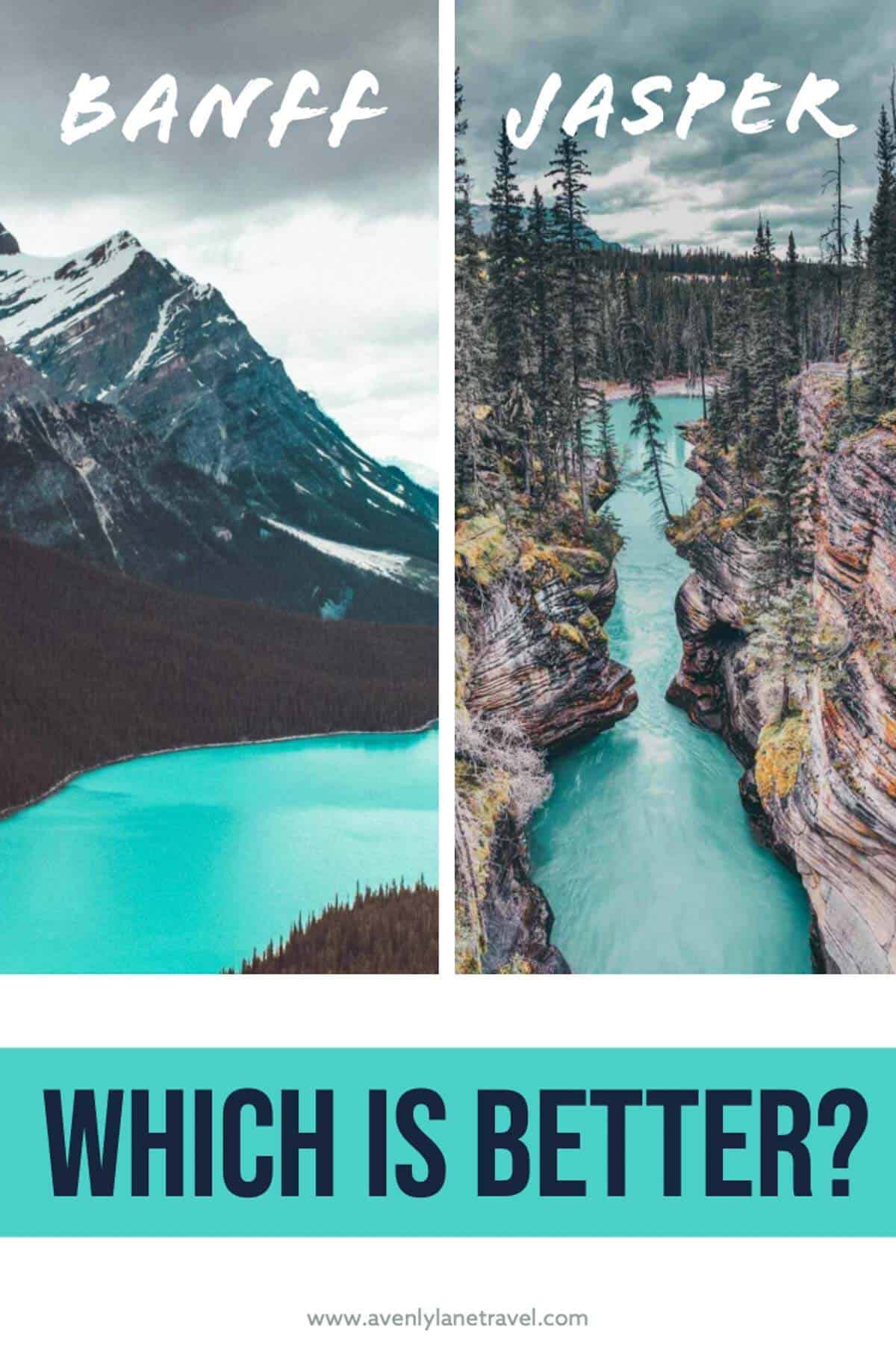 Both parks feature absolutely gorgeous mountain vistas, brilliant lakes of turquoise water, glaciers, and exhilarating hikes. Like a Jasper itinerary, a Banff itinerary includes each of those attractions.
So which park should you go to? The short answer is that you should visit both! If time doesn't allow and you have to choose one, knowing a little bit more about each can help you decide.
Traveling from Banff to Jasper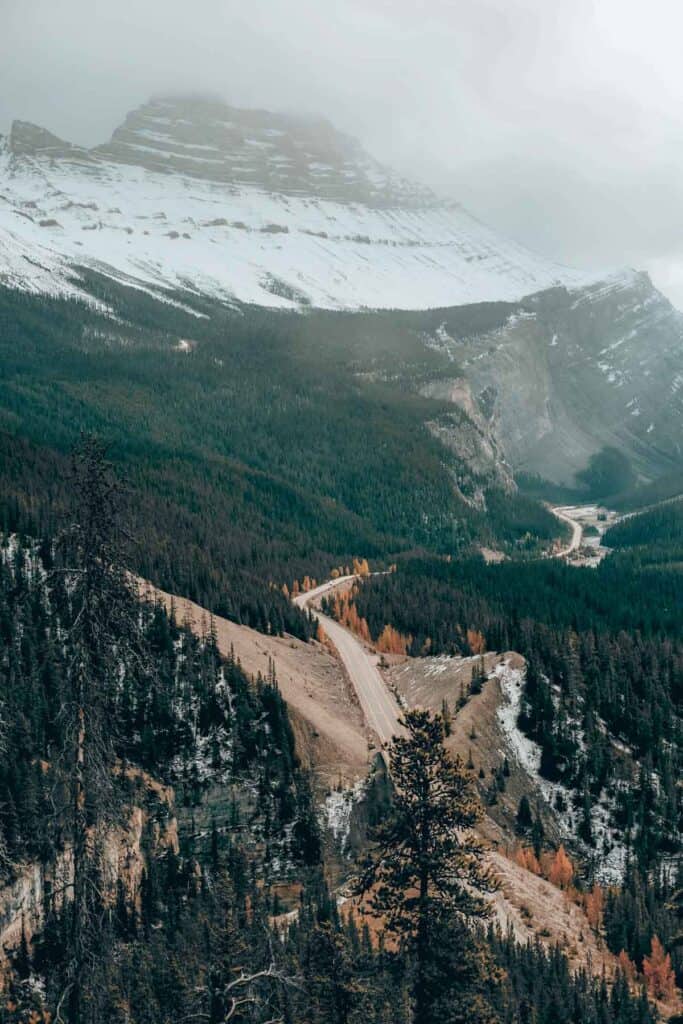 The good news is that Banff to Jasper is only a 3 and ½ hour drive, so seeing both is doable!
Also, the drive from Jasper to Banff is along the world famous Icefields Parkway. This means that doing the drive from Jasper to Banff is an awesome attraction by itself.
Traveling from Calgary to Banff
Banff National Park is the park that seems to get more attention. Traveling Calgary to Banff is only a 1 hour and 20-minute drive, while a drive from Edmonton to Banff is about 5 hours. More often people who want to visit Jasper, will leave from Edmonton (only a 3 hours drive).
With Banff being closer to the big city, it gets more crowded. Many people will take a day trip from Calgary to enjoy Banff.
Banff Itinerary
Any top Banff itinerary includes Lake Louise, Johnston Canyon, Banff Upper Hot Springs, Peyto Lake, and the Banff Gondola.
Edmonton to Jasper
The other big city in Alberta (besides Calgary) is Edmonton. Even though Edmonton isn't as big as Calgary, there are still a good amount of flights that go in there, and can still be a great place to start your trip from. From Edmonton the drive to Jasper takes about 3 hours 10 minutes.
A benefit of the drive being longer that the Calgary to Banff drive is that less people head to Jasper for day trips. This ultimately translates into the Jasper attractions being less crowded.
Jasper Itinerary – What you can't miss in Jasper National Park
Any top Jasper itinerary must include Athabasca Glacier, Maligne Canyon, Jasper Skywalk, Valley of the Five Lakes, Jasper SkyTram, Miette Hot Springs, and Sunwapta Falls.
Related Article: Is Sunwapta Falls the Best Waterfall in Jasper?
Cost of Visiting Banff and Jasper National Parks
Thankfully the cost of admission to these national parks is the same, and by paying for one you get the ability to see the other. The cost is $9.80 per day, with discounts available for children and seniors. Given that most of the other attractions in the parks are free, the cost of admission goes a long way.
If you have more time and want to avoid the crowds and explore more, then I would recommend Jasper. Even though you hear more about Banff, Jasper has similar attractions.
Want to see a Banff Glacier or a Jasper Glacier?
Another benefit of Jasper over Banff is that it is closer to the glaciers on Icefields Parkway. It is a lot easier to see a Japer glacier than it is to see a Banff glacier, as many of the ones near Banff require hikes, or will not allow you to climb on and actually explore the glacier.
My favorite is Angel Glacier at Mount Edith Cavell. This popular hike is short, and takes you right up to the site of a glacier coming down the face of Mount Edith Cavell. It is also pretty close to the town of Jasper.
Angel Glacer at Mount Edith Cavell
So Which Park is Better?
Once again, the answer is to visit both! If you have to choose between them what I would recommend depends on how much time you have. If you have to rush it and can only spend a day, then given its proximity to Calgary Banff is better for a day trip.
Hiking is great, but if you want to get up close and actually take a tour of a glacier then you need to drive up to the Columbia Icefields Centre, which is closer to Jasper. At the Columbia Icefields Centre you can pay for a glacier tour where you will actually be driven onto the glacier in a "snowcoach".
Conclusion
You really can't go wrong with either park, but in my experience people that go more often, and when I go back Jasper is worth the extra drive time. Do you agree?
MORE ALBERTA CANADA BLOG POSTS
My husband is from Alberta and totally has me drinking the Canadian Kool-Aid! I love everything from the mountains to the gorgeous turquoise lakes. These are my most popular blog posts and guides from Alberta to help you plan your trip.
Places you Can't Miss in Alberta: 10 Amazing Places to Visit in Alberta, Canada
Best Places to See in Jasper: Top 10 Things to do in Jasper National Park
The Best Waterfall in Jasper: Sunwapta Falls Travel Guide
Guide to Visiting the Columbia Icefield Skywalk: Why you Should Visit the Columbia Icefield Skywalk
Guide to visiting the Miette Hot Springs in Jasper: Relax in the Jasper Hot Springs
Check out the most Most Underrated of All Jasper Attractions: Mount Edith Cavell (My favorite place in Jasper)
The Best Hike In Banff Alberta Canada: Johnston Canyon Hike