In the west Russia often has a scary reputation. If I didn't know better, I would think that Russia is a country that Americans are literally banned from. This is definitely not the case as thousands and thousands of Americans visit Russia. Not only do Americans routinely visit Russia, but they are almost always greeted warmly by the locals.
The visa to enter Russia is a colossal pain, but do not let this deter you! With proper help you can make the process much easier. Any real trip to Russia must include a trip to Saint Petersburg. Though it sometimes take a back seat to Moscow, Saint Petersburg is the historical center of the Russian empire.
The "Venice of the North"
Saint Petersburg is the second biggest city in Russia and home to about 5 million people. Previously, the city had a couple of different names. It was named Petrograd in WWI and then it got renamed Leningrad after the communist hero Vladimir Lenin.
St. Petersburg was previously the center of Russian culture. The culture emanating from Saint Petersburg was so influential around the world that it earned the nickname the "Venice of the North." Another largely unknown fact in the west that contributed to the name is that Saint Petersburg is also built along miles and miles of canals.
Even though its influence waned after the city was devastated during WWII, if you visit today you can still see why it earned the nickname. There is enough art, architecture, and history to fill months worth of travel.
25 Amazing Things to do in St. Petersburg Russia
All too often people get scared and don't visit Russia. Don't let the politics or the harsh winters scare you away. Read on to see just a few reasons why you should book your next trip to Saint Petersburg Russia.
1. Savior on the Spilled Blood
This Russian Orthodox church is so popular that it functions as a church as well as a museum. Its intense name references the assassination of Emperor Alexander II.
The church was built on the exact spot that the Emperor was assassinated. They were so committed to this idea that they narrowed the canal so that the exact section of road he had been assassinated on could be incorporated into the actual church.
Want to learn more of this riveting history? Book your audio tour here – Church of the Savior on Blood Audio Tour
2. Vitebsk railway station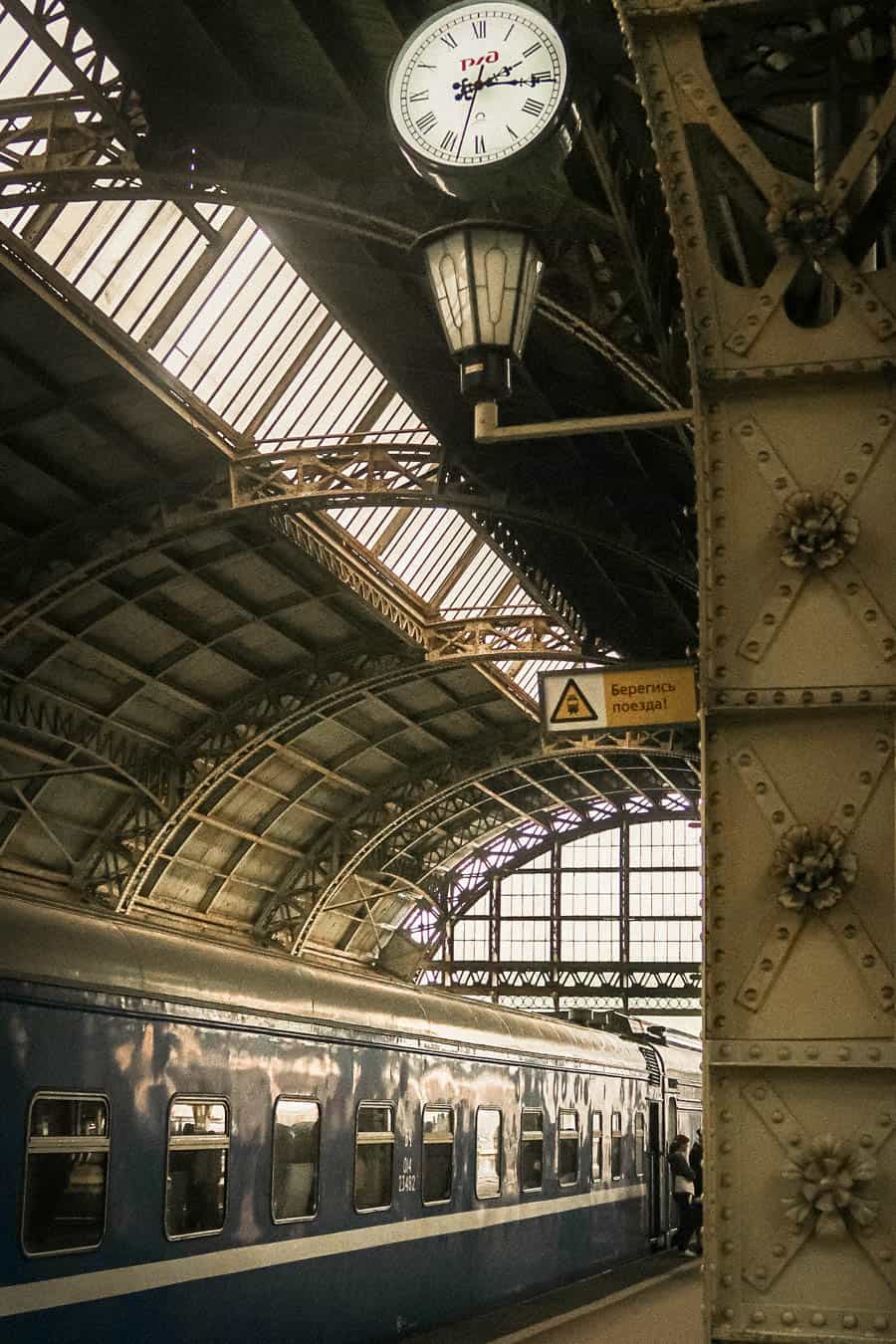 Are you a railfan? I've learned that train lovers and art fans each go nuts over this train station. This is the oldest train station in all of Russia. Its first passenger in 1837 was Tsar Nicholas I. Its Art Nouveau interior attracts art loves from around the globe as well.
3. Peterhof Palace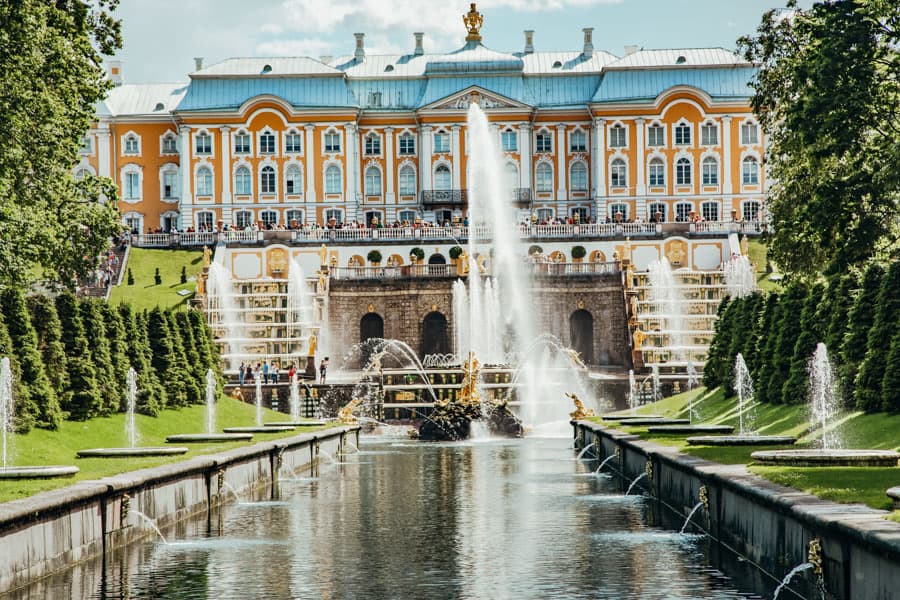 You may immediately see the allure of this incredibly palace and accompanying gardens. What makes it even more interesting is that Peter the Great commissioned it to try and outdo the Palace of Versaille. The result is absolutely stunning. If only all rivalries resulted in gorgeous UNESCO heritage sites.
4. Swan Lake Ballet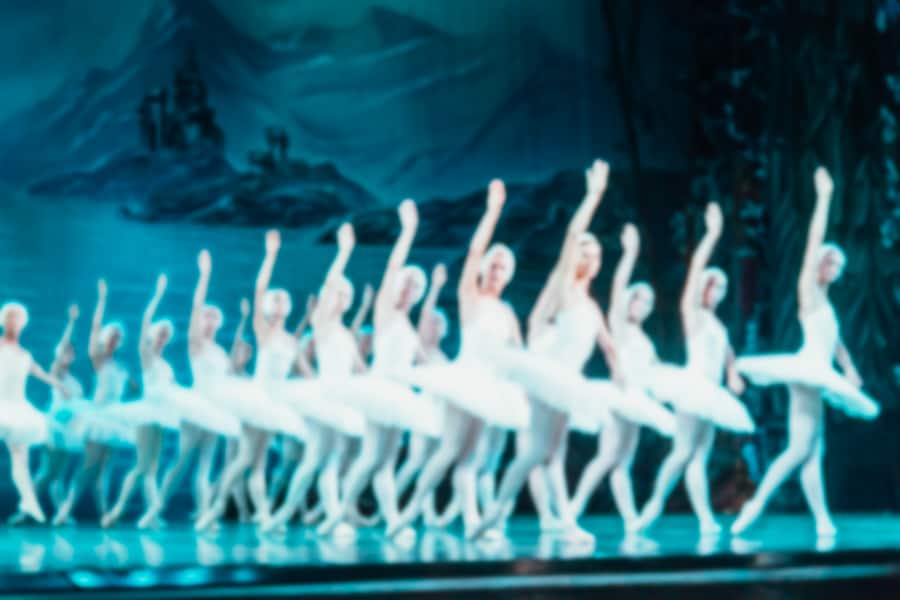 Swan Lake is one of the most famous ballets in the world. It was composed by the Russian composer Pyotr Tchaikovsky. There is no better place to take in its beauty than in one of the theaters in Saint Petersburg.
Given its enduring popularity you won't have any problem finding a showing, though you need to make sure you book ahead of time.
Enjoy skip-the-line tickets here that you can have delivered directly to your hotel – Swan Lake Ballet Admission Ticket

5. Visit the Church of the Nativity of St. John the Baptist (Chesme Church)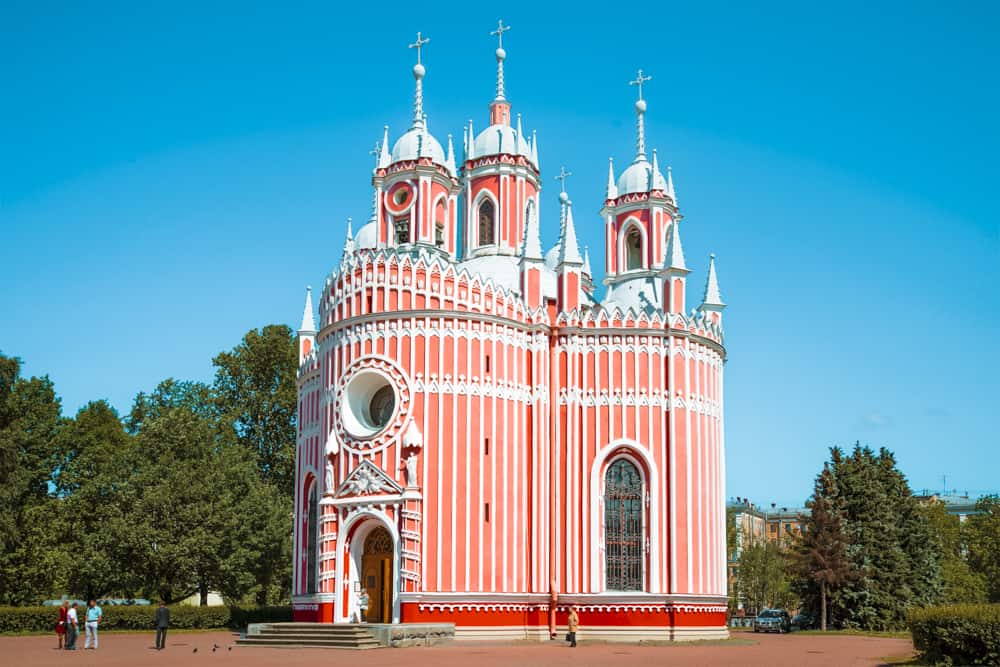 I'm usually not one to run around gawking at the intricate designs of churches. But come on, could this church look any cooler?! Maybe I'm just a sucker for anything pink? This gothic revival style church is located in southern St. Petersburg.
6. Take a Kayak tour / boat tour around Saint Petersburg top attractions
Want to see the Church of the Savior on Spilled Blood? One option available is sailing along the Griboyedov Canal allowing you to go in front of the church.
This isn't the only place you can go by boat. St. Petersburg has tons of canals. In fact, there are over 100 miles of canals flowing through St. Petersburg. Taking a boat tour along these canals will allow you to see almost all of the best sites in the city.
Want to see all the hot spots without having to wear out your shoes? Book your tour – Morning Kayak Tour in the Historic Center
7. Catherine Park and Palace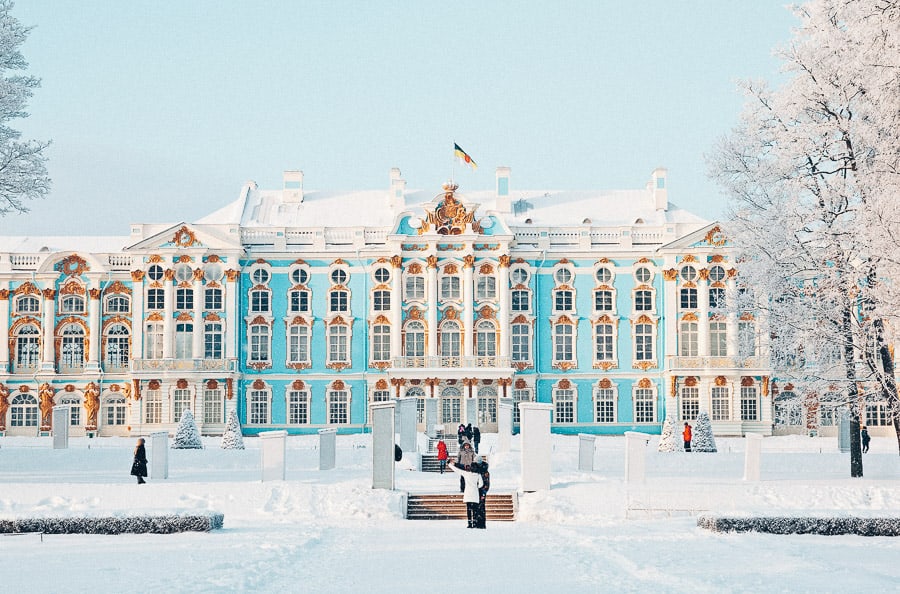 This is yet another World Heritage Site. Peter the Great gave this estate to his wife Catherine I. Though Nazi's destroyed most of the palace in WWII, it's been restored to its former glory and is an amazing site.
The palace and grounds are especially alluring in the winter.
8. Grand Maket Rossiya
Look closely! You aren't actually looking at a harbor, but part of an enormous model of the Russian Federation. This 1:87 scale model is located inside of the Grand Maket Rossiya. It is one of the biggest and most detailed models in the world.
This museum is incredibly popular to get an overview of variosu parts of the Russian Federation. Buy your tickets in advance here.
9. Saint Petersburg Mosque
Thankfully this gorgeous mosque survived the ban on religious services under communism. Soviet leaders forced the religion out and used the mosque as a medical supply storehouse. Thank goodness they didn't tear it down, and thank goodness it has now been restored to proper religious authorities.
10. Avoto Metro Station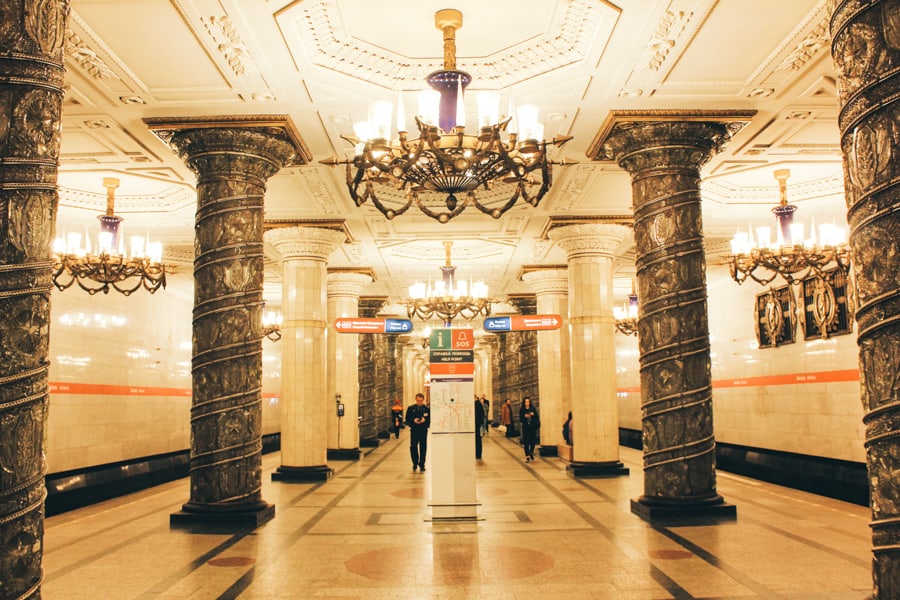 The Avtovo Metro Station is like many others in Russia, meaning that it is incredibly fancy. The extremely ornate designs of metro stations were used as propaganda to show all the benefits of communism, how rich the country was, or at least how rich they were on their way to becoming. While communism didn't last, the gorgeous metro stations like Avtovo did.
Raising Drawbridges Night Boat Tour
I already mentioned that St. Petersburg includes over 100 miles of waterways crossing the city. There are also over 800 bridges! Looking for things to do in St Petersburg, Russia at night? Take a boat tour through the St Petersburg drawbridges at night. Book your tour – Raising Drawbridges Night Boat Tour
State Hermitage Museum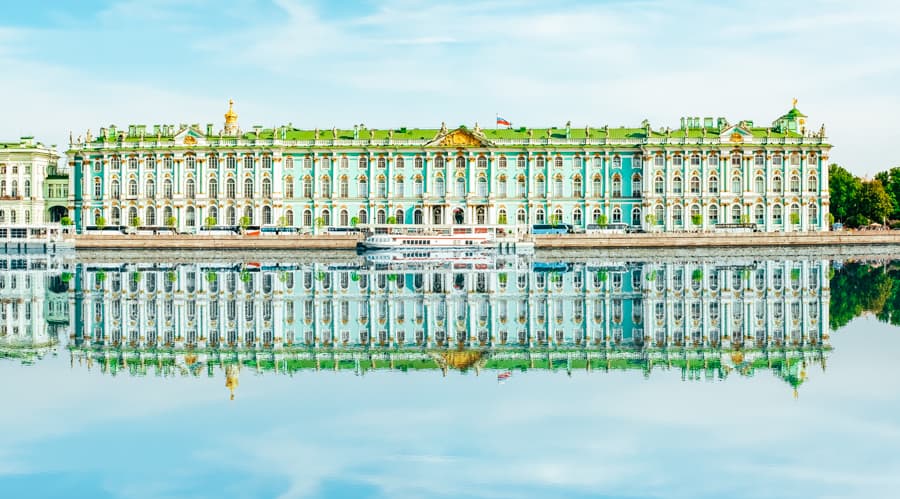 The Hermitage is the largest museum in the world by gallery space! It houses priceless antiquities of Russian history and culture. If you go to Saint Petersburg, it would be a travesty to miss the Hermitage.
No suprisingly it is one of the most visited museums on earth. Thankfully it is open to the public, but to be able to skip the lines make sure you book your tour/get your tickets ahead of time: Hermitage Tour here.
Check out Lakhta Center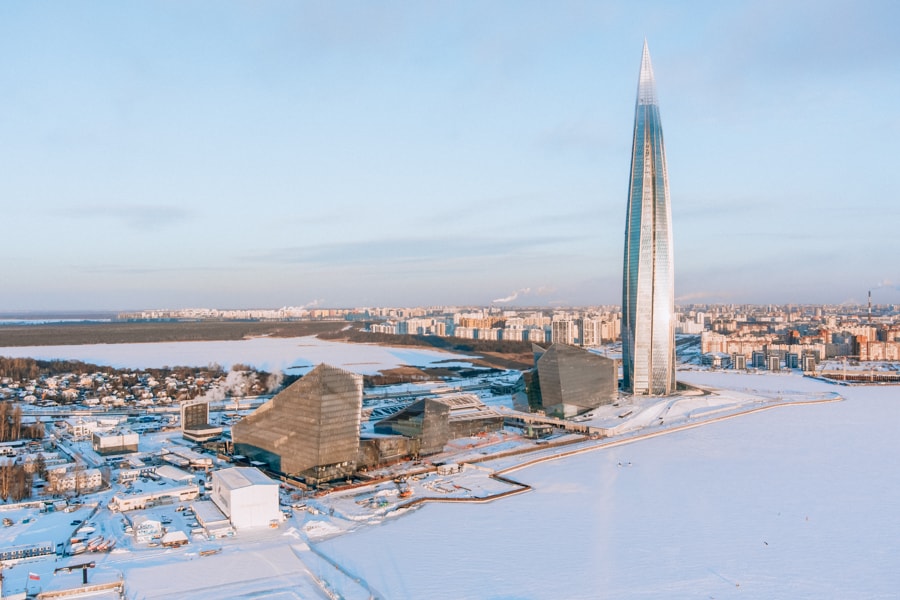 Saint Petersburg isn't only a place to learn about history. In 2019 they completed an absolutely stunning skyscraper – the Lakhta Center. It is now the tallest building in Europe? The 87 story skyscraper is over 1,500 feet tall.
Church Of St. Peter And Paul, Peterhof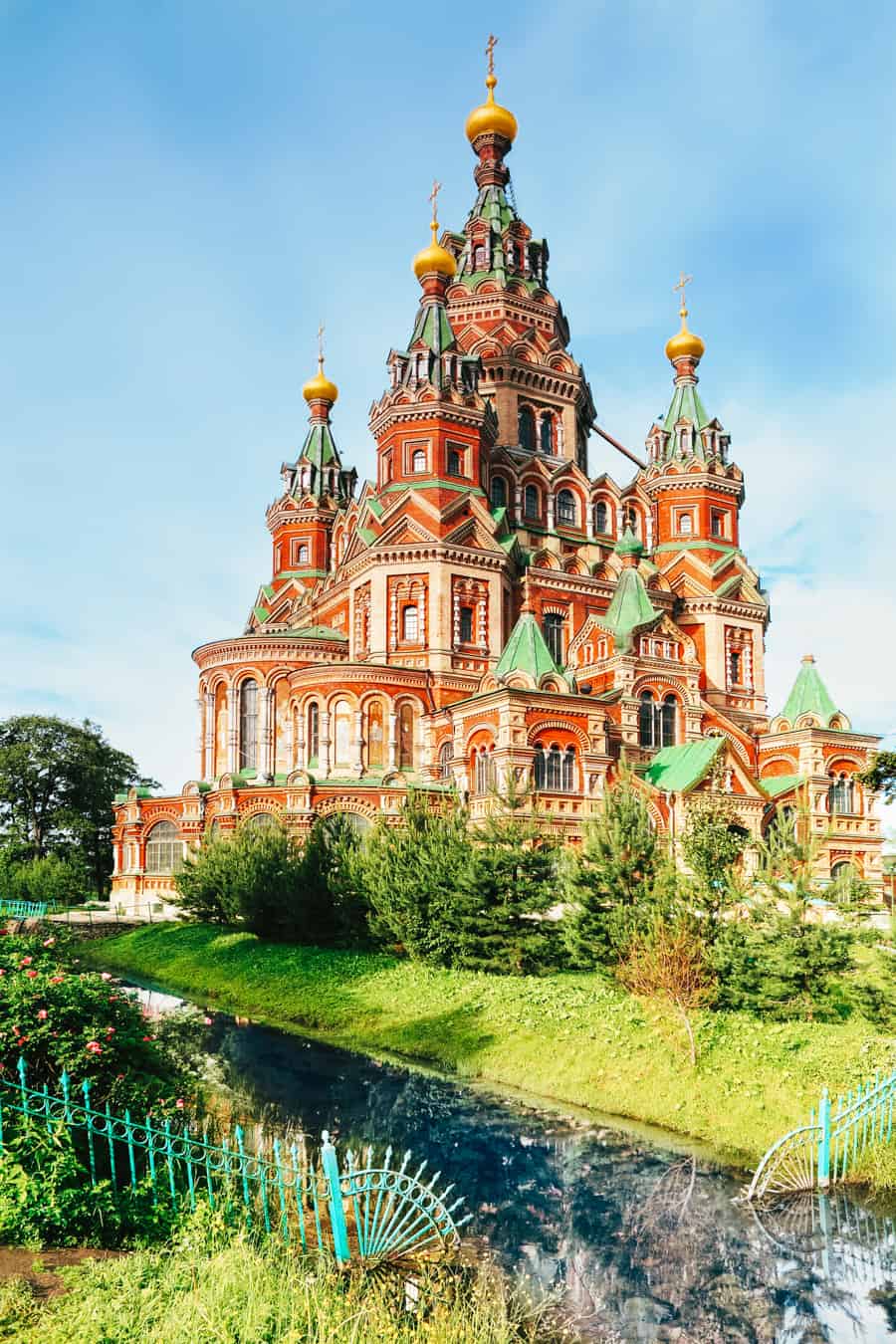 This church was previously taken over and used to house artillery of German troops in World War II. Thankfully it was restored and church services are now held in the church again.
St. Isaac's Cathedral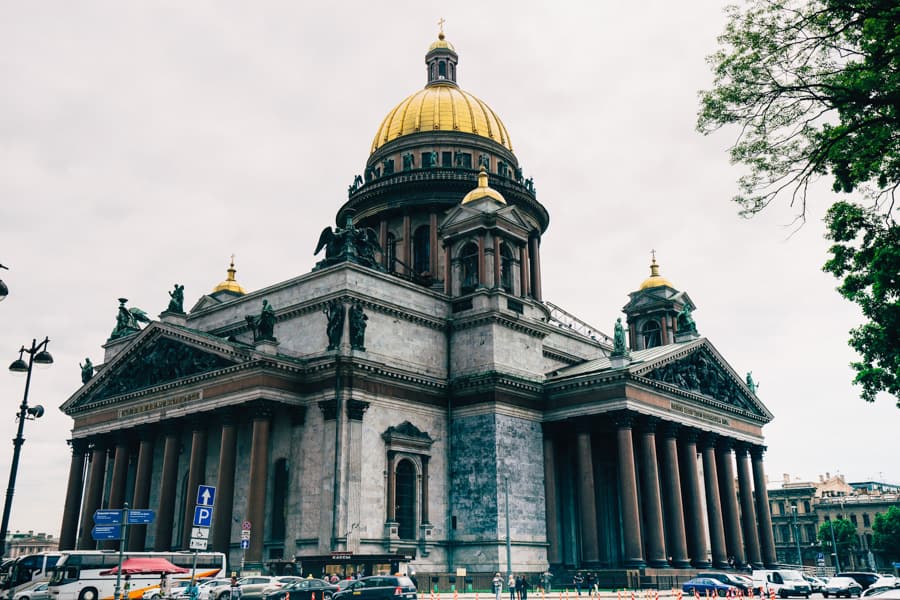 This gorgeous cathedral is named after a Saint that supposedly came from modern day Syria. What I love about this gorgeous edifice is that to help disguise and protect it during World War II, they painted the top gray so that it wouldn't stand out to enemy aircraft as a bomb target. Thankfully it was spared.
St. Nicholas Naval Cathedral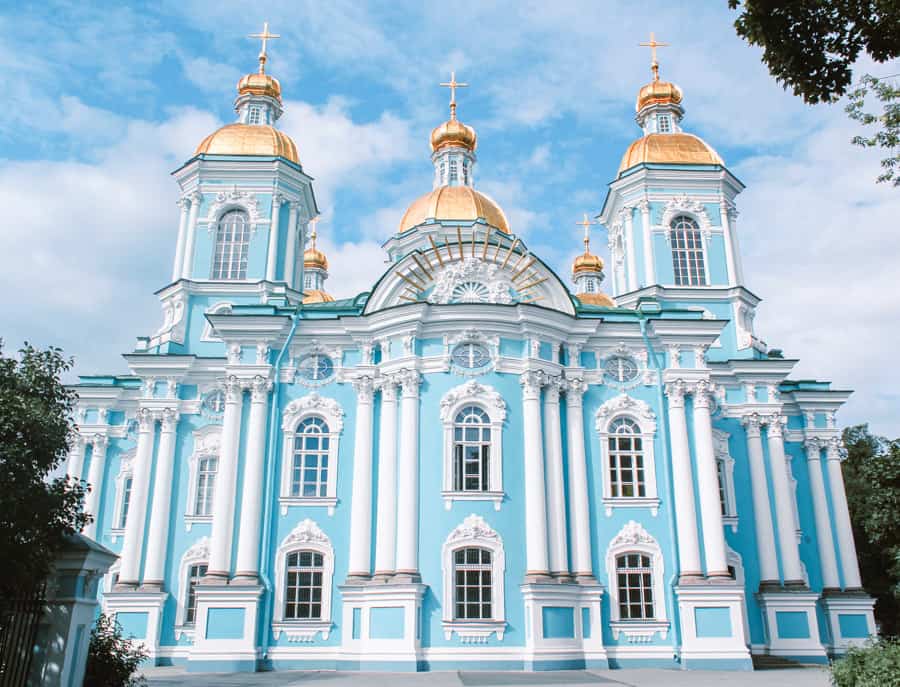 This Baroque Orthodox cathedral is another one that represents the time in a uniquely beautiful way. It pays special honor to the Russian Navy. Unfortunately many don't know that Saint Petersburg sits directly on the Baltic Sea, thus the especially close connection with the navy.
Dom Basina, Saint Petersburg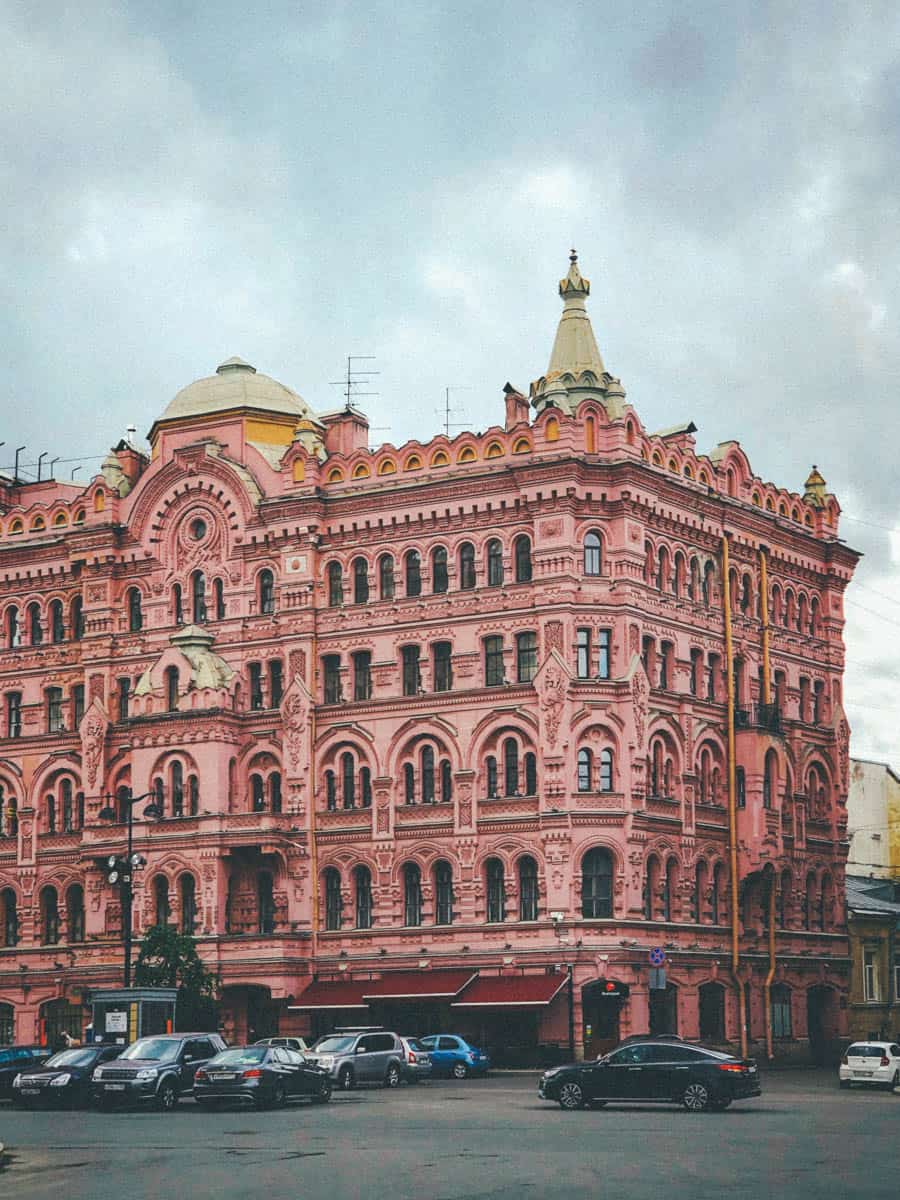 To locals the above building might not stand out, but I point it out to show that the entire city is overflowing with hidden gems of beauty like Dom Basina above.
Singer House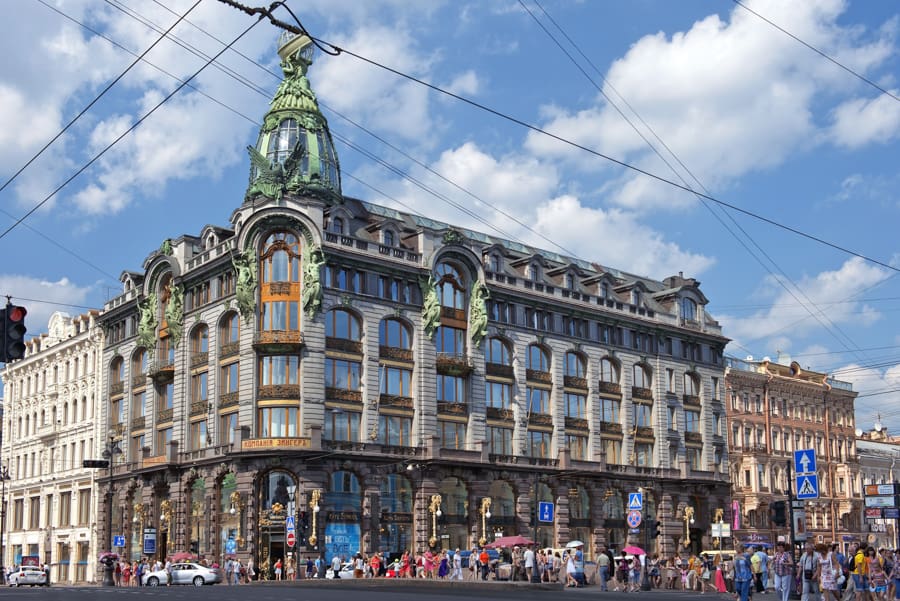 This famous building has quite a history. Originally it was building by the Singers of the Singer Sewing Machine company. Instead of building up, they adorned the building with world famous glass tower. The building has also served as a US Embassy and gigantic book store.
Walk down Nevsky Avenue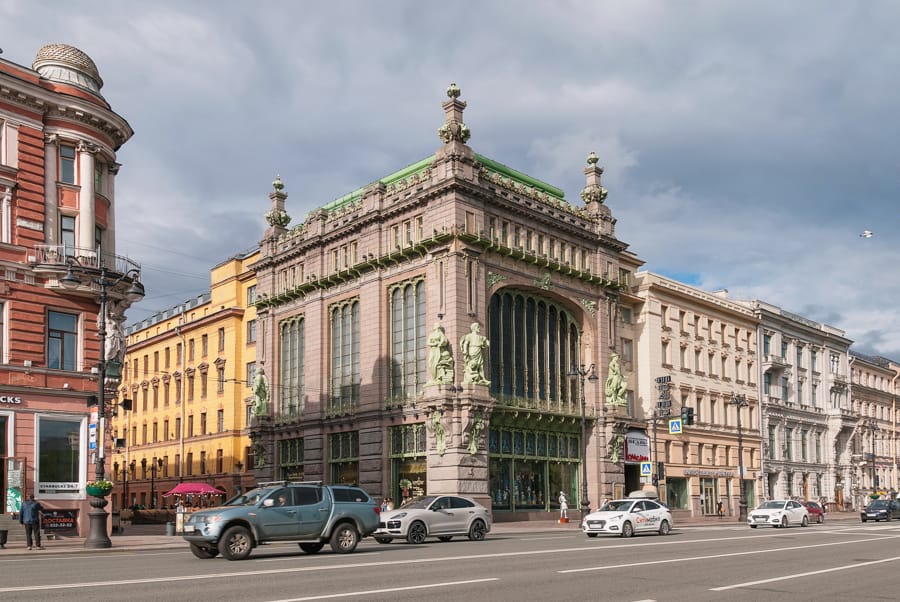 If you don't have time to explore everything, they say all you have to do is walk down Nevsky Avenue (aka Nevsky Prospekt). This famous street is the pulse of the city. It will take you passed a number of the top spots, and really showcase the beauty of the city.
It will take you about an hour to walk all the way down it. While walking down it some of the top things you will see are the Palace Square, the Hermitage, Singer House, and so many gorgeous churches.
Mariinsky Theatre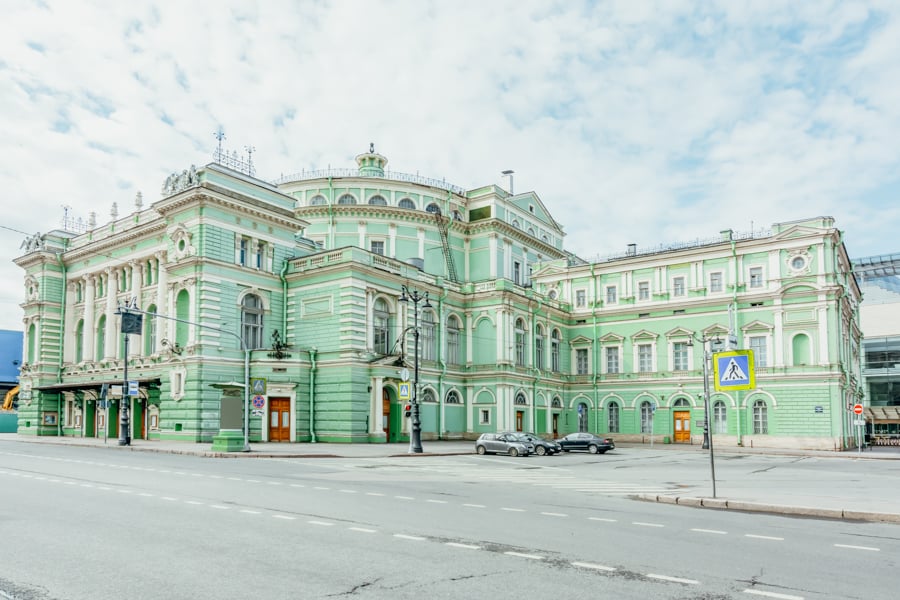 Russia is obviously a powerhouse in the development of ballet and opera. The historic Mariinsky Theatre is the site where many of the most famous and influential pieces were unveiled. Today, the Mariinsky Theatre still offers patrons of the arts tons of the best opportunities.
If you are a fan of the theater, you would have to be insane to pass this one up!
Smolny Monastery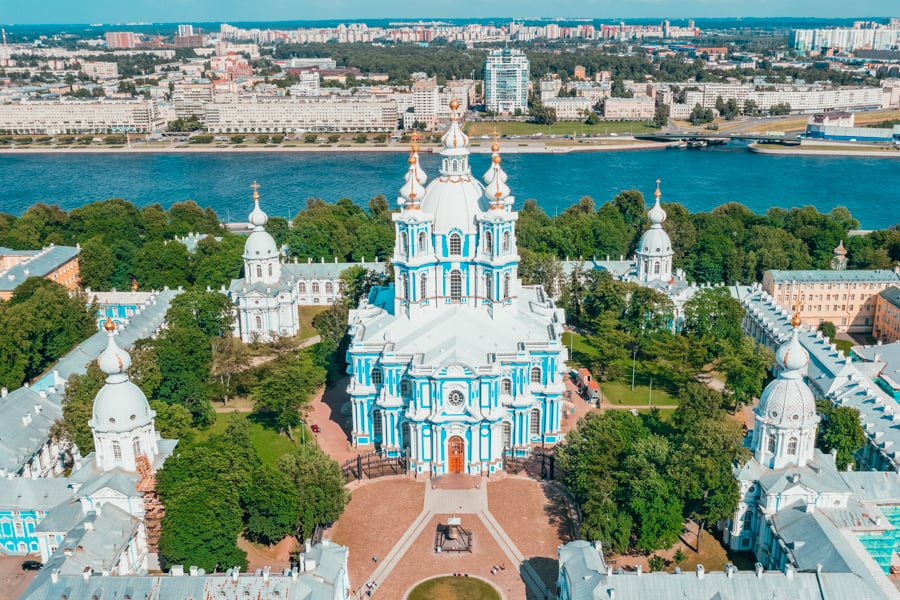 The edifice was built to house the daughter of Peter the Great named Elizabeth when she was passed over to be the next leader. Instead of leading the country, she opted to become a nun. Ultimately she left the convent to rule after after a coup d-etat, though she still supported convent.
The Smolny Monastery or Convent has to be the most amazing convent I've ever seen. The building is so grand that I could see it single-handedly inspiring commitments to become a nun.
Alexander Nevsky Lavra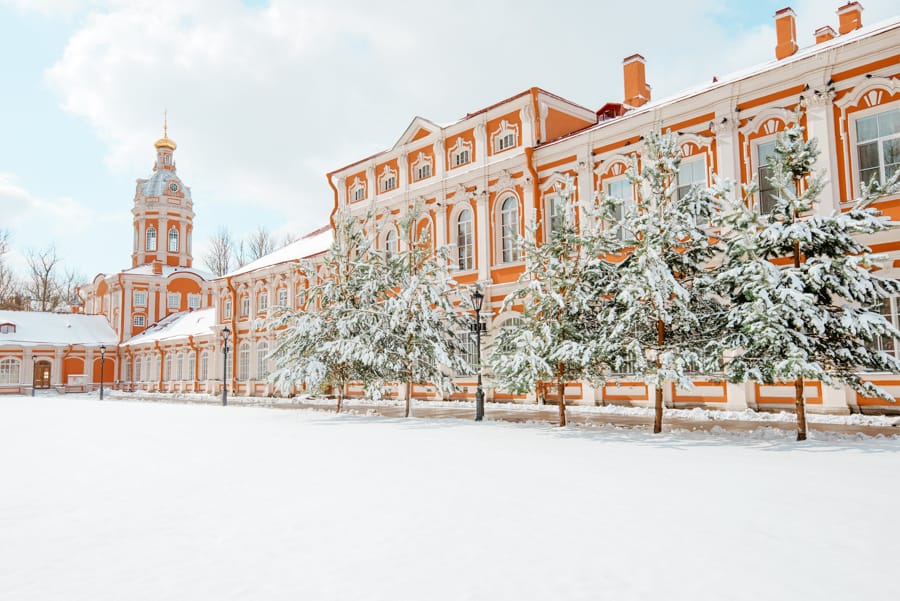 There are a number of historical references to Alexander Nevsky, or Alexander Nevsky Lavra. He was a prince that famously defeated the attacking Swedes. This gorgeous monastery was built to commemorate his victory.
Peter and Paul Fortress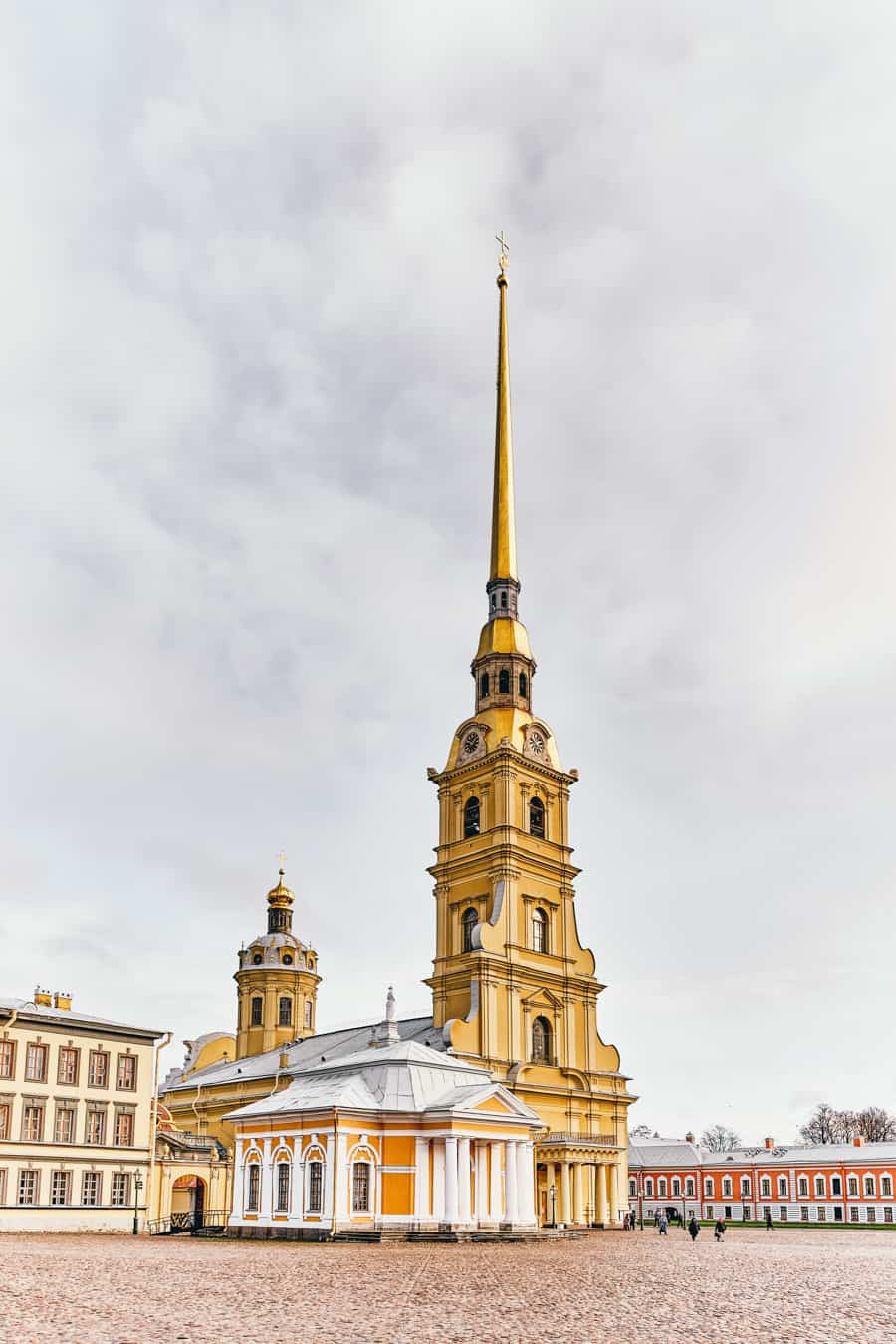 This citadel was the original of Saint Petersburg. You can see what the historical defense would have been, and what types of fighting happened in the area. The citadel was seen as a symbol of government oppression where innocent citizens were imprisoned and tortured.
How bad conditions actually were for prisoners is hotly debated, but it is undeniable that the reputation helped fuel the Russian Revolution and descent into communism.
Kirovskiy Zavod Metro Station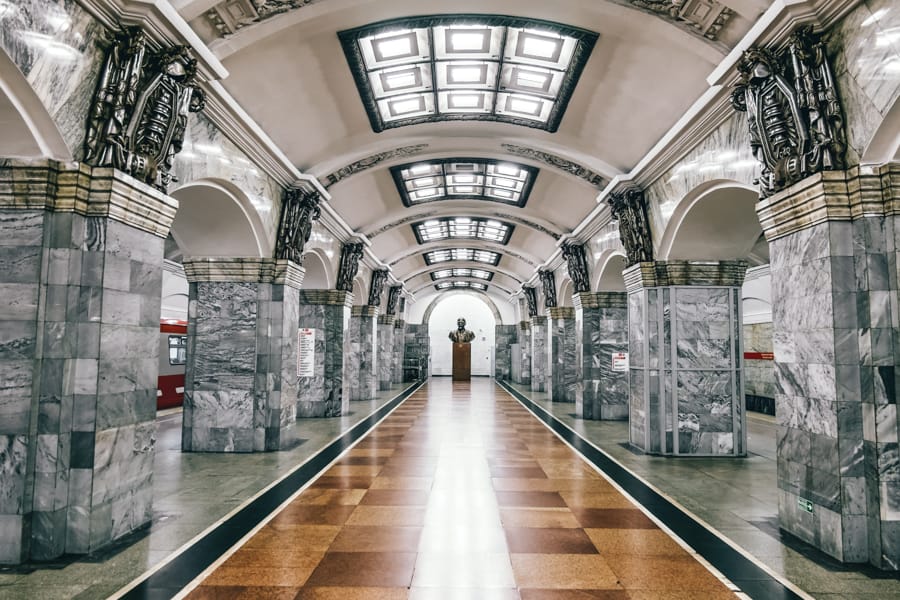 Seriously? The Russian metro stations are amazing! Even if they were largely built to spread a false idea of wealth I can't help but love them. The Kirovskiy zavod Metro Station is another easily accessible station that will feel more like a museum than an actual means of transportation.
Husky dog-sledding with Traditional Lunch
Looking for more unusual things to do in St Petersburg Russia? Dog sledding is it! What better way to experience the traditional Russian culture than to go dogsledding and eat a traditional Russian meal? Make sure to get your tickets in advance here.
Mezhdunarodnaya Metro station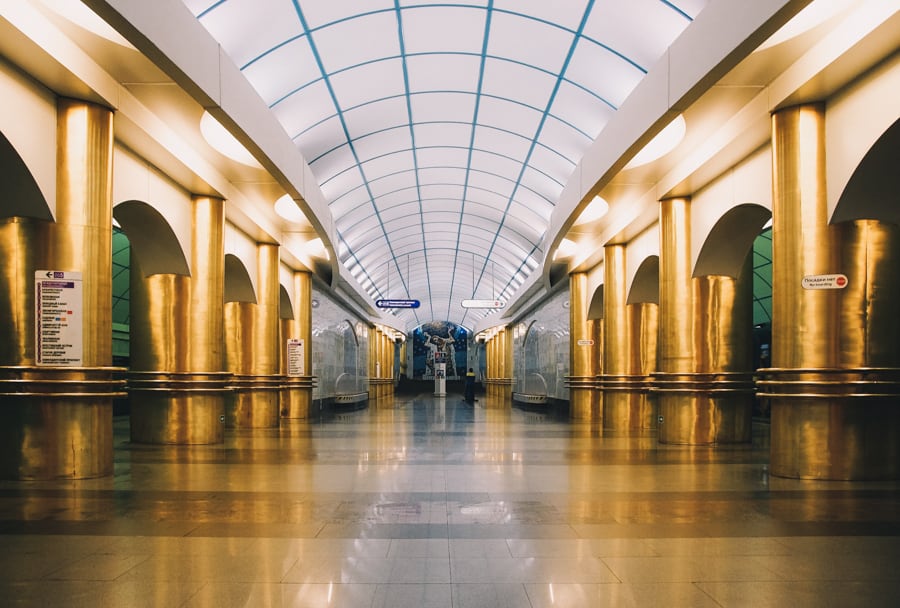 One final one because I can't resist. The name of this station means "international" due to many internationally inspired street names in the area. This station is much newer than most others, but is still an incredible display of opulence.