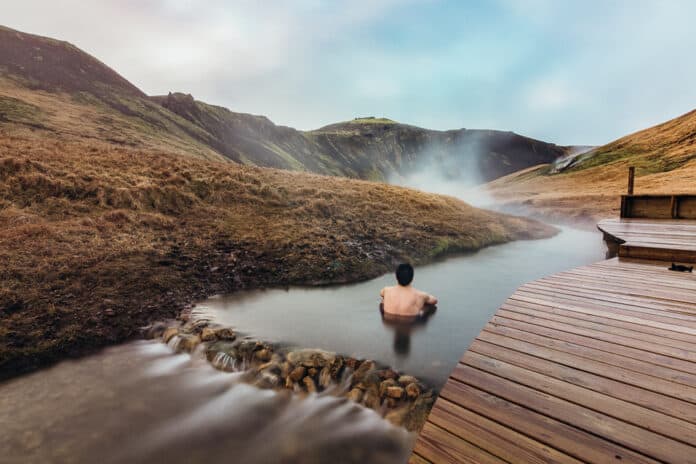 Hot springs in Iceland are an absolute can't miss! The amalgamation of the icy landscape with steaming waters is truly unmatched.
This geographic wonder stands out so much because the hot springs Iceland offers aren't really available in any other place around the globe.
The average Icelander consumes almost double the amount of electricity than any other nation on earth. Now before you hop all over them for not being "green" we must note a couple of things. First, it gets really cold in Iceland and it takes a lot of energy to heat up homes and businesses. Second, almost 100% of the energy consumed is renewable and much of it comes from geothermal sources!
The internal heat of the earth isn't just useful in the creation of clean energy, it also creates some of the most unique geographic features on the planet. Further, Iceland's unique location near the arctic circle and along diverging tectonic plates helps create these features. This combination creates more geothermal pools than most people realize.
If you are interested in learning more about Iceland's geothermal energy production I highly recommend you get a ticket to the Icelandic Geothermal Energy Exhibition! You will learn all the ins and outs of how they pull off this energy miracle.
Discover the 22 Best Hot Springs In Iceland
Icelandic geography helps create sites that are perfect for photography, great to warm cold hands, or (my favorite) soak in after a full day of adventure. Read on to see 18 incredible geothermal pools and hot springs in Iceland that will make you want to plan a trip there immediately!
1. Djúpavogskörin Geothermal Pool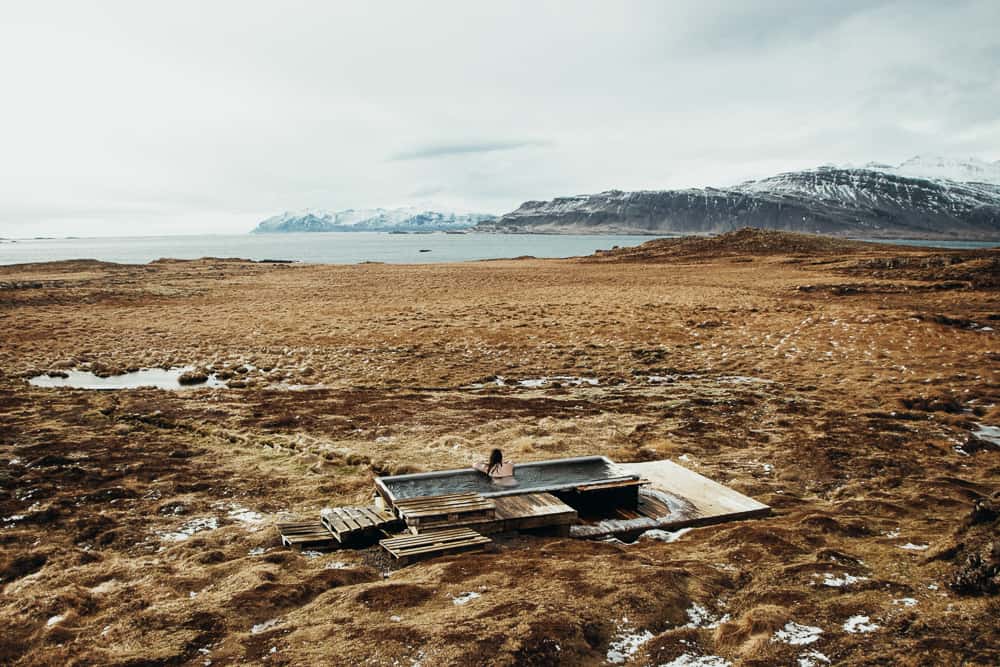 This pool is located in a secluded area 2 km west of Djúpivogur (far east side of the main island – i.e. probably a long way away from your flight into Reykjavik). It literally is a hidden gem.
Use this as your Iceland hot springs map to be able to find it. It can be hard to find since it is located behind a small hill.The pool is open from 7 AM to 8:30 PM on weekdays all year long.
On summer weekends, it's open from 10 AM to 6 PM, while during winter weekends, it's open from 11 AM to 3 PM on Saturdays and closes on Sundays.
The entry fee for adults is 800 ISK (about $6) and 300 ISK (about $2.50) for children between the ages of 5 and 15. As for 4-year-olds and younger, they can enter for free.
2. Guðrúnarlaug Hot Spring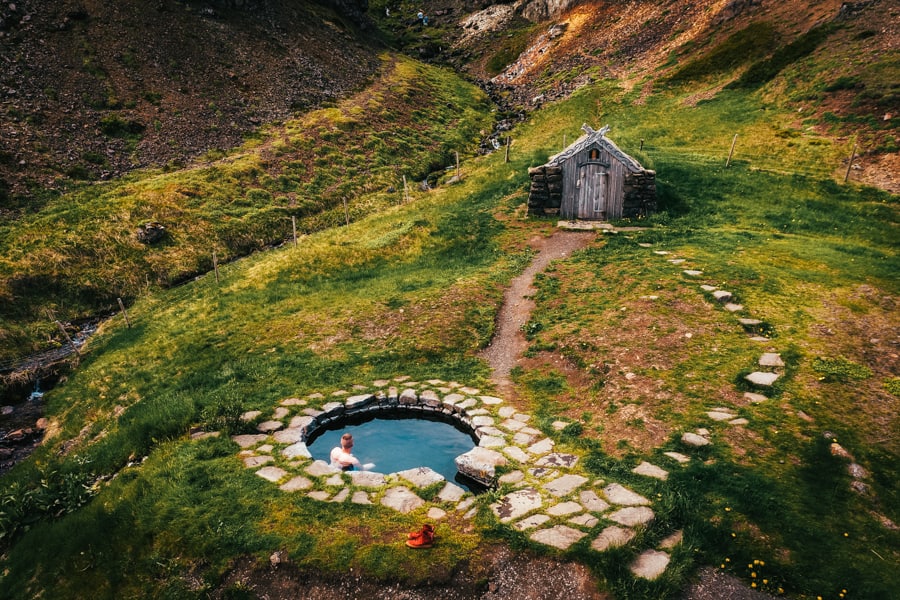 This natural pool is named after Guðrún Ósvífursdóttir, the main character in an Icelandic legend. The legend involves all sorts of intrigue and murder. The legend states that while soaking in this pool she was told that she would be married four different times. Not surprisingly, four different marriages can cause all sorts of drama.The pool was rebuilt in 2009 after it was ruined in a mudslide in the 19th century.
Use this link as your Iceland hot springs map to find this fabled pool located in Laugar, Sælingsdalur. You will see it is located in Northwest Iceland; it is a manageable drive from Reykjavik. All you have to do is to follow the Ring Road up North until you reach Road 60, then turn left on Sælingsdalsvegur.
The best part is that this is one of the free hot springs Iceland offers and it's open 24/7!
3. Hofsós Swimming Pool
Hofsós is one of the most famous pools in Iceland. This infinity pool offers a breathtaking view of the fjord and the Drangey Island. It's no surprise tourists flock to it!
The pool has an interesting historical connection to Drangey Island. It's believed that Grettir, one of the most iconic characters in Icelandic sagas escaped a battle on the shore by swimming to the island.
The pool was built to be facing directly towards Drangey to give visitors a sense of his journey.Hofsós is open for visitors all year long.
In summer, it's open from 9 AM to 9 PM throughout the entire week. As for winter, it's open from 7 AM to 8 PM on weekdays and from 11 AM to 6 PM on weekends.
Admission fees for adults are 1,050 ISK (about $8) and 315 ISK (about $2.50) for children between the ages of 6 and 18. As for those under 6-years-old, they can get in for free.
There are also discounts for big groups and people with disabilities. And if you forget your swimsuit or towel, don't worry – you can rent on site.
4. Geosea Baths
Looking for a top-notch experience? Geosea is not just another pool, but rather a rare combo of the earth's geothermal water and mineral-rich seawater! Not just that, but if marveling at the Northern Lights or whale watching are on your bucket list, this could be where your dreams come true!
Geosea is located in the town of Húsavík on the eastern shore of Skjálfandaflói. It sits at the base of an iconic yellow lighthouse. Summer hours are from 11 AM to 11 PM. In winter it's open from 5 AM to 10 PM from Mondays to Thursdays, and from noon to 10 PM during the rest of the week.
Entry costs 4,900 (about $37 USD) ISK for adults and 2,200 ISK (about $17 USD) for children between the ages of 6-16. Children below the age of 6 are free. A discounted entrance fee of 3.100 ISK (about $14 USD) is offered to students, the disabled, and senior citizens.
You also don't have to pack much – towels are available for rent for 950 ISK each, swimsuits for 700 ISK each, and bathrobes for 1,800 ISK each.
5. Nauthólsvík Geothermal Beach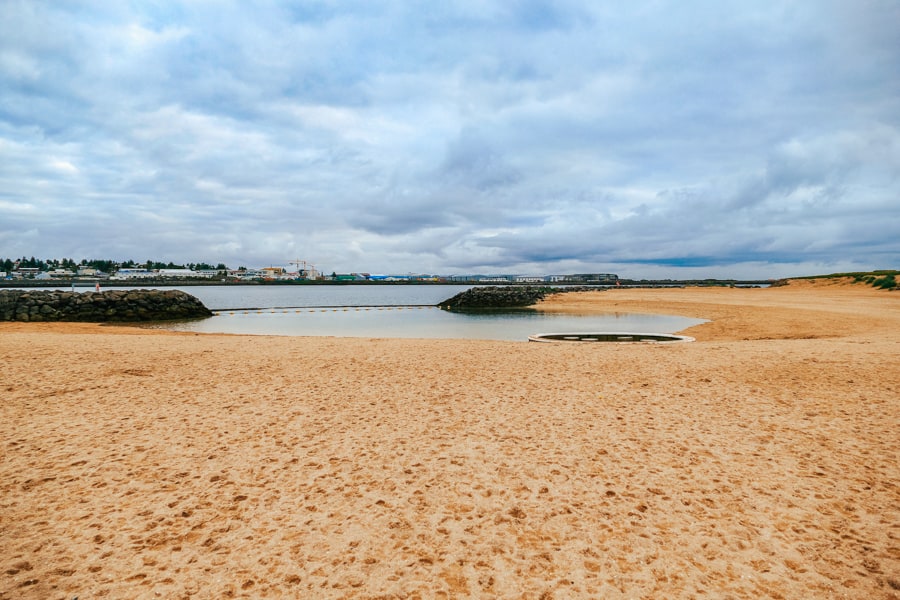 You now know about geothermal pools in Iceland, but have you ever heard of a geothermal beach? Nauthólsvík is a heavenly spot where the sea's cold water and the earth's geothermal water meet. This insane combination is actually man-made. It is a must-visit when in Reykjavik! We visited something similar in the Azores.
The site operates every day from 10 AM to 7 PM.
Admission fees are 650 ISK per person. You can rent a swimsuit for 850 ISK and a towel 600 ISK.
6. Reykjafjarðarlaug Hot Spring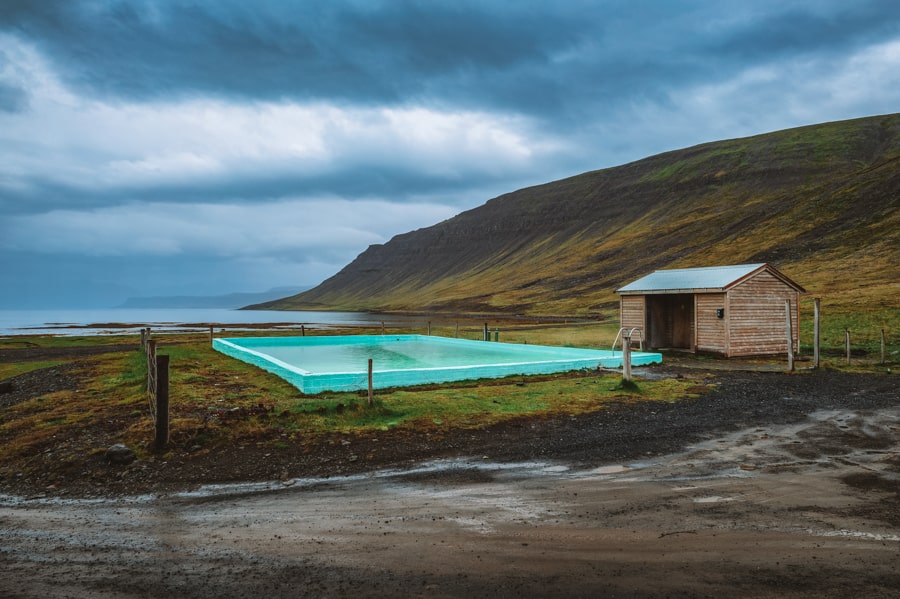 One of the best hot springs in Iceland is Reykjafjarðarlaug; it's a secluded paradise away from the crowds. Right next to this natural hot spring is a man-made geothermal swimming pool. Thankfully, there's a changing area just a few meters away!
Even though it's a secluded area, the hot spring is located in Reykjafjarðarlaug in the Westfjords of Iceland. It's much easier to drive there than use public transportation (it gets complicated).
There are no guided tours that go there, but it is another free hot spring Iceland offers.
7. Birkimelur Swimming Pool
This is another wonderful swimming pool in the Westfjords, which is far away from the hustle and bustle. It provides a spectacular view of pristine waters and a stone-lined hot tub.
This magical spot, only a 15-minute drive from Hellulaug. It is open all year-round, but the nearby changing facility is only open from noon till 7 PM. It's another free hot spring Iceland offers, but a small donation would be appreciated.
8. Seljavallalaug Swimming Pool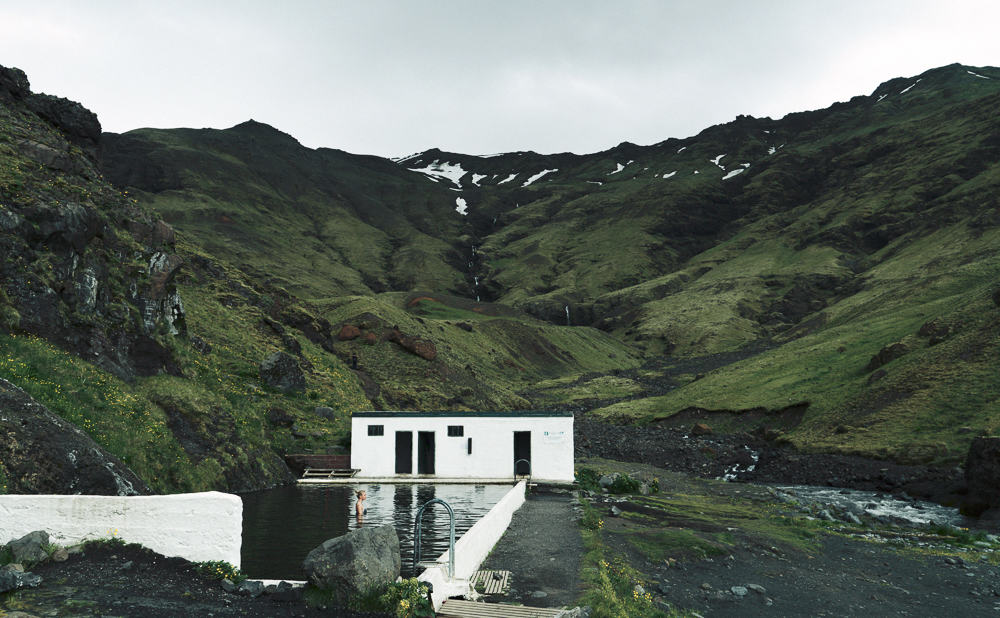 Located in the Highlands along the South Coast of Iceland, Seljavallalaug is a lovely swimming pool surrounded by glaciers and volcanoes. It's a wonderful reward after an easy 20-minute hike. Hint – wear suitable footwear!
Built in 1923, this swimming pool is one of the oldest in Iceland. At the time Iceland consisted mostly of fishermen that designed the pool to teach kids to swim.
This pool's perk is that entry is free of charge; however, there aren't any lifeguards so swim at your own risk. It's cleaned only once a year, so don't be surprised if you find algae covering the sides and the bottom. It gets a bit slippery.
9. Hrunalaug Hot Spring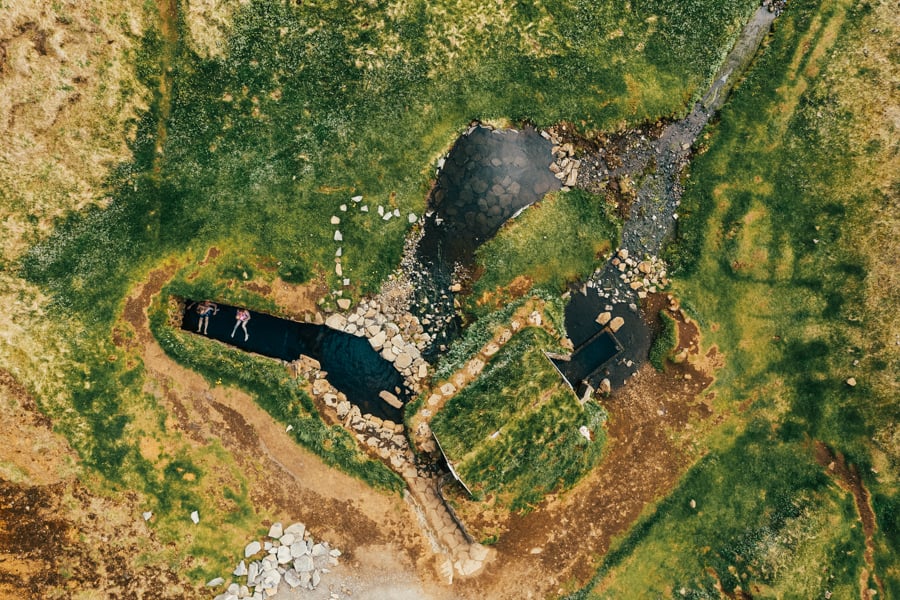 In spite of its small size, this stone-walled pool near the town of Flúðir in the southwest part of Iceland is the perfect getaway if you want to relax in nature.Hrunalaug can easily be reached if you're driving from Reykjavík. Just take the road to Flúðir and follow the directions.
There's also a parking lot 5-minutes away from the hot spring. It's worth mentioning that the hot spring is located on private property, so it's very important to avoid littering. Once again it is a free hot spring Iceland offers but donations are appreciated.
10. Hotel Reykjanes' Geothermal Pool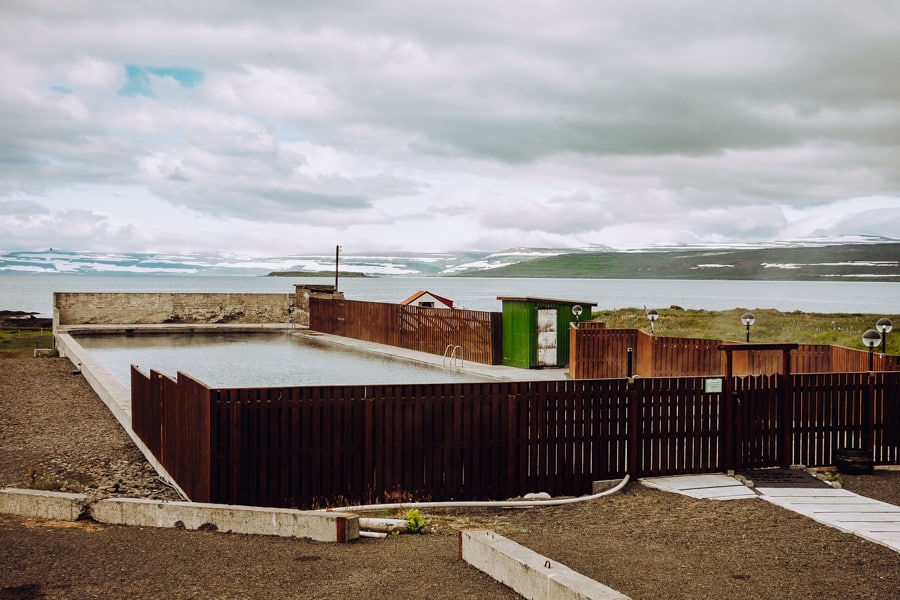 This hotel's swimming pool, heated by geothermal water,has grown in popularity as it feels just like a hot tub. Benches were actually built underwater to give visitors the full experience! I find this pool in Westfjords to be one of the best stress-free spots to unwind and relax, especially because there's an old green steam sauna there as well.
Hotel guests get into the pool for free, but if you're not staying there, you can call and make reservations for just the pool.
11. Mývatn Nature Baths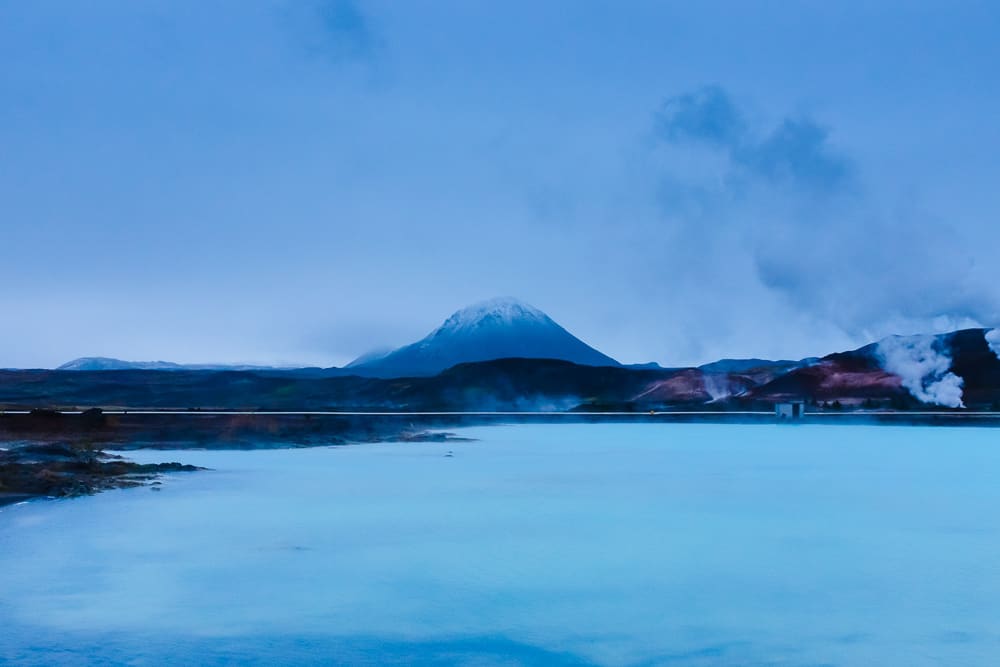 In the heart of northeast Iceland and only 65 miles away from the Arctic Circle lies the magnificent Lake Mývatn. This area has a ton of birds circling around incredible waterfalls and valleys. It is also home to the Myvatn nature baths that house geothermal steam baths and an alkaline bathing lagoon.
The Mývatn nature baths are open all year round from noon till 10 PM, but make sure to check the official website if you're visiting during Christmas break as they have different operating hours.
Entry cost per adult is 5700 ISK, 2700 ISK for teens between the ages of 13 and 15, and 3700 ISK for students, people with disabilities, and seniors. Children of the age of 12 or under can enter for free as long as they're accompanied by an adult.
Towels and swimsuits are available for rent for 850 ISK each, and bathrobes are for 1800 ISK.This one can get popular and is capacity limited, so be sure to get your tickets in advance – Myvatn Nature Baths Entrance Ticket
12. Blue Lagoon
The most famous one of all! The Instagram famous Blue Lagoon that literally looks like heaven on earth. It was named one of the Natural Wonders of the World in the water category by National Geographic.Why is the water there so wondrous?
The geothermal water is 70% ocean water and 30% freshwater.
It's also rich in silica, algae, and minerals, making it a natural spa that helps nourish and rejuvenate the skin.
The popular attraction is located in Reykjanes UNESCO Geopark, only a 50-minute ride from Reykjavík (and closer to the main international airport). It's an easy drive to get there.along main roads or accessible with public transportation.
Blue Lagoon Packages
There are several options for admission: the comfort, premium, and luxury packages. The comfort package, costs 6990 ISK, offers entry, silica mud mask, the use of a towel, and a drink. For add-ons like a bathrobe, a glass of wine, or a table reservation at Lava restaurant, and more, there's the premium package for 8990 ISK. The luxury package offers five hours at the Retreat Spa, a private changing suite, and unlimited access to both the spa and Blue Lagoon for 49000 ISK. THE BLUE LAGOON HAS STRICT CAPACITY LIMITS AND BOOKS FAR IN ADVANCE! YOU MUST GET YOUR TICKETS AHEAD OF TIME. You can book directly with the attraction here.
Blue Lagoon Tours
ONCE AGAIN, THE BLUE LAGOON HAS STRICT CAPACITY LIMITS AND BOOKS FAR IN ADVANCE! YOU MUST GET YOUR TICKETS AHEAD OF TIME. If you don't want to book directly with the venue you can take a tour that will include other stops or that will provide transportation from Reykjavik. General admission ticket – this tour is worth booking if you think you might cancel, as it gives you entrance to the blue lagoon but lets you cancel up to 24 hours ahead of time.
General admission ticket with optional transportation to Blue Lagoon – If you don't want to drive yourself or try to figure out the public transportation, then make sure to book this tour ahead of time.
This tour includes the Blue Lagoon as well as a tour of the Kerid Volcanic Crater. It's awesome to be able to see even more in one day with transportation provided. Not only do you get a jam packed tour with a small group, the transportation has free wifi! Feeling more adventurous? This 6 Day Iceland Tour includes the Blue Lagoon, Golden Circle, and the ability to explore the southern part of the island. All accommodations as well as breakfast are provided.
13. Drangsnes Hot Tubs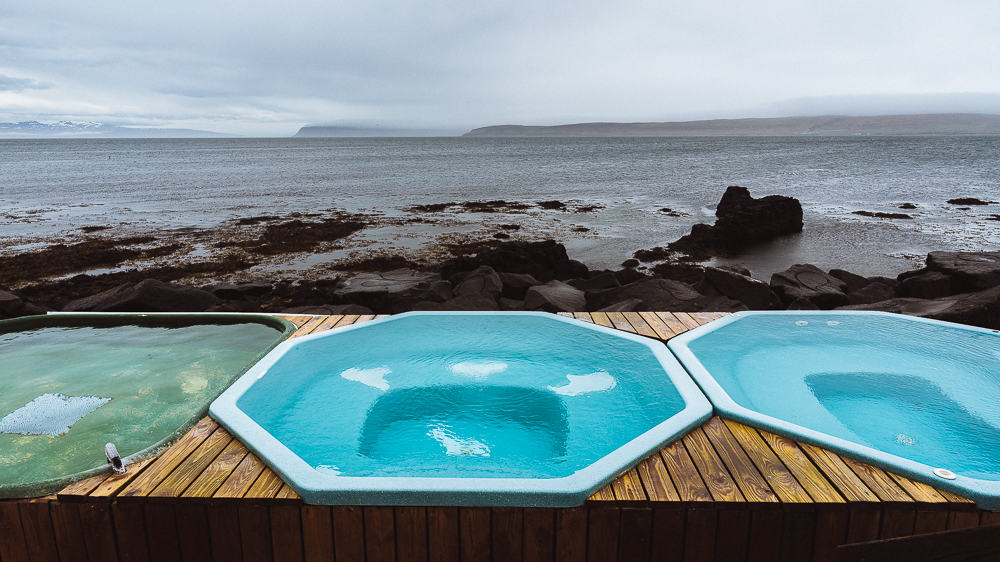 Drangsnes hot tubs are located in the small fishing town of Drangsnes. These three hot tubs are literally a hidden gem. There are no signs and they're not easily found so your best shot is following these directions. I promise you the lack of crowds is worth it!
The three tubs on the shoreline are naturally fed from a hot spring underneath. They offer different water temperatures. One is kept hot, one is cooled, and another is kept at medium temperature. So whichever the temperature that sounds convenient to you, you'll find it.
Oh, it's another hot spring Iceland offers free of charge that's open 24/7!
14. Iceland Secret Lagoon aka Gamla Laugin
Gamla Laugin is also known as the Iceland Secret Lagoon.Gamla Laugin is the oldest natural pool in Iceland. It's continuously fed by warm water coming from surrounding natural hot springs. Within 24 hours the water is fully replaced with clean sulfur-rich water.
Gamla Laugin is located in a geothermal area near Flúðir called Hverahólmi. The surrounding area is home to several hot springs such as Vaðmálahver, Básahver, and Litli Geysir. It is about a 2 ½ hour drive from Reykjavik.
The Iceland secret lagoon is open to visitors every day from noon until 8 PM. Adults 15 or older can enter for 3000 ISK, while those who are younger can enter for free. As for seniors and people with disabilities, they can enter for 2200 ISK.
You can also rent a towel or a swimsuit for 700 ISK each.
Fun fact – this was where the first-ever swimming class took place in Iceland! Due to the popularity of this "Secret Lagoon" that isn't as secret anymore, there are a number of tour/ticket options available. For the adventurous, I recommend the tour that includes snowmobiling and then soaking!
Get your tickets ahead of time to make sure you can get in. If you get your tickets here, you can cancel up to 24 hours ahead of time.
15. Vaðmálahver Hot Spring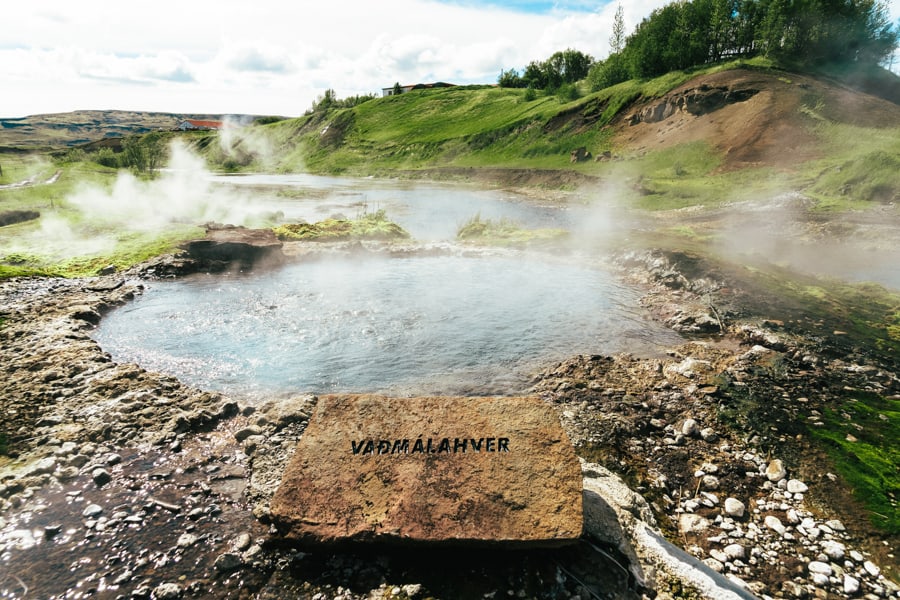 When visiting Gamla Laugin, you might want to pass by one of the nearby hot springs, Vaðmálahver. Now this one's not for swimming as it is way too hot. Maybe you could try making hard boiled eggs in it instead. Regardless, it's an awesome photo spot.
16. Landmannalaugar Hot Spring
There are lots of hot springs in Iceland that offer impeccable views and the one in Landmannalaugar is one of them. It is surrounded by scenic hiking trails and around 150 different flower species.
It's located in the Highlands of Iceland in Landmannalaugar National Park.
You'll need to take F-roads to get there, and those are only open in Summer. If you opt for a winter trip, you'll have to go in a 4X4.The hot spring is open 24/7, but access may be restricted during the winter months. Entry is also for free; however, you may be expected to pay a small fee at the nearby changing facility.
If you are nervous about getting there, you can book this tour to get there via 4×4 bus! Landmannalaugar Hot Springs and Hike in the Highlands
17. Grettislaug Hot Spring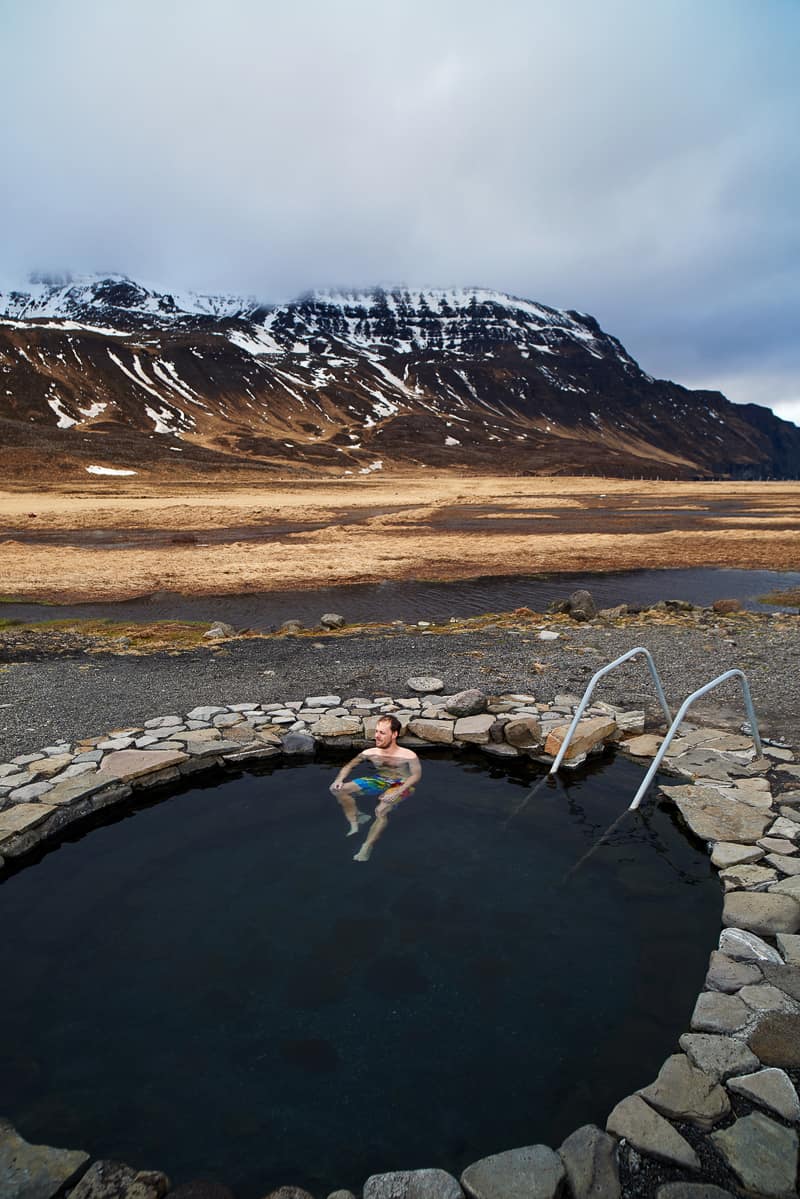 There is a famous Icelandic saga that helped give this hot spring its name. It's believed that "Grettis" bathed in this pool to prevent himself from dying after swimming in the extremely cold sea. The original Grettislaug Hot Spring was lost in a storm in the 20th century, but locals rebuilt it in 1992.
The pool sits on the shore of Skagifjörður in northern Iceland.
It's located on private property, so you'll have to pay a small fee of 1000 ISK to enter, which also includes Jarlslaug, a nearby pool.
18. Blahver Hot Spring
Unlike the rest of the list, some of the hot springs in Iceland are not for bathing, and Blahver is one of them. It's extremely hot that you'd get severe burns if just attempt to touch the water.Now you're probably wondering why bother to visit? Its exceptional beauty is the answer. Luckily, there's a nearby pool filled with cooler water that you could enjoy.
Blahver is located in the geothermal area of Hveravellir, a 4-hour ride from Reykjavik. There are some beautiful trails there so you might want to pack your hiking shoes for this one.
19. Husafell Canyon Baths
The Husafell Canyon Baths are about an hour and 45 minute drive northeast of Reykjavik. You are likely to end up in the area as you explore the island. Make sure you don't miss the opportunity to explore the Husafell Canyon baths. Locals made sure to make each of these pools as environmentally unobtrusive as possible.
There are two pools to choose from – one hot and one cold. You can enjoy alternating between them.
A great way to see them is to take the Husafell Canyon Baths Tour where you will go on a hike where you learn about the area and the follow it up with a soak in the pools.
20. Reykjadalur Hot Springs Thermal River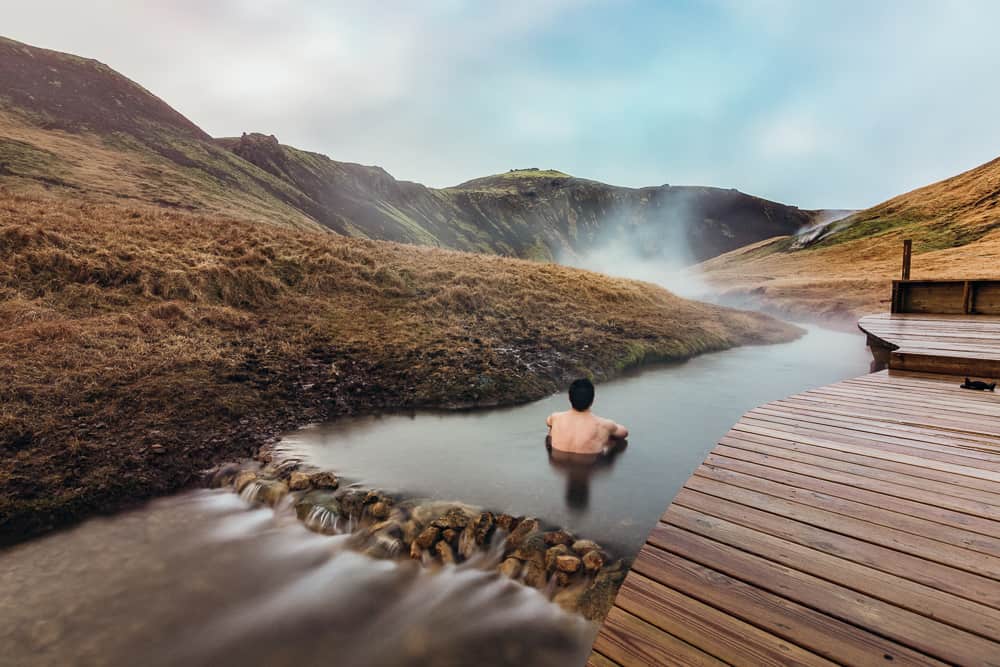 Reykjadalur is different from Reykjavik. That tough to pronounce prefix might make you skip the rest of the word but don't.
These bathing pools aren't actually pools, but the Reykjadalur Valley actually provides a THERMAL RIVER! This means that even if there are other people around, there is plenty of room to spread out and soak.
To get to the Reykjadalur Hot Springs you need to drive about an hour and a half from Reyjkavic, and plan on hiking about 45 minutes to an hour.
For those who want to do the hike but would prefer the company of a group and guide, be sure to book this Reykjadalur Hot Springs tour.
21. Sky Lagoon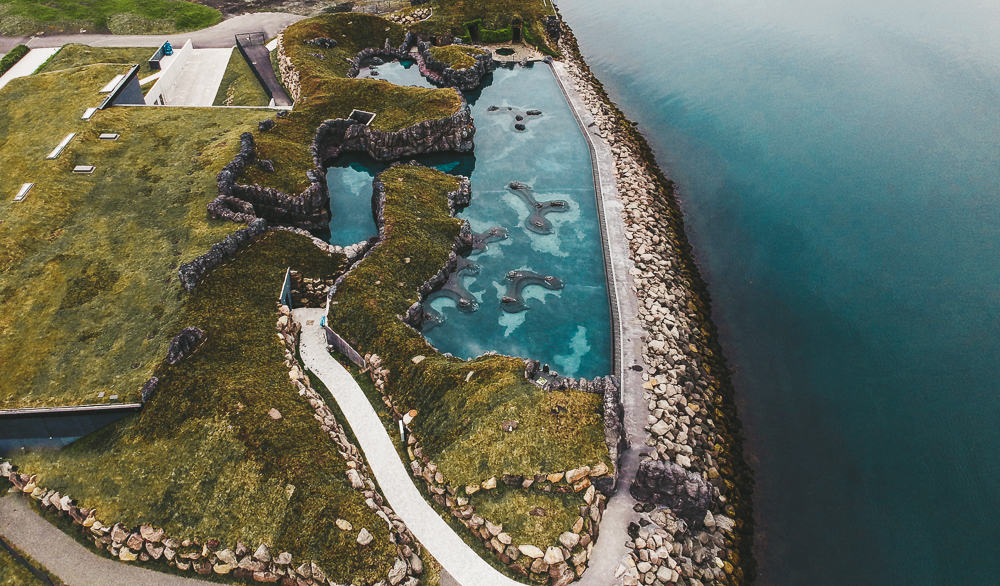 Iceland has so much geothermal activity that there are always new thermal pools popping up. The Sky Lagoon is one that is relatively new. This experience merges the ocean with the warm water bubbling up from underneath the earth.
The experience feels like it is out of this world.
I also love that they have a walk up bar built into the natural stones. Book a Sky Lagoon tour with transportation from Reykjavik that also includes a 7 step spa treatment.
22. Fontana Geothermal Spa
The Fontana geothermal spa is located in Laugarvatn. The great thing about this location is that it is in the middle of the Golden Circle. If you visit Iceland, you are virtually guaranteed to explore the golden circle.
You can relax in the bubbling hot springs of the Fontana Geothermal Spa without having to go out of the way much at all.
Also, if you want help exploring the Golden Circle, make sure you book this tour to explore all of the top sites as well as being able to relax in the Fontana Geothermal Spa.
Which geothermal spot do you most want to visit?