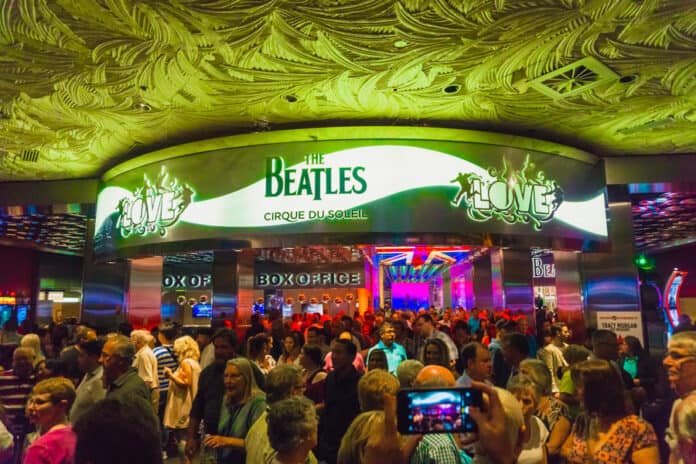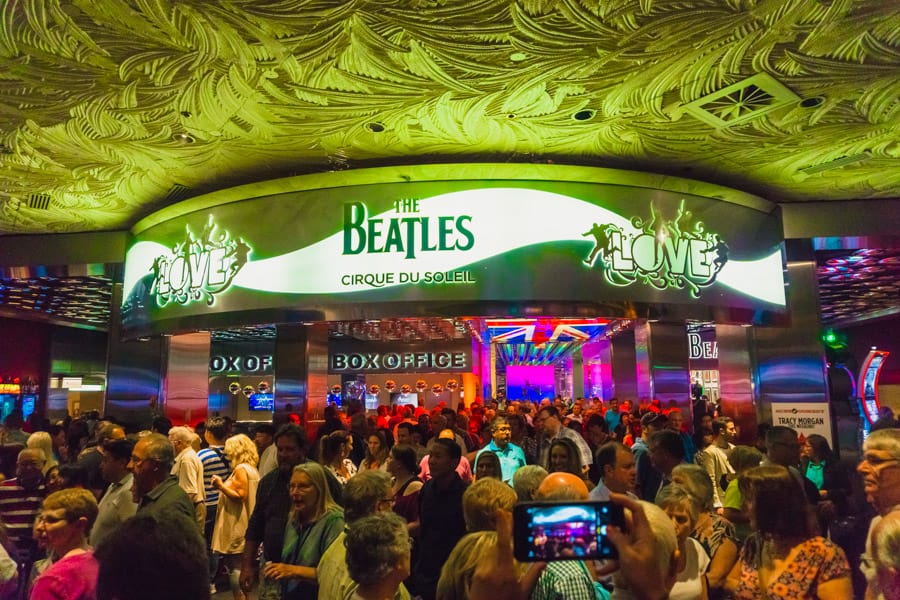 Finding the Best Show in Vegas
An absolute must do on any Vegas vacation is to attend at least one show. You may wonder why this has become a duty of every Vegas traveler. The answer is that Las Vegas shows offer more variety than anywhere else in the world. While in Vegas, you must take advantage of the opportunity!
The opportunity to see a show is so unique because you really can find ANY type of show. The offering includes the typical singing and dancing showgirl and magic shows you would expect, but don't make the mistake of thinking that this is all that you can find in Las Vegas.
Into extreme acrobatics? Yes, that's available at the best Cirque du Soleil shows in Vegas!
Want to see your favorite band? Bruno Mars, Katy Perry, yes! Something risque? Obviously yes. Looking for family friendly shows in Las Vegas? Most definitely yes as well.
Looking for the best comedy shows in Las Vegas? Uh-huh! How about something truly unique that you couldn't even imagine? Somehow, even this is there to entertain!
Not only does Las Vegas feature some of the best shows on the planet, but given their continual frequencies many of the shows are substantially cheaper than a one off you might be able to find in a different city.
Read on to learn what the best shows in Las Vegas are.
14 Top Types of Shows In Las Vegas
As previously mentioned, there are a ton of different types of shows. There are way too many offered to include all of them in this post, but I'll highlight some of the most popular as well as my favorites.
Top Musicians
Don't you hate it when you are dying to see your favorite musical artist and the one day she is in town just doesn't work for your schedule? I'm talking about you Taylor Swift! I've missed some of my most coveted concerts simply because of one day scheduling conflicts, or the prices ultimately getting astronomical.
One great thing about Las Vegas is that many of the top musicians come for more than one tour stop. They know that there are so many visitors in town that they can justify extra shows. Not only do many of the top musicians stay for longer than a day, some even schedule a residency.
A residency is when a musician adopts their music into a show on the Strip, where they ultimately stay for a long time.
Some of the musicians that have or are planning residencies on the Strip are Adele, Miranda Lambert, Maroon 5, Britney Spears, Usher, and Garth Brooks.
While these top artists still can fetch a pretty penny for a ticket, the volume of shows often keep the prices from getting truly absurd.
Make sure you check out the schedule of top musicians visiting or scheduling a residency in Vegas!
Find the best Cirque du Soleil Shows in Vegas
Cirque shows are famous around the world. Many cities across the globe will get a pop-up Cirque show, or one that takes up an extended residency.
What Vegas offers that other cities can't is the permanent presence of a variety of the best Cirque shows on earth.
If you don't know what a Cirque du Soleil show is I will try to describe, but know that I will not be able to do them justice.
What Cirque Du Soleil shows are famous for:
Cirque shows are known for featuring some of the most talented and unique acrobatics in the world.
Their cast often includes ex-olympians with acts that are specifically catered around their unique skill sets (i.e. the performances are more impressive than any olympic event.)
The acrobatics are paired with mind-bending costumes and unique music.
To add to the allure there is almost never just one thing happening on stage at once. There will legitimately be too many simultaneous acts to process at once.
You can watch clips of a lot of the shows on YouTube to get a feel, but I don't recommend watching too much as some of the show's surprises can be ruined.
Also, there is no way that you can get the breadth of the in person experience by watching a YouTube video since there are always way too many things going on at once inside the actual theater.
As a Las Vegas local I often got tired of going to the Strip. A new Cirque show or new acts being introduced almost always got me back there.
We recently celebrated our anniversary by getting tickets to the newest one to join the Strip.
Check out all the Cirque Du Soleil shows here.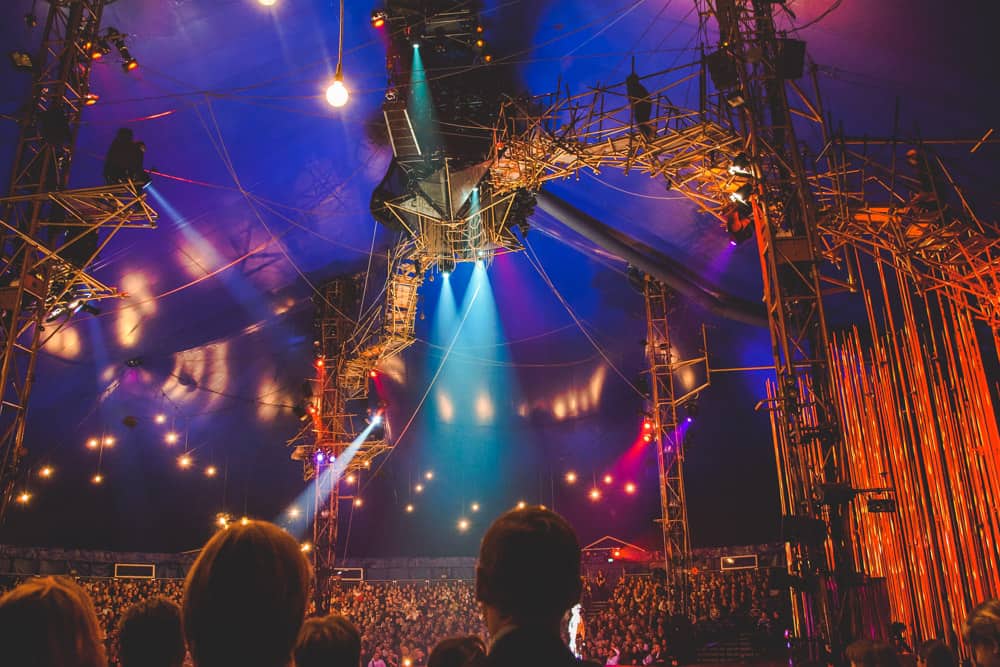 Ranking the Best Cirque Du Soleil Show in Vegas
Okay, so you may be intrigued but are wondering which is the best Cirque du Soleil show in Vegas?
The answer is that each one is unique and you will want to choose the one that most suits your taste.
Knowing a little bit about each one can help you decide.
Also worth noting is that the best Cirque du Soleil show in Vegas for family is actually any of them! There was one show Cirque show that was NOT family friendly (Zumanity) but it's been cancelled.
Best All-Around/First Cirque Show
If you've never been to a Cirque show and are looking to get a flavor of the costumes and acrobatics then I recommend Ka. It's fun, wild, and with so much movement makes the performers feel like they are on top of you regardless of where your seat is.
You can't go wrong by starting here – book your tickets now.
"O" Water Themed – Locals Often Call It the Best Cirque du Soleil Vegas offers
Many locals and visitors that have been to a variety of Cirque shows call "O" the best Cirque du Soleil show Vegas includes in its lineup.
This Cirque show is water based. You can expect to see divers and fish-men and women flipping and flying all across the stage into pools that you didn't even see until they land in them.
It can be seen at the Bellagio Casino.
The show is so popular that it has been continuously running since 1998. If you want to go you must book your tickets ahead of time as they are almost always sold out.
Book your tickets now – "O" by Cirque du Soleil at the Bellagio Hotel and Casino.
Love – A Beatles Themed Cirque Show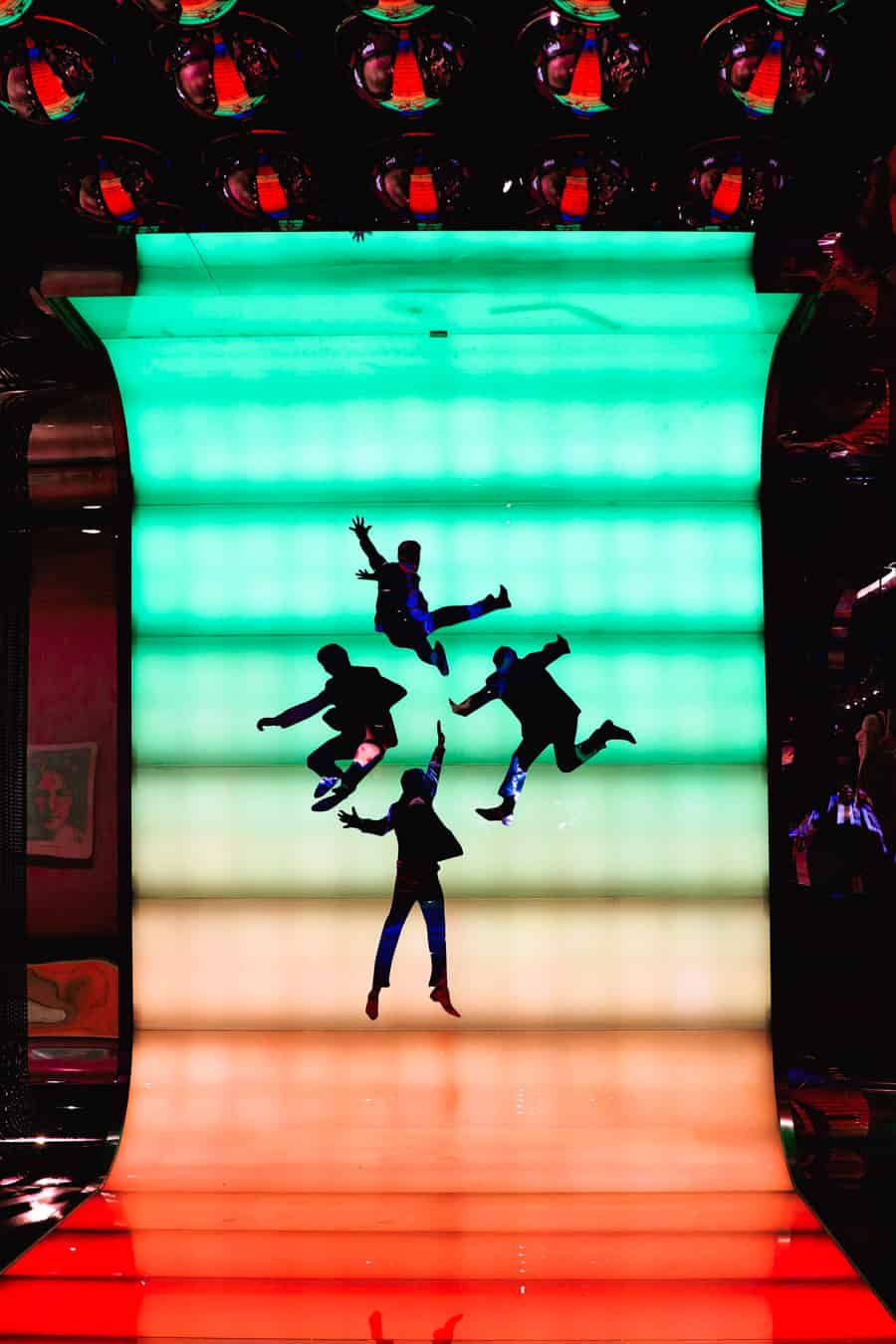 If you like the Beatles music then this is the show for you. If you aren't a fan of the Beatles you will likely still enjoy the show, but without an appreciation for the Beatles you might like another Cirque show more. I also love that the surviving members of the Beatles approved of and then even attended openings of this show.
Given the timeless nature of the Beatles, this show is another favorite of visitors.
It runs out of the Mirage Casino and has been going strong since 2006.
I'm only a moderate fan of the Beatles, but absolutely loved the show. It merges extreme acrobatics with their music with a groovy vibe and story of the band.
The Beatles LOVE by Cirque du Soleil at the Mirage Hotel and Casino
Michael Jackson ONE by Cirque du Soleil
Michael Jackson ONE by Cirque du Soleil – Even with the ongoing investigations and allegations surrounding Michael Jackson his music is still inspiring. You can see this in the draw for the Michael Jackson inspired One Cirque du Soleil show.
It is one of the newer shows; it premiered in 2013. Of all the Cirque shows, this one is the most dance focused. If you appreciate Michael Jackson's music and quality dancing merged with acrobatics, then this is the show for you. For those that aren't MJ fans, you might want to attend a different show to get more intense acrobatics. You can see Michael Jackson One at the Mandalay Bay Resort and Casino.
As with all Cirque shows, make sure to book your tickets well ahead of time since you can count on them selling out (even midweek).
Reserve your tickets in advance here – Michael Jackson ONE by Cirque du Soleil
Mystere | Best Cirque Du Soleil Show Vegas Offers For Families
This is the longest running Cirque show. It's run since 1993. Don't make the mistake in thinking that the longest running show is in any way stale. All of the shows are continually updated and Mystere is no different. The overall theme remains the same, but the acts will continue to evolve in more and more impressive ways.
This show is a blend of a circus, comedy, aerial acrobatics, and opera. You are probably having a hard time imagining that amalgamation. The only way to truly understand is to actually make a reservation and see the show. This was the first Cirque show that I saw and it absolutely hooked me.
If I had to chose the best Cirque Du Soleil show in Vegas for family, I would probably pick Mystere. You can see this show and its custom built stage at the Treasure Island Resort and Casino. Book your tickets here.
Book your tickets now – Mystère by Cirque du Soleil at Treasure Island Hotel & Casino
Other Cirque Du Soleil shows you might enjoy:
Mad Apple – Experience NYC's wildest night on the Las Vegas stage with Cirque du Soleil.
La Reve (NOT actually a Cirque show)
Many people think that La Reve is another Cirque show. While it shares a lot of similarities with them, it is itself quite unique. You will find all kinds of water based acrobatics, unique costumes, and feats of strength like you will in "O". Once again though, this is officially not part of the Cirque family.
While the show's designers might want to emphasize the differences, I include it here because it is impressive in many of the same ways. It has been showing at the Wynn Resort and Casino since 2005.
Family Friendly Shows In Las Vegas (non-Cirque)
There really are a lot of things for families to do in Las Vegas. Many people mistakenly think that there isn't entertainment for the kiddos. This couldn't be further from the truth. There are many competing to be the best Vegas show for families.
Blue Man Group
I think the absolute best Vegas show for families is the Blue Man Group. This is another show that is hard to describe without making it sound lame.
This Las Vegas show for families is made up of men completely painted a shiny deep blue. While blue, they do incredibly silly things. You will have to trust that it is hilarious and great for the kids. This doesn't mean that adults wouldn't enjoy it on their own, though if I had to choose I think kids would like it more which is why I rate it one of the best show in Vegas for families.
Blue Man Group is one of the most fun and popular shows in Vegas. I have yet to meet one person who has seen this show that hasn't loved it!
Best Magic Shows In Vegas!
Lots of people love the allure of a traditional magic show. So many people enjoy analyzing and trying to figure out how each trick or illusion is performed.
While in Vegas prepare to have your mind blown as you attempt to figure out the tricks you can see on the Strip.
Rating the best magic shows in Vegas is subjective, but there are a couple that are extremely popular and highly recommended.
Criss Angel Mindfreak
Okay, so if you've ever seen Criss Angel on TV then you know that he is kind of a weird dude. Don't let this deter you as his show is amazing.
Criss Angel had a magic show on TV that lasted on the A&E channel for 5 years.
He was able to fill 96 episodes with tricks. I am always skeptical of tricks pulled off on TV as I feel like anything can be modified or edited with a camera.
When you watch Criss Angel in person you will see that he really is a talented magician.
For a magic show to last as long as his has, the material has to be impressive and continually evolving. You can see it at Planet Hollywood.
Given its longevity it very often gets rated the best magic show in Las Vegas.
Get your admission tickets in advance here. (Free cancellation)
BEST MAGIC SHOWS IN VEGAS
David Copperfield
For those looking for a classic magic show they should go to David Copperfield. David Copperfield has been one of the most long standing and successful magicians ever.
There is a reason he has been able to entertain for over 40 years and earn over $50 million per year. He holds numerous world records and still sells out Vegas shows.
No one knows how much longer he will keep performing, so make sure you book your tickets at the MGM grand soon.
Reserve your tickets by clicking here. Or check out the links below!
Finding the Best Comedy Shows in Las Vegas
Your favorite comedian is likely to be competing to be one of the best comedy shows in Vegas at some point. Whether they come through for a couple of shows or a full residency, the competition is fierce.
Keep your eyes out and you likely will have the opportunity to see them in person. Whether it is Jimmy Kimmel, Daniel Tosh, Chris Tucker, or Kevin James most of the big names are likely to come through at some point.
Even if it isn't a famous headliner, there are tons of acts that want to be one of the best comedy shows in Vegas.
For example, I highly recommend seeing Carrot Top. I know I know you are probably snickering and thinking that the show would only appeal to middle school boys. You are wrong; it's genuinely funny, though it is a little raunchy. Book your ticket here.
If you can't bring yourself to go and see Carrot Top, there are a number of other shows that are genuinely hilarious.
Generally, I think the comedy shows are more subjective. I highlight some of the most popular ones below, but don't be afraid to try one that you aren't familiar with.
Comedy Cellar at the Rio
Delirious: Stand Up Comedy at the Downtown Grand
Jeff Dunham: Seriously?! at Caesars Palace
Menopause the Musical (and comedy) at Harrah's
Potter Potter – A Harry Potter themed show at Bally's
Terry Fator: The Voice of Entertainment at New York New York – Reserve your tickets here.
Save money – Buy an All-Inclusive Pass!
Don't skip this section like I normally do.
Most all-inclusive passes suck! They don't actually include things you would want to do, or you need to visit 10,000 attractions in a short amount of time to make it worth their while. The Go City Las Vegas Pass is different; it is a huge cost savings and includes things you actually want to do!
Seriously – if you want to see a Cirque du Soleil show alone the pass basically pays for itself.
Some of the other big ticket items included are a ride on the High Roller, LINQ Zipline, and Illuminarium at Area 15.
Some of the things that I think are coolest are the LINQ Zipline, the High Roller, SkyPod at the Strat, Area15 Illuminarium, and the New York New York Big Apple roller coaster.
There are 35 different things you can choose from.
They include other show tickets, museums, bar crawls, as well as things like go-cart racing and escape rooms. If you don't want to see a Cirque show you can switch out those tickets for a Strip Helicopter tour instead.
This deal literally can't be beat if you are looking to do more than just gamble while in Vegas. There is a day time limit though so to get your money's worth you have to keep moving, though there isn't a more affordable way to cover so much ground in Vegas.
Conclusion
There are so many shows in Vegas that you will fall in love with. You could easily fill every night with one. What one was your favorite?
More posts on Las Vegas:
I lived in Las Vegas for almost 10 years and loved it there! Here are a few of our most popular Las Vegas posts that will help you plan your trip.