If you have ever searched for the absolute best place to see fall leaves you are almost guaranteed to come across people raving about Stowe, Vermont. This hype is not misplaced; the colors and sheer amount of foliage really are insane! It is the perfect place to enjoy hills and mountains full of brilliant shades of color changing leaves. With all of our travels we almost never duplicate a trip, yet the fall leaves around Stowe, Vermont were so stunning that so we've gone back twice!
Not only is Stowe the best in the fall, but winter is pretty amazing as well. Stowe is home to Vermont's highest Mountain, Mount Mansfield, which is perfectly set up to make it a winter sports mecca. It often gets called the "Ski Capitol of the East." Vermont is the Vermont is the birthplace of Alpine skiing with trails cut on Mount Mansfield in 1933. It is also home to the oldest ski patrol in the nation.
To add a cherry on top, Stowe in spring and summer are pretty magical as well. I guess you could say Stowe is a four-season playground that deserves a spot at the top of everyone's bucket list.
Hover over the image to save it to Pinterest for later!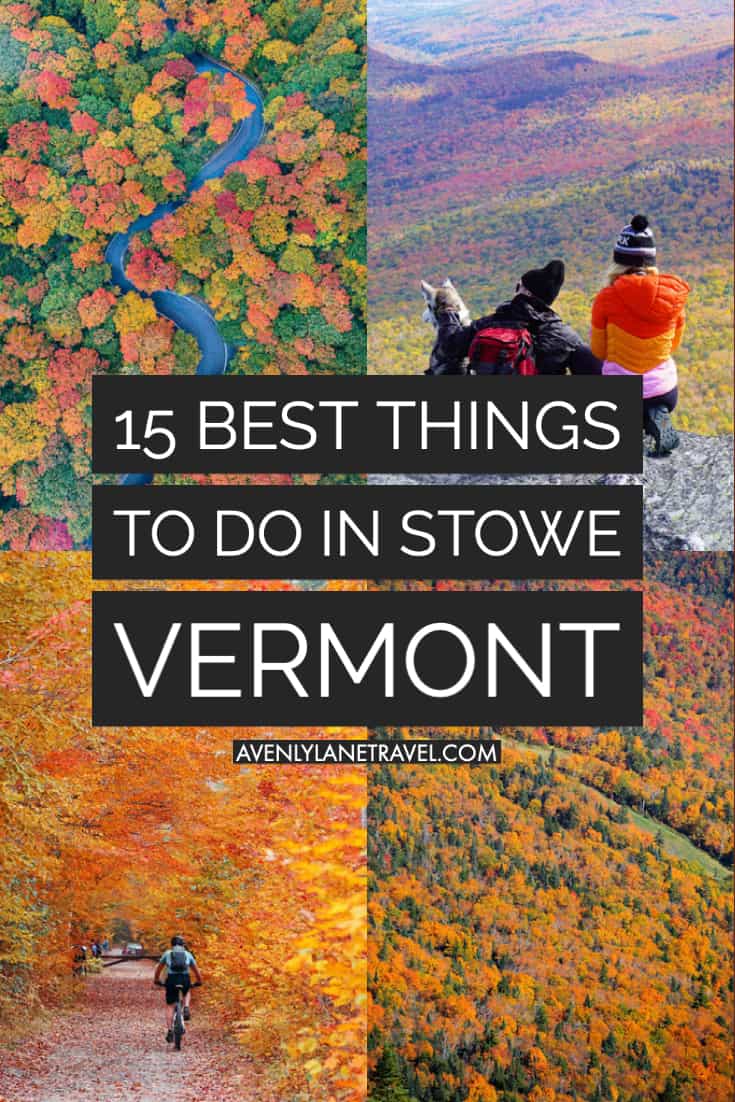 To see recommendations for accommodations in Stowe scroll to the bottom.
15 Best Things to do in Stowe Vermont
Here are the best things to do in Stowe Vermont.
1. Smugglers' Notch Drive
No trip to Stowe would be complete without a drive through Smugglers' Notch. The drive is absolutely breathtaking, especially during fall.
Driving through Smugglers' Notch feels like you have left reality and are driving through a fairy tale. Yes, it's that beautiful. It is actually considered one of the most beautiful drives in the U.S.
Check here for more Vermont scenic drives.
If you don't want to have to plan and drive yourself, I recommend this tour of Stowe that includes most of all the top spots.
Book your tour: Day tour through Stowe Vermont
2. Ride the Mount Manfield Gondola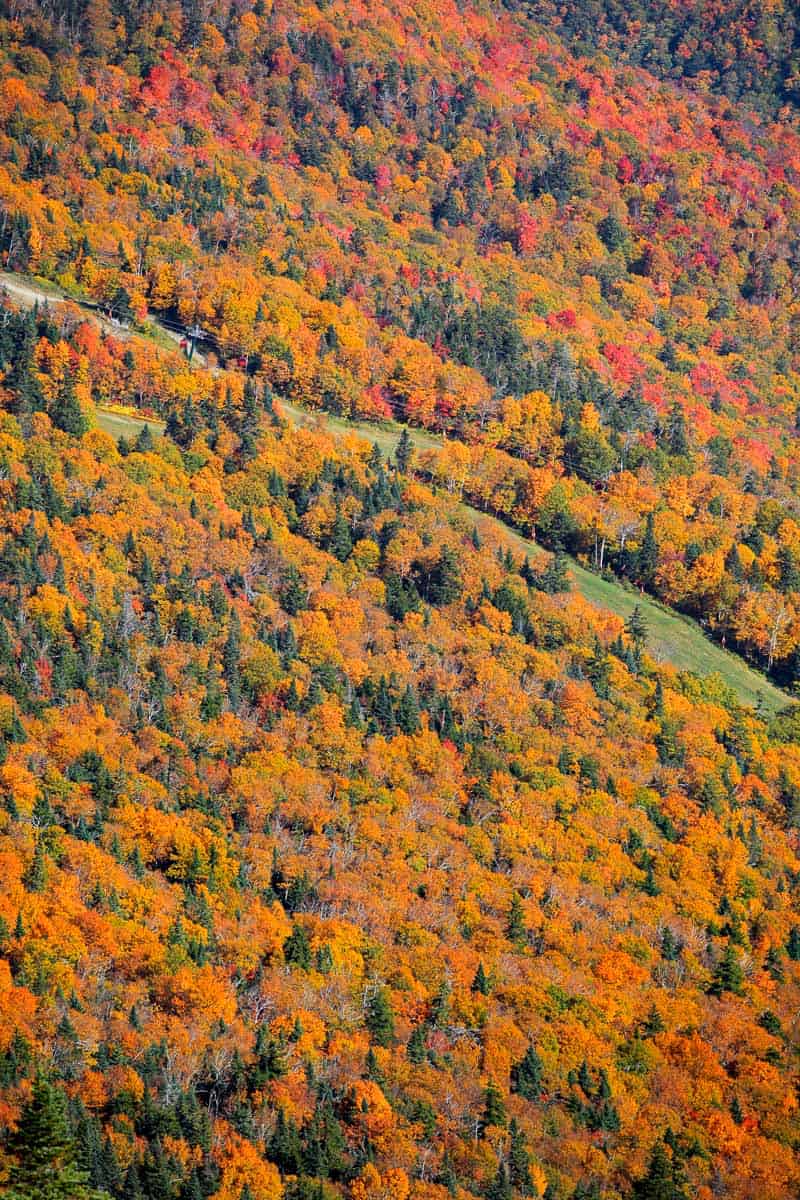 Are you visiting Stowe in summer or fall? If so, you definitely need to check out Mount Mansfield Gondola Skyride.
Mount Mansfield is famous for being Vermont's highest peak. In the summer and fall the Gondola opens and for a hefty price of $32 USD per adult and $22 USD per child, you can take the 20 minutes (round trip) ride to the top.
Despite the price being so high, it is definitely worth it due to the views being incredible the whole way up. Who wants to hike to the summit when you can just take a gondola to the top?
It is especially beautiful and worth it when the fall leaves are popping!
Once you are at the top you are free to go hiking, take photos, or even order some drinks at the drink stand. If you decide to go on a hike, just make sure you are back before the gondola stops running for the day. It would SUCK to get stuck at the top.
Gondola SkyRide is Open June 18 through October 17.
Open from 10am to 4:30pm
You can book tickets in advance here.
3. Stowe Pinnacle Hike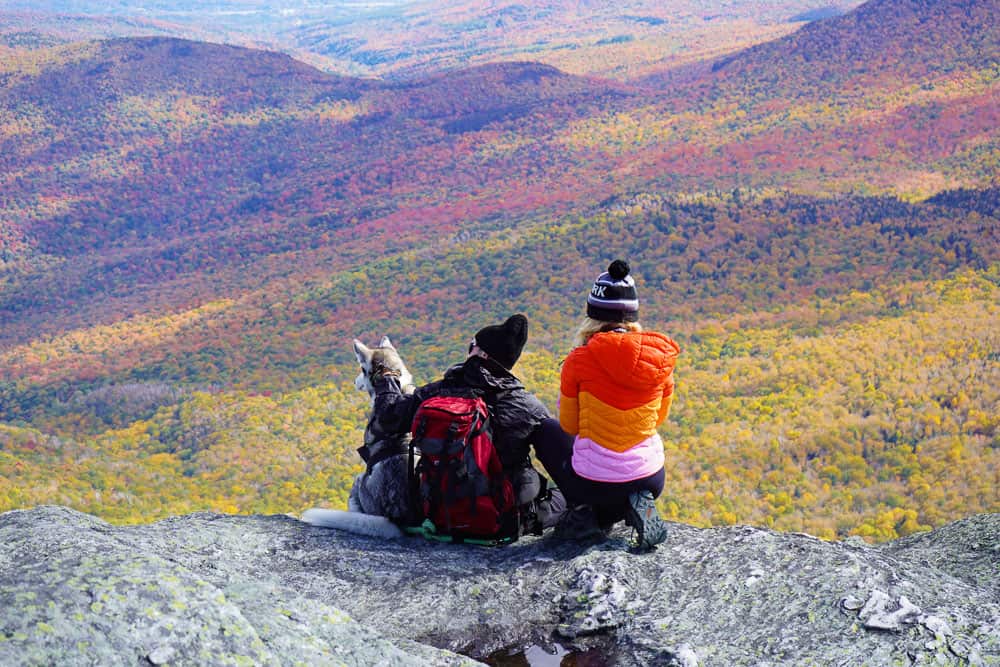 The Stowe Pinnacle Hike is one of the best hikes in Stowe, Vt. The views from the top are spectacular in the summer and fall.
This trail is either 3.6 miles or 2.6 miles depending on your starting point.
There are two ways to hike this trail. It can be hiked from the trailhead on Upper Hollow Road (3.6 miles round trip) or from Pinnacle Meadows Lot which makes it a full mile shorter )2.6 miles round trip).
I personally recommend hiking it from the Pinnacle Meadows Lot because it's shorter and easier. In my opinion, the longer route does not really add much more than time to the hike. You get amazing views either way.
This hike is rated a 5/5 on trip advisor.
Packing tip – If you are hiking/skiing in Stowe during the fall or winter season make sure to pack lots layers! I was there in October and this Icebreaker base layer saved me. (I am that person who is always freezing.) This half zip base layer is super warm made out of 100% merino wool but not itchy at all! It is extremely lightweight making it super easy to wear under my sweaters or sweatshirts. It's my new favorite.
4. Enjoy the Stowe Bike Tours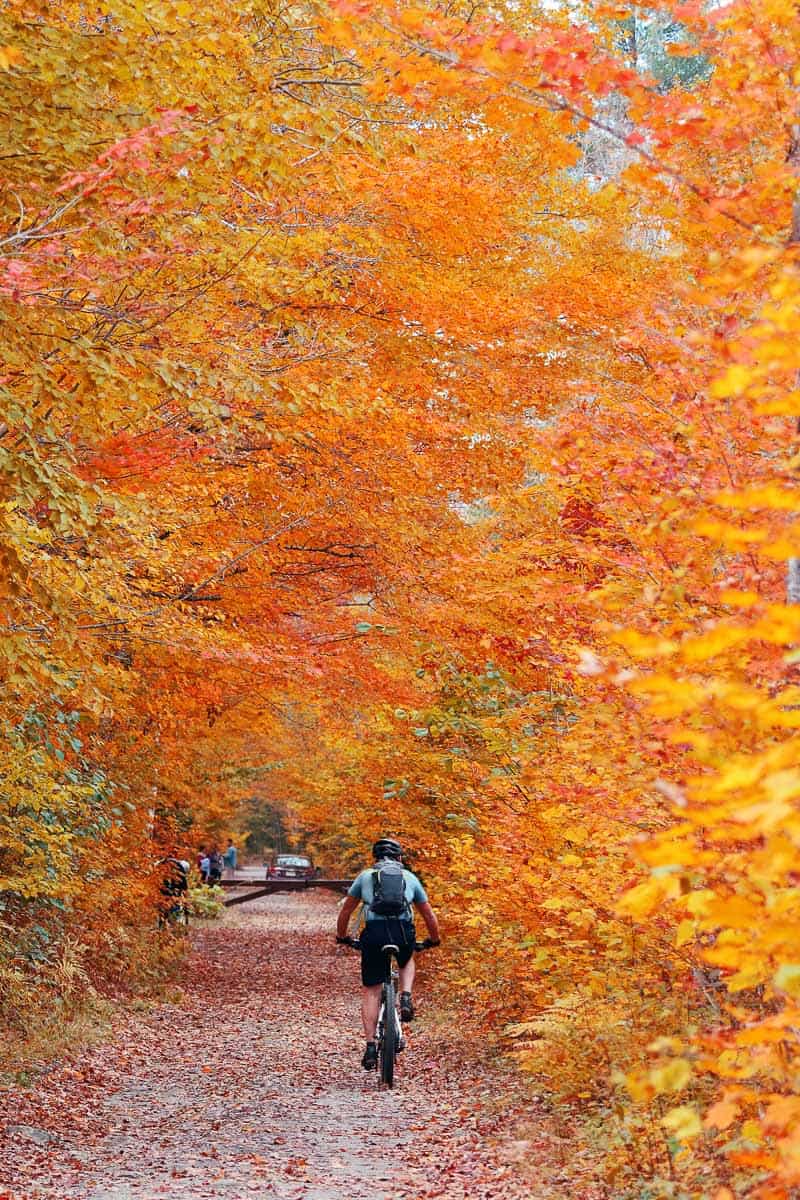 There are numerous tours and bike rentals you can try while in Stowe Vt. Two of the most popular are the Stowe Mountain Biking and Brewery Tour and the Mountain Bike Guide Service Tour. Both take place at the Trapp family lodge. Both of these bike tours are great for beginners and advanced bikers. The only real difference between the two tours is the Brewery at the end of the tour. Other than that they are basically the same.
They both offer pick up and drop off at your hotel so you won't have to worry about getting to a meeting point. Read more about Stowe Mountain Biking and Brewery Tour here. (I love how their tag line is "Combine your love of biking and beer.")
I personally am not a beer drinker, so if it were me I would opt for this tour and skip the brewery.
5. Enjoy the leaves during the Stowe Vermont fall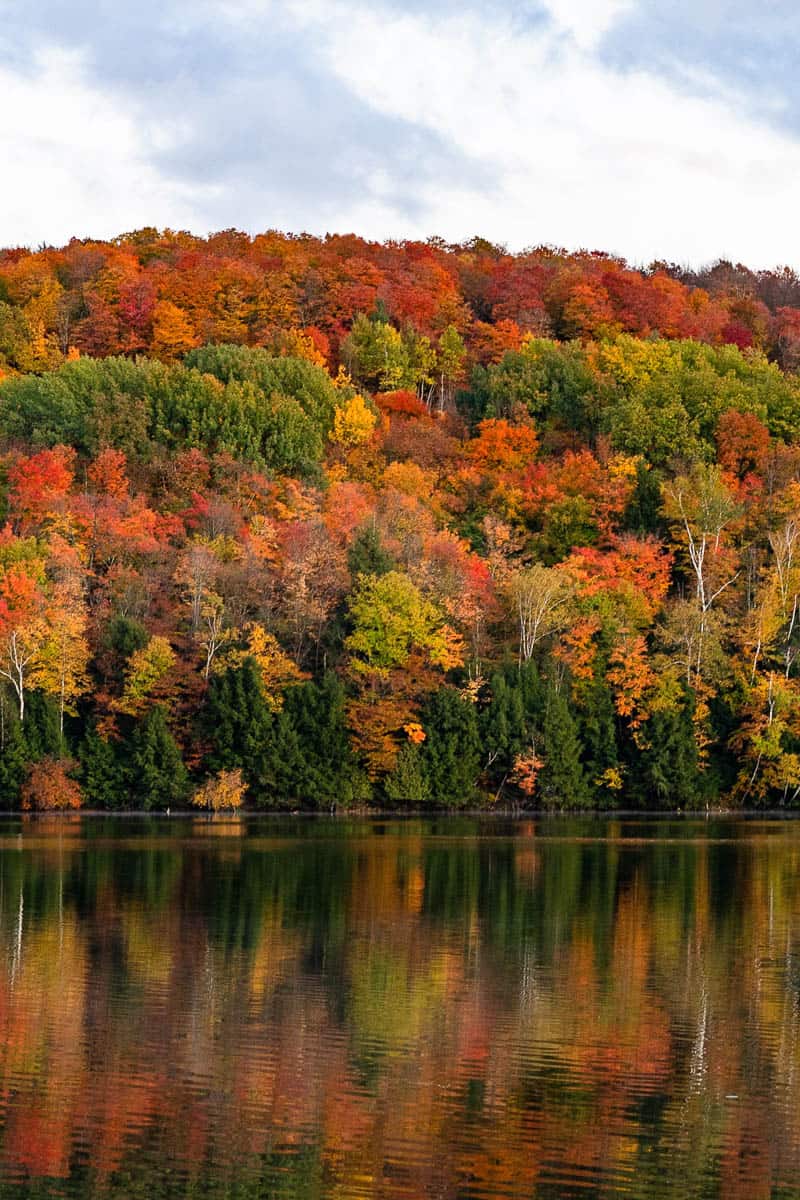 Stowe Vermont fall is probably the most popular time of year to visit. Hotel and rental car prices skyrocket so it is essential that you book in advance to lock in the cheaper pricing!
Just to give you an idea of how expensive it can get, my husband and I checked prices about a week before our trip and it was $500-600 per day! Ouch! Thankfully we had a previous reservation, but given a last minute flight change my husband even ended up reserving a U-haul truck for $60 a day just in case our rental fell through. Thank goodness it didn't!
Read our tips on how to book a rental car for as cheap as possible.
6. Take a Day Tour of Stowe Vermont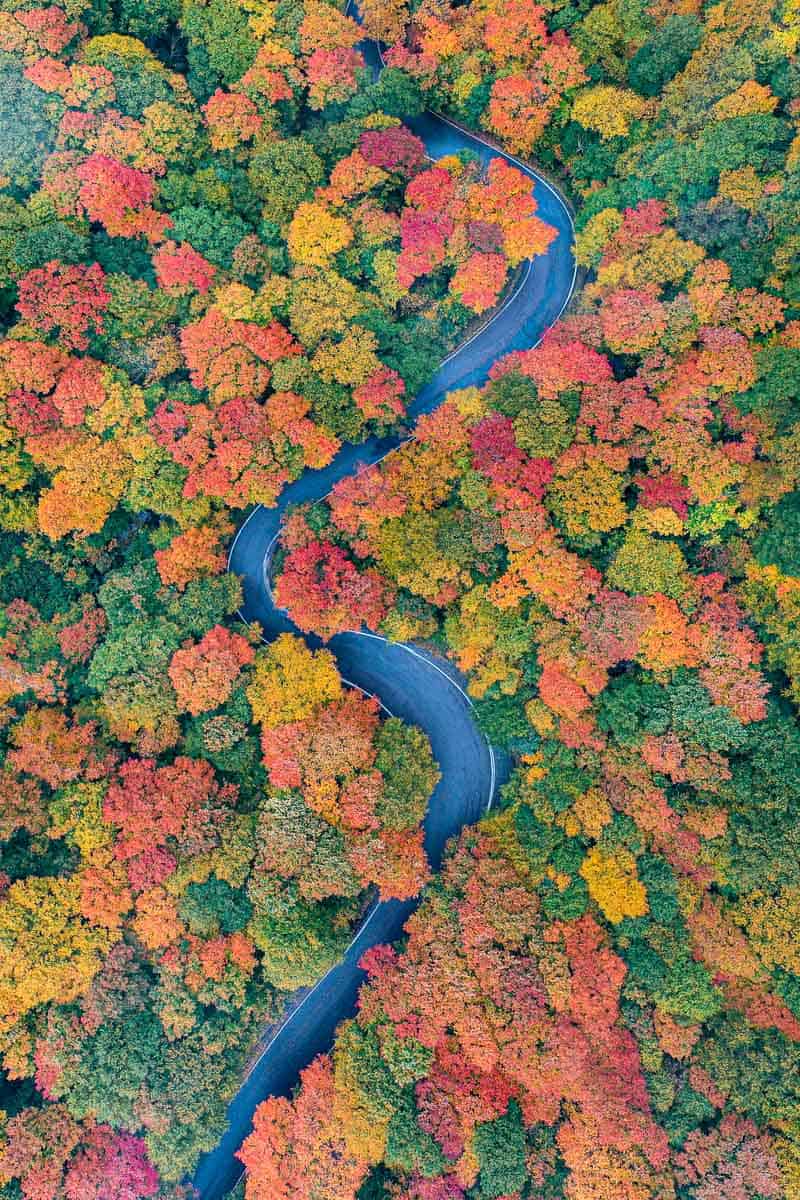 If you don't feel like navigating the area yourself the Stowe small-group day tour might be the perfect solution for you. You will still be able to see all the top attractions in Stowe without the headache of navigating.
I personally did not take this tour since we opted to rent a car and navigate ourselves. If you don't want to bother with the navigating this tour could be perfect for you.
During this 8 hour tour you will be able to see many of the top attractions in Northern Vermont including a visit to the Ben & Jerry's Factory, the boutiques of Stowe, and much more Zip through classic Vermont scenery.
The option to get picked up at your hotel room is available to those who want it.
Read more about the Northern Vermont: Stowe and Waterbury Small-Group Day Trip here.
7. Moss Glen Falls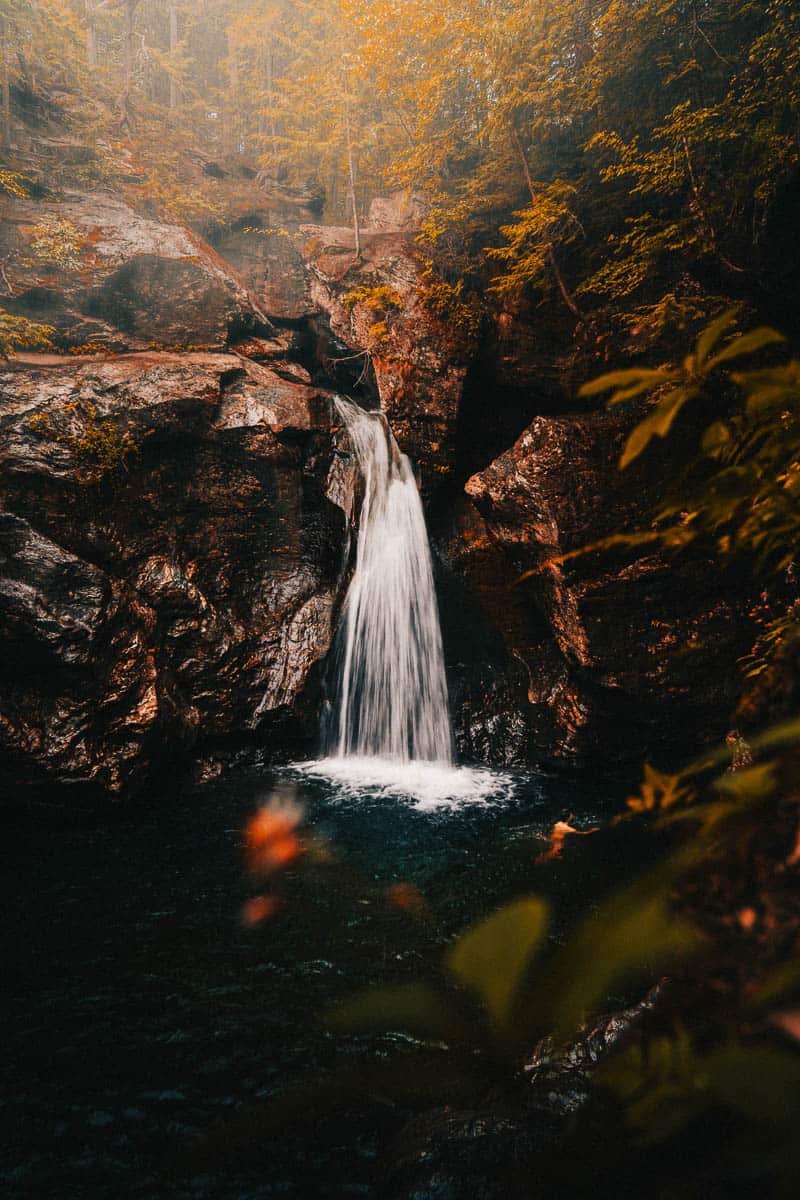 If you want an easy hike Moss Glen Falls is it! The walk (not really a hike) to the waterfall takes about 10 minutes each way. On trip advisor this hike is rated a 4.5/5.
8. Sunset Rock Stowe
Sunset Rock is a fairly easy 1.6 mile round trip trail that will give you great views overlooking Stowe. It is located very close to downtown so you can park in town and walk to the trail. There is some elevation gain but nothing crazy.
If you have done this trail let me know in the comments what you thought of it! There were definitely mixed reviews.
9. Go shopping down Main Street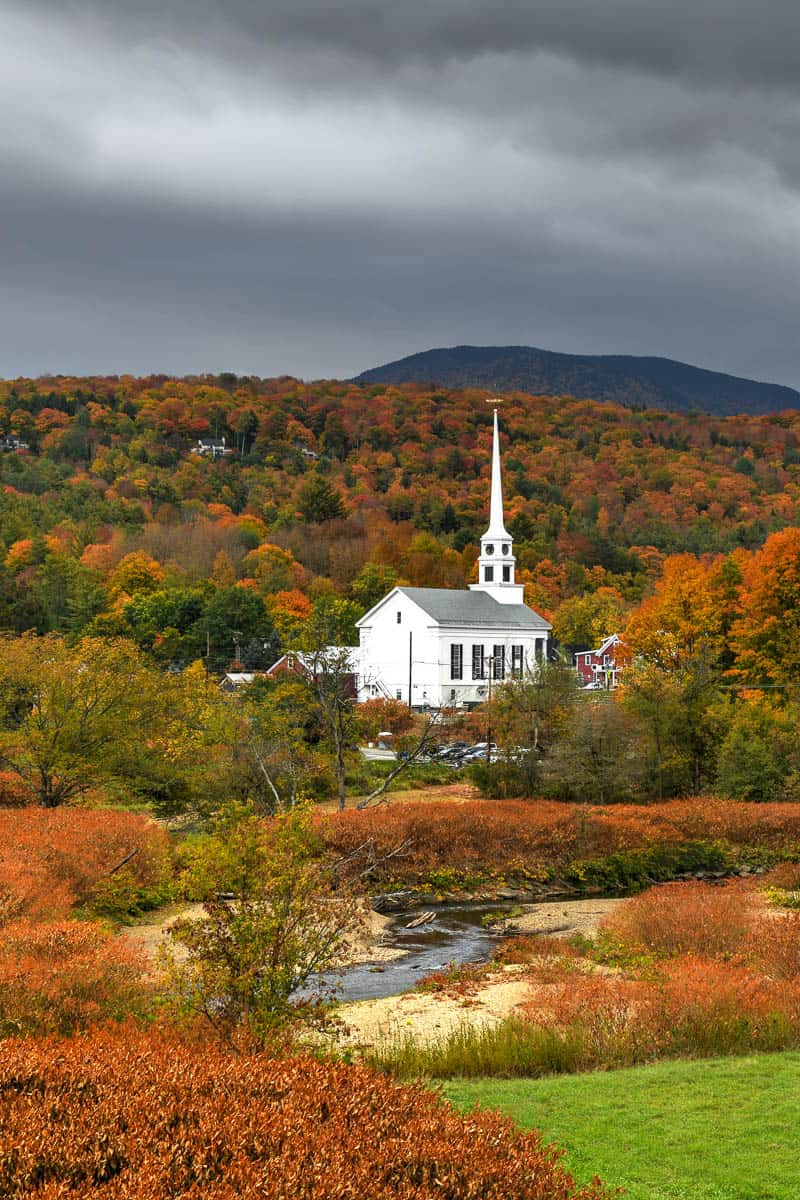 Main Street in Stowe Vt is pretty short so you can easily walk it in 20 min or so. There are lots of places to eat and bars to drink at. If you like to try different beers you might be interested in booking a Vermont Brewery tour here.
While you are in town make sure to photograph the famous white church in Stowe! So picturesque in the fall when the leaves are in peak foliage.
Book your tour: Vermont Brewery Tour in Stowe
10. Tour the original Ben & Jerry's factory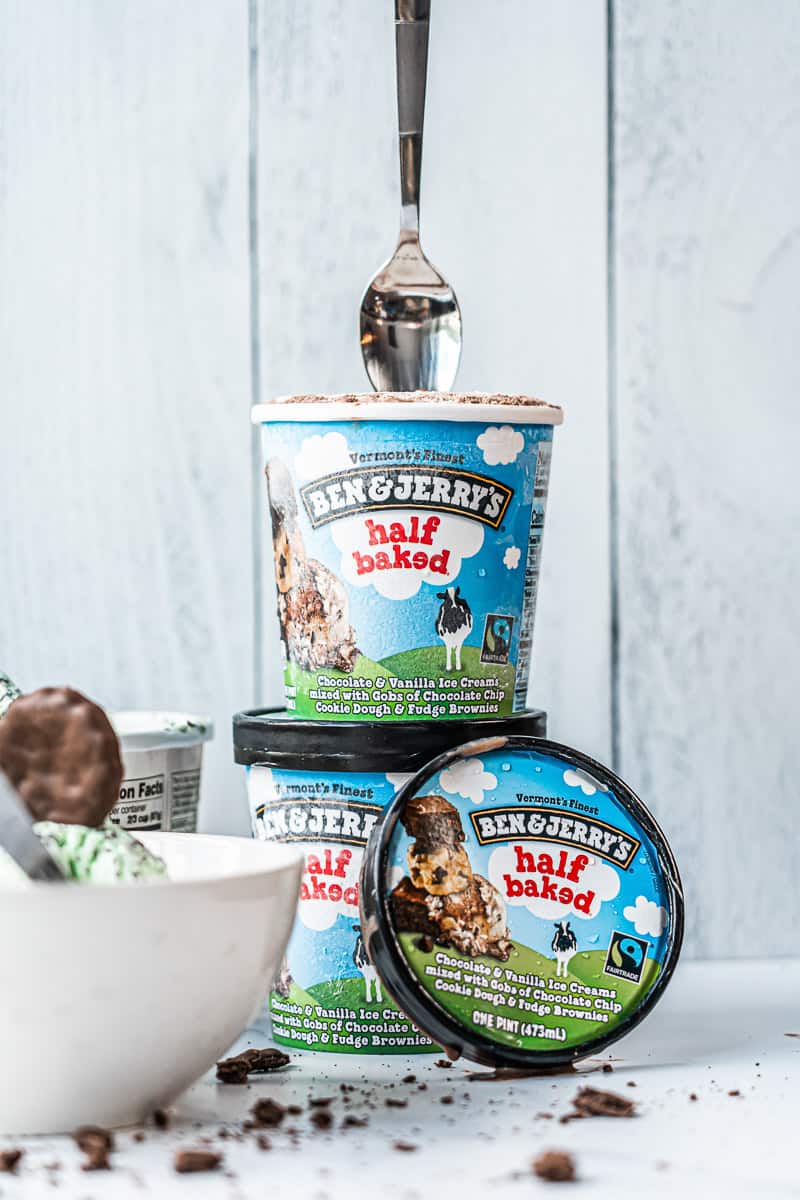 Who doesn't love Ben and Jerry's ice cream? In Waterbury Vermont (just a few miles from Stowe) you can tour Ben and Jerry's very first manufacturing site.
Looking for a tour to do the navigating for you? This Stowe Vermont tour makes a stop at the original Ben and Jerry's factory.
11. Take a Day trip to Woodstock, VT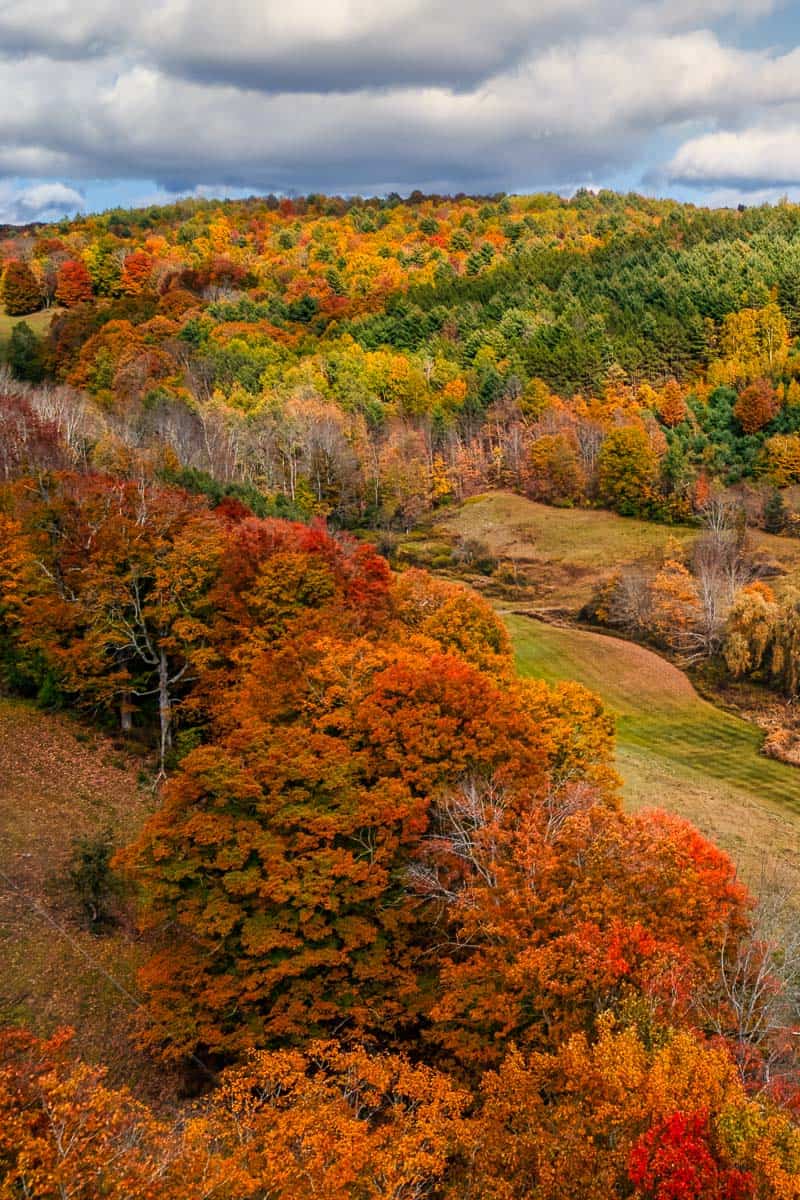 Our day trip to Woodstock was honestly one of my favorite parts of the trip. Woodstock is a 1.20 hour drive from Stowe and as you will see once you get there, it is one of the most charming and perfect towns in Vermont.
A few of my favorite things to see in Woodstock Vermont are the Sleepy Hollow Farm (pictured in the photo above) and Quencher Gorge (very underrated in my opinion).
12. Enjoy winter sports
Stowe is home to Vermont's highest peak, Mount Mansfield which makes Stowe the perfect place for winter sports. Known as the "Ski Capitol of the East", Vermont is the birthplace of Alpine skiing with trails cut on Mount Mansfield in 1933.
During the winter season Stowe Mountain Resort offers amazing skiing. In fact, Forbes named Stowe one of the Top 10 Ski Towns in the US!
The Trapp family lodge also transforms into a winter sports play land once the snow falls. With over 60 miles of back-country skiing, snowshoe, and cross country trails.
13. Apple Cider Tasting
There is no shortage of hot and cold apple cider in Vermont. It's everywhere! You can buy it in a bottle at gas stations or even get hard apple cider served in most of the bars in Stowe.
14. Trapp Family Lodge
The Trapp Family Lodge features over 60 miles of hiking and mountain biking trails. In the winter the place transforms into a Mecca for winter sports! You can even book a night at the luxury Trapp Family Lodge hotel.
15. Visit Waterbury Reservoir (hidden gem)
Just a few miles outside of Stowe is the hidden gem, Waterbury Reservoir State Park. When researching for our first fall foliage trip to Vermont I didn't see any mention of Waterbury Reservoir, but it ended up being one of our favorite stops. I am so happy for Google Maps highlighting it, and my husband for the surprise detour.
We basically had the entire park to ourselves; it was amazing!
Where to stay in Stowe
For as small as Stowe is they actually have a lot of accommodation options. Check out all of the best places to stay in Stowe here. See our top picks below based on best guest rating and location.
Luxury:
The Trapp Family Lodge (Rated 8.8 / 10) is a unique mountain mountain lodge that has incredible mountain views! It is 3 miles away from the city center and has so many scenic hiking and biking trails as well as cross country skiing. There are 2 swimming pools and a hot tub. It's honestly the perfect place to unwind after a busy day of travel.
The Lodge at Spruce Peak (Rated 9.0 / 10) is my dream hotel spot in Stowe. The entire area is GORGEOUS! The location is ideal, especially in the fall and winter. The only downside is the price. It is a luxury hotel that comes with a hefty price tag. If you can afford it, I'm jealous!!
Budget:
Northern Lights Lodge – Rated 8.8 / 10. A great option to get you close to the action.
The Hobble Inn (.01 miles from city center) is a B&B in Stowe Vermont. The location is perfect! If you are looking for a quiet place to unwind after a long day this is it.
Sun & Skin Inn Suites is a great pick if you want a hotel that is a little more modern and has an indoor pool! Great option for kids.
Map of Stowe Vermont
Stowe is located in Northern Vermont.
Driving from Burlington Vt to Stowe
On our most recent trip to Vermont we decided to base ourselves in Burlington. We stayed in a Marriott Hotel property near downtown Burlington. The hotel was clean, had a pool and a gym and was only a 5 min drive from downtown Burlington! Location couldn't have been any better.
Driving from Burlington Vt to Stowe was a simple 35-40 min drive.
Note – If you are planning on visiting Stowe anytime from mid September to mid October I highly recommend you book your hotel in advance. From my experience hotel prices go way up during this time and they fill up extremely fast because of all the leaf peepers.
Other Things to do near Stowe Vt
There are so many things to do near Stowe Vt it's hard not to include them in your Vermont itinerary. Below are a few of my favorite spots.
Warren Vermont

Killington ski resort
Lake Willoughby – a little further out but well worth the drive! It is a 1 hr 15 min drive from Stowe.
I hope this guide to the best things to do in Stowe Vermont helps you plan your visit!
Have you been to Stowe? What were your favorite things to do?
Please let me know if you have any questions or need help planning your visit in the comments below.
Recommended Travel Planning Resources
Booking Hotels: I recommend checking out Booking.com for the best pricing worldwide.
Rental Cars: When we rent a car while traveling, we routinely use Rentalcars.com for best value and most options | Rental Cars