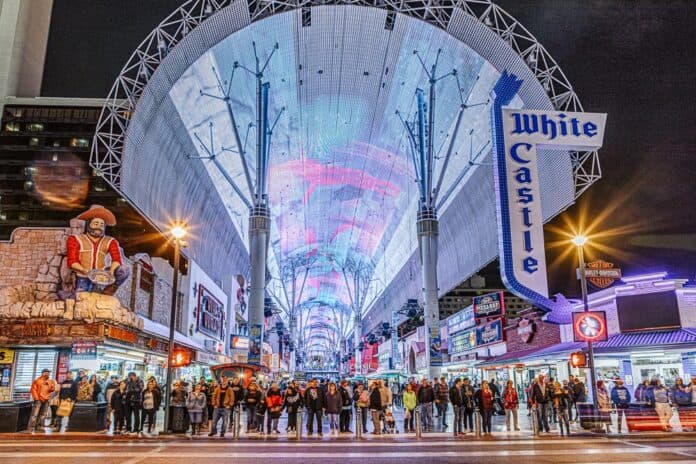 When in Vegas don't ignore these top 17 things to do on Fremont Street
There is nothing worse than planning a trip and after the fact finding out you missed some of the best attractions! Way too often this happens with people in Las Vegas and Fremont Street.
Part of the confusion comes from the fact that Fremont Street has so many different names. It gets called "Old Vegas", "downtown", "the old Strip", any sometimes it is incorrectly spelled as the "Freemont Street Experience." All of those names are referring to the same place!
You may wonder what to do on Fremont Street?
First, understand that it is a cluster of the older casinos and attractions located north of "The Strip" in downtown Las Vegas.
Most of the casinos surround one attraction called the "Fremont Street Experience." This attraction is a pavilion covered road turned into a sidewalk/street fair.
It is also the site of the Vegas "Arts District" where you can find art displays and some amazing street murals.
Now that you know what I'm talking about, why should you bother to include it rather than just hanging out on the Strip?
The quick answer is that that it offers cheaper hotels, lower table minimums for gambling, a totally unique vibe, and completely different attractions (ziplines, concerts, street performers, and light shows to name a few). Also, it is MUCH more walkable than the regular Strip.
A lot of people end up preferring to stay in Old Vegas rather than one of the typical Strip properties. A few of the highlights of the things to do on Fremont Street are…
17 Awesome Things to Do on Fremont Street
1. Fremont Street Zipline – aka SlotZilla
One of the most popular things to do is the Fremont Street zipline. This zipline lets you soar above the crowds of Fremont Street. You cover 5 city blocks while descending from 11 stories!
Prices vary depending on when you want to go, but it generally costs about $50. Make sure you make a reservation ahead of time as there are limited "flight times" and it can book out fairly far in advance, especially at peak times. Because it is Vegas it stays open until 2 am, which gives you a lot of choices in scheduling.
Check out my YouTube video on the Fremont Street Zipline here.
Read more here.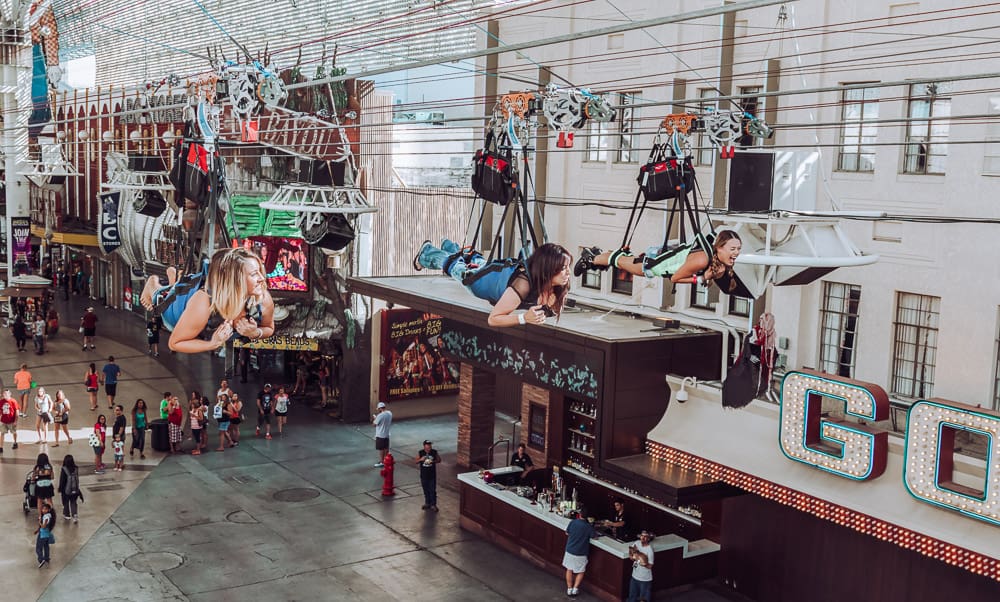 2. Fremont Street Light Show
The entire road/pedestrian walkway of Fremont Street is covered by an enormous pavilion. The Fremont Street Light Show pavilion is 1,375 feet long, 90 feet wide, and 90 feet above the ground. Not only does it cover pedestrian traffic from the scorching Vegas sun, but it also is a gigantic screen/digital display.
Each night on the hour from 6:00 pm to 2:00 am the lights go off and the gigantic display begins showing a light and music show. For completely free entertainment, it is definitely fun to see!
Get more details on the Viva Vision Light Show here.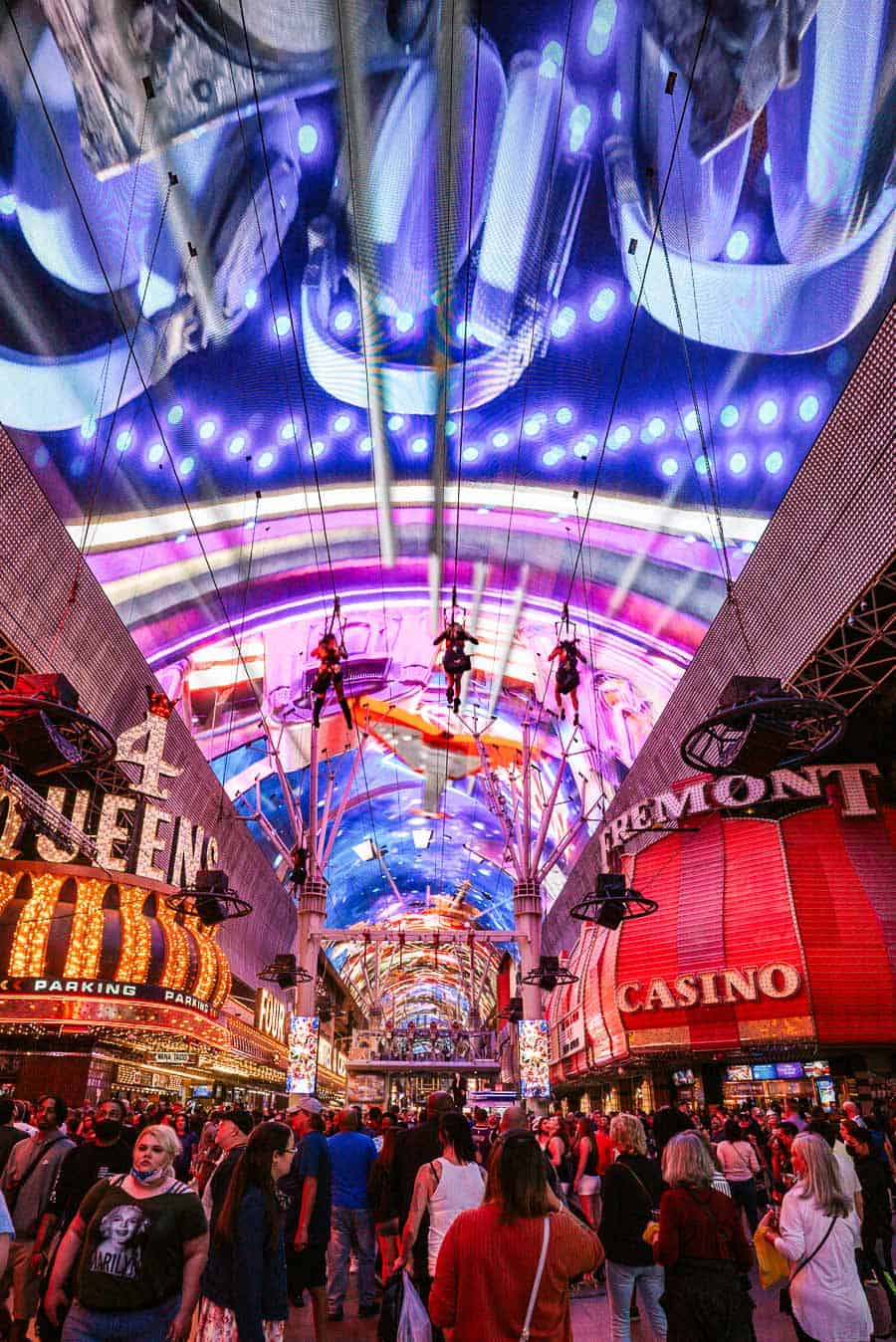 3. Enjoy the delicious Fremont Street Food
Even though downtown Vegas is typically cheaper than The Strip, it doesn't mean that the quality has to suffer. There are a number of high-end restaurants located in Old Vegas.
One of the most popular tours on Fremont street is this Downtown Vegas Foodie Tour. Highly recommend checking it out if you are a foodie!
Another one of my favorite of the Fremont Street food options is the classic romantic vibe of Hugo's Cellar in the basement of the Four Queens Hotel and Casino.
Aside from higher end food, Fremont Street food also features unique attractions like a White Castle (don't roll your eyes) for those who don't have them at home and the forever popular Heart Attack Grill.
The Heart Attack Grill gets its popularity by being so openly terrible for your health. When you walk in they immediately provide you with a hospital gown.
Not only do people over 350 pounds eat free, but they serve things like chocolate milkshakes with butter. Yes, I know that sounds revolting, but trust me it somehow tastes good. That being said, I obviously recommend only going once to preserve your health!
They also offer a Downtown Vegas Foodie and Sightseeing Tour that comes highly recommended. It's a perfect combination of the local food with the Vegas attractions.
My favorite restaurant is Le Thai, which not surprisingly serves Thai food.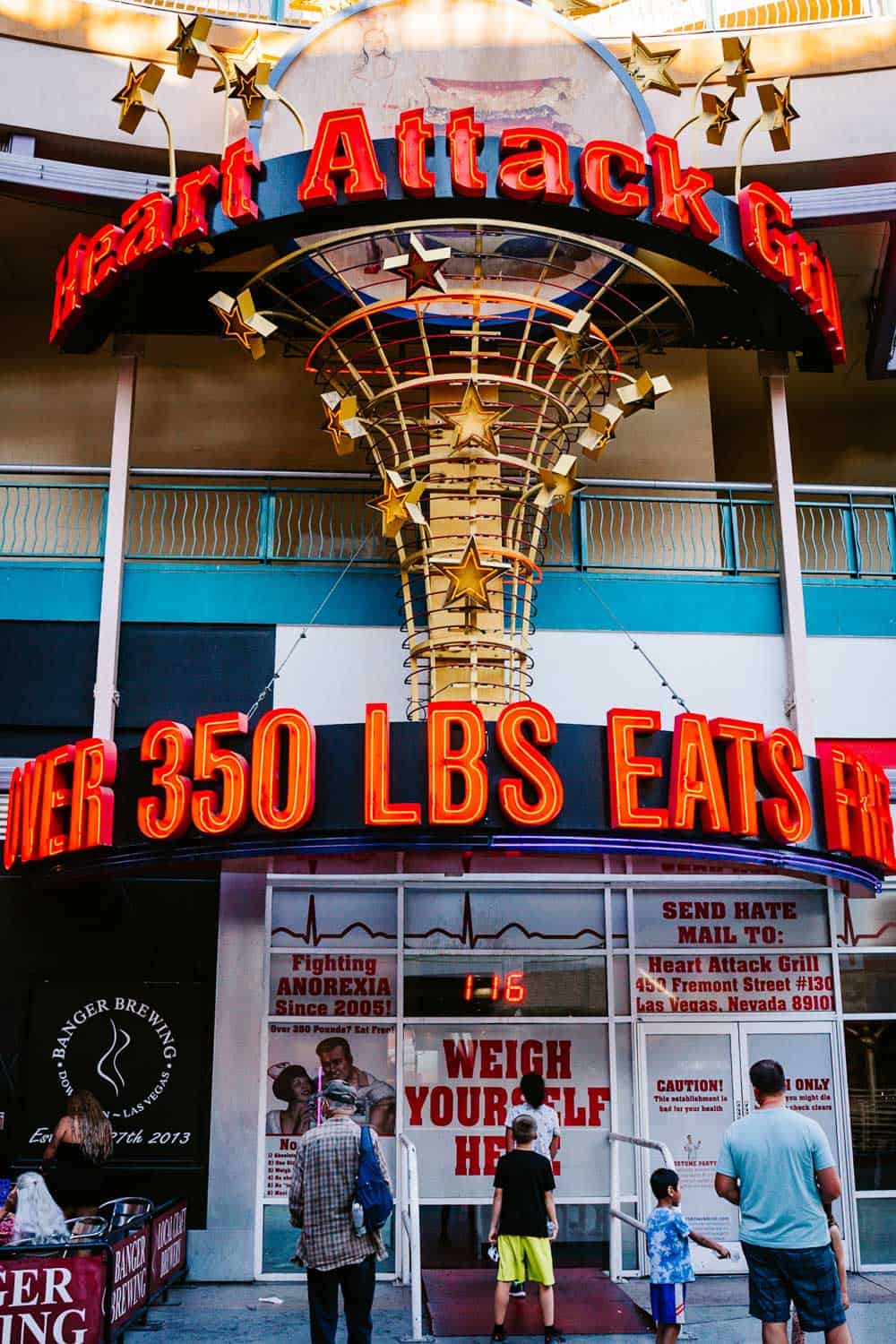 4. Hop on an Open-Top Bus Tour
Open top bus tours can be one of the most fun ways to explore the Las Vegas Strip and Downtown Vegas! The Las Vegas 3-Hour Night Tour by Open-Top Bus goes through Fremont Street so be sure to check it out.
5. Segway Tour Instead?
Not interested in a bus tour? How about a more hipster approach where you cover the area and its history via a segway? This tour will take you through most of the spots highlighted in the post all while saving your feet from having to walk. A two hour segway tour is a great way to see the top spots of downtown Vegas – book now!
6. Casinos on Fremont Street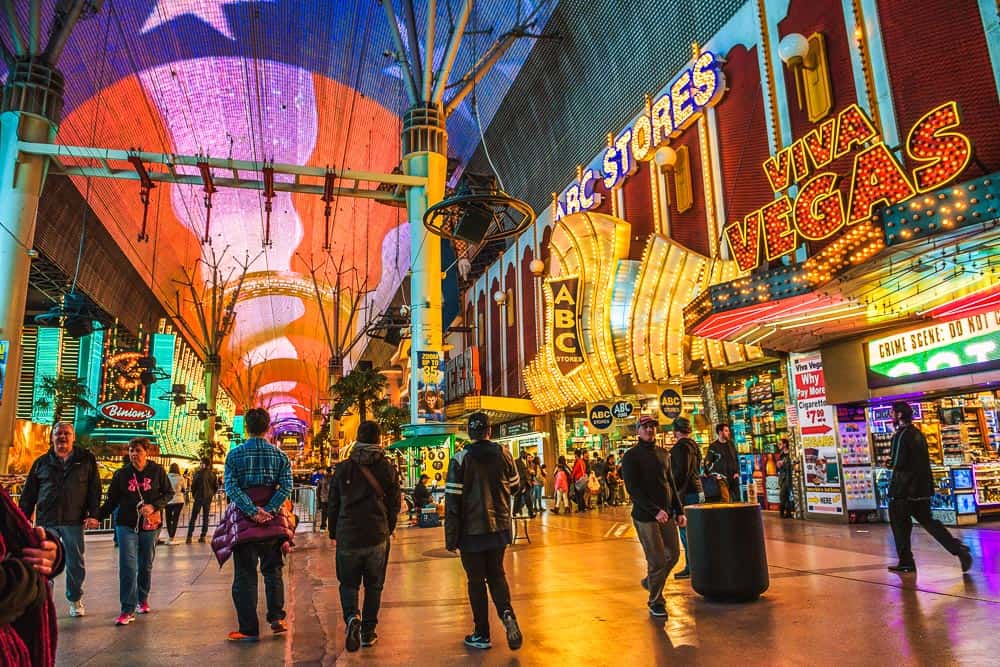 There are a number of the classic Vegas casinos on Fremont Street. Part of the allure of them is that you can gamble in them with table minimums that are much less than the big properties along The Strip.
If you are looking to play the same casino games, but don't want to risk losing as much money at once you definitely should check out these properties. I know people that prefer to play here so they can ultimately sip free drinks and play the table games longer.
Book your tour: Downtown Las Vegas Nighttime Walking Tour
7. Street Performers
Downtown Vegas is famous for their street performers/buskers. Vegas requires them to register and gives them specific spots, but this helps ensure that they are of a unique quality.
You will see all kinds of acts as you walk around Old Vegas. You will see showgirls, acrobats, magicians, contortionists, celebrity impersonators, artists, musicians, and even things that should probably never be seen like "overly sexy and nearly naked nuns."
The acts are always changing, so even if you've gone before walking back and forth along Fremont Street is a complete show of its own!
Book your tour: 2-Hour Guided Segway Tour of Downtown Las Vegas
8. Sidewalk Bars
Another unique perk of Las Vegas is that in a number of areas you can openly consume alcohol. Fremont Street features sidewalk bars that allow you to order uncomfortably large drinks and then consume them while walking around.
Not only are the prices here are a lot cheaper than you will find on the Strip, but the bartenders double as performers that will dance along the bar top.
Book your tour: Bar Crawl On Fremont Street
9. Fremont Street Experience Events and Holidays
For holidays such as Halloween or New Year's Fremont Street transforms into an even better perfect hang out spot. For Fremont Street Experience Events and Holidays not only are the concerts bigger names, but they often set up carnival style games.
Many people will go down to Fremont to hang out, even if they don't have tickets to a specific show, reservations to one of the restaurants, or plans to gamble.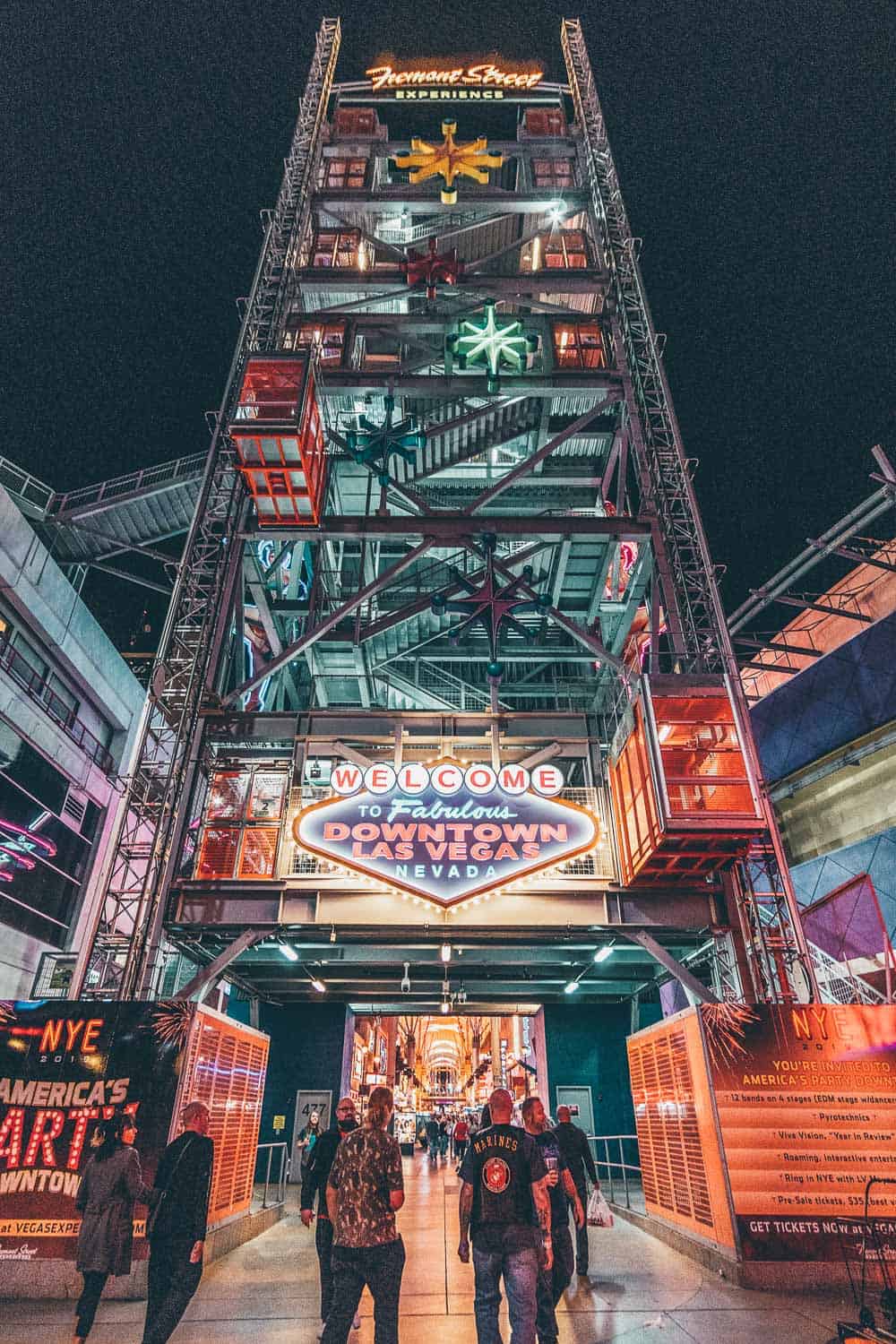 10. Axe Throwing on Fremont
Got some frustrations to get out? Why not let it out by hurling axes at a target.It you've never done it the experience really is a rush, whether you are a mountain man yourself or have never otherwise picked up and ax.
Not surprisingly Vegas has to upgrade the experience. This place is the ONLY Axe Throwing Venue in Las Vegas licensed to sell beer! I can't help but feel this is a bit dangerous, but hey, if you want to get drunk and throw axes Vegas is the place to do it.
Also, you don't have to limit your venting to just axes. You can also throw spears, ninja stars, tomahawks, shovels, and metal throwing cards, and more!
Buy your tickets in advance here.
11. Visit The Container Park
Tony Hsieh, the founder of Zappos had a vision to create a hangout space in downtown Vegas. The result is an open air shopping, dining, playground, and concert area made almost entirely out of shipping containers.
The shipping container construction obviously gives the area its name, and are definitely worth a quick tour.
My favorite event in the container park is when they do a "Silent Disco". Confused? Basically it is just a dance party where each person gets headphones and can tune into one of three different music sets playing.
12. Live Bands / Free Concerts via multiple stages
One of the best things about Fremont Street is the free concerts. Depending on the time of year, there are multiple shows every night beginning at 6:00 pm.
There are three different stages that all get filled with different acts, so you are bound to find something that you like.
There are local bands that are consistent performers, some great cover bands, and even bigger name bands that are in the twilight of their careers.
Check out the schedule here. You really can't beat free concerts!
13. Go on a Fremont Walking Tour
Don't roll your eyes if you think walking tours are lame! There are a number of tours available that you just might find fascinating.
Top rated Vegas Walking Tours:
Most Popular* – Small-Group Downtown and Fremont Street History Walking Tour

Plain and simply there are too many unique and cool places downtown for you to find on your own. If you want to quickly learn where all the secret spots are take this tour. Not only will you get an idea of what's available, but you will have the opportunity to pose for a picture with a million dollars cash.

Las Vegas Pop Culture Walking Tour Downtown

If you have even a moderate interest in history, you should go on the Las Vegas Pop Culture and history walking tour downtown. You can learn how Vegas got its start, how it really was run by the mob, grown by "mormon bankers", and how it developed into the entertainment getaway it is today!

Downtown Las Vegas Walking Tour – Night

This is another tour that covers the history of Las Vegas with a specific focus on the casinos that have come and gone, and other developments in the downtown area.
14. Pawn Stars Reality TV Show Tour Option
One of the places that these tours are likely to take you to is the Pawn Stars actual store/filming location as well as a tour of some of the fully customized cars in the show.
You can choose to take this tour with a meet and greet of some of the stars if you like as well!
If you are a fan of the show and custom cars you have to book the Pawn Stars, Counts Customs, and Shelby American Tour.
Check out this page for more details.
15. Amusement Park Style Rides at the STRAT (Thrill Rides!)
Interested in roller coasters, space shots, modified bungee jumping? Each one of these is available on top of the STRAT (formerly called the Stratosphere) in downtown Las Vegas. Get your skip the link tickets here.
Even if you aren't staying at the hotel, you can pay to go to the top to experience once of these exhilarating attractions. Riding the "Big Shot" up into the Vegas sky is my favorite of the bunch!
16. Try the STRAT SkyJump
Want to jump off the side of a building Mission Impossible style cruising down to the ground 800 feet below? Yes, you can LITERALLY do this at the STRAT SkyJump. They strap you into to what you can kind-of describe as a vertical zip line and you dive off the top of the building.
Your controlled fall will take you all the way down over 800 feet landing you safely on the ground. For adrenaline junkies this is guaranteed to scratch the itch! It books up well in advance so make a reservation for your Mission Impossible Sky Jump now.
Check out more unique things to do in Las Vegas here.
17. Take photos at the Symphony Park Pipe Dream Las Vegas
This colorful sculpture called Pipe Dream is located at Symphony Park in Las Vegas. While this is technically not on Fremont Street, it is located very close so we figured it could still make the list. As an added bonus, not a lot of tourists know about it.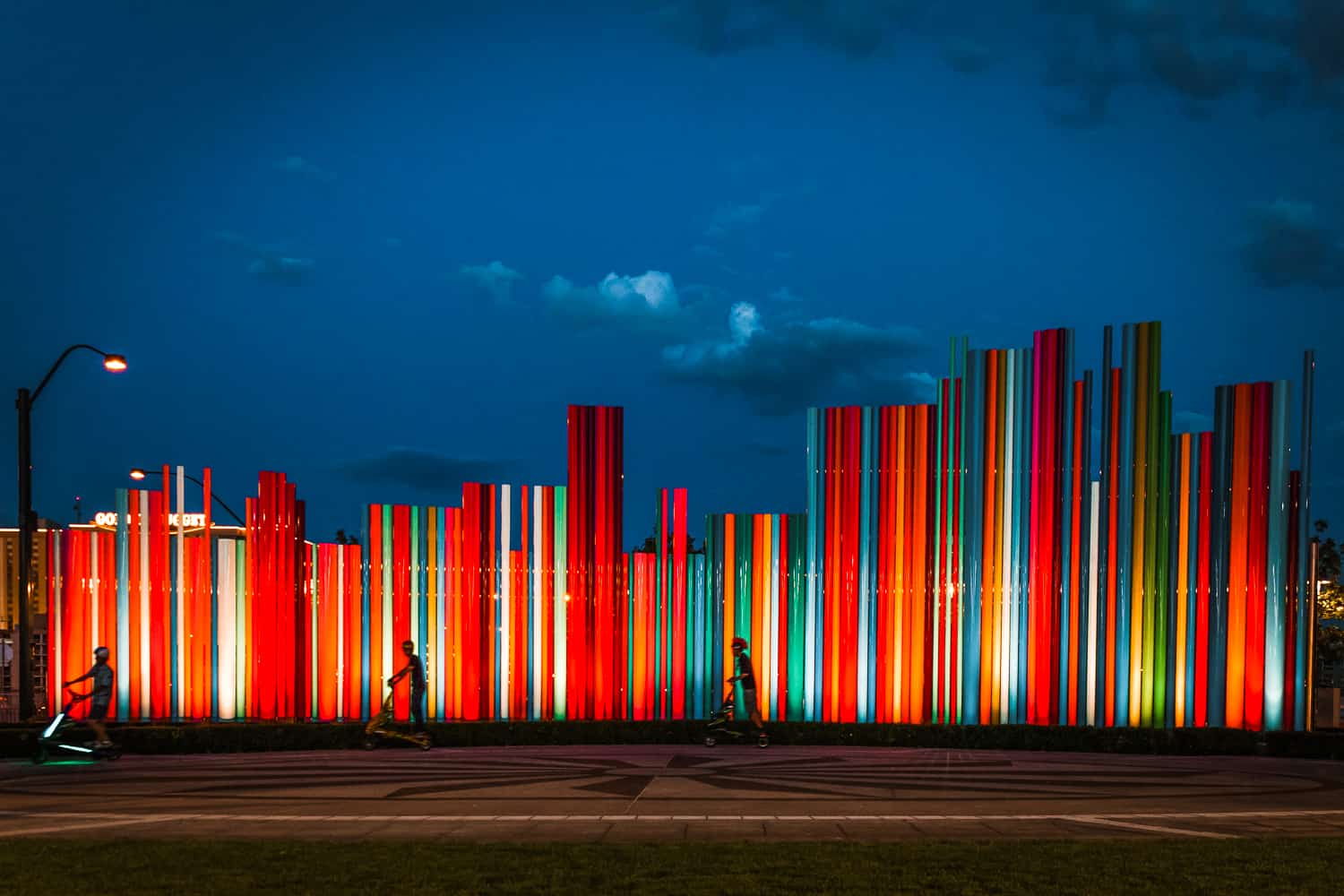 Hotels on Fremont Street: Where to Stay
A lot of the hotels on Fremont Street are older. It features a lot of the classic names you hear about from the mobster days of Las Vegas (Four Queens, Golden Nugget, the Plaza etc.).
Even though Fremont Hotels and Casino likely has a reputation for being grittier than The Strip, it doesn't mean that all of the hotel rooms are run down. Yes, you are more likely to find a Fremont Hotel and Casino property more likely to be a little bit "tired", but you still can get ones that are completely redone, or even brand new.
Golden Nugget – One of my favorites is the Golden Nugget (recently redone) that features the water slide going straight through the middle of a shark tank. (See photo below)
Circa – A super popular option is the brand new property named Circa. Aside from being brand new, the appeal of this property is the swim stadium pool complex! This hotel is adults only.
Don't be like me! When in Vegas, make sure you consider all of the things to do on Fremont Street!
Map of Fremont Street Las Vegas
Here is a map of Fremont Street in Las Vegas. You can see just how close you are to all the action on the Las Vegas Strip.
Hover over the image below to share it to Pinterest for later!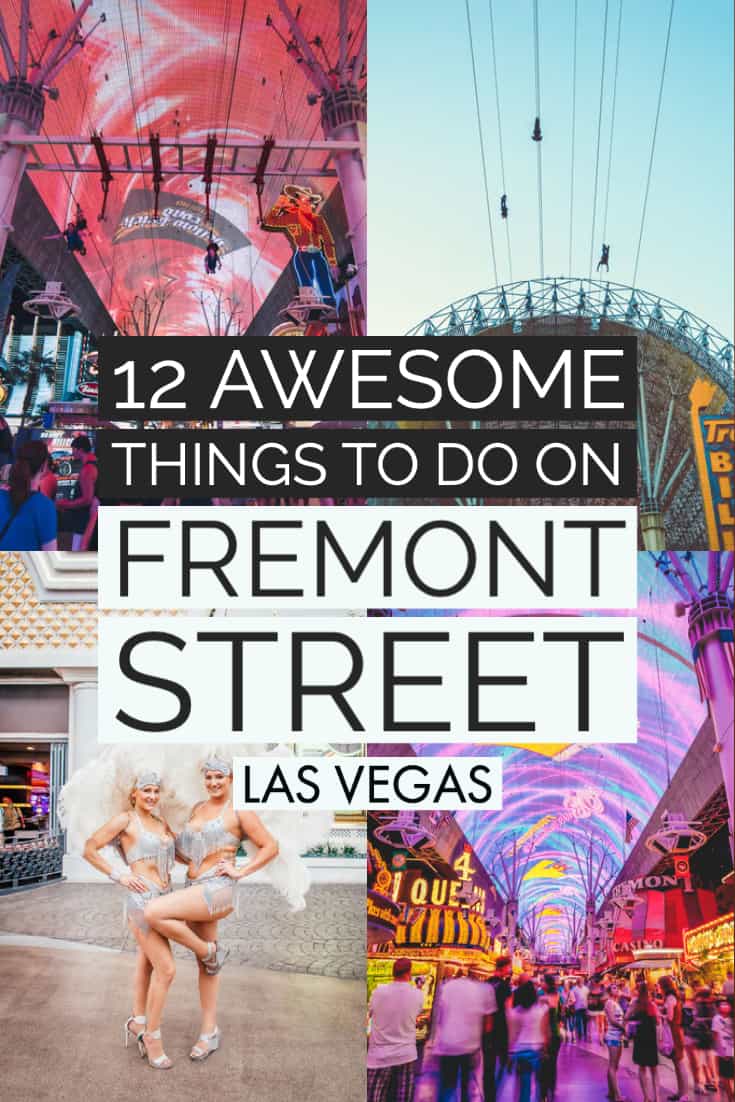 More posts on Las Vegas:
I lived in Las Vegas for almost 10 years and loved it there! Here are a few of our most popular Las Vegas posts that will help you plan your trip.