Here is your ultimate guide to the top things to do in Glacier National Park. It includes magical scenic drives, crystal clear lakes, wildlife, and over 700 miles of hiking trails! This National Park truly has something for everyone.
Glacier National Park, Kalispell, or Whitefish. All of these terms are often used to describe the same general area in Montana. Regardless of which name you hear, it's worth going to!
To quickly differentiate, Glacier generally refers to the national park, Kalispell is the nearest city you fly into, and and Whitefish is the name of the amazing mountain resort.
This part of the country has exploded in popularity, especially considering current international travel restrictions. More and more people realized just how amazing Montana's offerings were. The hardest part of this trip is actually getting a rental car and hotel reservation!
Hover over the image below to save it to Pinterest for later!!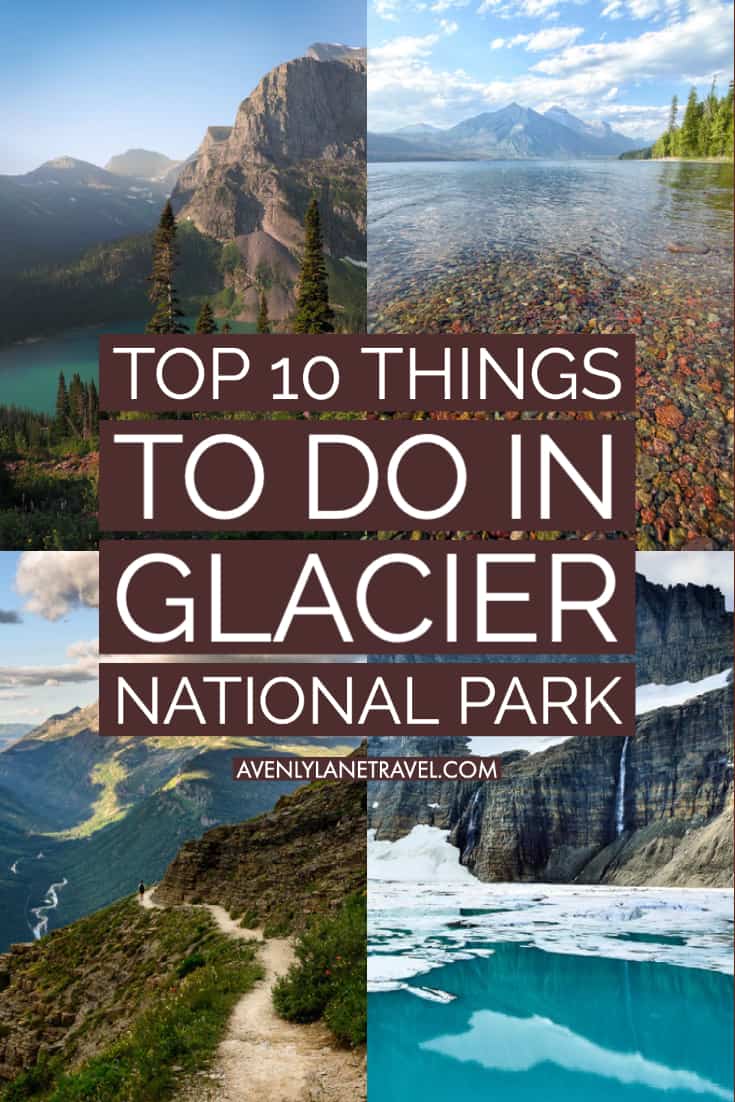 What you need to know before visiting
First things first, the park currently requires a reservation to get in so reserve your Glacier National Parks tickets now! Don't think that the difficulty in rental cars and lodging means that the park will be overrun. It is is big enough that it doesn't feel crowded. Side note, I love Yellowstone, but it can often feel overrun. That is not the case in Glacier.
Want to go from Glacier National Park to Yellowstone? If yes, be prepared for a 7 hour drive. Glacier is a top 10 visited national park. Considering lots of national parks are visited by nearby locals, it is even more impressive considering there is very little nearby population.
Glacier National Park Location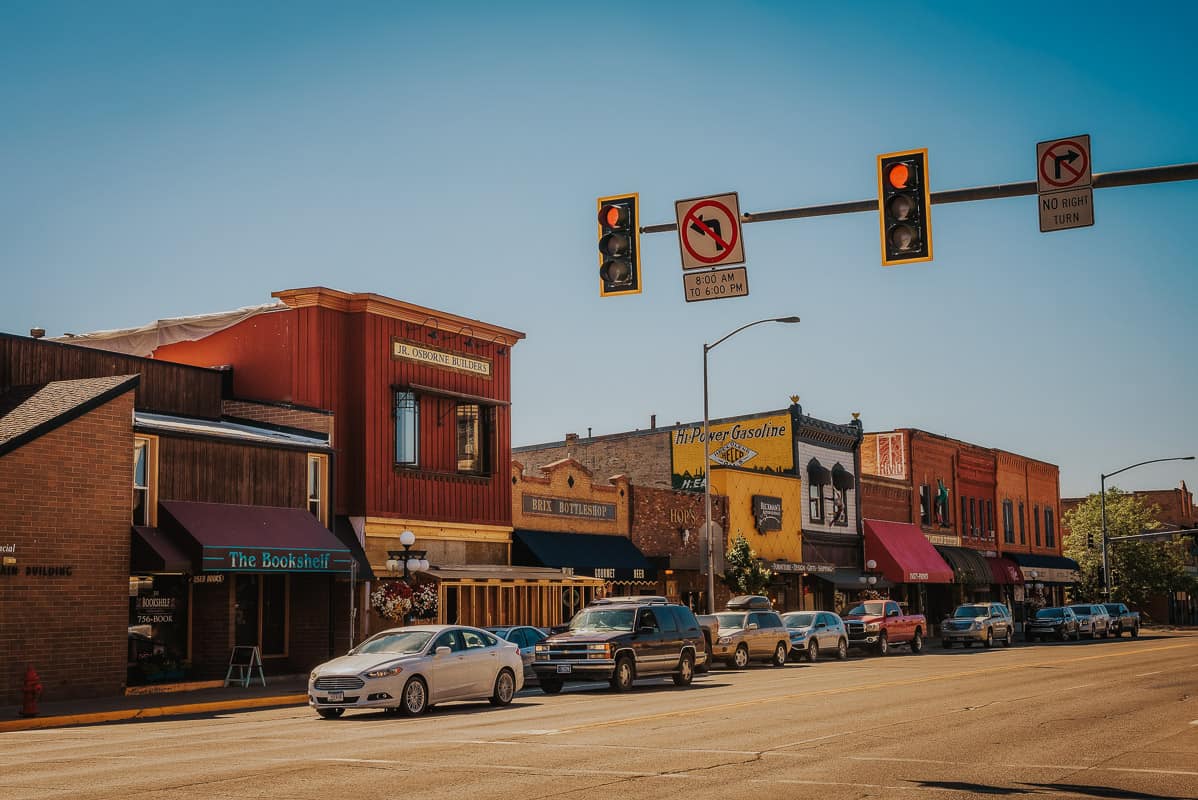 Glacier national park hugs the Canadian border. The area is so beautiful that it is a natural park for the Canadians on their side as well. The Canadian part of it is called Waterton Lakes National Park.
Kalispell is just 25 miles away from glacier park entrance.
There are a few towns near the Park, but Kalispell is the "big" nearby city, even though it really isn't that big. There are only about 100k people that live there.
Closest Airport to Glacier National Park
The closest airport to Glacier National Park is the Glacier Park International Airport (GPI). When booking your flights, note that the Kalispell airport has two airport codes: in some places it is listed as GPI and others as FCA.
Glacier National Park best time to visit
The best time to visit Glacier national park for most people is late June and mid-September with peak season running July – Labor Day. Summer is the best time to go if you want to see the glaciers (who doesn't?) and fall is an amazing time to visit if you want to go leaf peeping!
Generally, the best time to see the fall leaves is late September thru mid October.
Glacier National Park Cost
A 7 day pass for this park alone is $35. Like most national parks you can get free/included with your annual pass.
10 Top Things to do in Glacier National Park
Glacier National Park features all the national park things you would expect, magical hikes, bus tours, boat tours, camping, horseback riding, white water rafting, and absolutely breathtaking mountain vistas. The air is so fresh it will improve your breath! Below are a couple of highlights.
Hiking
There are literally hundreds of miles worth of trails! The most famous of which is probably the Trail of the Cedars. This is an easy hike along a raised boardwalk through a cedar forest. This simple loop is only about a mile long. It is perfect for the family, those who aren't intense hikers.
Another famous hike is the one at Lake McDonald. This is where you will see an Instagram worthy turquoise mountain lake. While there you can also go horseback riding or boat tour to go along with your hike.
One more site worth noting is Wild Goose Island. This mini island appears in the movie "The Shining". I'm not a scary movie fan, but this island is one of the most photographed spots in the park (likely due to the movie and its natural beauty).
Grinnell Glacier Trail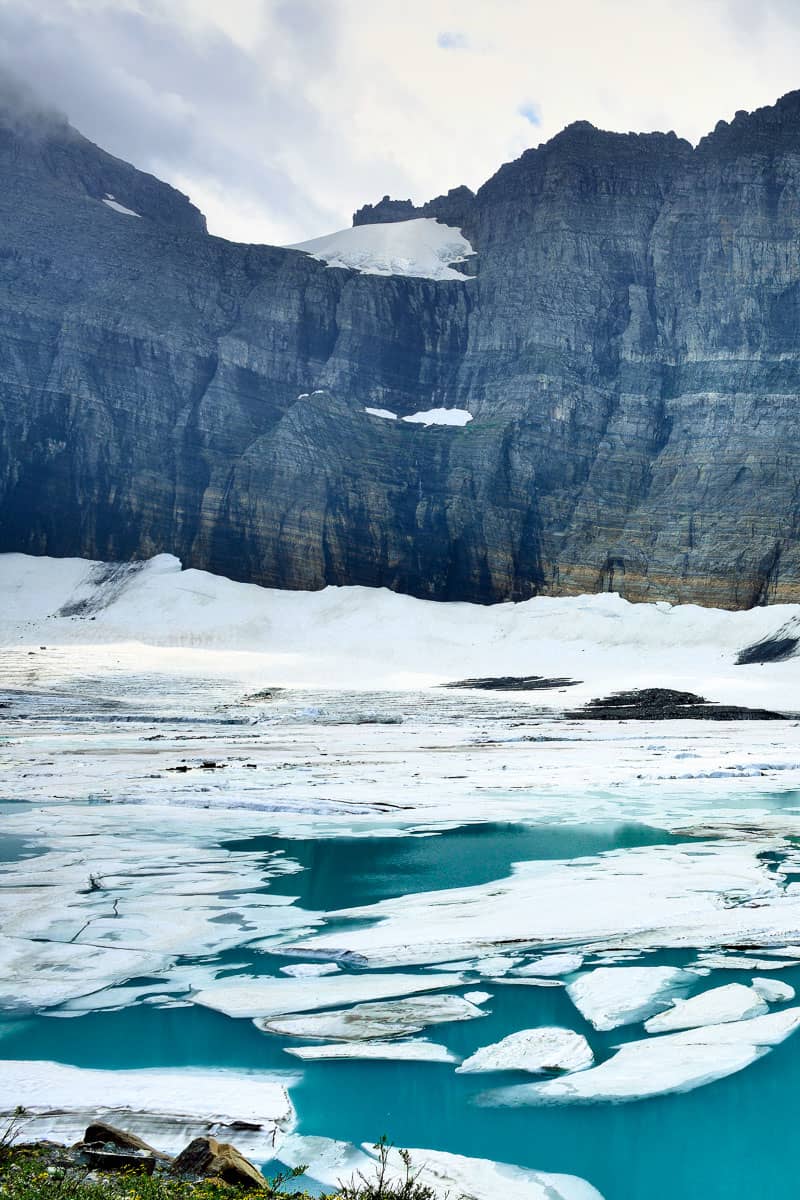 My favorite hike is the one to Grinnell Glacier. The Grinnell Glacier hike is a little more than 10 miles round trip and, at the viewpoint, reaches 1,600 feet in altitude. Hikers can take a 3.4 mile shortcut to the trailhead by using the Glacier Park Boat Company shuttle at Lake Josephine.
The Grinnell Glacier Overlook is one of the most beautiful in the entire park!
What to expect on the trail:
The first two miles of the Grinnell Glacier Trail are fairly easy. It is a flat trail through the woods alongside a gorgeous lake. The next few miles are definitely more strenuous with the last mile being the most difficult.
Make sure you back a backpack with plenty of water, snacks and extra clothing layers. I never hike without my Icebreaker base layer. It is SO WARM! The temperature can change often throughout the hike. Towards the top it can get extremely windy and cold. So be prepared.
The best time to hike this trail is July and August. Some websites say it is best through October, but a lot of the reviewers claimed the roads to get to the trailhead were already closed in September.
Roundtrip: 7.6 miles or 11.2 miles (Depending on if you take a boat or not)
Total Elevation Gain: 1840 Feet
Trail Difficulty: Difficult
Hike the Highline Trail Glacier National Park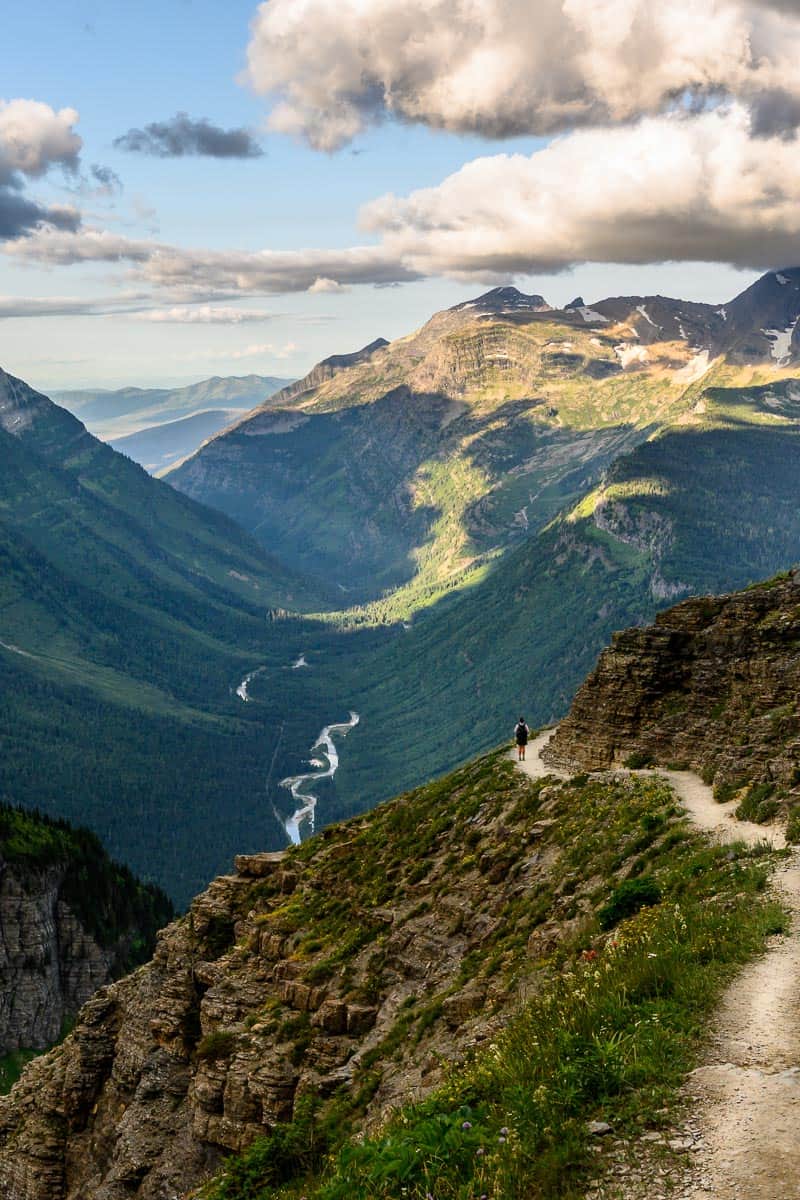 The Highline Trail – Logan Pass to Granite Park Chalet is a strenuous 14.9 mile hike. It is one of the most strenuous hikes in the park, but also one of the most rewarding. Enjoy views of the Grinnell Glacier Overlook (aka The Garden Wall) 6.5 miles in.
Make sure to pack extra layers for this hike. The elevation gain on this trail is roughly 1,700 feet so the temperature will change drastically from the bottom to top.
My favorite base player is this Merino Wool zip up. I love that I can wear it under a shirt, coat, or on its own.
Lake McDonald Colored Rocks & Hike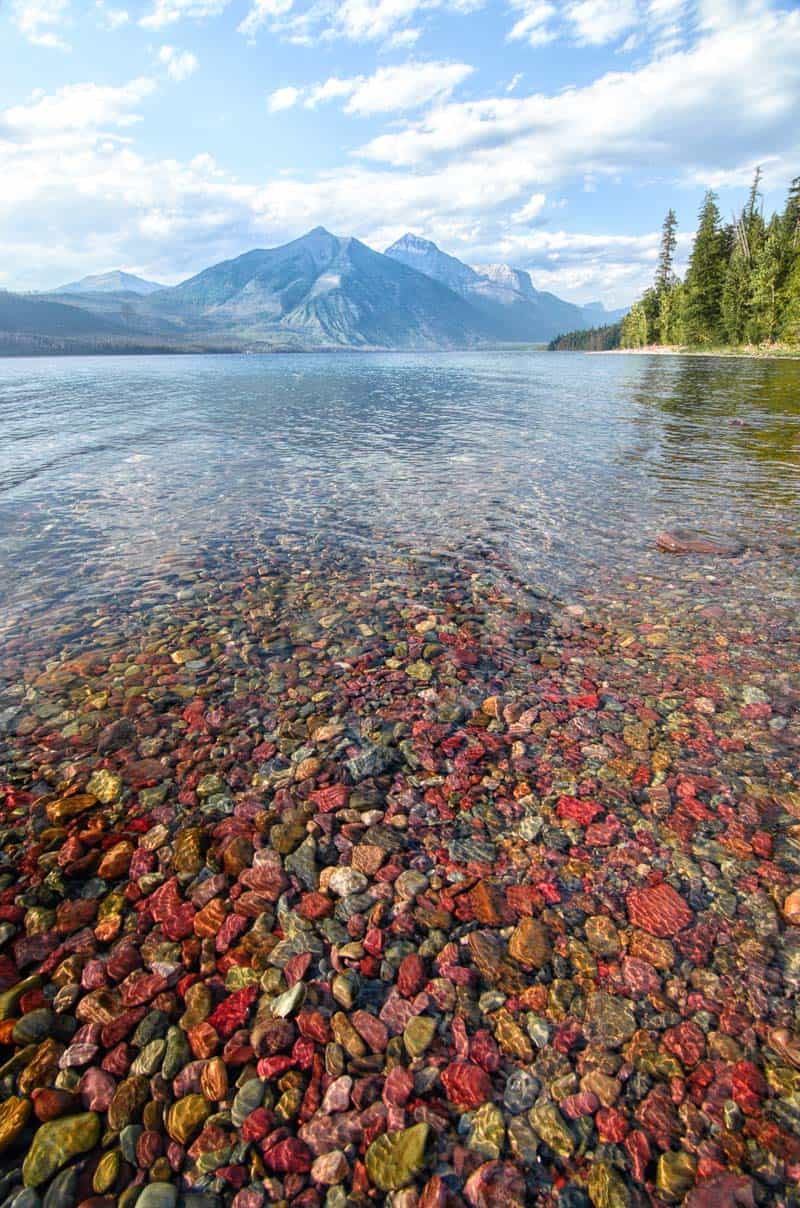 What makes Lake McDonald so special is the colorful rocks you can find all along the shore!
Lake McDonald is the largest of the lakes of Glacier National Park with a surface area of 6,823 acres. It is also the longest at over 9 miles (15 km), as well as the deepest lake at 450 feet (141 meters).
The water is remarkably clear, which makes it possible to see and photograph the amazing colorful rocks on the shore.
You can even stay the night at Lake McDonald to take in the beautiful area. Check Lake McDonald lodging prices here.
There are dozens of amazing hiking and biking trails in the area. Check out more of the best Lake McDonald hikes here.
Two Medicine Lake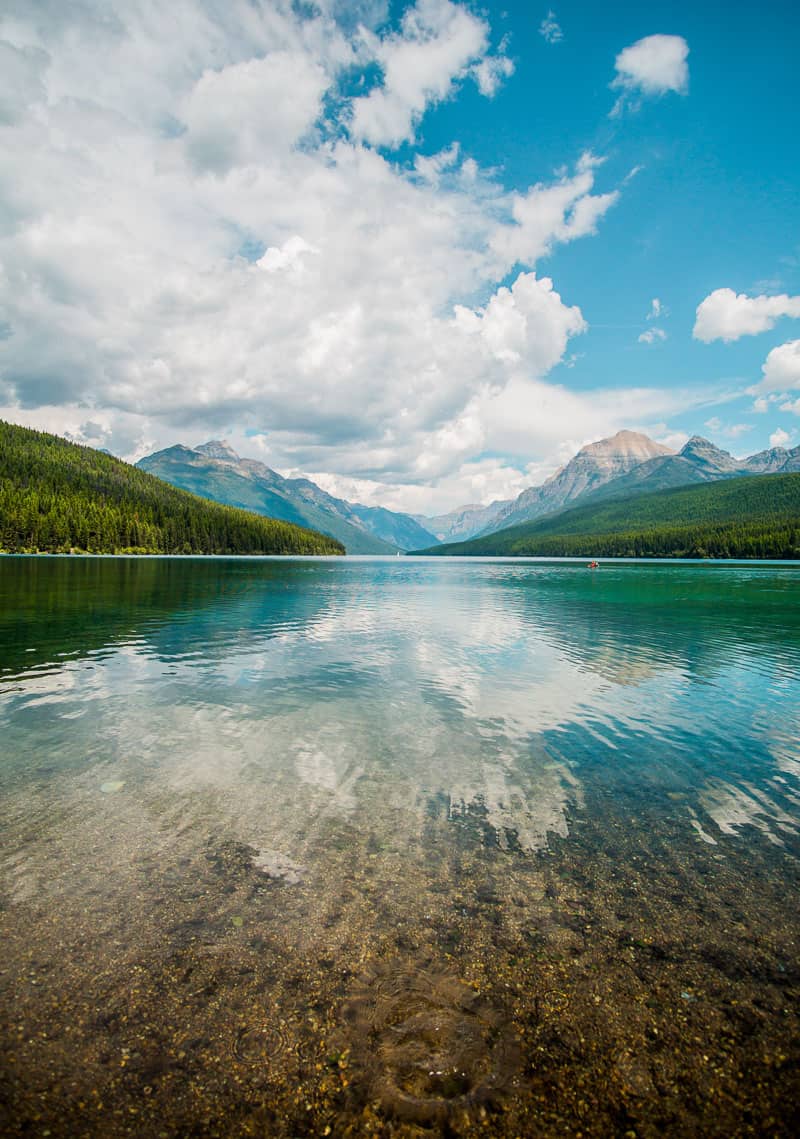 One of the best lakes in Glacier National Park! Make sure to take a Two Medicine boat tour while you are there.
Check out all the Two Medicine hiking trails here.
Going-to-the-Sun road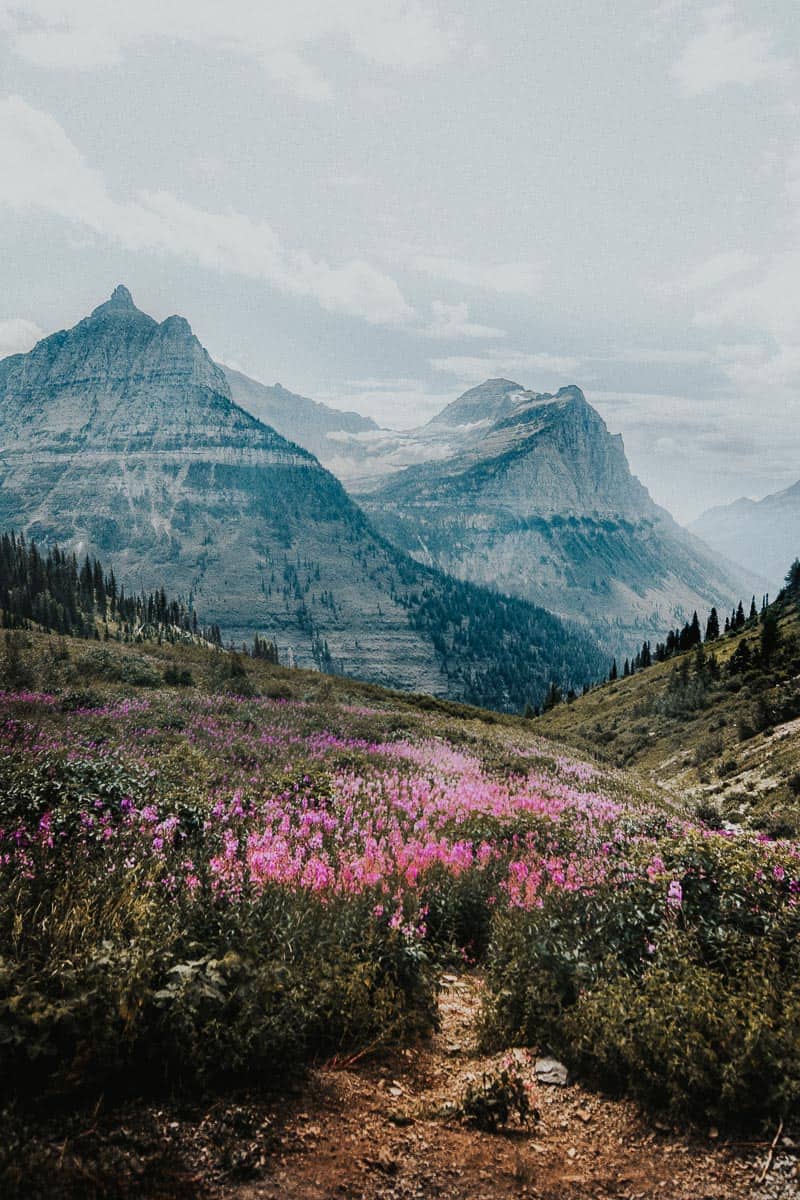 Not a hiker? You can still enjoy a lot of what Glacier has to offer with the Going-to-the-Sun road. This road meanders through the park. You will see lakes, waterfalls, forests, mountains. It is one of the best drives ever.
It is worth noting though that the road is only open in the summer. Exact opening and closing dates depend on weather. Don't forget to check the current road status before you travel.
Be ready for hair raising turns along the edge of cliffs and small crowds of people gawking at the photo spots.
Go Leaf Peeping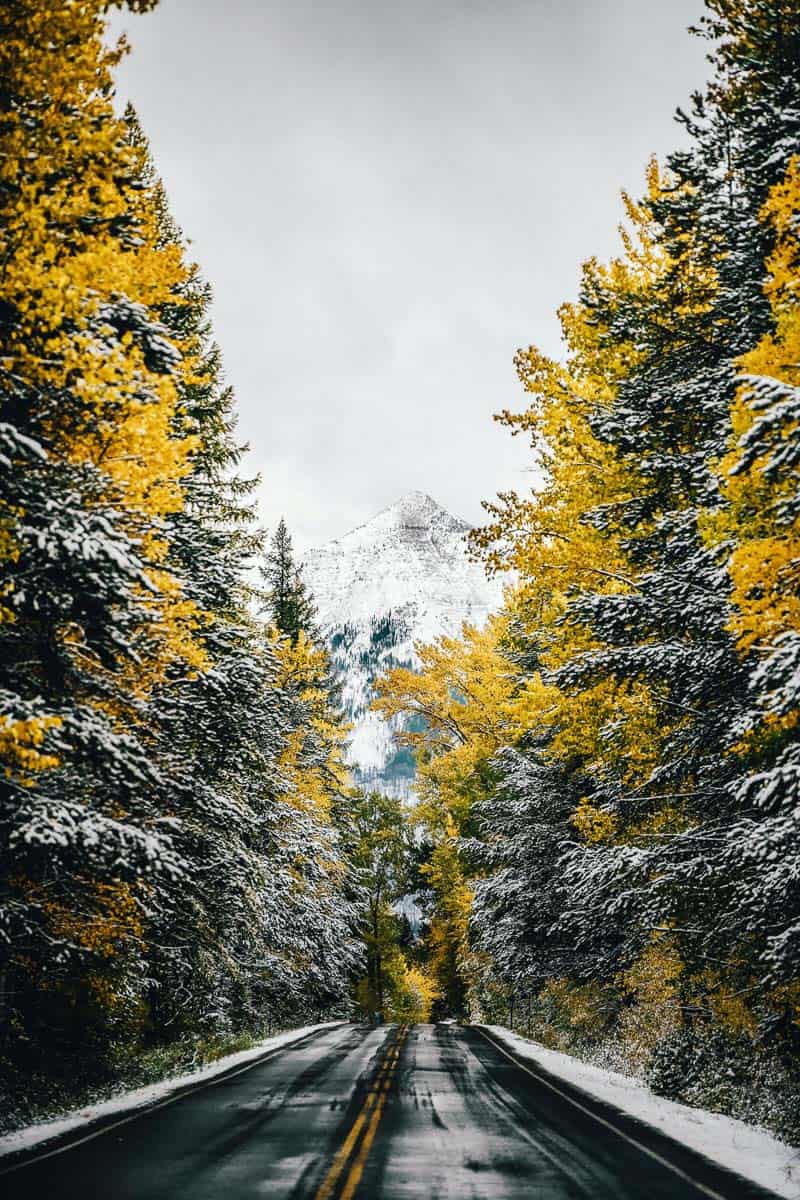 Planning on being in Glacier Park Montana in September-October? Make sure to check out the gorgeous fall scenery.
Many of the local trees turn vibrant colors as temperatures cool It isn't just the northeast United States that gets an amazing fall display. Make sure you check out the trees at various altitudes as they tend to change colors at different times.
Whitefish Ski Resort (Near Glacier National Park)
Looking for things to do in Whitefish Montana? Take a day and go skiing at Whitefish Resort.
Sometimes when you hear people referring to Whitefish they are referring to a small town of 7k people. More than likely though they are referring to the world-famous mountain resort.
This is not your average ski resort though. There are alpine slides, bike rentals, ropes and adventure courses to go along with the skiing and snowboarding. Most people expect a mountain resort to be great in the winter, but it is still worth visiting in the summer. You can go zip lining, relax on a beach (don't expect Cancun), do the exhilarating ropes course, ride a gondola, or eat in the mountain restaurants.
Planning on visiting Glacier National Park in the winter season? Try snowshoeing and cross country skiing!
With so much to do, you should plan your trip to the Glacier area immediately!