Too many people are afraid to visit a mosque if they aren't Muslim. Not only are the overwhelming majority of Muslims incredibly friendly and peaceful, their architecture is amazing!
This is especially true at the Sheikh Zayed Grand Mosque in Abu Dhabi. Workers completed construction on this gorgeous edifice in 2007, so it is still a relatively new attraction. If you are considering visiting, you need not fear. Emiratis built this mosque for the devout as well as the curious admirer.
Visiting the Sheikh Zayed Mosque in Abu Dhabi as a non-Muslim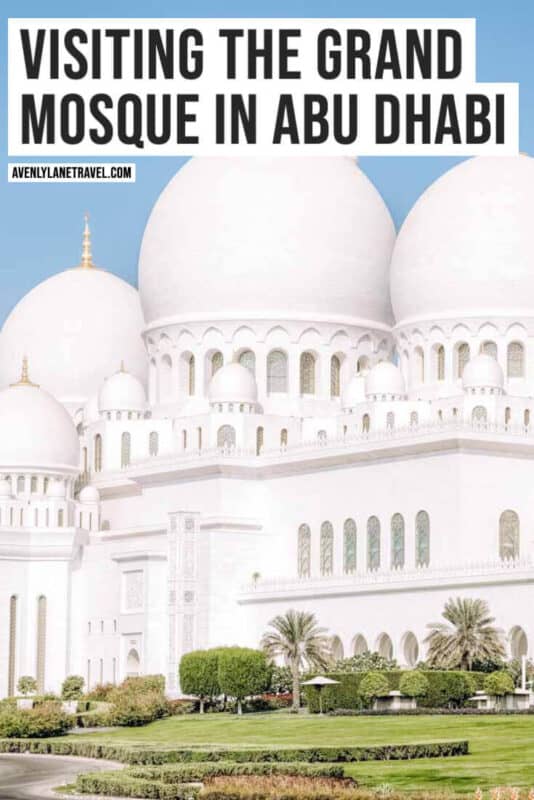 What to expect on a Sheikh Zayed Mosque Tour
Even though it is a holy place, they still allow respectful non-Muslim visitors inside. This meant that even though I'm not Muslim, I was allowed to visit my first mosque. I've now visited the Grand Mosque at Abu Dhabi three times. Even though there are crowds of people, it still feels special.
A Sheikh Zayed Mosque Tour is even more impressive in person. Camera shots can't capture the immense breadth of the complex. Often times the pictures that you see and think are from the outside, are actually from one of the inner courtyards. Yes, it is that big.
Once you check in you can take a tour through the inner courtyard and then inside. There are parts of the mosque where only those practicing Islam can go, but the tour still gives you a pretty good sense of the complex.
Grand Mosque Abu Dhabi Dress Code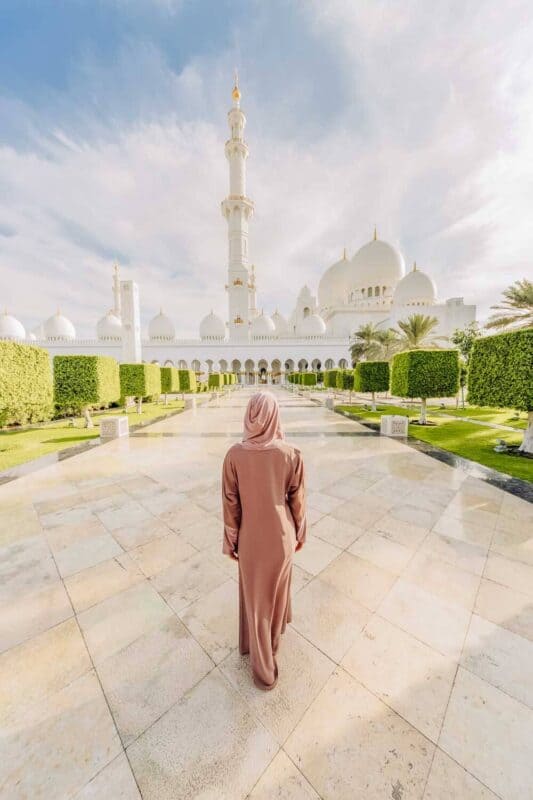 Remember, this is a holy site where the devout are worshiping. Remember to be respectful; this include in how you dress. Simply put, the Grand Mosque Abu Dhabi dress code wants you to be modest. Try to wear pants and not overly form fitting clothes. If you don't have appropriate attire they will still let you go inside, they will just ask you to wear one of their abayas (dresses/robe) with a hood.
Even though I wore pants, they wanted me to put on an abaya. No problem, even though when viewing the pictures some people thought I was dressed as a wizard.
For a man, no shorts or sleeveless shirts. Yes it is hot, but you can follow the Grand Mosque Abu Dhabi dress code as well.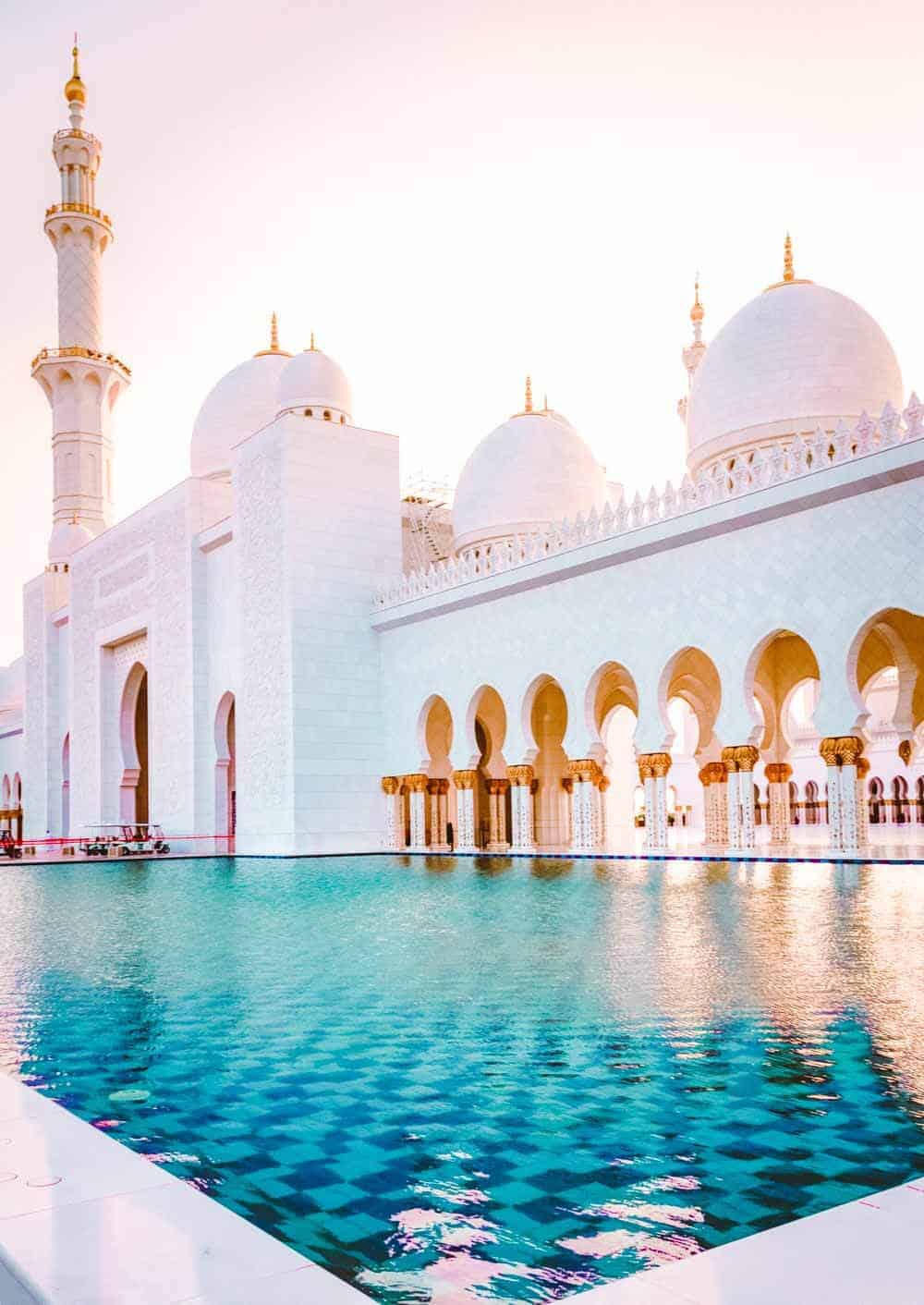 Sheikh Zayed Mosque Cost
When visiting the Sheiky Zayed Mosque cost is not an issue, i.e. it is free to get in. If you need to rent an abaya, that is also free.
Abu Dhabi, capital of UAE
Abu Dhabi is the capital of the United Arab Emirates, and also a nearby neighbor to the glitzy Dubai. Like Dubai, Abu Dhabi is an ultra-modern metropolis, but it isn't as international or touristy as Dubai.
Access from Abu Dhabi International airport (AUH)
The Abu Dhabi International Airport (AUH) serves as an international hub, meaning many people have layovers there. The mosque is only a 15 minute drive from the airport, so it is possible to squeeze in a quick tour. It is even easy to access from Dubai, read how to get between the two cities here.
Where to Stay in Abu Dhabi
We stayed in the Marriott Hotel Downtown, Abu Dhabi. We ended up loving our hotel! The location was right by all the main attractions and price was perfect! You can book and check out current prices here.
For more ideas on where to stay I recommend checking out the map below. I targeted all the hotels around the Sheikh Zayed Grand Mosque.
Grand Mosque Abu Dhabi Timing (Visiting Hours)
Want to know the Grand Mosque Abu Dhabi timing for visiting hours? Generally, the mosque is open from 9 am to 10 pm, but is closed to tourists on Fridays until 4:30, and at certain points during the month of Ramadan.
This mosque gets crowded! This means that you may have to wait to check in. Usually this process is quick, but one of the times I visited I had to wait an hour to be able to enter.
Hacking the Sheikh Zayed Grand Mosque Timings – i.e. how to avoid the crowds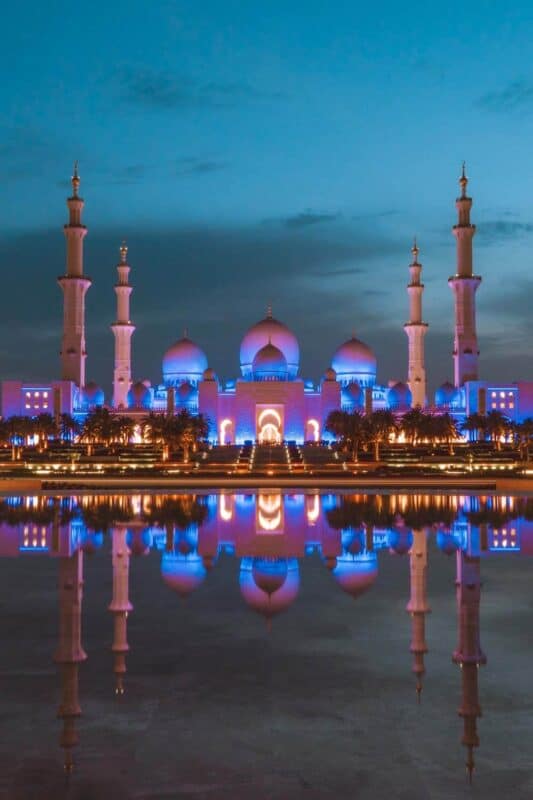 Given that this mosque gets crowded in the day, I highly recommend going at night. The Sheikh Zayed Grand Mosque timings allow relatively late visiting (typically open until 10:00 pm). At night there was hardly anyone there, yet the mosque was still just as amazing. The gorgeous blue lights are striking on the white stone.
Find all: Hotels in Abu Dhabi
Prayer Time in Abu Dhabi
A core tenant of Islam is the call to prayer 5 times per day. Prayer time in Abu Dhabi changes with the sun, so to see the click here. At these specific times followers perform a short prayer ritual while facing Mecca.
I don't need to spend a lot of time explaining why you should go on an Abu Dhabi mosque tour, you can simply look at the pictures.
Note – Dubai is just a 45 min. drive from Abu Dhabi. I highly recommend you visit both in one trip. We rented a car and drove between the two cities and had no issues. Read my post on the best way to get from Dubai to Abu Dhabi.
Read Next: Top 10 Things to do in Dubai