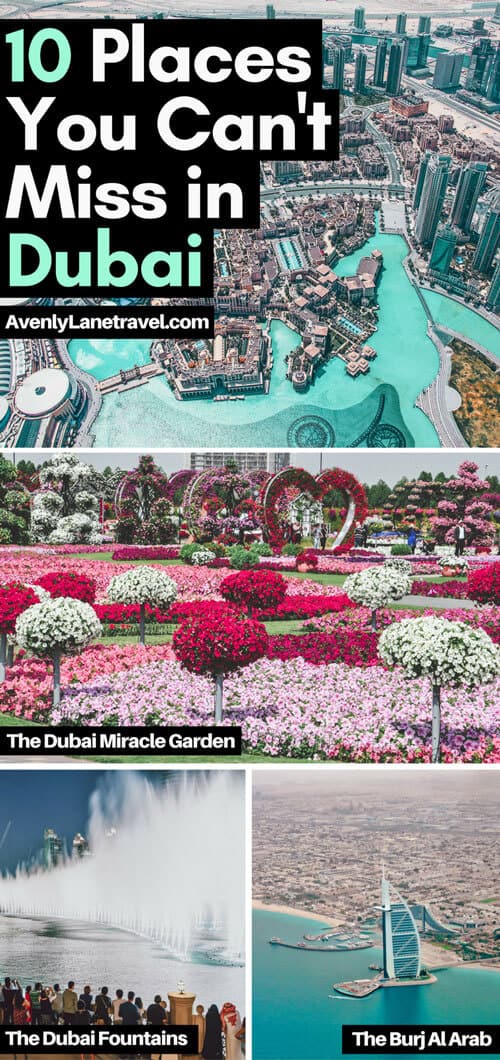 Fun Things to do in Dubai
Dubai unabashedly aims to be the biggest, best, and most modern city on earth, and it may be getting close to claiming that title!  Nothing in Dubai is done cheap, or on a scale that is anything other than world class.  Whether it is the tallest building in the world, biggest shopping mall in the world, or making the impossible possible (indoor ski resort and man-made islands resembling gigantic palm trees), Dubai is willing to spend to spend what it takes to attract the international tourists.
Dubai is in the United Arab Emirates in the heart of the Middle East, just across the Persian Gulf from Iran, bordering Saudi Arabia, and not very far from Iraq and Syria.  Just saying the names of those countries makes many westerners cower in fear, but in terms of Dubai, these fears are largely exaggerated.  For a more detailed explanation on why you should feel comfortable visiting Dubai, see my post on, "Why you should NOT be afraid to visit Dubai."   The geography of Dubai is the desert you would expect, but what is largely missed is the fact that Dubai features world class beaches across the Persian Gulf.
If you could go back and visit Dubai 40 years ago you would find nothing but sand dunes and a small fishing village.  Oil has helped fund the city's explosive growth, but now tourism is keeping that trend going.  Dubai is now the 8th most visited tourist destination in the world, but getting there hasn't slowed down their ambitions. There are still tons of ongoing construction projects for additional attractions and mammoth skyscrapers.  This glitzy city isn't just for oil barons, but is actually affordable enough for the everyday tourist.  Below are 10 of the top attractions you can't miss on a trip to Dubai.
Note – All of these places listed would be great places to visit in Dubai for kids as well as adults. 
Top 10 Dubai Tourist Spots
1. The Palm Islands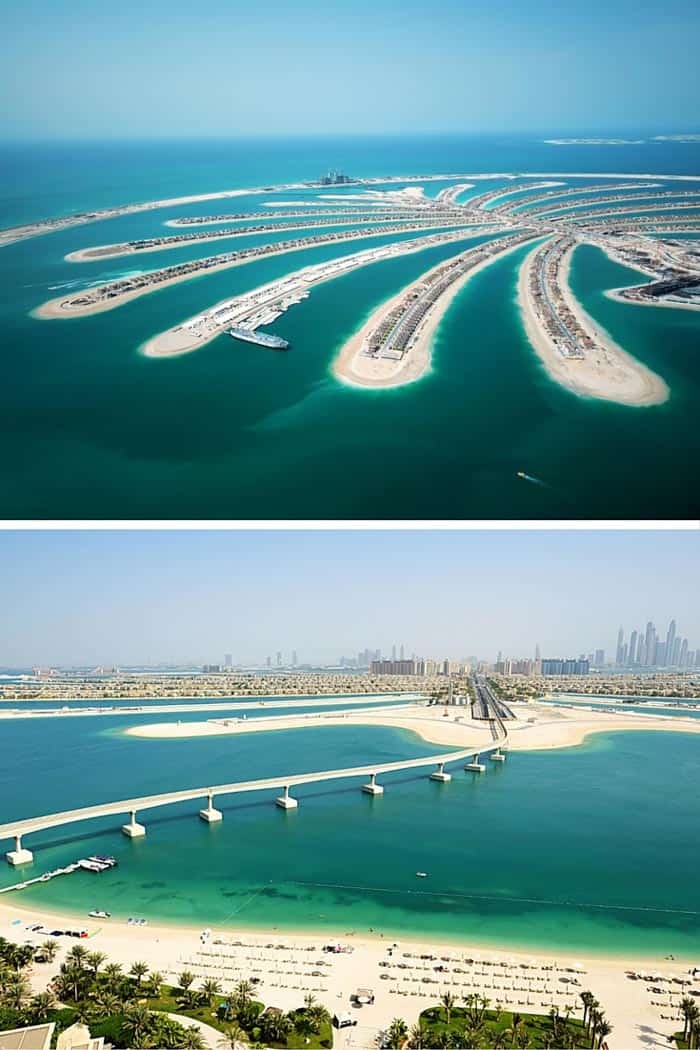 These islands are man-made.  From pictures it is hard to realize the sheer magnitude of what has been created.  Each palm fawn island has beautiful beaches, million dollar homes, luxurious hotels, and shopping malls stretched all the way across.  The best way to see them is to take the subway/tram straight through the heart.
 2. The Dubai Mall
4. Burj Al Arab Hotel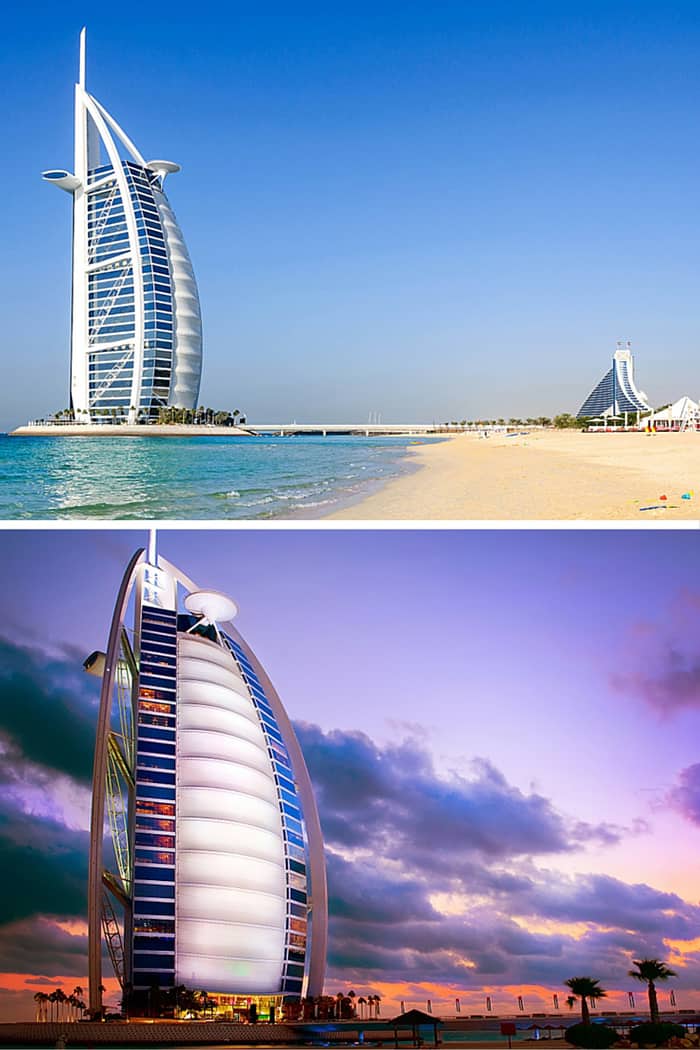 Photo:© Subbotina | Dreamstime.com 
The Burj Al Arab is the only self-proclaimed seven-star hotel in the world.  Even though seven-stars isn't really a thing, no one seems to question the Burj Al Arab because it fits the bill of ultimate luxury.  This massive hotel is built on its own island in the middle of the Persian Gulf, and is every bit as opulent as it claims.  While there, I was told that we were so lucky, and that we could get an incredibly deal at the Burj Al Arab, only $1,500 a night (obviously I didn't get the experience of staying there).
 5. Burj Khalifa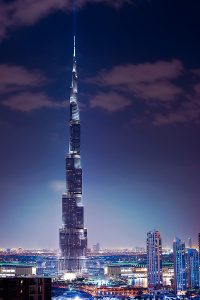 © Subbotina | Dreamstime.com – Dubai. Burj Khalifa. Night View Photo
Not only is the Burj Khalifa the tallest building in the world, but it is almost 1,000 feet taller than its closest competition.   To get up and down, it also houses the fastest elevator in the world. Whether you go up to the observation deck, or observe from the ground, this one is impossible to miss.
6.  Ski Dubai
Yes, there is an indoor ski resort in Dubai located inside the Mall of the Emirates (different mall than The Dubai Mall)!  While it is not the biggest ski resort in the world, it is legitimate skiing and snowboarding.  There are multiple runs and amazing snow (the always keep it below freezing inside, so the snow doesn't get crunchy).  You can rent all necessary equipment and even take lessons if you like.  While inside I totally forgot it was 117 ° F outside. The novelty of snowboarding in the middle of the desert is unreal.
7. Go on a Desert Safari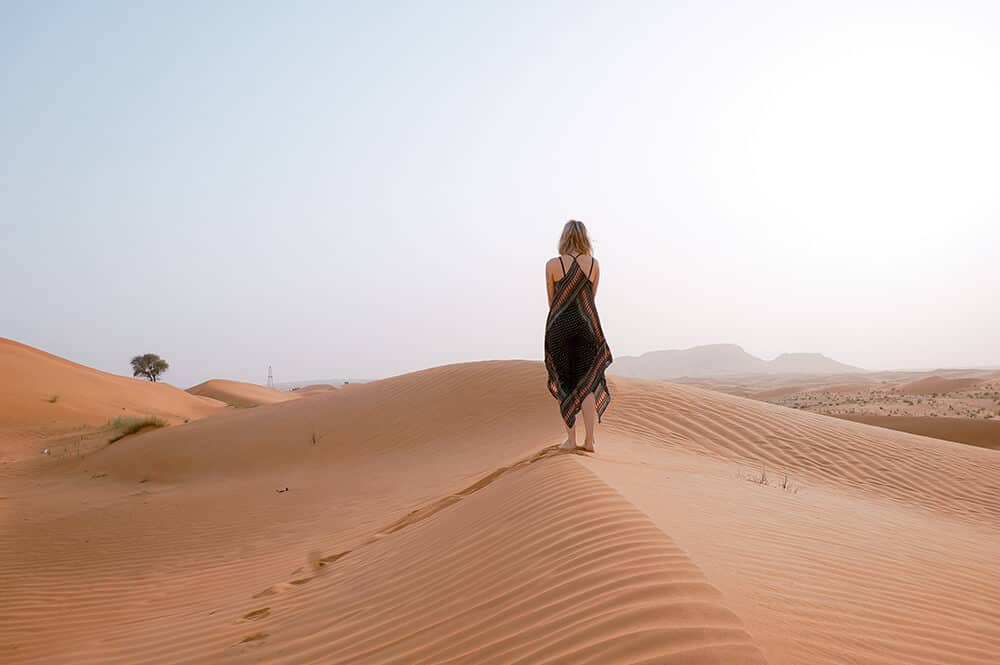 One of the most beautiful places in Dubai!
If you are looking for beautiful places in Dubai, you can't go to Dubai and not take a desert safari.  Quite quickly you can leave Dubai and see nothing but blowing sand dunes for miles and miles.  There are tour operators all over town selling packages.  Usually they are around $50 and include a city tour, some 4×4 dune crashing, camp fire dinner, and belly dancing.  There are also tours that feature camel riding, sand boarding, and so much more.
8. 
The Dubai Marina and 
Jumeirah Beach Residence Walk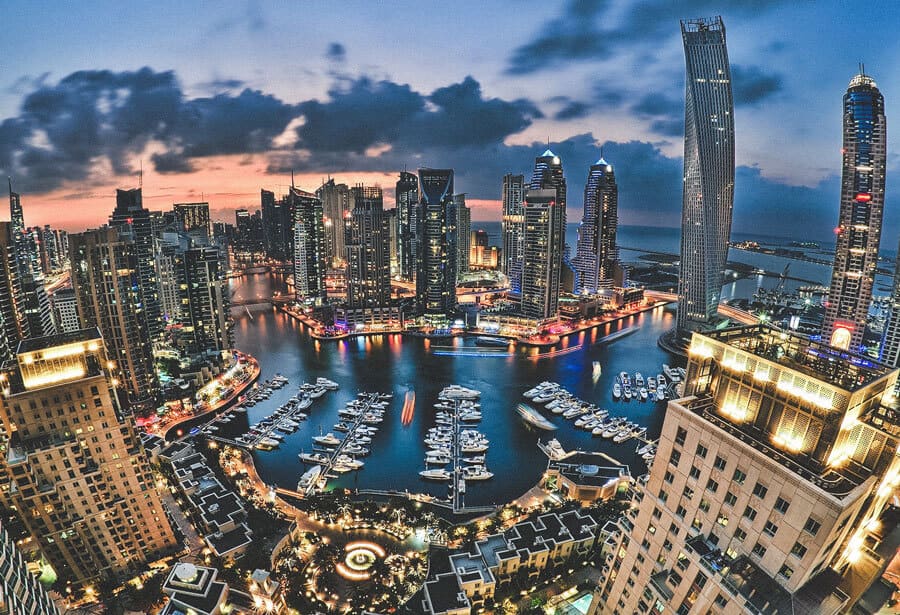 Things to do in the Dubai Marina. 
This is the most pristine community I have ever seen in my life.  Every single brick of every single building is meticulously placed and beautifully maintained.
If you are looking for things to do in the Dubai Mariana, this neighborhood features tons of high rise condominiums, cafes, bars, more shopping malls, beautiful hotels, beach access, and a waterway snaking through the center.  I took a water taxi down the waterway and couldn't stop gawking at the endless amount of perfect buildings.
 9. Old Dubai Market (Deira) 
Best place for cheap shopping in Dubai!
Not all of Dubai has sprouted up in the last 40 years.  If you want to see what life was like before the skyscrapers and luxurious hotels, head down to the old markets (souks).  If you want your own traditional jewelry or headscarf, this is the place to get it.  The array of textiles and spices seems endless.
This will be the best place for cheap shopping in Dubai.  But remember, if you want to buy anything negotiating a price is almost expected.
 10. The Dubai Fountains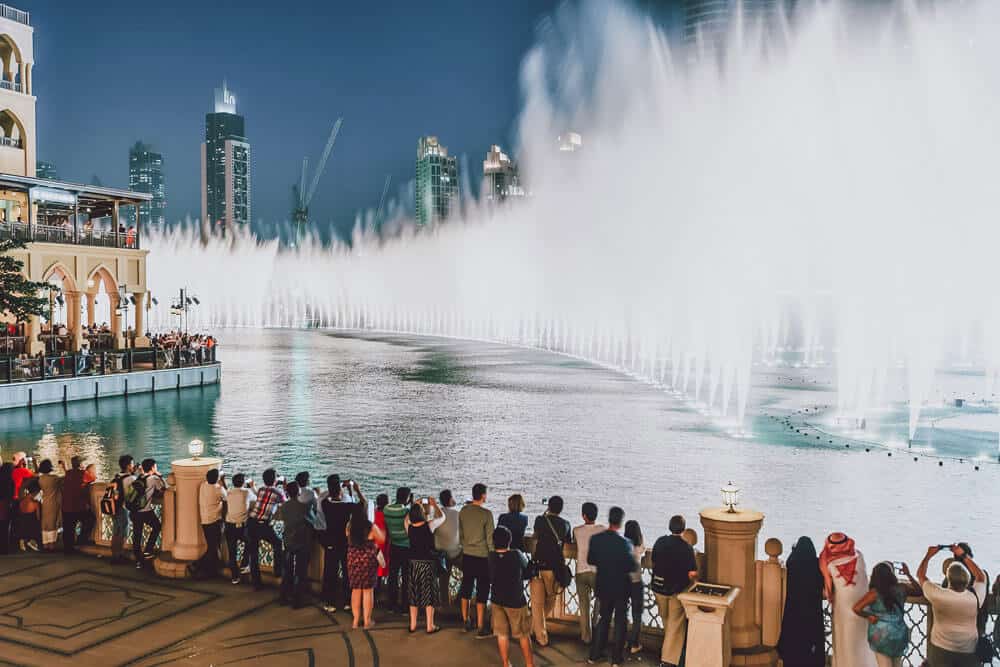 If you have been to the Bellagio fountains in Las Vegas, then you get the idea of what the Dubai fountains are, now just make that idea a lot bigger and more grand.  These fountains are also located at The Dubai Mall, and nightly shows feature the fountains spraying and dancing to a vast array of music.
The best part about this show is that it is free.
What places are on your top 10 list in Dubai?
(This post was written by my husband)
If you enjoyed this post don't forget to share!  Thank you so much for reading and following along.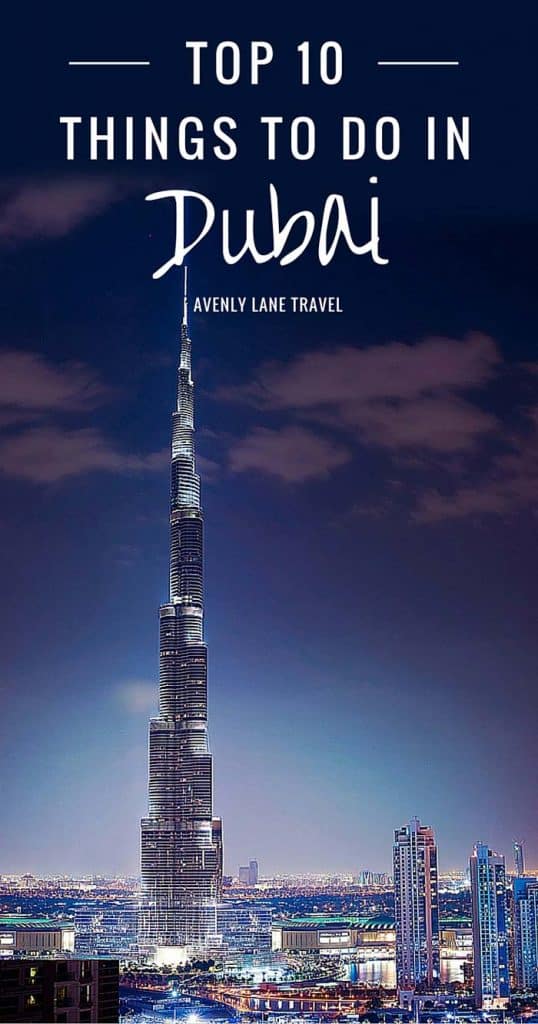 Here are some more posts that will help you plan your trip to Dubai!