Where is Dubai located? Is Dubai a Country?
And why do I hear about it so much now?
You may have seen pictures of an ultra modern mega metropolis shining in the middle of a desert and wondered where is Dubai located? How come a city that glitzy looking is just now one you are hearing about?
Where is Dubai located?
Dubai is located in the Middle East. If you look at a Dubai map you will see it is next to Oman and Saudi Arabia.
It is also on the Persian Gulf directly across from Iran. You may worry about visiting that part of the world, but Dubai is different. Read why here.
In fact, visiting Dubai is a huge opportunity to see Middle Eastern culture mixed with a super modern and safe city. The city aims to attracts tourists and are therefore is very accustomed to outsiders.
As an American, I've visited 4 different times, and enjoyed each one of them.
UAE and Dubai Map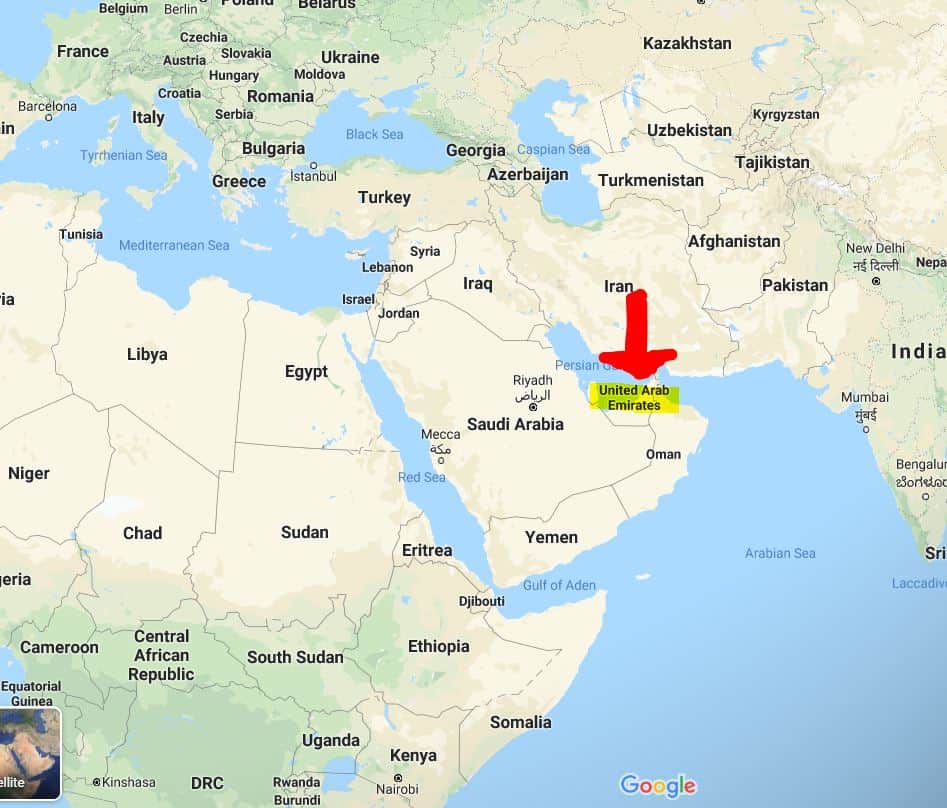 Where is Dubai on the Map?
Dubai City Map
Dubai has just over 3 million people that call it home. What is really fascinating about the population is that only 15% of the residents are UAE citizens. The rest of the locals are from various countries around the world (with a lot being migrant workers from southeast Asia).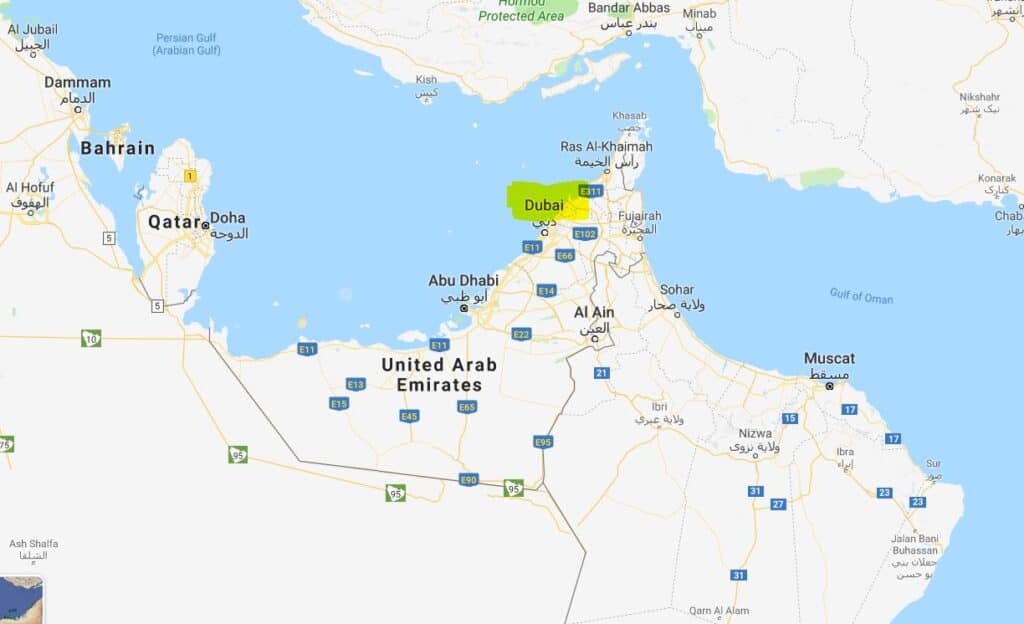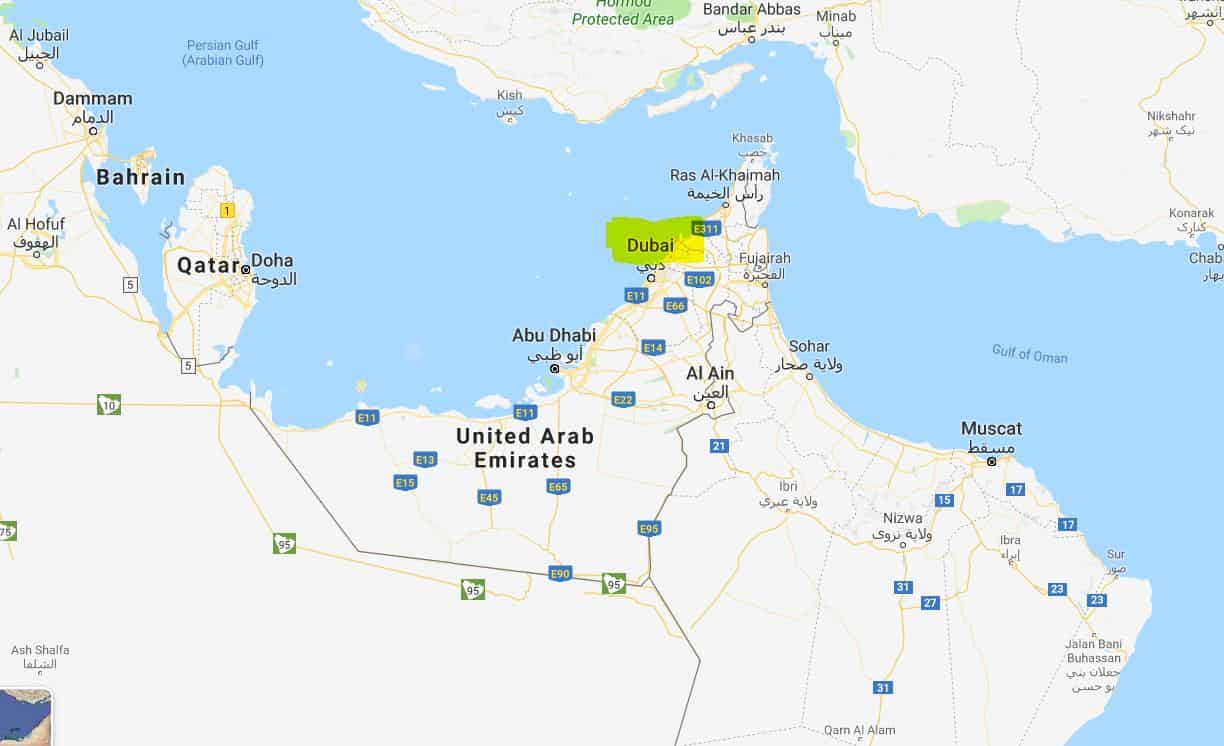 Is Abu Dhabi in Dubai
Some people wonder if Abu Dhabi is in Dubai. Abu Dhabi is actually another city in the same country (UAE) as Dubai. The cities are only an hour and a half from each other by car.
On the Dubai city map above you can see Abu Dhabi is just a little bit southwest of Dubai.
There is no Dubai to Abu Dhabi metro, but there are plenty of other options to transfer between the cities, read about the best way to get from Dubai to Abu Dhabi here.
Abu Dhabi is also super modern, but isn't catered to tourists as much as Dubai is (it is still welcoming to tourists).
If you ever find yourself in Abu Dhabi you have to visit the Sheikh Zayed Grand Mosque. It was one of the most beautiful Mosques I have ever seen. I wrote about visiting while being a non-Muslim here if you're interested.
How far is Dubai from Abu Dhabi?
Abu Dhabi is an hour and a half drive from Dubai. The easiest way to get to Abu Dhabi from Dubai is renting a car. You can also Uber in between them but that isn't ideal. The last time I needed it I paid a taxi $80 to drive me between the cities for a flight transfer.
Read also: Top 10 Things to do in Dubai
Where is Dubai on a World Map?
Dubai on a world map is situated alongside the southern coast of the Arabian Gulf on the Arabian Peninsula.
The UAE borders Oman and Saudi Arabia and has maritime (connected to the sea) borders with Iran.
You can check out the interactive map below to see Dubai on a world map.
Is Dubai A Country?
Is Dubai a country? The quick answer is NO, Dubai is not a country. Dubai is a city in the country of the United Arab Emirates, which often gets abbreviated to UAE. It is a super cool city worth visiting, see what's there here.
Dubai Grew Insanely Fast (as well as two other Middle East cities)
The reason most people don't know much about Dubai is because most of its development is relatively recent. Just look at these photos to see a small fishing village develop into a mega city supported by oil money.
In the last 25 years there have been 3 cities that have popped out of the desert. Abu Dhabi, Doha, and Dubai
Abu Dhabi and Doha
Abu Dhabi is another city in the UAE that has exploded due to oil profits. In fact, Abu Dhabi supports a lot of Dubai's expenditures. Abu Dhabi is a great city, but isn't quite as liberal as Dubai.
Read our blog post on the best way to get from Dubai to Abu Dhabi here.
Doha is in the nearby country of Qatar that's exploded in riches due to natural gas. You may have heard a lot about it because they just got done hosting the World Cup. Doha is also welcoming to western tourists, but once again it is slightly more strict than Dubai.
If you are considering a visit you should go! Let me know if you have any other Dubai questions in the comments below.
Read Next: Top 10 Things to do in Dubai