Tokyo is the capital of Japan and if you didn't know, it is a HUGE city…i.e. the biggest city in the world. The metro population of Tokyo is higher than the entire population of Canada, and basically the same population as the entire state California.
This financial powerhouse of a city is a tech nerds dream, but also is a brilliant showcase of Japanese history and culture. The Japanese are known for being extremely friendly and welcoming to tourists.
When flying into Tokyo make sure to note that there are two big international airports (Haneda and Narita). If you fly in to Narita know that you really aren't that close to the city center at all.
The good news is that with a city of 37 million people there are a lot of transportation options to get you into the city. From the airport into the city center you can take a bus, taxi, train, limousine, or even subway.
Planning your first trip to Japan? Check out 10 unique things you should know about Japan.
10 Cool Things to do in Tokyo
Add these 10 things to your Japan bucket list!
Sensō-ji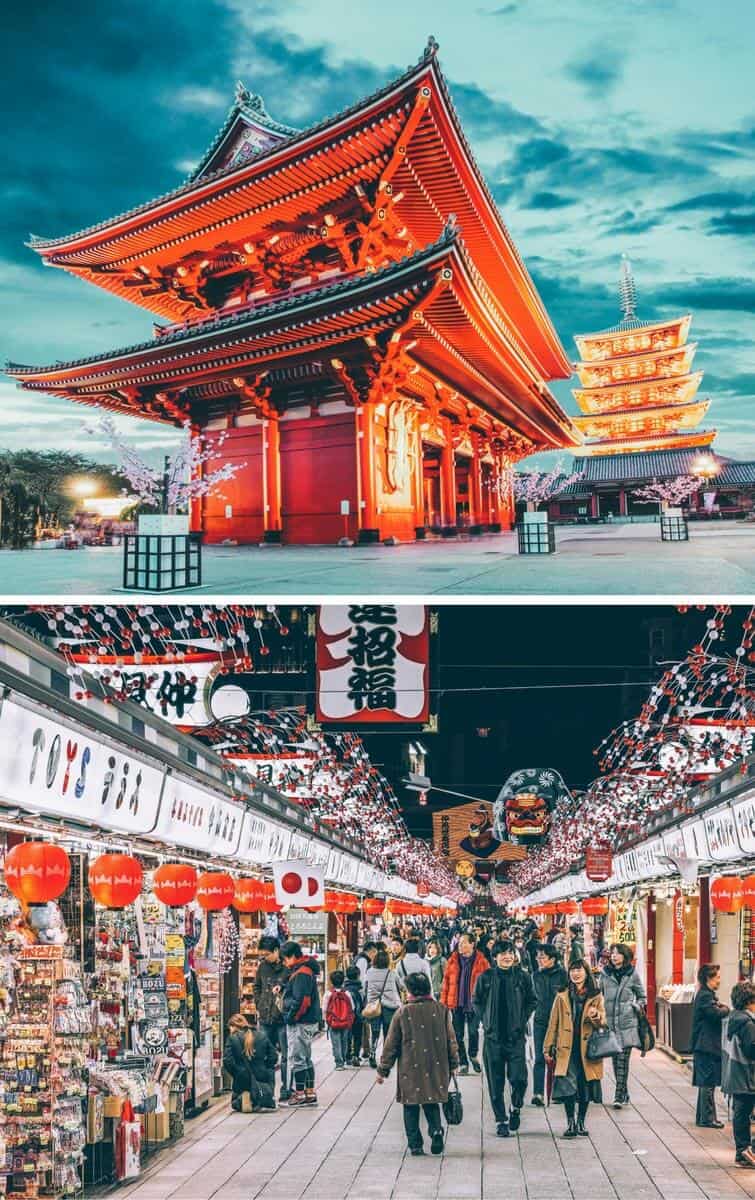 This ancient Buddhist temple is the most widely visited religious site in the world. Over 30 million people visit this complex each year. The temple is dedicated to the Buddhist Goddess of Mercy, named Guanyin.
The road approaching the temple is absolutely packed with street vendors selling every type of cultural knick-knack and food you can imagine. The adjacent five story Shinto pagoda is next to the temple.
Harajuku – Takeshita street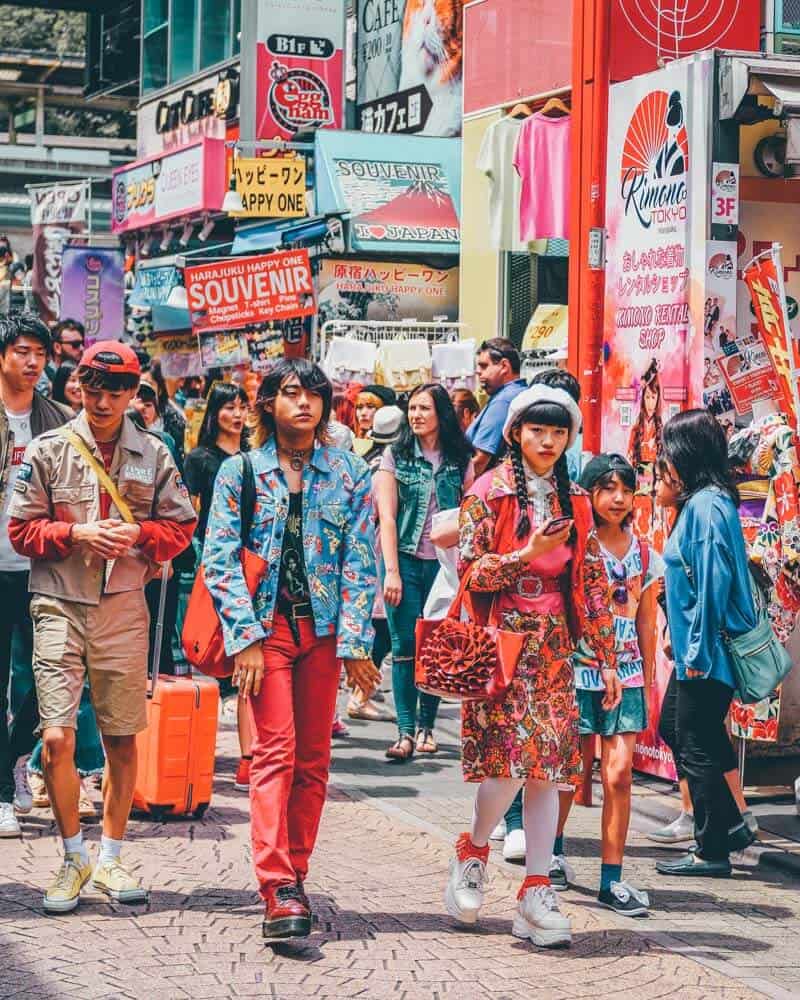 The Japanese are known for their style and pursuit of unique quality fashion as well as costumes replicating their favorite characters. One of the best places to see that on full display is in the district of the city known as Harajuku.
There are tons of unique stores and cafes. This part of the city, and specifically on Takeshita Street is a gathering place for youth wanting to show off their fashion selections, and on Sundays they will show up in outrageous outfits and costumes – 100% worth seeing, even if you aren't looking to buy any clothes.
Even the architecture of this mall entrance has a trendy youthful vibe. I feel old when looking at the mirrors for too long as they start to give me a headache, yet I still can't stop staring because they are amazing.
Warning – this street is CROWDED! Check out what Tokyo looked like before social distancing.
Seeing the Cherry Blossoms at Meguro Canal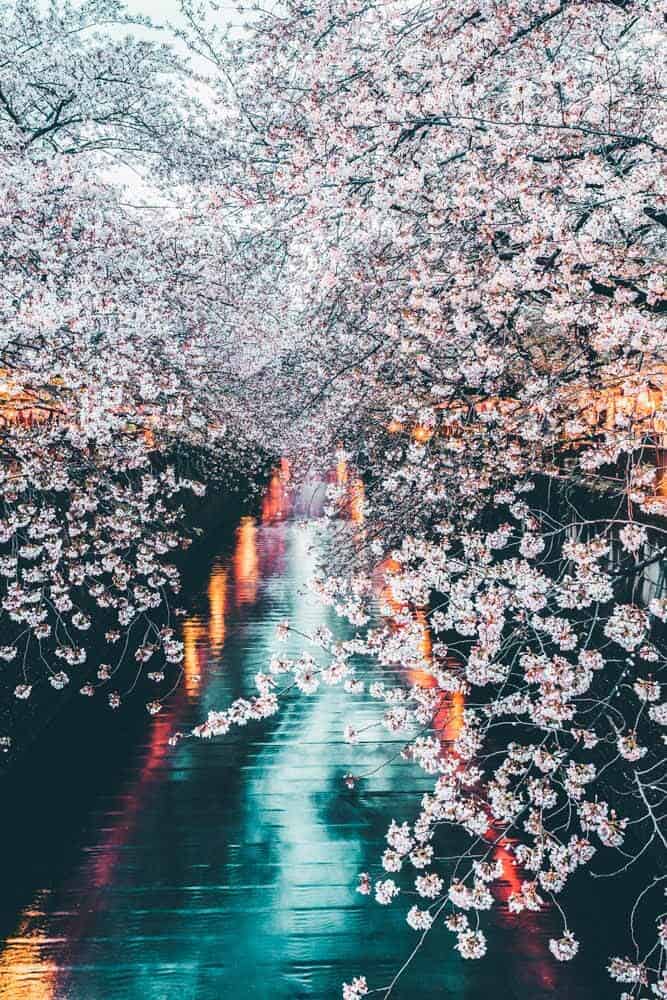 Any trip to Japan (or Washington DC) should include stops to view the cherry blossoms if at all possible. They usually bloom in early spring and are a big deal to locals (i.e. they will routinely get news updates on the coming blooms and fight for the prime picnic spots that they think have the best viewing angles).
Cherry blossom trees are planted everywhere, but one of the best spots to view in Tokyo is on the Meguro river by the Meguro station.
Akihabara Electric Town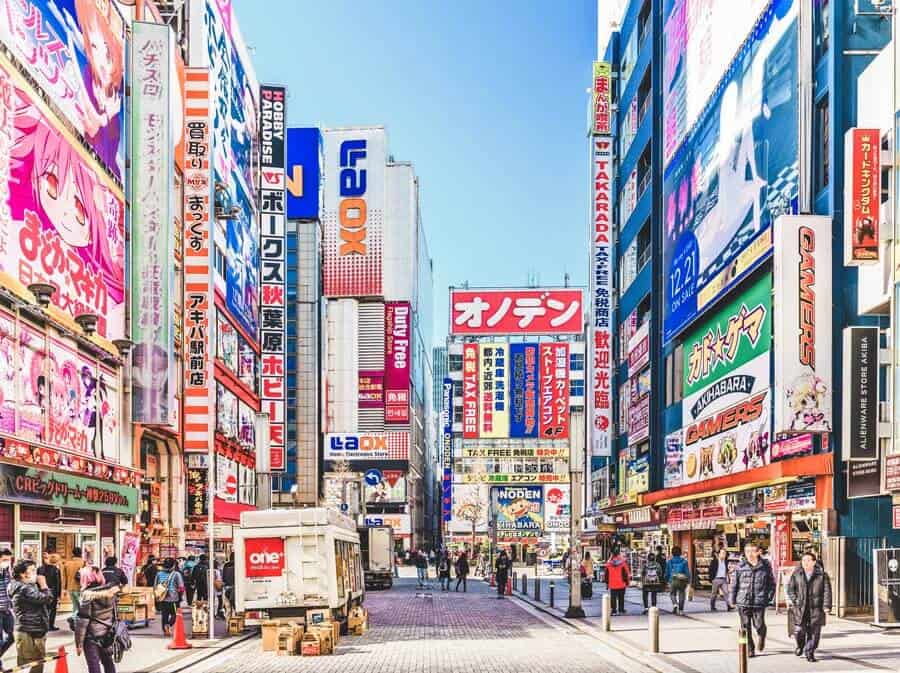 Everyone knows that the Japanese are famous for developing the electronics that the world craves. Akihabara is a district of the city where you can score any type of electronics you want, and a million other types of electronics that you didn't yet know you wanted. There are seriously tons of electronics stores big and small lining the streets.
This part of the city has also developed into a center for otaku culture. The definition of otaku is hotly debated, but the best way to think about it is a culture dedicated to being an extreme fanboy or fangirl to anime (Japanese animation), manga (Japanese comics), electronics or even go karting. (Check out more on go karting here.)
Some people think the term otaku carries negative connotations such as being obsessed and socially awkward, while others proudly own it like they would the term geek. Regardless of your take, there is no better place for the otaku culture to feed their desires than in Akihabara.
Gundam is a popular Japanese anime and manga series about people piloting warrior robots. The series is extremely popular, even leading to its own cafes in Akihabara.
Book your tour: Street Go Karting Experience in Akihabara
Read more on what to do in Akihabara Tokyo here.
Shibuya Crossing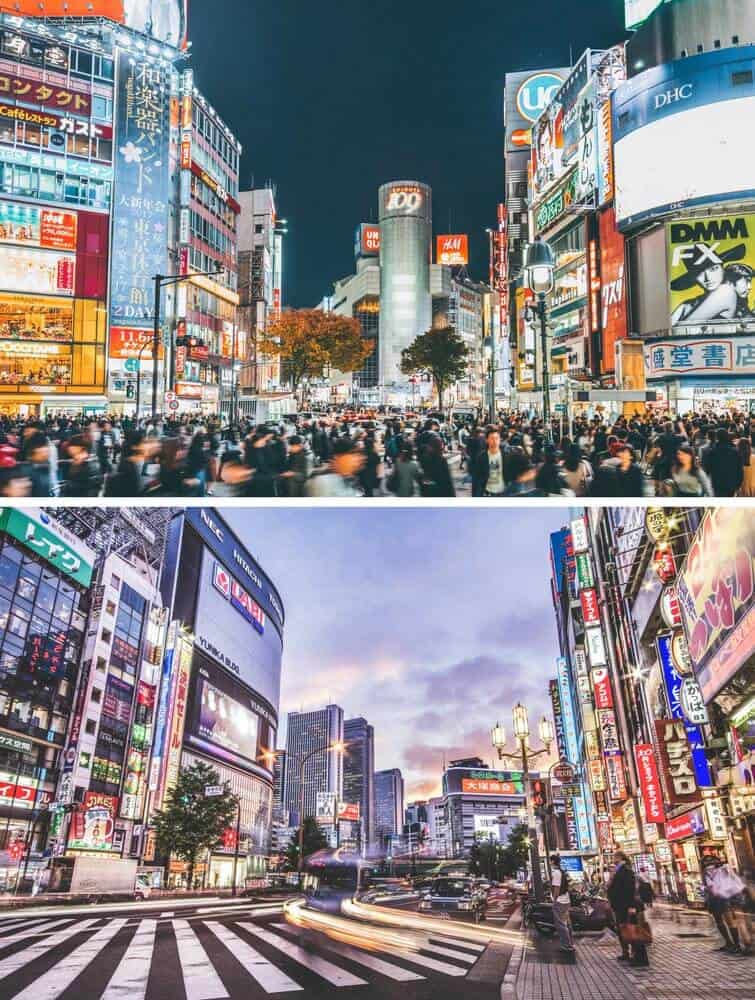 Shibuya Crossing is the equivalent of Times Square in New York except bigger. Supposedly this is the busiest intersection in the world (I don't know how you would measure that, but regardless it is packed 24 hours a day). It is a scene in countless movies and the site of a New Year's celebration each year.
It is an absolute must do at least once to get the pulse of the city; I recommend going at night so the neon lights stand out even more.
Stay in a Capsule hotel
With so many people packed into Tokyo space obviously comes at a premium. Even though the city is huge, hotel rooms can be incredibly expensive. One of the best alternatives available in Japan is renting out a capsule.
A capsule is basically a miniature hotel room, but when I say miniature, think nothing more than a bed/tube with communal bathing. Capsules have grown popular as a ways to save money; even though it may be a really small space, they often offer nice amenities like plugs to charge your electronics, air condition, and wifi.
They originally came into existence because of the hard core businessmen needing a quick opportunity to get some sleep. The experience is wild, highly recommend at least once!
Shinjuku for the nightlife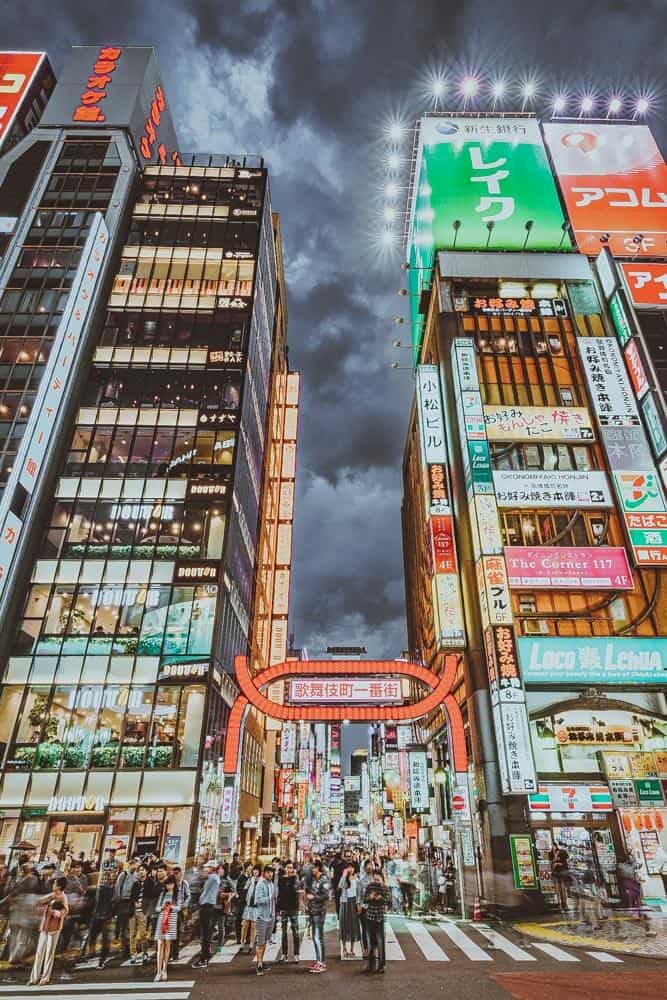 This part of the city is most known for its nightlife, or you could say its perpetual life. There are endless sources of all types of entertainment going on in this part of the city going well beyond bars and restaurants.
The best example I can think of to try and show this is Tokyo's famous Robot Restaurant and Show. If you haven't heard of it picture the most bizarre aspects of Japanese entertainment culture on full display, I'm talking robots fighting with dinosaurs with lasers while being visited by sexy space dancers while neon lights pulse endlessly around.
The experience has been described as a drug free acid trip in an environment that is family friendly-ish. The show is extremely popular and tickets can sell out, so make sure to book yours in advance (booking in advance will get you a discount as well).
Book your tour: Go-kart tour Shinjuku drive with Iconic Photos!
Themed Cafes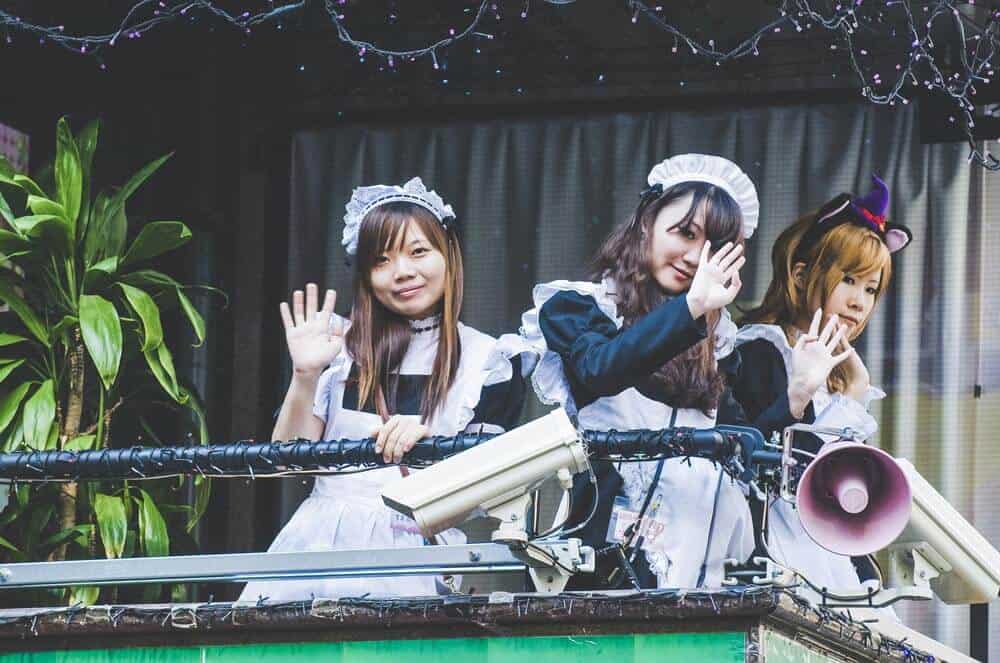 Another uniquely Japanese element is themed cafes. I am sure that other parts of the world seek to copy what the Japanese do, but I know of nowhere else that does that does it with such creativity. Where else can you check in and play with cats for a few hours? Don't stop there, there are owl, rabbit, and even snake theme cafes.
The themed cafes aren't only animal based, you can visit a maid, vampire, ninja, or even a cuddling café as well. Most of these cafes are restaurants to go with their theme, but some are just a place to hang out.
Want to travel more for cheap? Check out our guide on how to get certified to teach English abroad
Mount Fuji
Mount Fuji is the tallest mountain in Japan and though it isn't actually in Tokyo, it is visible from there on a clear day. Mount Fuji is sacred symbol to many Japanese; and is often referenced in their art or other religious symbols.
Day trips are available from the city, and for a fit person the summit can be reached in about 4 hours. The shape of the mountain and the way the clouds will circle the middle make it especially beautiful.
Tokyo Skytree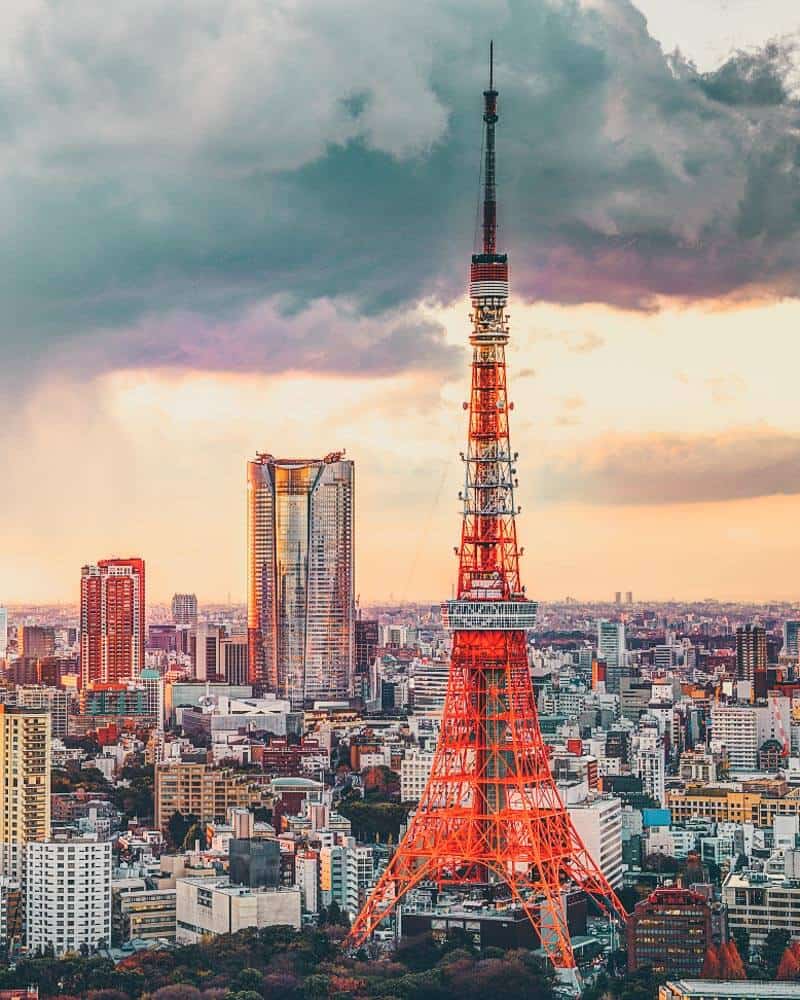 The Tokyo Skytree is the tallest structure in japan, and the second tallest structure in the world (after Burj Khalifa in Dubai). It is a communications tower and observation deck.
Many people haven't heard of the Tokyo Skytree because it is relatively new. It only opened to the public in 2012. Not surprisingly views from the observation deck high above the city are incredible!
Tip – Skip the lines by buying your tickets to the Tokyo Skytree here.
Where to Stay in Tokyo
Hotels in Tokyo can be very pricey. After a lot of searching we were able to find a nice hotel, with a good location for cheap.
*Top Choice: Hotel Villa Fontaine Tokyo-Hatchobori – If you want a clean hotel for cheap with easy access to all the public transportation this is it. It included a great buffet breakfast and good service. Nothing super fancy, and not a huge hotel, but given how expensive Tokyo can be it was an amazing find. And of course in typical Tokyo style, the rooms are small, but not painfully small like some of the others i've stayed in. This hotel room had a separate bathroom and actually enough room to put our luggage down and not have to step on it.
If you enjoyed this post don't forget to share! Thank you so much for reading!
Don't Miss All The Latest Articles on Japan!