Plage de Gros Sable (Plage du Helleux)
Whether you call it Plage du Helleux or Plage de Gros Sable you are referring to the same beach. That being said, this is only "kind of" a beach. It is much more a rocky surf spot. It is a legitimately popular surf spot where the skilled locals come out, or a place where the beginners can come to learn.
While there is a stretch of of sand you could lay out on, the actual shoreline is made up of stones and the general presence of a moderate wind makes it less comfortable.
I wasn't expecting much when we showed up, but it was actually really cool to watch the surfers in action.
Quick Tips
Other Names: Plage du Helleux, Le Helleux
Known for: surfing, consistent waves
Not so good for: lounging on the beach (it's made of stones)
Facilities: surf board rentals, surf board lessons, and a small concession stand. There are no bathrooms and no showers
Lifeguards: no
Parking: relatively easy, decent sized lot and extra street parking if necessary
Cost: free
Other: wave conditions will dramatically affect the crowds
Hours: 24 hours
Beach Name
Plage De Gros Sable translates to the beach of large or coarse sand.
This is fitting because it isn't really a sandy beach, but more stones meeting up with the water. The shoreline is not something I would want to walk across barefoot. When I watched the surfers do it they walk extremely gingerly.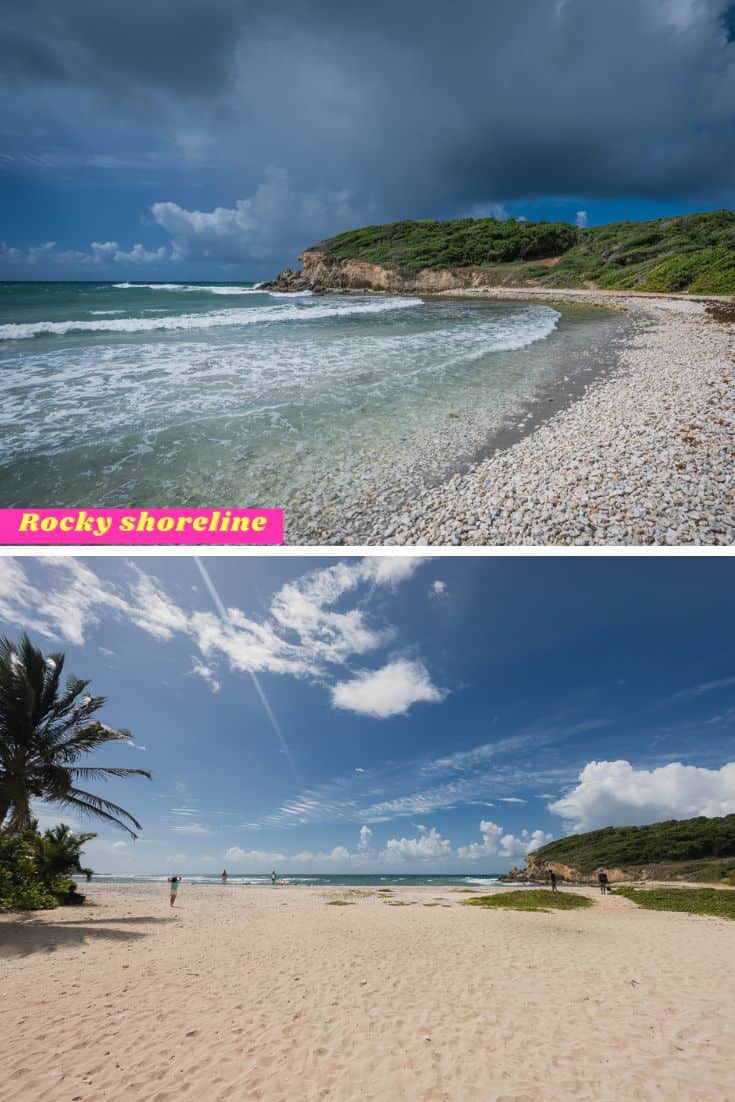 Where is Plage de Gros Sable located?
Plage de Gros Sable is about 45 minutes from the airport on the south east part of the main island of Guadeloupe.
Remember, the island is generally shaped like a butterfly, and this beach is located near the bottom corner of the right wing of Grande Terre island. (according to the orientation of most maps).
How to get there?
Like a lot of beaches on Guadeloupe you might feel like you are heading in the wrong direction before getting there.
You need to wind through a locals neighborhood. There is some signage, but just keep going even if you feel like it doesn't look right.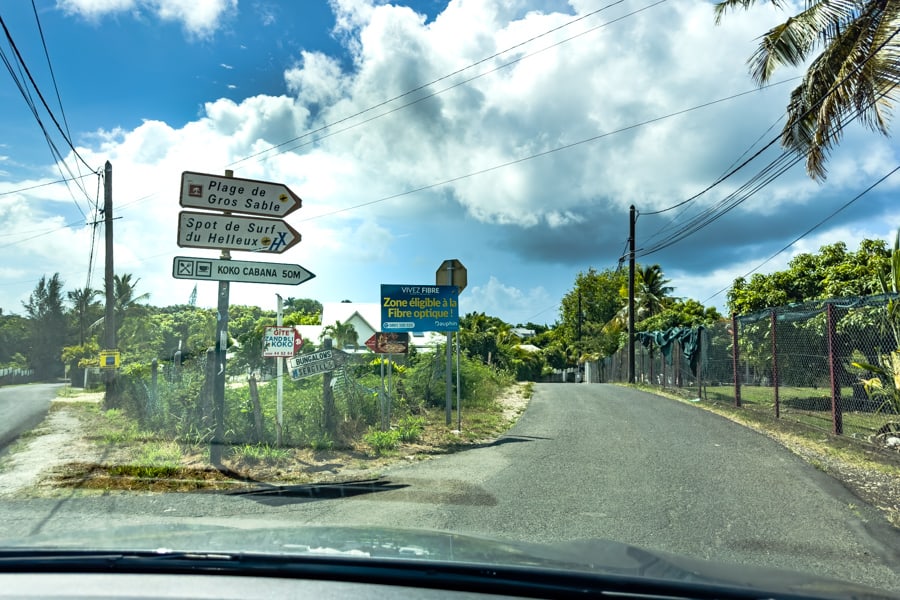 Plage de Gros Sable Parking
There is plenty of parking. The beach has its own lot of decent size. And even if it does fill up there are plenty of spots along the side of the road. All are free.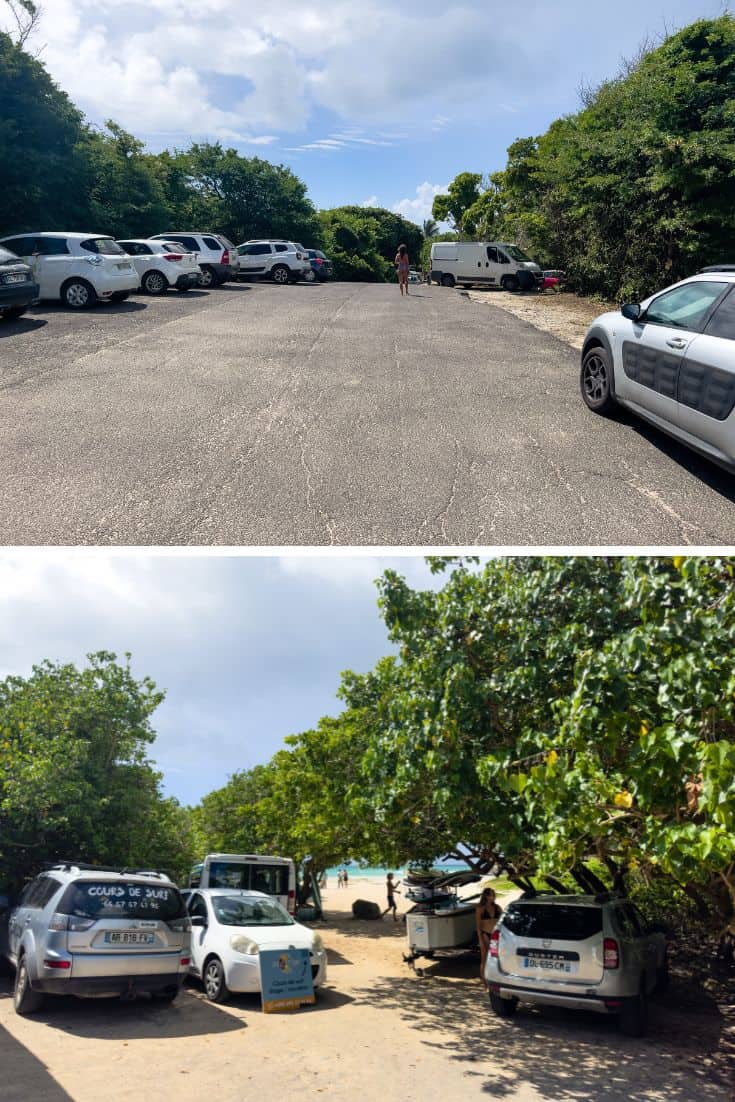 What can you expect at Plage de Gros Sable?
You can 100% expect a surfer crowd. When there, we watched really skilled men and women catching waves. They paddle away from the beach about 100 yards to where the waves break and wait for a good wave.
When we last visited on a Saturday afternoon there were about 50 surfers out in the water.
Another thing we observed was that it was really common to put on gobs of sunscreen in a face design that looked like Native American war paint. Can anyone verify if that's a thing?
Tip – I highly recommend booking these surf lessons in Guadeloupe. Especially if you are a beginner or wanting to get into it. You will learn so much faster with an instructor.
---
---
Facilities
There are no official facilities. You won't find restrooms or showers.
There will likely be few vendors renting surfboards and lessons. There was one concession stand selling snacks and drinks.
Things to Do Close By/Tours in Area
This area of the island has a lot of great beaches. You will likely already be in the area to see some of them.
One of my favorites is extremely close, Plage De Bois Jolan.
You are also fairly close to Anse Des Rochers and Plage Des Raisins Clairs.
Conclusion – Is Plage de Gros Sable worth visiting?
If you are a surfer then you 100% should check this out. If you aren't a surfer but might enjoy watching them on a beautiful shoreline/beach, then you should absolutely add this to your list.
Where to stay in Guadeloupe
La Toubana Hotel & Spa – This hotel is in an amazing location in Sainte-Anne overlooking Les Saintes.
Guadeloupe is not known for their amazing resort hotels, and yet, if that's what you are looking for La Toubana Hotel is one of the nicest on the island. Located in Sainte-Anne, the location is ideal! So close to all the best beaches in Guadeloupe.
Make sure you book in advance as this place fills up really fast. We went to Guadeloupe in January and I checked prices for March and a lot of days were already booked out. Check availability here.
La Toubana has been recently renovated and upgraded to a five-star hotel, the first and only five star hotel in Guadeloupe. Vénite said. "It is our first five-star property; we've never had that before," she said. "It is in an amazing location in Sainte-Anne overlooking Les Saintes."
Nearby Beaches: Bois Jolan Beach, La Caravelle Beach and Sainte Anne Beach
Some things to be aware of before traveling to Guadeloupe
The power plugs and sockets used on the island are types C and E Just like the rest of France. Voltage in Guadeloupe is 220 AC. This means if you are coming from the US you will need a plug converter. We forgot one and had a difficult time finding one on the island. We had to go to three different stores so definitely plan ahead.
Money – They use the Euro.
Population – about 400,000 people.
Almost every Guadeloupean is Roman Catholic. A lot of the stores were closed on Sunday or only open for a few hours.
Geography Clarification – most people think of Guadeloupe as 1 island, but there are actually 6 different inhabited islands. The biggest island is named Guadeloupe, but this island is split in two by a small sound – the west (left side on most maps) is called Basse-Terre and the east (right side on most maps is called Grand-Terre.
Language Barrier – Guadeloupe is a French speaking island and there is very little English spoken. Trust me, it will help to know a few beach terms in French. Creole is the second, unofficial language of Guadeloupe.
I had to use google translate while doing my trip research because most of the articles were written in French. Once there, most of the people are not used to tourists who do not speak French. Google translate is a MUST have when ordering food, etc.
Some words that will be especially helpful to know are…
Plage – Beach
Anse – Cove
Plongée en apnée or "palme masque tuba" PMT – Snorkeling