Pointe Tarare: Plage Naturiste Guadeloupe
First off, I didn't know that a "Naturiste" beach mean that it was a nude beach. I thought it meant that it was a nature or nature oriented beach. I was wrong.
That being said, with Anse Tarare the nudists and the gays have claimed a phenomenal beach! If you go there you will see that it is definitely theirs. This doesn't mean you won't be welcome, just don't go not expecting not to find that.
If that's your scene you will love it. It's a small and intimate beach in many ways. The hike is only a couple hundred yards and the crowd is supposed to be quite social. The mini cove beach itself is actually gorgeous!
Anse Terre Quick Tips
Known for: Nudists and gays
Good for: a very social scene
Not so good for: families with kids
Facilities: none, other than one restaurant bar at the parking lot
Parking: tons, large lot and street parking
Cost: free
Other: short hike to get there. It is less than 1/4 mile.
Hours: 24 hours a day
Anse Tarare goes by a few names
This beach actually has a few different names it goes by. Some of them include Pointe Tarare, Tarare Point, Anse Tarare, La plage de l'Anse Tarare, Plage Naturiste.
Clarification: there is another nude beach "named" Plage Naturiste on the northwest side of the island of Basse-Terre.
Where is Pointe Tarare Plage Naturiste located?
Plage Naturiste is located on the far south east part of the main island of Guadeloupe (Grand-Terre). If you think of the main island as a butterfly, it is at bottom right wing tip.
It takes about an hour to drive here from the center of the island, which is where the main airport is.
It is right next to the La Pointe Les Chateau, an area with a few (non-nude) beaches and the popular hike up to the giant cross. Read more here to see what else there is to do in the area.
Pointe Tarare Map
How to get there?
The drive here takes about an hour from the center of the island. The walk to the actual beach is only about 1/4 of a mile from the parking lot.
Tip – We rented a car in Guadeloupe which I HIGHLY recommend. I honestly don't think there is a way (other than a few tours) to get around Guadeloupe at an affordable price. Check prices here.
Accessing the beach via trail
We made a wrong turn at first so make sure you are on the right trail. Once you are in the parking lot you need to find the hiking path. There are a couple that come out of the parking lot, so make sure you take the correct one.
You will see a restaurant and bar from the parking lot. If you are facing the restaurant from the parking lot you will walk around back on the left side. From there you will see the short trail open up.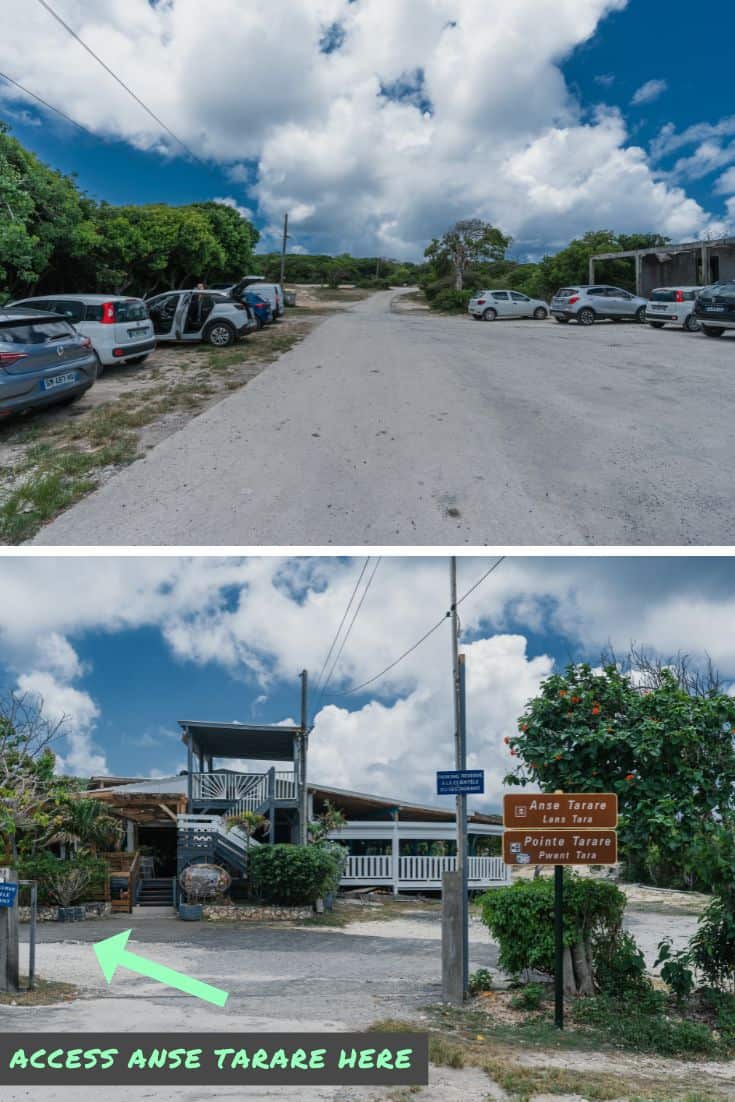 Once on the trail you can't miss the beach. The hike will take you to a viewpoint above the beach where you can take it all in before walking down and around. This is where we realized the error of our ways and turned around.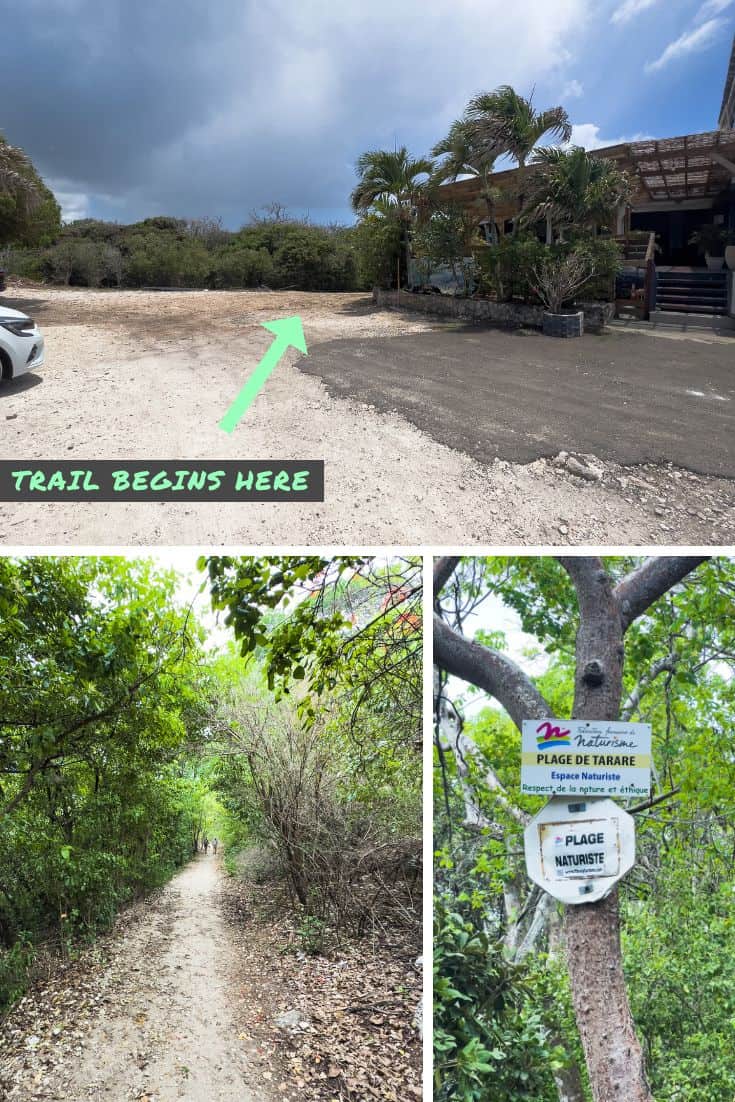 What can you expect at Pointe Tarare: Plage Naturiste
This cove beach is small but gorgeous. It is protected from the common winds and waves in the area but some rocky outcroppings. There is some shade available under palm trees right on the beach.
The clear emerald water is gorgeous to swim in, and rocky cliffs and palm trees perfectly frame the beach.
There is ample sand to lounge on if you like as well.
Great snorkeling here! Make sure to bring your own mask and fins as there are no rentals here.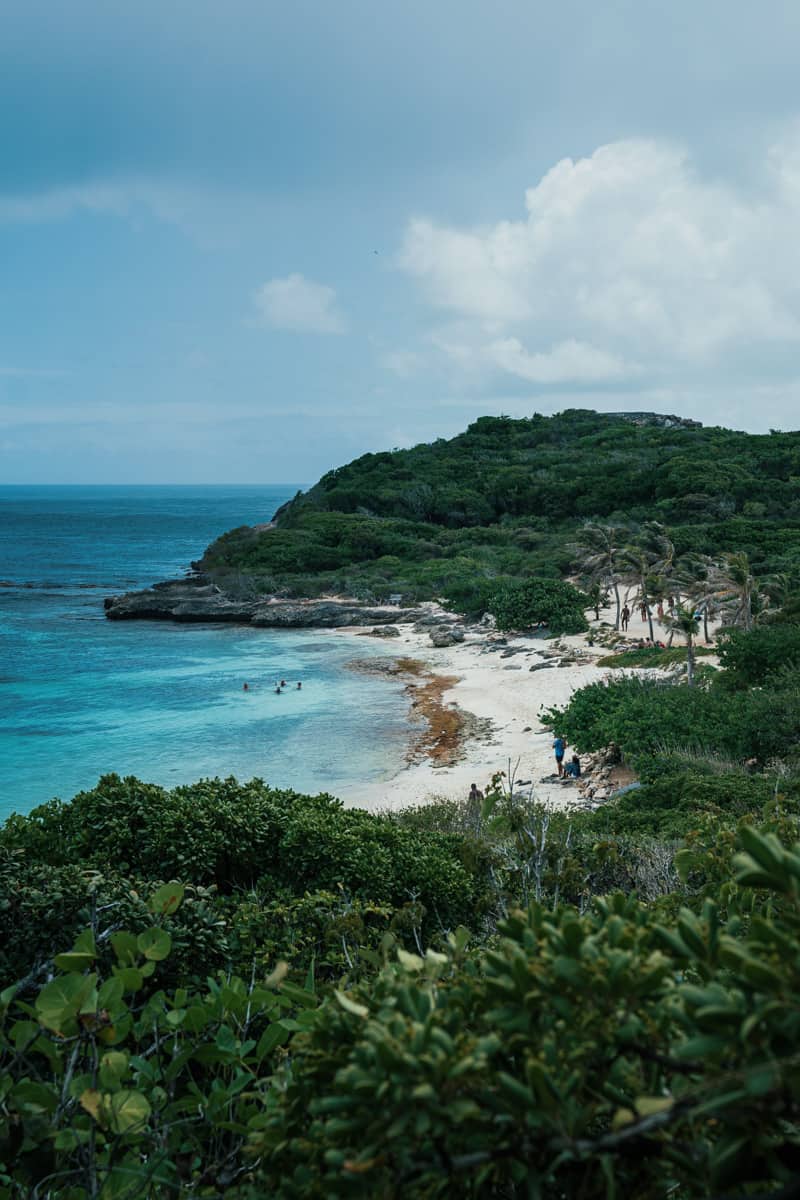 Swimming Conditions
Swimming conditions are pretty good. There were a lot of people just chilling in the water since the waves were calm the day we went.
Lifeguards: none
The water can get rough but certainly swimmable and the snorkeling was actually pretty good once you got out a little.
Facilities
Other than the restaurant/bar in the parking lot there are no facilities.
Other things to do in the area
La Pointe Les Chateau – This beach is only a couple minutes away from La Pointe Les Chateau. This is the spot with the famous hike up to the gigantic cross. It was probably the most "touristy" thing we did on the island (lots of tour buses there) but it did not take away from this place. It was awesome, highly recommend visiting.
Beaches – There are also other beaches in the area. One extremely popular one is Raisins Clairs, but my favorite Plage Des Bois Jolan.
Anse à la Gourde – 7 minute drive away. We didn't personally visit this beach but you can read reviews here.
Conclusion: Is Anse Tarare worth visiting?
Nude beaches aren't my scene, but for those looking, especially if a slightly older gay man you will very likely find exactly what you want at this pristine beach.
Some things to be aware of before traveling to Guadeloupe
The power plugs and sockets used on the island are types C and E Just like the rest of France. Voltage in Guadeloupe is 220 AC. This means if you are coming from the US you will need a plug converter. We forgot one and had a difficult time finding one on the island. We had to go to three different stores so definitely plan ahead.
Money – They use the Euro.
Population – about 400,000 people.
Almost every Guadeloupean is Roman Catholic. A lot of the stores were closed on Sunday or only open for a few hours.
Geography Clarification – most people think of Guadeloupe as 1 island, but there are actually 6 different inhabited islands. The biggest island is named Guadeloupe, but this island is split in two by a small sound – the west (left side on most maps) is called Basse-Terre and the east (right side on most maps is called Grand-Terre.
Language Barrier – Guadeloupe is a French speaking island and there is very little English spoken. Trust me, it will help to know a few beach terms in French. Creole is the second, unofficial language of Guadeloupe.
I had to use google translate while doing my trip research because most of the articles were written in French. Once there, most of the people are not used to tourists who do not speak French. Google translate is a MUST have when ordering food, etc.
Some words that will be especially helpful to know are…
Plage – Beach
Anse – Cove
Plongée en apnée or "palme masque tuba" PMT – Snorkeling