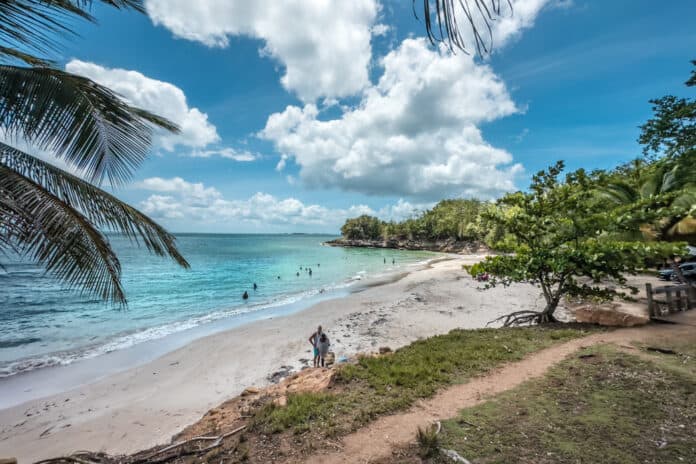 Plage Manbiaf – A Local's Beach in Guadeloupe!
This local spot is a small beach on the north west side of the island of Guadeloupe. If you are coming from the airport, then it is the first "real beach" that you will encounter.
It gives you access to the gorgeous golden sands of Guadeloupe and clear blue ocean waters.
This beach generally gets a lot of wind which can make the water choppy and sometimes unsafe to swim in. That being said, the most popular part of this beach is protected by a rocky outcropping. This stops a lot of the wind and often leaves the water calm enough to snorkel on.
This small beach is split into two mini parts, but the bigger and easier to access part is protected and generally calmer water portion. Even though you can sometimes snorkel, I don't want to say this is the best snorkel spot, instead check out Plage De Petite Anse.
Sidenote – Google incorrectly lists the name of this beach as Plage Manbiaf. When you get there you will see the signage labels it as Plage Manbia. For clarification purposes I use both names.
Plage Manbia Info
Other Names: Plage Manbiaf
Where: northwest side of Basse-Terre Guadeloupe
Amenities: no restrooms, no showers, just pavilions and picnic tables
Best for: locals having picnics
Where is Plage Manbiaf located?
The main butterfly shaped island of Guadeloupe is actually made up of two islands. The "left wing" is the island of Basse-Terre. This beach is near the top of the left wing.
It is the first beach you come to when driving from airport. The drive here from the airport takes about 25-30 minutes. You will pass through a couple small towns.
How to Get To Plage Manbiaf
Once you are in the area it is incredibly simple to find. It is well marked; all you have to do is turn off the main road into the parking lot.
Plage Manbia Parking
The parking lot has plenty of spaces along the sides of the road. Even on a "busy" Sunday afternoon there were plenty of spaces immediately on the beach.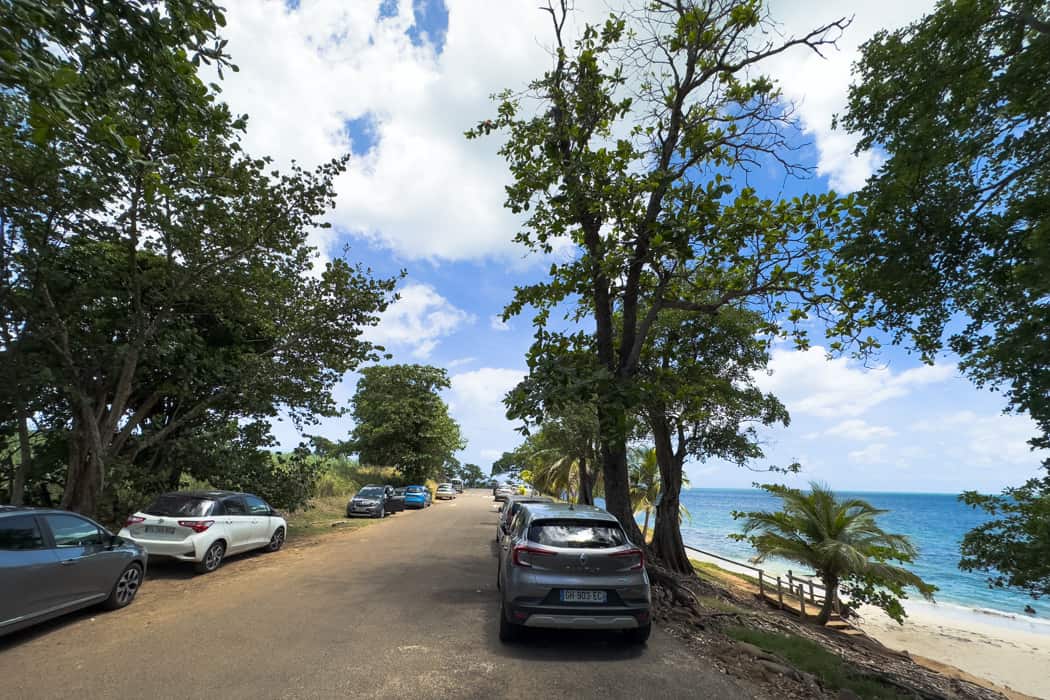 What you can Expect at Plage Manbia
This relatively small cove beach is protected on one side by rocks coming out into the water. This helps calm the emerald green waters, which is especially helpful because it is often windy in this area.
Swimming Conditions
A lot of beaches in the area can get choppy waves and heavy currents. If you stick near the protected end of the beach you shouldn't have any problem swimming, even if you aren't the strongest swimmer.
Plage Manbia Snorkeling
The proceeded edge of the beach might be calm enough for snorkeling, but you aren't likely to see a lot of sea life here. It is still fun to look around in the clear water though.
Crowds
On weekends you are likely to find a good amount of locals, but otherwise it tends to be pretty dead.
Facilities/Amenities/Activities
The biggest downfall of this beach is that there aren't any amenities, including bathrooms and showers. The only thing you will find is covered pavilions and picnic tables.
There was a concession stand on the beach, but it looks like it's been closed down for quite a while.
Things to do near Plage Manbia
There are another couple of amazing beaches in the area if you want to pass this one. By driving just a little bit further you can get to Plage Amandiers and Plage de Clungy.
Other beaches nearby
Guadeloupe is the perfect island for beach hopping. There are over 200 beaches throughout the islands and they are all so close to each other.
Plage de Grande Anse – one of the most beautiful and popular beaches in Guadeloupe.
Conclusion:
If you can get this beach nearly to yourself it's worth the stop! If not, I would continue on to another nearby beach with more amenities.
On the weekends a lot of locals will barbecue and picnic in the area. During the week it won't be be as busy.
Where to stay in Guadeloupe
La Toubana Hotel & Spa – This hotel is in an amazing location in Sainte-Anne overlooking Les Saintes.
Guadeloupe is not known for their amazing resort hotels, and yet, if that's what you are looking for La Toubana Hotel is one of the nicest on the island. Located in Sainte-Anne, the location is ideal! So close to all the best beaches in Guadeloupe.
Make sure you book in advance as this place fills up really fast. We went to Guadeloupe in January and I checked prices for March and a lot of days were already booked out. Check availability here.
La Toubana has been recently renovated and upgraded to a five-star hotel, the first and only five star hotel in Guadeloupe. Vénite said. "It is our first five-star property; we've never had that before," she said. "It is in an amazing location in Sainte-Anne overlooking Les Saintes."
Nearby Beaches: Bois Jolan Beach, La Caravelle Beach and Sainte Anne Beach
Some things to be aware of before traveling to Guadeloupe
The power plugs and sockets used on the island are types C and E Just like the rest of France. Voltage in Guadeloupe is 220 AC. This means if you are coming from the US you will need a plug converter. We forgot one and had a difficult time finding one on the island. We had to go to three different stores so definitely plan ahead.
Money – They use the Euro.
Population – about 400,000 people.
Almost every Guadeloupean is Roman Catholic. A lot of the stores were closed on Sunday or only open for a few hours.
Geography Clarification – most people think of Guadeloupe as 1 island, but there are actually 6 different inhabited islands. The biggest island is named Guadeloupe, but this island is split in two by a small sound – the west (left side on most maps) is called Basse-Terre and the east (right side on most maps is called Grand-Terre.
Language Barrier – Guadeloupe is a French speaking island and there is very little English spoken. Trust me, it will help to know a few beach terms in French. Creole is the second, unofficial language of Guadeloupe.
I had to use google translate while doing my trip research because most of the articles were written in French. Once there, most of the people are not used to tourists who do not speak French. Google translate is a MUST have when ordering food, etc.
Some words that will be especially helpful to know are…
Plage – Beach
Anse – Cove
Plongée en apnée or "palme masque tuba" PMT – Snorkeling