Asia is blessed with verdant forests blanketing colossal mountain terrains; Asian countries have an abundance of beautiful waterfalls weaving their way through brilliant landscapes. The convergence of majestic mountains and sparkling rivers create breathtaking waterfalls all around the region, some of which are the most beautiful sights you will ever experience.
There are countless waterfalls scattered throughout Asian countries, making it hard to pick the best Asia waterfalls. While there are other exquisite waterfalls, the cascades listed below are the most popular ones in their own countries.
Below are the 10 best waterfalls in Asia.
10 Most Beautiful Waterfalls in Asia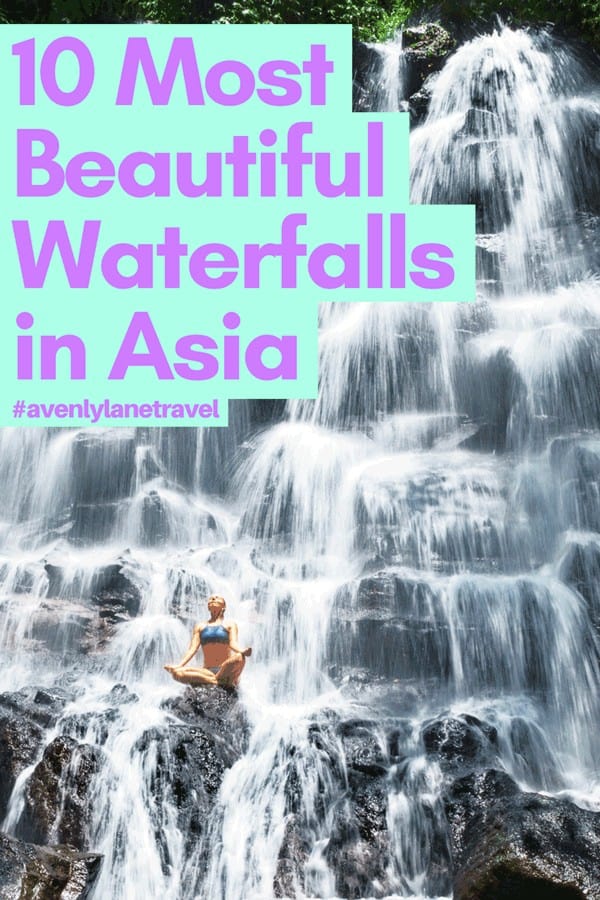 Waterfalls in India
Jog Falls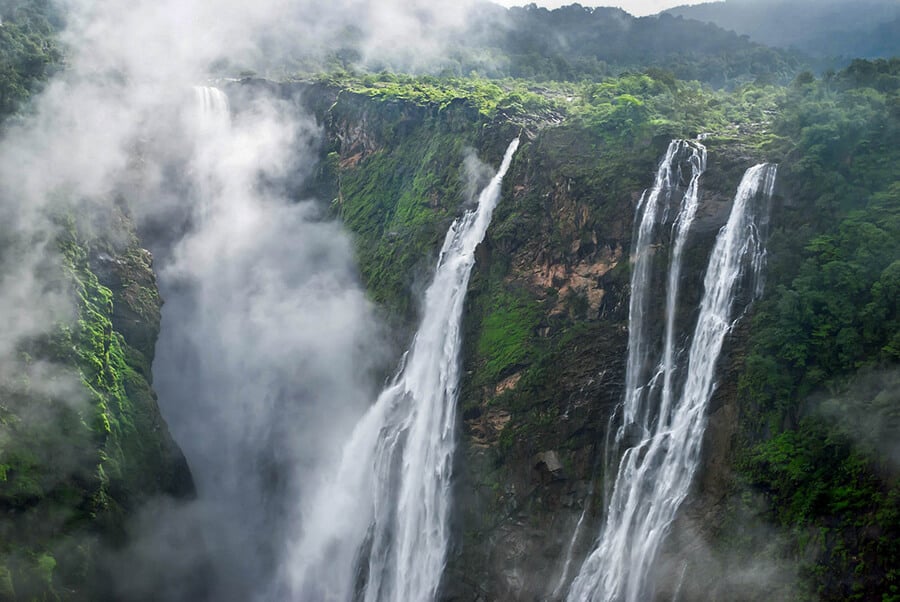 The second highest waterfall in India is Jog Falls, which originates from the Sharavathl River. It is located near Sagara taluk, in the Shimoga district in the state of Karnataka.
Jog Falls is one of the most popular tourist attractions in Karnataka; the sight of surging water thundering down from a massive height is an awesome sight. The river splits into four thundering torrents and plunges from a height of 829 feet.
The rocky terrain sheathed in verdure during monsoons adds splendor to its magnificent sight. A trek down the rocky paths to the waterfall's base lets you take in the impressive grandeur of the cascades while getting soaked in misty sprays. The best time to visit is during monsoon season.
Jog Falls is one of the most beautiful waterfalls in India.
How to get to Jog Falls:
The nearest railway station is Talguppa Railway station, which is around 16 kms away from Jog Falls. The nearest airport is Hubli airport.
Athirappilly Waterfall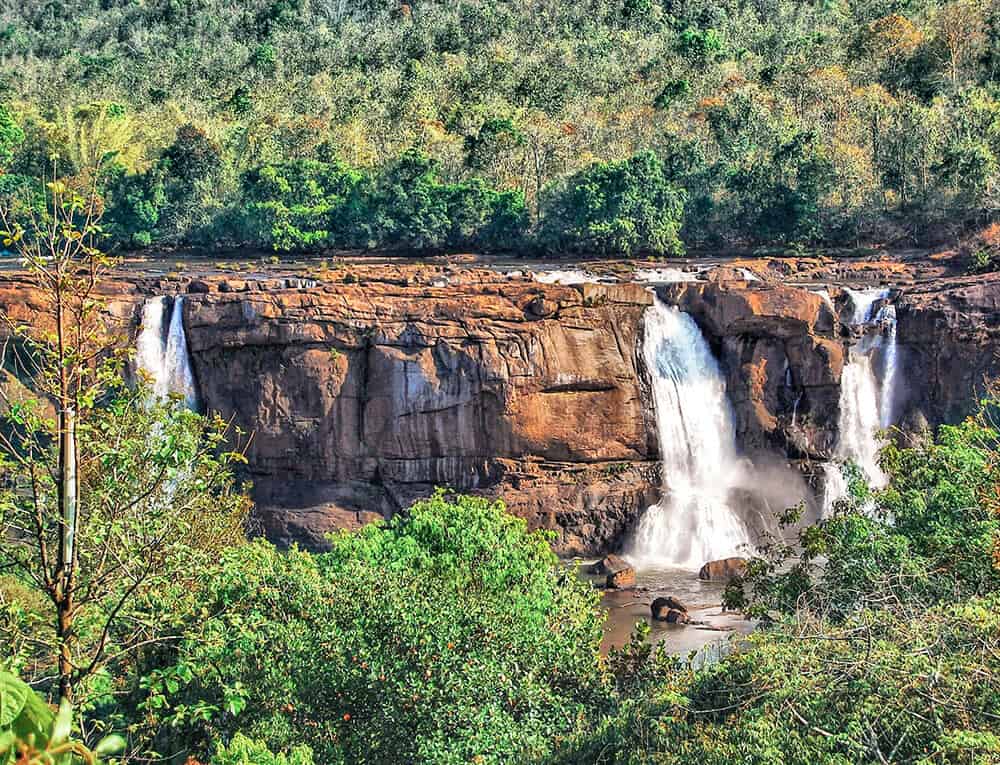 Kerala is a natural paradise where you can find even the rarest hues in nature's colour palette. It is one of the best places to travel in Asia. It features lush forests, majestic mountains, and massive waterways. Kerala is home to some of the most beautiful waterfalls in India; Athirapally waterfall is the most famous and the largest waterfall in Kerala. It is nestled in the Sholayar hills, and emerges from the Chalakudy River in the Thrissur district.
This gorgeous cascade tumbles down from a height of 80 feet. The trek to the fall is moderately difficult, but lets you enjoy the serene nature and bird sightings. The lush green surrounds are accentuated by the mighty torrents.
Best time to visit Athirappilly Waterfall
The best time to visit is from September to January when the monsoon season is receding, but still prevalent enough to maintain the invigorating flow of water. You can enjoy a refreshing swim in the stream at bottom of the Athirapally Falls.
How to get there:
The nearest railway station from Athirapally Falls is Chalakudi Railway Station which is 30 kilometres from the falls. The nearest airport is Kochi International Airport.
Waterfalls in Indonesia
Jembong Waterfall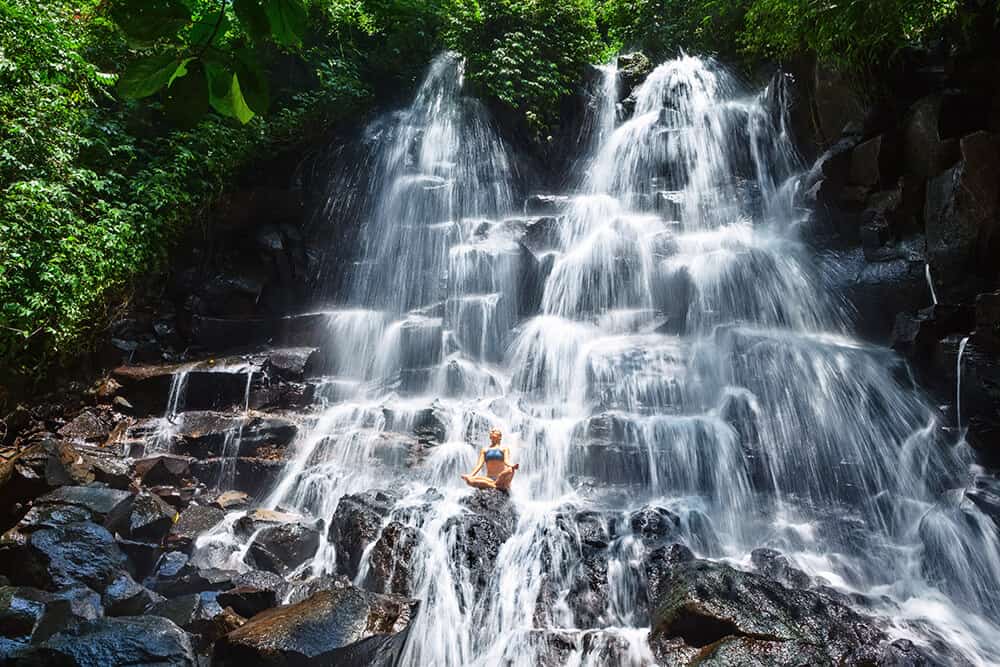 This waterfall is located in Ambengan village, Sukasada district in Northern Bali. Jembong Waterfall is a gently flowing cascade on a sloping terrain surrounded by pristine vegetation. It emanates serenity and solitude. The hike to reach this waterfall is an equally pleasant trip.
This lesser known waterfall has the advantage of limited tourists, making it a salient spot for city dwellers and couples seeking a nature getaway.
How to get there:
The waterfall is a 2 hour drive from Denpasar, and only 15 km from the Bedugul.
Tegenungan Waterfall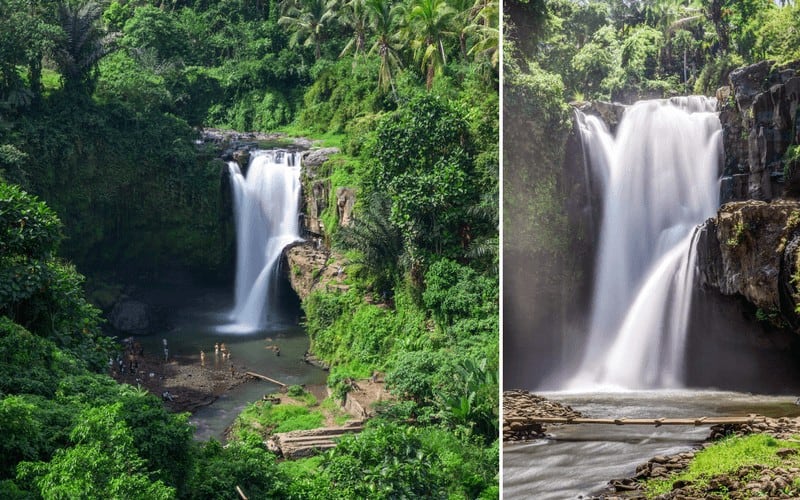 One of the most popular falls in Asia, this waterfall is located halfway between Ubud and Denpasar in Bali. Tegenungan Waterfall is one of the most breathtaking waterfalls in Indonesia.
It lies nestled in a green valley fringed by lush green foliage. This gushing waterfall is convenient to reach as it isn't located in highlands or mountains like other waterfalls in Indonesia. A trek down to the falls and a refreshing dip in the water is a great way to relax in nature.
The falls look amazing any time of the year, but during monsoons the torrent is the strongest and potentially risky during a downpour!
How to get there:
Take a half hour pleasant drive through the village roads of Denpasar or Ubud to reach this little slice of paradise.
Waterfalls in Japan
Nachi Falls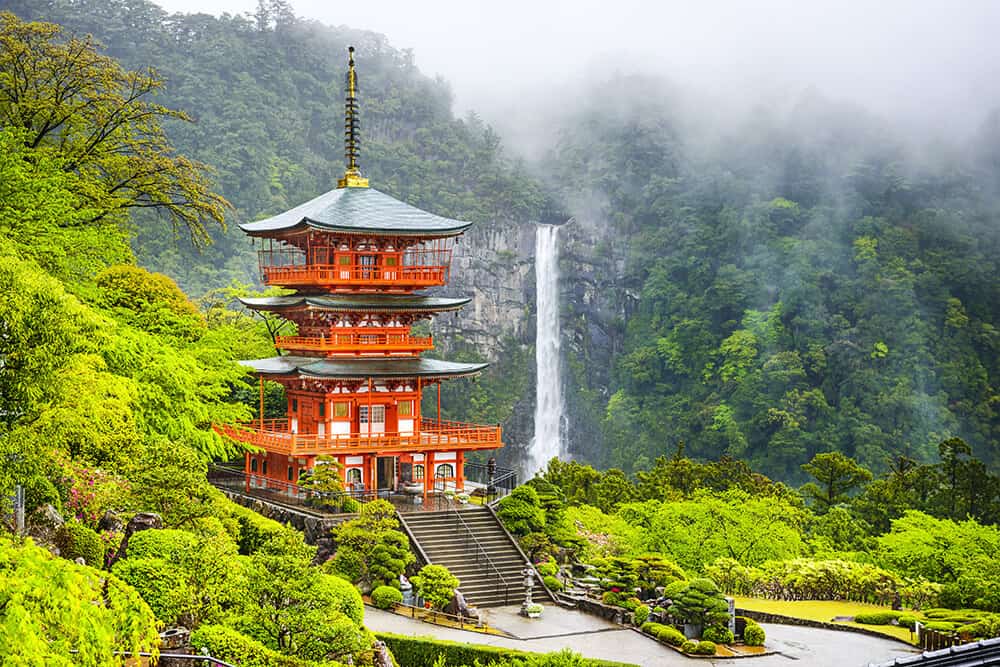 Nachi Falls is one of the most famous waterfalls in Asia. Set in the coastal town of Nachi in Wakayama Prefecture, Nachi Falls is Japan's tallest single drop waterfall.
The site surrounding the waterfalls consists of Nachi Taisha Grand Shrine and Seigantoji Temple, which adds a charm to this picturesque panorama.
Though tourists flock to Nachi Falls for its impressive landscape, this gorgeous waterfall has spiritual significance as well. It is included as a UNESCO World Heritage sacred site. The hike through the countryside up to the waterfall is arduous, but rewarding as the view is one of the best in Japan.
How to get to Nachi Falls:
Nachi is 3 hours away from Osaka, and can be reached by train or by road. There are bus services to Kumano Nachi Taisha Shrine from Kii-Katsuura Station and Nachi Station.
Fudo Falls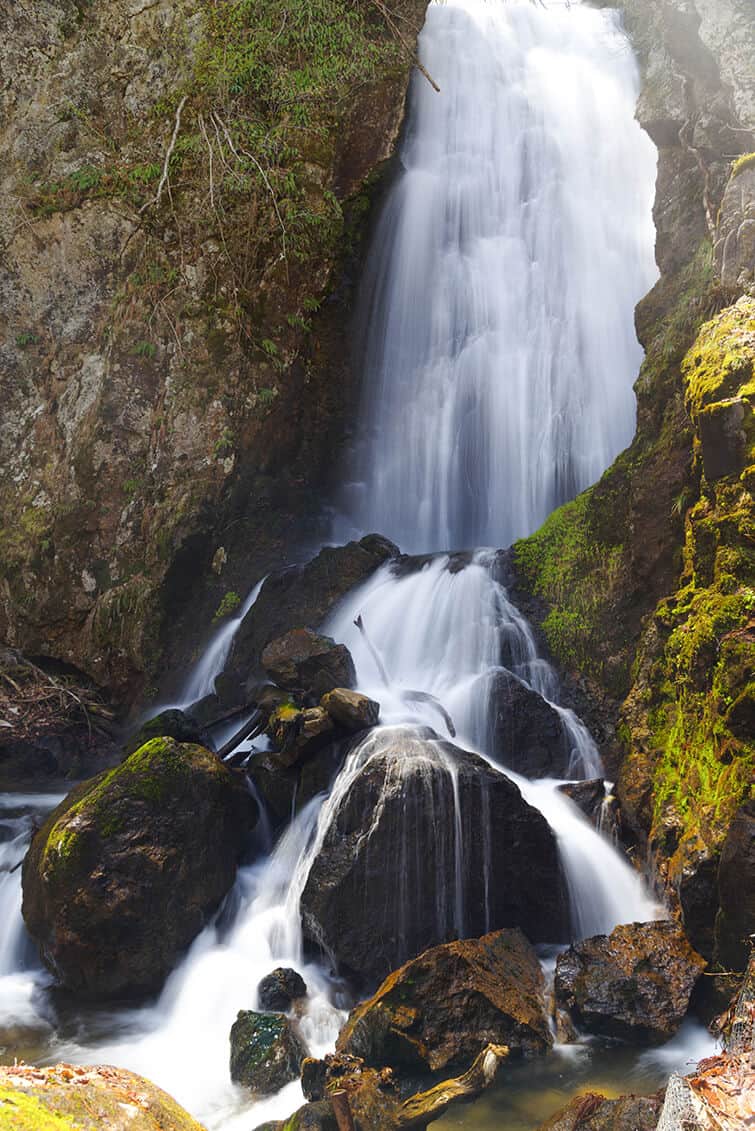 Tumbling down the Mt. Akagi-yama in Iwate, Fudo Falls is yet another scenic cascade that possibly lists itself as the most beautiful waterfall in Japan. The best aspect is that you will get different experiences in different seasons. The surrounding verdure changes its hues according to the season, and that enhances the vista of this magnificent waterfall throughout the year.
The winters are particularly popular as the cascading waters freeze into icicles (turning the entire panorama into a winter wonderland). Before you get there you need to take a 40-minute walk along a spectacular nature trail.
How to get to
Fudo
Falls:
JR Chugoku-Katsuyama Station is the nearest station to the site. It takes about 20 minutes to drive from the Yubara Interchange on the Yonago Expressway.
Waterfalls in Thailand
Erawan Waterfall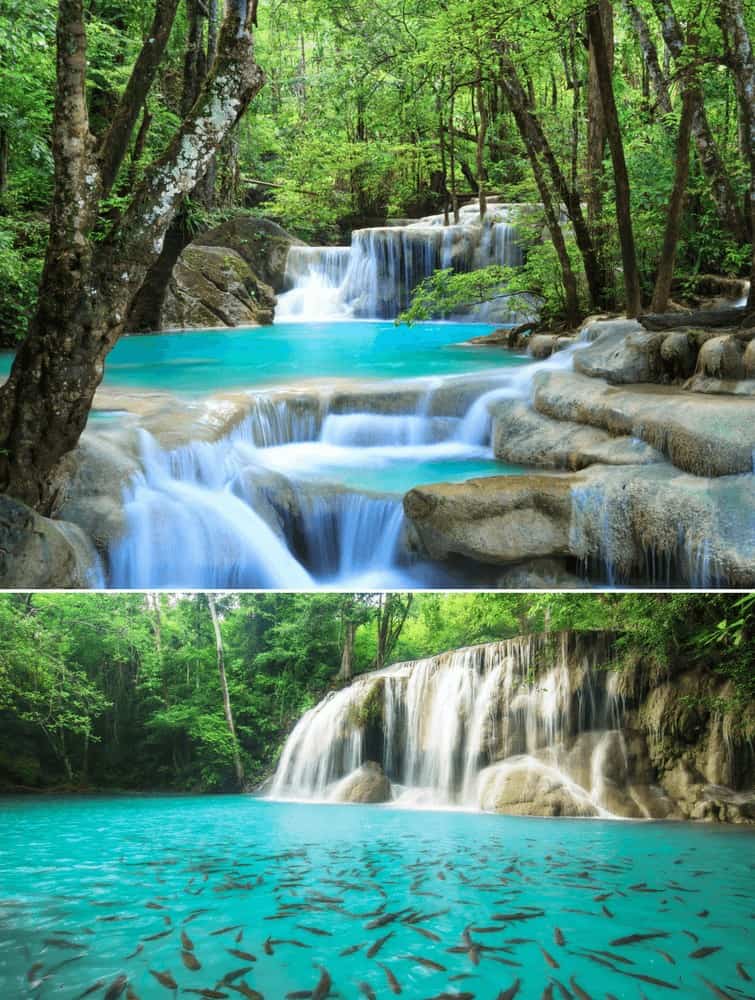 Thailand has always been a favourite among tourists in Asia, and Erawan Falls helps Thailand live up to the expectations. It's a great nature destination as well.
Thailand's sprawling highlands and nature parks are dotted with innumerable waterfalls. If you are in the city of Bangkok and need a break away from the urban verve, Erawan National Park in Kanchanaburi Province is only 3 hours away.
Erawan waterfall is a 7 tier shallow waterfall which you can explore one by one. The treks to the falls range from moderate to challenging. They generally get steeper as you go up and the streams from the tiers that blend into emerald pools at its base. Erawan Waterfall is cocooned within a lush green forest giving you an opportunity to explore the refreshing nature and wildlife. Be sure to take a dip or splash around before you climb all the way to the top to view the picturesque blend of wilderness and waterfall.
How to get to Erawan Waterfall:
Kanchanaburi is around 3 hours drive from Bangkok (one of the most visited cities in the world!), and Erawan National Park is about an hour drive from Kanchanaburi.
Mae Ya Waterfall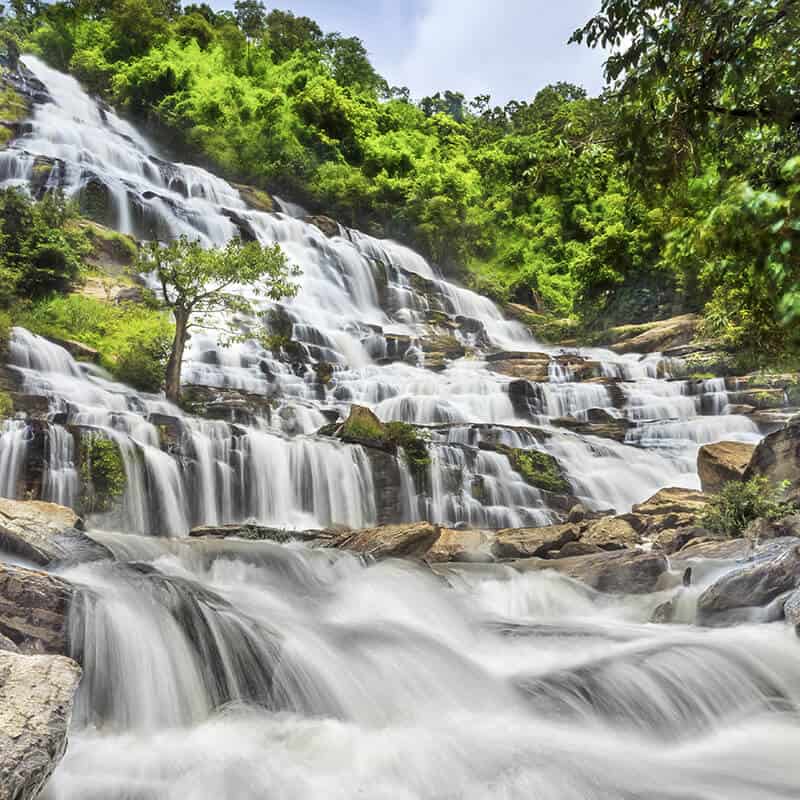 This one stands at 260 meters tall, and is one among Thailand's most exquisite waterfalls. It is set at the popular Doi Inthanon National Park on the outskirts of Chiang Mai.
This layered waterfall is a set of mini cascades that plummet down into a gushing stream. The alluring mountains and overhanging cliffs covered in foliage (in addition to the misty waterfalls) make a perfect postcard scenario for visitors. Mae Ya is one among the most scenic Asian waterfalls, and this appealing attraction is a great way to reconnect with nature.
How to get there:
The nearest airport is the Chiang Mai International Airport located 3 kms away. Doi Inthanon National Park can be reached from Chiang Mai by car or bus, and takes about an hour to reach.
Read more on Thailand here.
Waterfalls in China
Pearl Shoal Waterfall

, China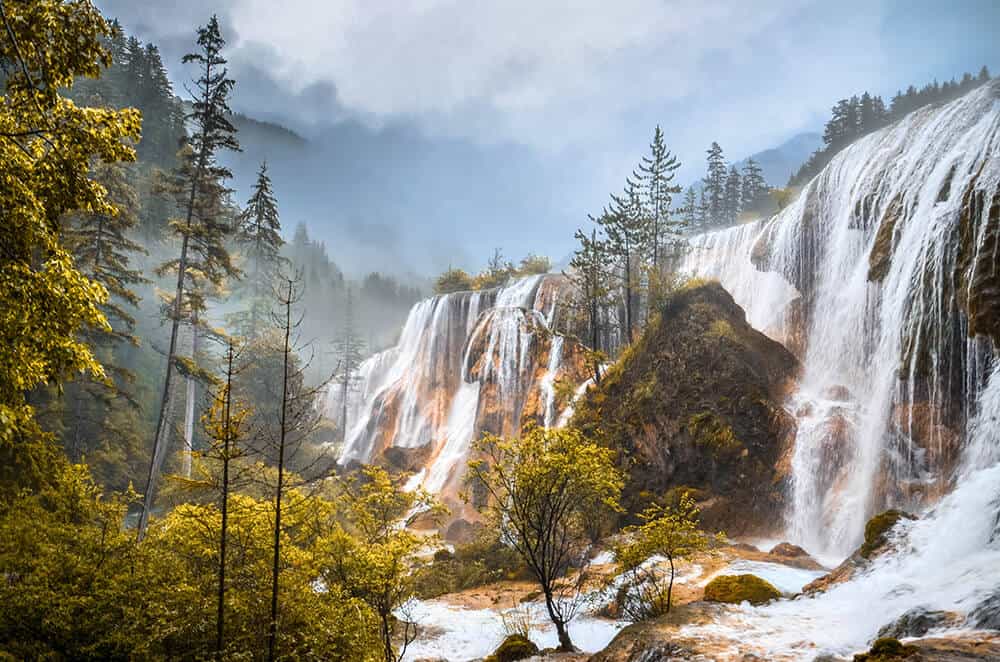 This gem is located in Jiuzhaigou Nature Reserve in northern Sichuan Province of China. Pearl Shoal Waterfall is one of the most scenic waterfalls in China. The flowing water does not drop directly into the basin, but instead plunges down a shoal face where sunbeams reflect off of the water. This creates a shimmering effect that looks like pearly droplets of water, thus giving it the name Pearl Shoal Waterfalls.
The surrounding landscape is covered in pine trees and China firs that make it a stunning scenic spot worth visiting. The best time to visit is in the summer since the weather is pleasant, and the snowy mountain feeding the falls provides all year. With it being a part of a large nature reserve, there are plenty of natural vistas to explore surrounding the Pearl Shoal Waterfall.
How to get there:
The nearest airport is Jiuhuang Airport, which is approximately 88 kms from the nature reserve. Another option is a bus trip from Chengdu Chadianzi Bus Station or Xinnanmen Bus Station, but the journey to Jiuzhaigou Nature Reserve will take around 10 hours.
Huangguoshu Falls

, China (Largest Waterfall in Asia)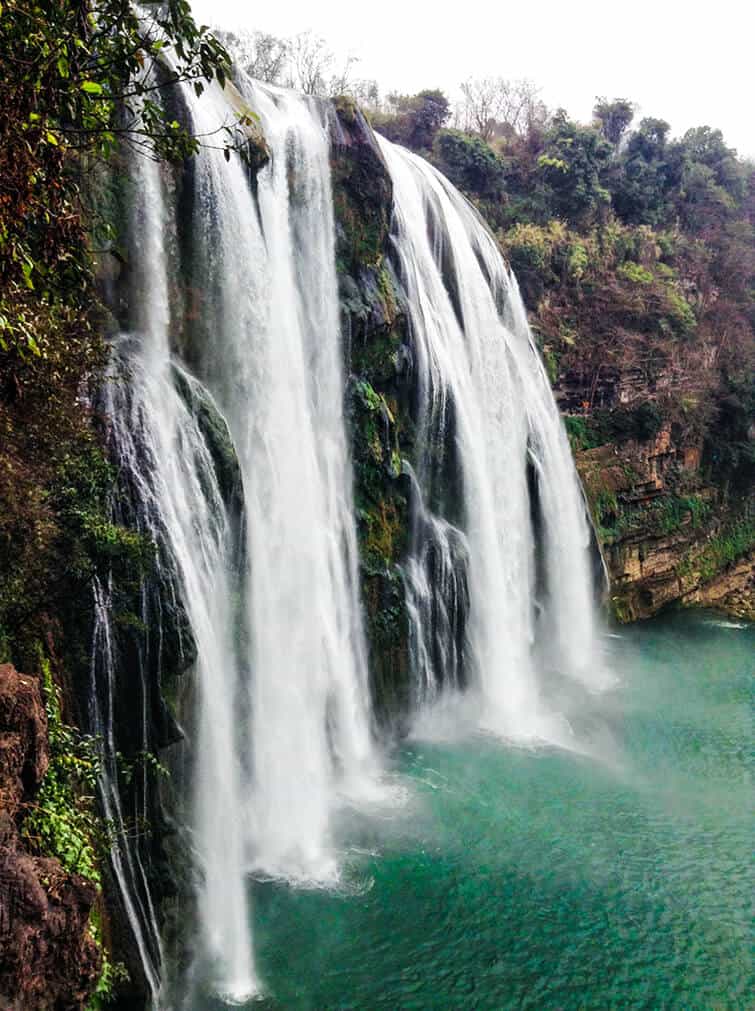 Huangguoshu Falls is the largest waterfall in Asia. This waterfall is set in Huangguoshu Waterfall National Park on the Baishui River in Anshun, Guizhou province. This segmented block type waterfall is actually a cluster of minor waterfalls plummeting down from a height of 243 feet.
The waterfall scenery can be viewed from three different perspectives. The waterfall-viewing pavilion lets you view the whole waterfall from a distance, water-viewing stage gives you a bird's eye view of the falls, and the third stage is where you can watch the falls from a worm's eye view. Best time to visit is from June to September.
How to get

to Huangguoshu Falls:
There are regular bus services from Jinyang Passenger Transport Bus Station and Anshun South Passenger Transport.
In Asia, waterfalls are a prominent feature in many nature spots. On almost on every forested mountain you can find a variety of waterfalls on a simple hike. The endless array of Asian waterfalls provide different experiences – some of these beautiful wonders are hard to access, but a refreshing sight to watch after a trek.
Some Asian waterfalls are easy to reach, but provide a great place to unwind and lounge around in the lap of nature. An Asia trip amid this wondrous nature splendor is all you need for a refreshing time-out from reality.
What is the highest waterfall in Asia?
The highest waterfall in Asia is Kunchikal Falls in India. It is 600 ft tall (183m).
This is a guest post by Priya.