One of the fastest growing attractions in Switzerland is the hair-raising First Cliff Walk that lets you literally walk off the edge of a cliff.
While this attraction is awesome, it is only 300 meters long, which will leave you wanting to do more at the top of this mountain. There are a number of other adventure attractions I recommend, but for those looking for something calmer, there are still options.
Thankfully, the hike to Bachalpsee Lake leaves from the same location, is beautiful, and easy enough for the whole family to do.
Bachalpsee Hike Details:
Cost – free
Length – just under 4 miles (round trip)
Difficulty – easy
Famous For – exquisite mountain views and a gorgeous mountain lake you can even swim in
Crowds – many people, but plenty of ability to spread out
Bachalpsee Hike Name
I struggled to remember the name until I separated it. Bach Alp See – i.e. Bach sees the Alps! After you've actually done the Bachalpsee hike you are not likely to forget it either.
Starting Out – Grindelwald to First
First off, you need to get to Grindelwald (not an evil Harry Potter wizard) and then from there get up to First (a real location, not just the initial one to win a race.)
Basically, "Grindelwald" is a small mountain town, and "First" is the summit of a mountain above that town that has all kinds of fun attractions.
Grindelwald to First can be accomplished through a brutal hike, or the super popular gondola ride that takes you straight up the mountain.
Read more about the gondola or hike here.
Bachalpsee Lake Hike – The Actual Hike
The trail is wide and super easy to follow. It goes along the ridge of a mountain, and only has a couple of steep parts.
One of the steepest parts is at the very beginning, so don't be deterred!
The entire hike is only about 4 miles out and back, which most people can complete in about 2 hours.
Bachalpsee Lake is at the end of the trail. Actually you can continue on a different trail for much longer if you like.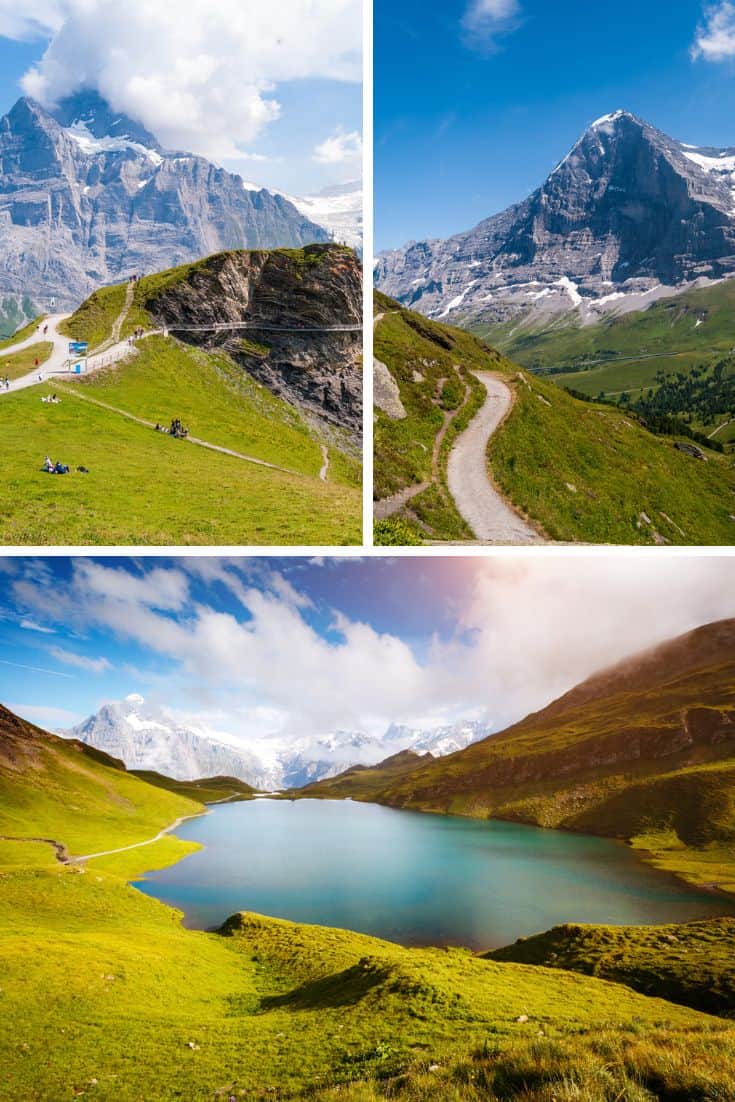 Grindelwald Switzerland Hiking
Grindelwald Switzerland Hiking is a little bit different than you would expect. By being at such a high elevation, you will run out of breathe a lot easier. Even though I feel like I'm in pretty good shape I definitely got winded.
Swimming Bachalpsee Lake
Can you swim in Lake Bachalpsee?
In the summer you can swim in the lake. Warning though, even in the summer the water is going to be cold! This lake is fed by melting snow and ice.
Lots of people that get in won't last for long because of the cold water. Regardless, it's a perfect way to cool off after a long hike.
Popularity
Due to its location and beauty this hike tends to attract crowds. Thankfully, on the trail and at the lake there is plenty of space for everyone spread out.
Just don't plan on having the trail to yourself. If you continue beyond the lake, there will way less people.
FAQ:
How long does it take to hike to Bachalpsee?
The Grindelwald hiking trail takes about an hour to complete one way (3 km or 1.86 miles).
How far is First from Bachalpsee?
It is about 3 km (1.86 miles) distance from Bachalpsee to First.
Conclusion
I loved this hike. It was the perfect addition to the First Cliff Walk. The mountain views and refreshing waters for a swim make it a must do!
Visiting Switzerland? READ NEXT: