I've been screaming about it ever since I went. Taipei is an extremely underrated travel destination! Of the over 20 countries I traveled to last year, Taiwan was my favorite. Read all our posts on Taiwan here.
Now that you are planning your trip, do you want to know where to stay in Taipei?
The Grand Hotel Taipei has to be the best hotel in Taipei! I mean, just look at it! Where else can you stay in a classical Chinese building that was designed for foreign dignitaries and royalty without breaking the bank.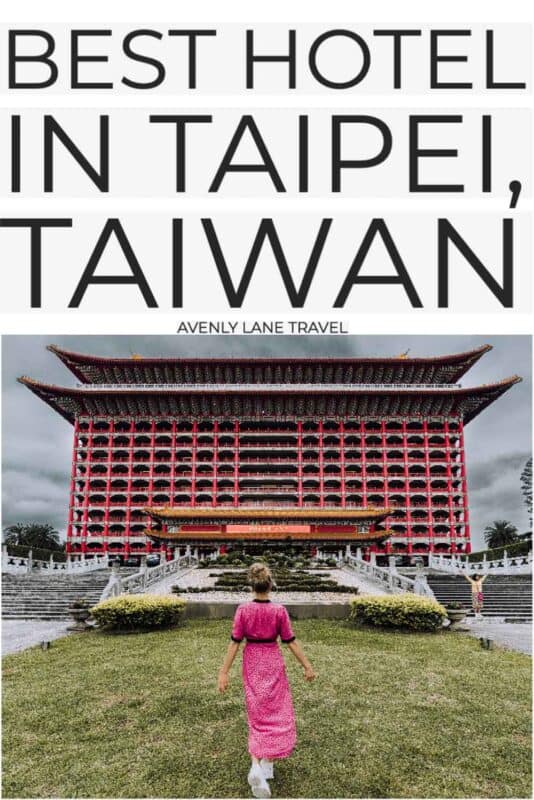 *Disclaimer – obviously, I haven't stayed in every hotel in Taipei, but given that I travel a lot, a really unique and amazing hotel stands out.
Click here for the latest prices and more information.
The Best Hotel in Taipei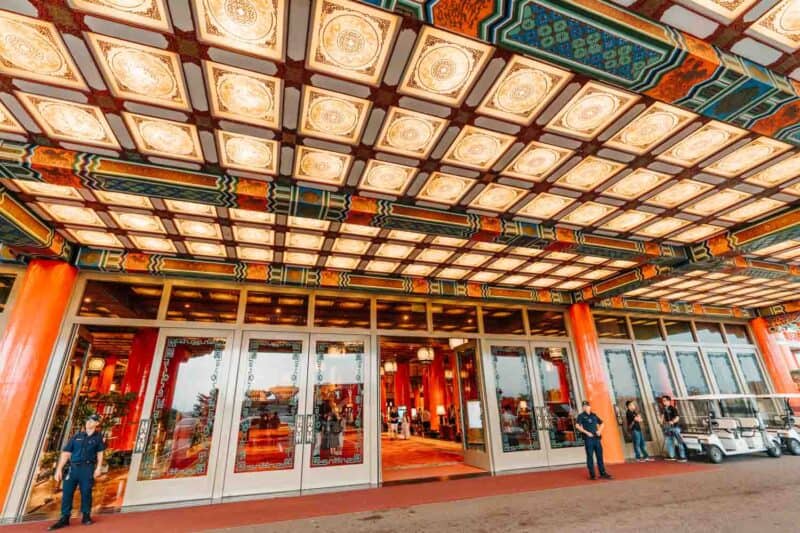 The Location of Where to Stay in Taipei
The Grand Hotel Taipei is located in the Zhongshan District, Taipei, Taiwan. They offer free shuttle bus service from the MRT Yuanshan Station. Even if you don't catch the shuttle, it is close enough to walk to the metro station.
The central location allowed us to easily access various parts of the city. Even though it is pretty centralized, the hotel grounds are big enough that you don't feel like you are staying in the middle of a city street.
To see a full list of all our favorite things in Taipei read our article on the best things to do in Taipei.
They also offer a shuttle to the airport that costs $3. The shuttle was super comfortable and actually relaxing. The location was perfect!
The Rooms at the Grand Hotel Taipei
The rooms were clean!
Spending 15 hours on a plane is miserable. After traveling for so long all you want to do is find a bed and curl up for a long sleep. What makes that even better is when you find that the hotel you booked is even nicer than you expected.
The Grand Hotel Taipei was nicer than advertised. I was a little worried because the hotel was originally built in the 1940s, but it's been fully updated and modernized. I haven't always been so lucky with hotel bookings. Unfortunately there have been times where things go ugly fast. There was no carpet that looked 100 years old or a tub that looked like someone died in it.
This hotel was very clean.
In fact, on booking.com website the hotel guests rated this hotel an 8.8 in cleanliness. Not too shabby. Check their reviews here.
Even though it didn't look brand new, it has been updated. Typical to many Asian countries the rooms were small, but not completely dinky like I've experienced in Tokyo. Read our Japan posts here.
The AC worked
Have you ever gone to a hotel and turned on the AC just to realize it's worthless? Sometimes it makes you feel like it is more like decor than an actual means of controlling the temperature.
Another side note on temperature, the blow dryer actually worked amazing, which too often isn't the case.
Friendly Staff / Front Desk
The staff was wonderful. You could not open a door or lift a bag without someone running over to help.
The breakfast buffet was amazing and affordable.
No joke, the breakfast buffet was probably the best I have ever been to. It was not included in our room cost, but it was not too expensive (about $15 USD).
They offered more food than you could possibly imagine. I loved the buffet option because I have health restrictions that cause me to eat a very strict diet. Normally it is very hard to follow my diet while traveling, but not at breakfast at the Grand Hotel Taipei. There was lots of healthy food; it included lots of freshly squeezed juices and fruits, my favorites!
Price
I'm not sure why, but this hotel doesn't tend to be as expensive as some of the others in its category. Even though it ranks really high, some people may be turned off by the fact that it isn't in the heart of one of the popular markets. Even though it isn't right next door, it is still easy to access via the hotel shuttle and metro, and they leave frequently enough to barely add any time to your day.
Free Wifi in your rooms – definitely a must have when possible.
Amenities
Outdoor pool
Free wifi
Fitness Center
Sauna
Shops
Restaurants
24-hour front desk with free luggage storage service.
Conclusion
There is no better hotel for the price. Being able to experience modern upgrades in classical Chinese architecture helped make the Grand Hotel Taipei our favorite hotel of the trip. Book here.
Do you think this is the best hotel in Taipei?
Read next: 7 Unforgettable Taipei Night Markets