There is so much planning involved in visiting Petra, from how long to stay to whether or not to rent a car in Jordan. In this post we will cover the 5 best hotels in Petra.
The Jordan locals are some of the most friendly people in the world. I was blown away when we first arrived in Amman. I've heard people talk about being scared to visit, but I'm convinced that anyone who says they are scared has never actually been.
With a country that is typically so accommodating, there are almost always great accommodations. Jordan followed this same pattern.
That being said, if you are heading south and planning on visiting Petra, then there is 1 hotel that you HAVE to stay in. The Petra Marriott Hotel is just plain special.
Related post: Guide to Hiking the to the Monastery at Petra
Where to Stay in Petra
When visiting Petra there is really only one place to stay, and that is in Wadi Musa. Wadi Musa the nearest town to the archaeological site of Petra.
The 5 Best Hotels in Petra
Price – Luxury (We stayed here for free using Marriott points.)
Distance to Petra site Entrance – 10 minute drive (not walkable)
This Petra Marriott Hotel is the best hotel in Petra. It is one of the nicest hotels me and my husband have ever stayed in (we have traveled to 30 countries). It offers you luxury accommodations at an affordable price, depending on when you go. Check out the latest prices and more details.
We originally booked one night this hotel because it was close to the complex, but we liked it so much after one night we decided to extend our stay.
The property was luxurious, the staff was amazing, and the on site restaurants had delicious options that satisfied my super picky husband and my food allergies!
Not only does the complex have an affordable pool and spa (w/ saunas), but they also had local artisans come through and make their crafts just outside the lobby. We couldn't help but stop and stare.
The pool was closed for maintenance when we were there, but we definitely used the spa. Check out photos of the pool views below.
Location, Location, Location
The hotel is directly on top of a mountain looking down at the Petra complex. The drive from the Petra Visitor Center to the hotel only takes about 10 minutes. It also takes you through the heart of the town in case you want to explore any restaurants or shops. If you don't have a car the hotel offers a taxi service that the staff can arrange for you.
We rented a car from Amman and drove the 3 hours to Petra so the 10 minute drive was not a big deal at all for us. Plus, the drive to the entrance is breathtaking! You get views of the entire city as well as the Petra Complex.
The back of the hotel looks down off a cliff. Our room also backed up to this amazing drop off.
Even though there are lots of hotels around, you HAVE to check out the Petra Marriott hotel. Check current prices here.
If you are looking for something within walking distance to the entrance of Petra I recommend checking out the Petra Guest House Hotel.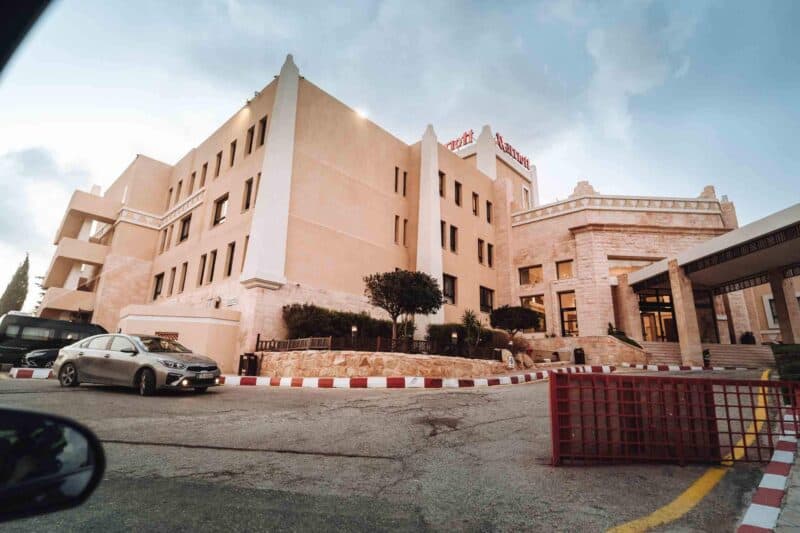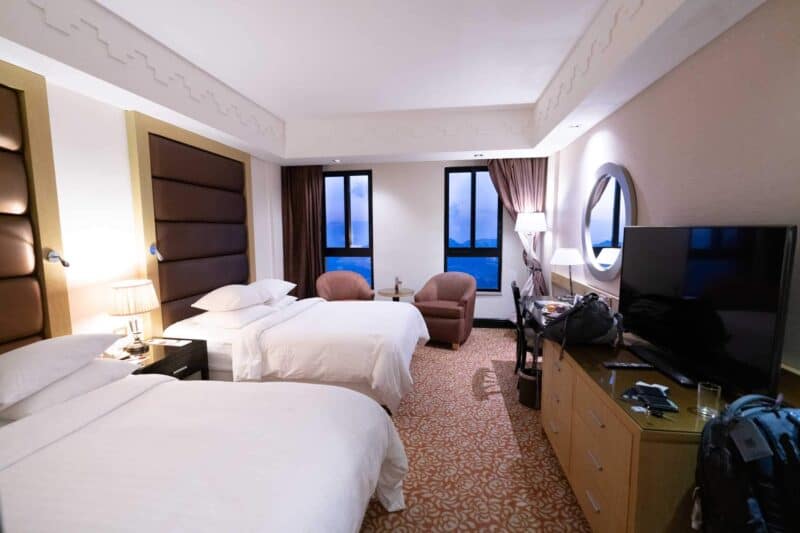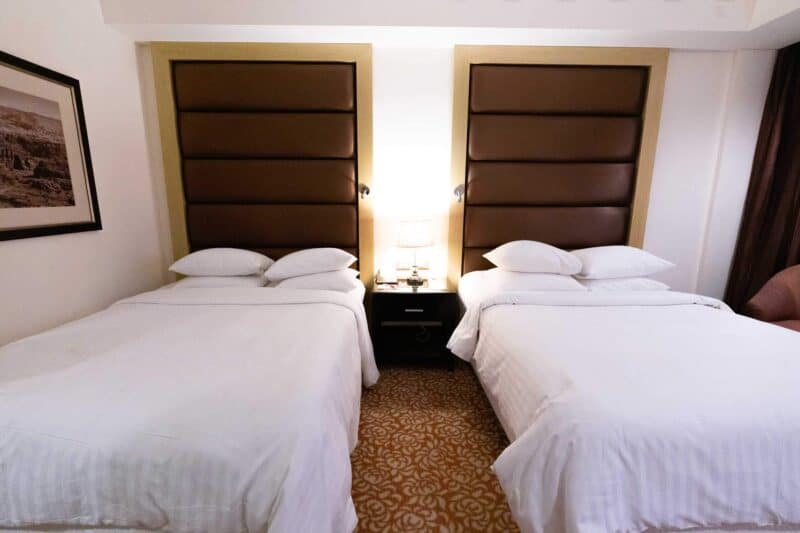 This hotel is literally steps away from the entrance at Petra. You can not get any closer. The rooms are large and comfortable, and the Cave Bar is an awesome experience. It is set in a restored 1st century Nabatean house and all hotel guests get a discount.
This hotel includes a a huge continental breakfast with vegetarian and gluten free options. Check out the latest prices and more details.
Price – Luxury
Distance to Petra site Entrance – 5 minute wak
A luxurious 5 star hotel located right across the street from the entrance at Petra. This hotel offers great service with an outdoor swimming pool, fitness center (although I'm not sure you'll need it after hiking around Petra all day) and a game room.
The spacious rooms with a pull out couch make this hotel perfect for families.
Finish your day off by eating dinner at the stunning rooftop restaurant or go relax in their garden terrace. You won't regret booking your stay at the Movenpick Resort in Petra. Check out the latest prices and more details.
Price: Midrange
Distance from Petra Site Entrance: 2 minute walk
The Petra Moon Hotel is located right above the parking lot of the Petra Visitors Center. It's a great midrange choice for anyone who wants to be close to the entrance of Petra. The rooms are simple but comfortable. They have a roof top pool, air conditioning, tea and coffee station in each room, and clean bathrooms.
Price – Midrange
Distance to Petra site Entrance – 5 minute wak
The Petra Palace Hotel is located just a short walk from the Petra Visitors Center. The hotel has a terrace and an outdoor swimming pool. Every room features a seating area which is great for extra space, especially if you are traveling with kids. Breakfast is included so you won't have to waste time finding somewhere to eat in town before heading out for the day.
My favorite thing about this hotel is the steam bath and sauna area. Perfect place to request a massage after a long day of hiking.
Check out the latest prices and details.
MORE JORDAN & PETRA BLOG POSTS
Visiting Jordan was the highlight of my year in 2020. (Yes, we got there just before COVID hit) These are my most popular blog posts and guides from Jordan and specifically Petra to help you plan your trip.
Complete Guide to Visiting Petra: Inside Petra Jordan: A Wonder of the World
Guide to Visiting Petra by Night: Petra by Night: What you Need to Know Before You Go
Top Places you Can't Miss in Jordan: Top 10 Things to do in Jordan
Guide to Hiking The Monastery at Petra: The Monastery at Petra Hike: Is it worth it?