Too many people are afraid to visit Dubai! This amazing city represents a new middle east that is incredibly welcoming to tourists and features a lot of fun things to do. Still nervous? Read my other post on why you shouldn't be afraid to visit Dubai.
Dubai Packing List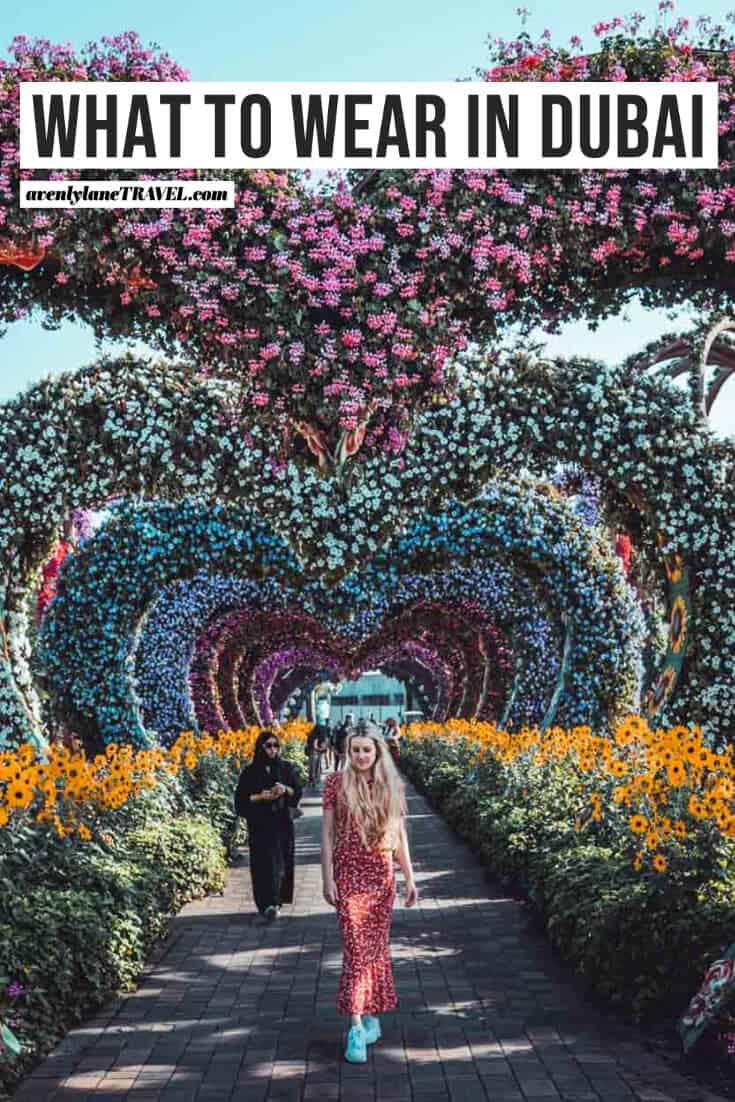 I loved the city so much after my first visit that I've now gone back two additional times. Dubai is just such a vibrant city with so many things to do.
To help you make the most out of your Dubai vacation though there are some very specific items you should pack. If you aren't properly equipped, you might not be able to fully enjoy the experience, or risk offending people while there.
You might also find this post helpful – What you need to know about the Dubai Dress Code before going
Popular Questions about the Dubai Dress Code
Curious as to why there is a dress code in Dubai? Dubai is located in the United Arab Emirates or the UAE. Islam is the official religion of the United Arab Emirates. Virtually all Emirati citizens are Muslims. More than 80% of the population of the United Arab Emirates are non-citizens making it one of the most liberal Muslim countries in the world.
Can you wear skinny jeans in Dubai?
Yes, you can wear skinny jeans in Dubai. I wore skinny jeans (they were form fitting) and was honestly, compared to some of the other tourists – I felt I dressed very conservatively. I never felt uncomfortable or like I was dressed inappropriately.
Can you wear sandals in Dubai?
Yes, you are absolutely allowed to wear sandals in Dubai.
Read the full article on the rules surrounding the Dubai dress code.
What to wear in Dubai
Dresses For Dubai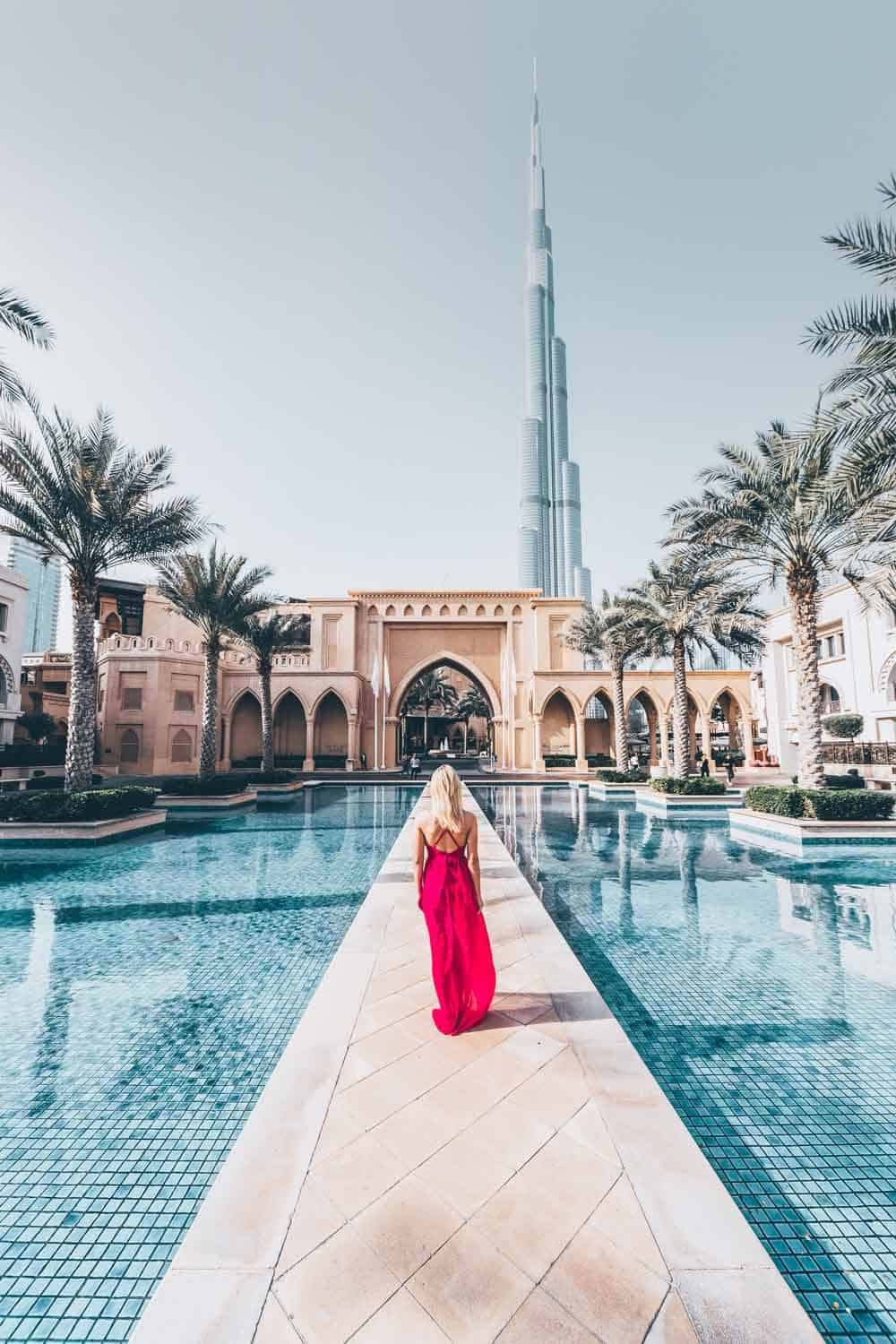 No Dubai packing list would be complete without packing a few good dresses. It is essential for Dubai, especially if you are there in the summer and it becomes unbearably hot. Dresses have become my go to on trips to help quickly put an outfit together. It's easy to throw on a comfortable dress and shoes and be ready to go.
Long dresses – Maxi dresses are amazing to pack for Dubai. Like the one I am wearing in the photo above. The red dress is from ASOS – sold out but I linked some similar ones.
Packing List Item: Dresses
Swimsuit
Whether you are swimming in the ocean (yes, Dubai has beaches!) or just taking a dip in your hotel pool you will want to make sure you pack at least 1 swimsuit. Dubai is a Muslim country so you want to be respectful of the local culture. Make sure your swimsuit is not a thong or see through. You can not wear them on public beaches. Bikinis are okay to wear but only on the beach or while swimming.
Shop my favorite Revolve swimsuits. Shop my favorite ASOS swimwear
Packing List Item: Swimsuit
Moonlight Pajamas
Moonlight Pajamas – The only pajamas I will wear. They are seriously so comfy. Historically, I purchased the cheapest pajamas I could find. The thought of spending $65 on a pair of pajamas seemed absurd. When I ended up with a pair of these Nordstrom Moonlight pajamas they ruined that line of thinking. They are so much more comfortable and relaxing; I literally did not know what I was missing (here are the exact ones I wear from Nordstrom).
Packing List Item: Comfy Pajamas
Jeans
I am obsessed with my Levi's I wore in Dubai, and these ripped jeans.
Packing List Item: Jeans
Comfortable walking shoes
I never travel without this pair of white Filas. 20+ countries and they are still going strong. I also love that you can wear them with pants, shorts or dresses.
Packing List Item: Comfortable shoes
Sandals
Sandals are a necessity! One of my favorite places to purchase affordable but cute sandals is ASOS. These Birkenstocks are the perfect everyday sandal for hot days, plus, you can wear these with so many outfits and they are comfortable to walk in.
Dubai Packing List Item: Sandals (Birkenstocks)
Sunglasses
Make sure to get a pair of sunglasses that you love! You will need to wear them almost constantly in Dubai, whether you're on the beach, waking around downtown, or exploring the Dubai Miracle Gardens. It is a desert climate and it is sunny and hot every day.
Dubai Packing List Item: Sunglasses
Beis on the Go Essentials Case
This small organizer is perfect for travel. It is double sided and is perfect for electronics, charging cables, power banks, makeup, jewelry and pretty much anything you need it for. Lotions, medications, your passport, etc..
I typically use one side for all my electronics, ear pods and cables and the other side for hand wipes, ear plugs, vitamins, makeup and anything else I might need quick access too on the plane or in the hotel room.
Packing List Item: On the go Essentials Case
Travel Jewelry Case
Love this one here! It is compact but still is large enough to fit all the jewelry I typically travel with.
Packing List Item: Jewelry case
Portable Charger
Portable charger (Power Bank) – This power bank is amazing and gives you so many full charges. I love that it has multiple slots so that we can charge our devices at the same time. I guess you can say it was a gift to myself as well. We now travel with 2 of them since I kept stealing his.
Packing List Item: Power Bank
Carry-on Luggage
Speaking of luggage, remember to find a carry-on bag well before you leave. Find one with rolling wheels, and you practically have another suitcase to fill with treasures from your Hawaii vacation! We never travel without our Osprey Luggage.
Packing List Item: Osprey Carry on Bag
Toiletries / Beauty Products I travel with:
Honey Grail Face oil – I use this oil in my hair as well as on my face. It is a miracle worker and made with all natural, cruelty free ingredients.
Moisturizing Shampoo and conditioner –
Dry shampoo – Dry shampoo is a life saver, especially on vacation. A few years back I was desperate to find a dry shampoo that actually worked and didn't leave my hair feeling gross. Now, I've found a few that work great! On trips I always bring these travel sized ones with me.
Sunscreen and lots of it
Oil cleansing face wash and makeup remover in one – This facewash is heaven sent! It will get all the dust and dirt as well as remove any waterproof makeup you have on as well. I'm obsessed.
Travel make-up bag – I never travel without this one. Read my full review here.
What you don't need to pack for Dubai:
A head scarf.