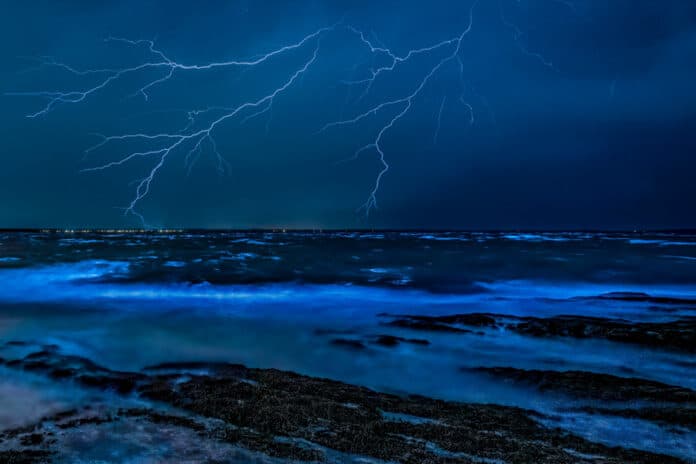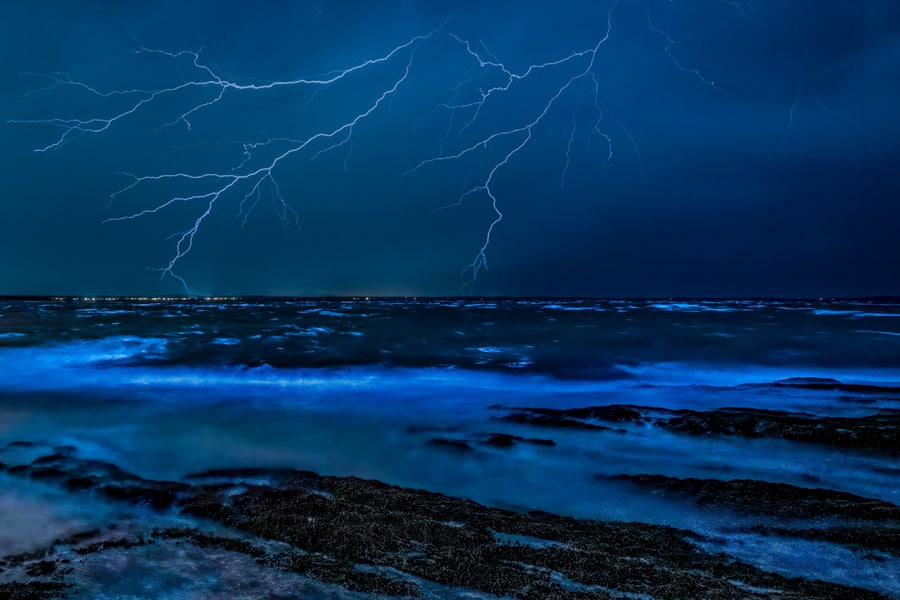 Want to view and swim in glowing ocean waters in the dead of night? There are glowing phytoplankton to let off a blue glow that will at first seem to belong on outer space rather than just off the shores of Holbox Mexico.
Haven't heard of Holbox island only a few hours away from Cancun? Read more here to see what else will make you want to visit.
What's even more exciting is that when you wave through the water the glow can follow your movement. When conditions are right this inexpensive experience is unreal.

if you aren't a tour booking person but still want to see and are a little adventurous, you can walk to and from the bio bay yourself as well.
When to see the Bioluminescence in Holbox
Beware, Conditions Have To Be Perfect!
Warning, if conditions aren't right you may end up a boat ride staring at black waters.
The bay isn't always glowing, and any light can drown out the dull glow.
To be able to maximize your chance of seeing this celestial glow, you should make sure to not go on a night when the moon is bright, I.e. try to target a new moon!
Also, I recommend (and highlight) booking tours with free cancellation, like this one here. You can also ask around to find out if the time you are there is generally providing a good opportunity as nature doesn't always cooperate.
I also recommend booking a tour that has a money back guarantee if you don't get to see the glowing waters.
One I like is this Private Kayak Bioluminescence Tour.
How to see the Bioluminescence Holbox
There are a few options when seeing the Bioluminescence in Holbox:
Snorkel
Paddleboard
Tour with guarantee or money back
Bioluminescence Holbox without tour
Kayak, Snorkel, Paddleboard, or Golf Cart To The Bay
There are a variety of different ways that you can take in this experience.
Whether you want to snorkel, kayak, or paddleboard or watch from the shore you have options. There are even tours where you can sit in the back of the boat and let someone else do all of the work.
Afraid of boats? First off, it's probably going to be hard to get to Holbox since almost everyone arrives via the ferry. But hey, if you somehow got to the island without a boat and want to see the bioluminescence there is even a golf cart tour that will get you to the shores of the shimmering waters.
Tours With A Guarantee
This Bioluminescence Experience in Holbox offers a guarantee. If the bioluminescence does not appear, you can reschedule the tour or we will refund your money.
Because nature doesn't always cooperate, you're aren't always available, and success isn't guaranteed.
I like that a number of the tours promise that you will see the bio glow or you get your money back.
General Booking Tips
While some people can find and ultimately walk to the glowing waters, I recommend booking a tour. They aren't expensive, and they can save you a ton of time by taking you directly to the right spot.
Moon and Weather Conditions
As previously mentioned, the moonlight and weather can make the glow non-existent. Make sure you check to see if it is a good day for the bay or not.
Know It's At Night
Obviously this shouldn't surprise you, but most tours start at about 9 pm and go for a couple hours.
Some of the tours I recommend are:
How to see Bioluminescence Holbox without tour
Walking There Yourself
From the Holbox city center to the bio bay is only about a mile and a half. The bio bay is directly next to Playa Punta Cocos.
You can find it on your GPS on the western tip of Holbox Island, directly south of Playa Punta Cocos.
The walk will take you along muddy clay roads that aren't lit, so consider packing a flashlight. You can take a taxi there for about $8, but the hard part will be getting one back in the dark.
It goes through some local neighborhoods where we weren't as warmly greeted, but nothing scary.
One of the times we went it took us about 40 minutes to walk back to our hotel. With the tours not being much more expensive than the taxi fare each direction, you can see why most people book them.