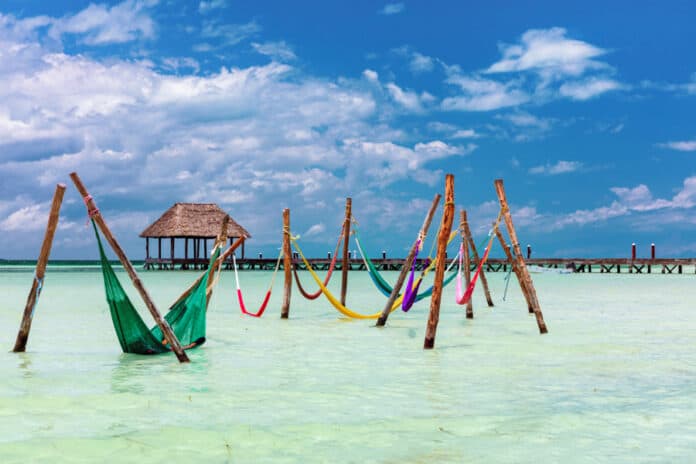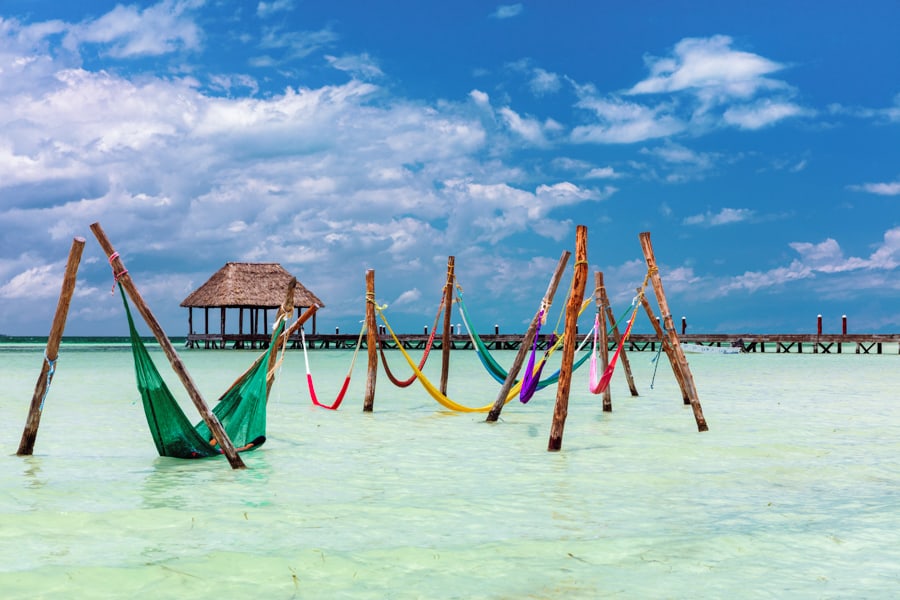 Playa Punta Cocos is one of the most incredible beaches in Holbox. It is located on the western point of the island. Holbox as a whole has way less development than the nearby Cancun area, but Playa Punta Cocos Holbox beach quite literally has no development on it!
If you are looking for a secluded, quiet, and gorgeous beach then this just might be the spot for you. Trying to learn more about the island of Holbox? Start here.
The only development on the whole shoreline is one bar/concession stand – no hotels, no high rises etc. The only other action you are likely to see is boat tours coming by at night to see the insanely amazing and adjacent bioluminescence bay.
The beach is quite large so even at a peak time (sunsets get the busiest because they are so incredible from this vantage point) there is room to spread out.
Read also: 20 AWESOME THINGS TO DO IN HOLBOX
Playa Punta Cocos Quick Tips
Best for:

Swimming, snorkeling, photos and relaxing

Known for: Bioluminescence, secluded beach, calm waters, gorgeous sunsets
Facilities: Beach chair rentals available, small bar.
Lifeguard: None
Cost: Free
Transportation: you can walk, or there are regularly the golf cart taxis waiting just off the beach
Where is Playa Punta Cocos located?
Playa Punta Cocos is located on the western tip of the island of Holbox. If you walk there from the main resort area it is about a mile and a half and will take you about 30 minutes. If you go by golf-cart taxi it should only take you about 10 minutes.
How to get to Playa Punta Cocos
From the city center you can get there by walking, taking a taxi, renting bikes, or renting a golf cart.
It will take you 10 minutes by golf cart taxi from the tourist center or about 30 minutes if you decide to walk there. It is about a mile and a half walk.
We were nervous about getting a taxi back, but there were a number of golf cart taxis waiting just off the shoreline to bring people back. Thankfully like all of Holbox, the taxis were cheap.
What to Expect at Playa Punta Cocos
You can expect a very calm and peaceful beach. There won't be a lot of people, and there won't be big waves. What you will have is soft sand and peaceful waters lapping up the shore.
There's not much to do besides lounge on a beach chair or in a hammock on the water, but that's exactly what made this one of my favorite days on Holbox.
Swimming Conditions
This beach is suitable for all types of swimmers. It is very shallow and very calm, which would be great for kids.
It's quite nice that the water stays shallow pretty far out. This means that lots of people will go a ways out and sit down and sip a drink. We spent a few hours sitting out in the water.
There is a good amount of wildlife in the area as well. We loved seeing the Pelicans dive into the water and catch fish literally right next to us. Even if there are a lot of people there you will all be able to find your own space in the water.
Relax in the Hammocks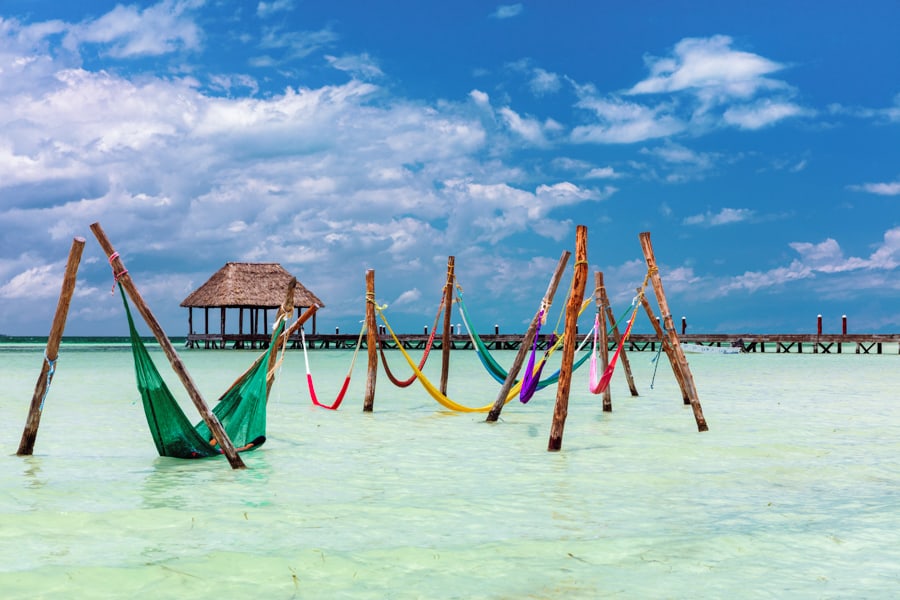 The famous hammocks are there are typically aren't full. Just don't fall asleep in one without a fresh lather of sunscreen.
Holbox Bioluminescence Lagoon
This beach is immediately adjacent to a lagoon that is famous for glowing waters. There are only a few places in the world where you can observe this phenomenon; Holbox is one of them!
Since there are no hotels or bars around it gets very dark at night. As long as it is not a full moon you should be able to see the bioluminescent plankton there! It was quite the sight to see. Highly recommend. Book your Private Kayak Bioluminiscence Tour in advance here.
Mangroves
There is plenty of shade under the mangroves. When you get to the beach you can either walk toward the pier to your right, or down towards the mangroves on your left. The beach goes down a good ways on your left.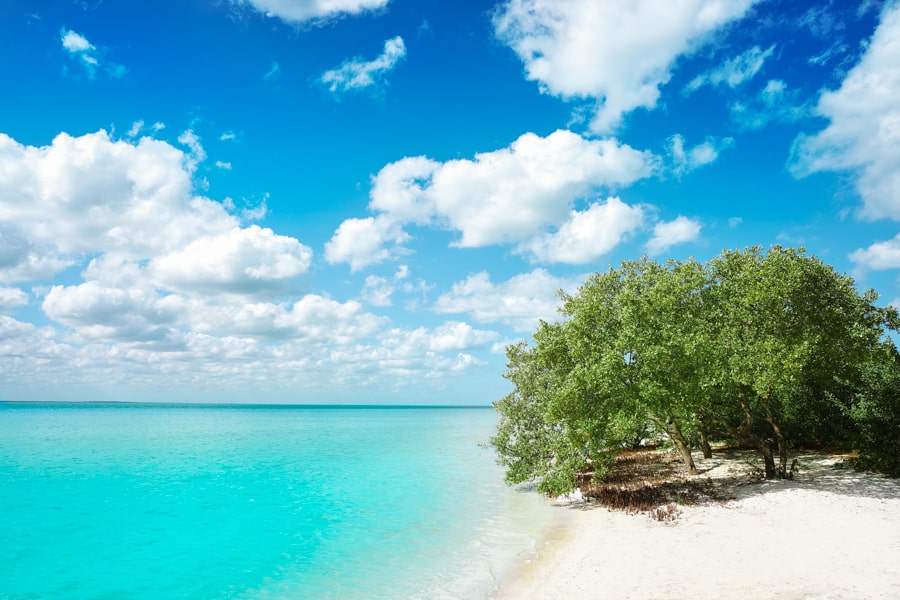 Incredible Sunsets
The sunsets from here are absolutely amazing. Minus the mosquitoes, but more on those below.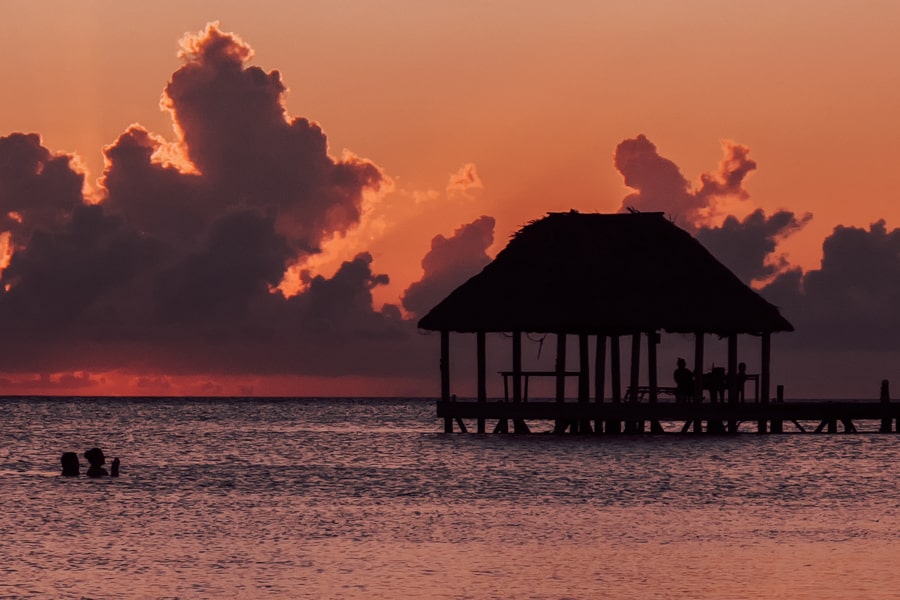 WARNING!!! Bug Repellent is a MUST – Tons of Mosquitoes
There is something about the mangroves that makes a perfect home for tons of mosquitoes. Honestly, even with bug repellant you might want to be careful that you don't get eaten alive. They seem to be especially bad around sunset.
When we were finished swimming my husband went to get our towels (they were by the mangroves) and "OMG"….when he came back he probably had 40 mosquitoes on his back.
We only had a little bit of bug spray on but we each got EATEN ALIVE!
An hour after leaving the beach I broke out in hives from an allergic reaction to all the mosquito bites. I went to the local pharmacy and showed him my rashes. The pharmacist didn't speak a word of English, but he knew exactly what to give me.
The pharmacist gave me some over the counter steroid that I felt a little weird about taking, but his confidence and my itchiness made me take it. I took the medication and my hives went away completely within 20 minutes.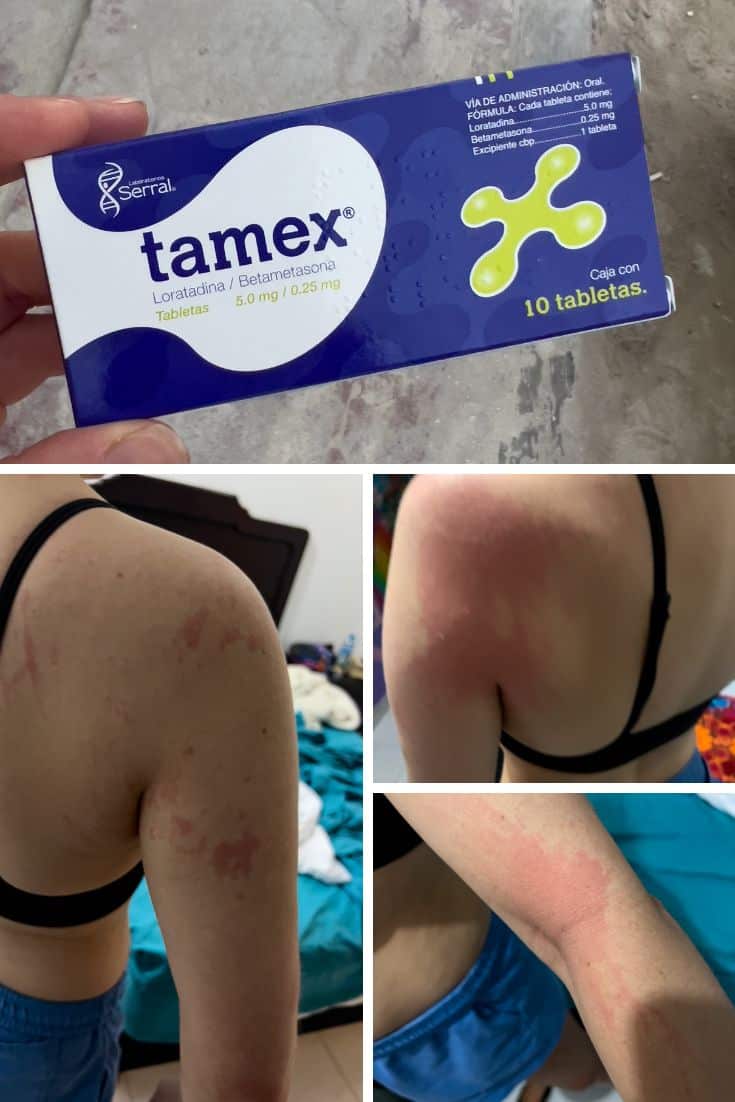 Is Playa Punta Cocos worth visiting?
Honestly, it depends. Without the mosquitoes I would say absolutely 100%! It gives you a whole different feel than the other beaches in Holbox. I loved it!
My husband on the other hand did not love it because the mosquito bites spoiled his experience.
What to bring
Reef safe sunscreen – This Raw Elements sunscreen is my absolute favorite. It also stays on really well in the water which you will need in Holbox.
Bug Spray – Mosquitos will eat you alive without it.
Snacks – I like to bring "That's It" bars with me basically everywhere. Ha. They are called "That's It" because the ingredients are only fruit. No added crap.
Towel – I always travel with this compact towel. It takes up hardly any room in my suitcase or beach bag.
Sandals – I LOVE my Teva sandals. They especially came in handy in Holbox when it was muddy and rainy and my flip flops kept getting stuck in the mud. I have the platform version as well but obviously those weren't the best for this trip.
Backpack or Dry Bag – I never travel without my Beis Backpack. It is small enough to carry around easily and easy to lay flat and pack in my suitcase. But big enough to be super useful. One of my best purchases of 2022. I have had this dry bag for years and love it. It's perfect if you are kayaking, paddle boarding or really doing anything in the water.