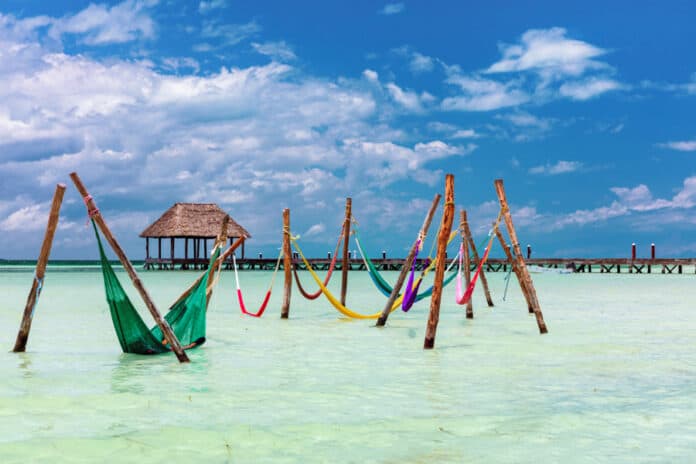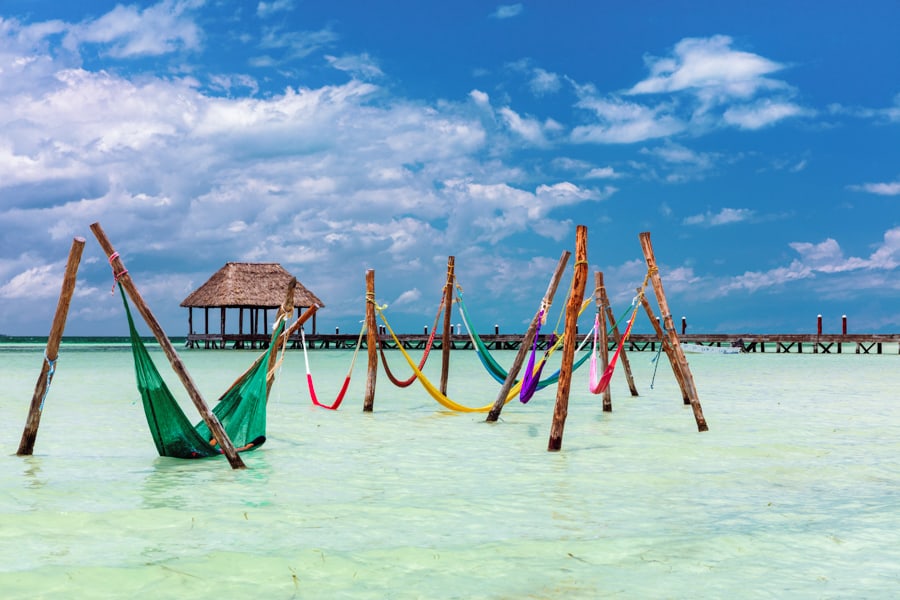 Playa Punta Cocos is one of the most incredible beaches in Holbox. Located on the western point of the island, the beach is more secluded, less crowded, and very quiet.
This beach is large and not yet filled with hotels and resorts.
Playa Punta Cocos Quick Tips
Best for:

Swimming, snorkeling, photos and relaxing

Known for: Bioluminescence, secluded beach, calm waters
Facilities: Beach chair rentals available, small bar.
Lifeguard: None
Cost: Free
Best place in Holbox to see the sunset!
Where is Playa Punta Cocos located?
Located on the western point of the island.
How to get to Playa Punta Cocos
From the city center you can get there by walking, taking a taxi, renting bikes, or renting a golf cart.
It will take you 15 minutes by taxi from the center or a 30 min walk along the shore.
There are usually plenty of taxis waiting to bring people back.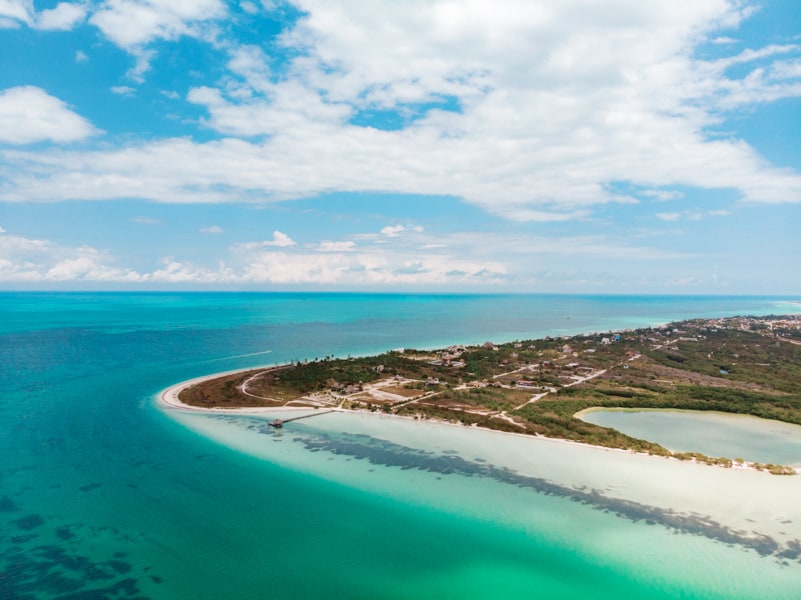 What to Expect at Playa Punta Cocos
There's not much to do besides lounge on a beach chair or in a hammock on the water, but that's what made this one of my favorite days on Holbox.
Relax in the Hammocks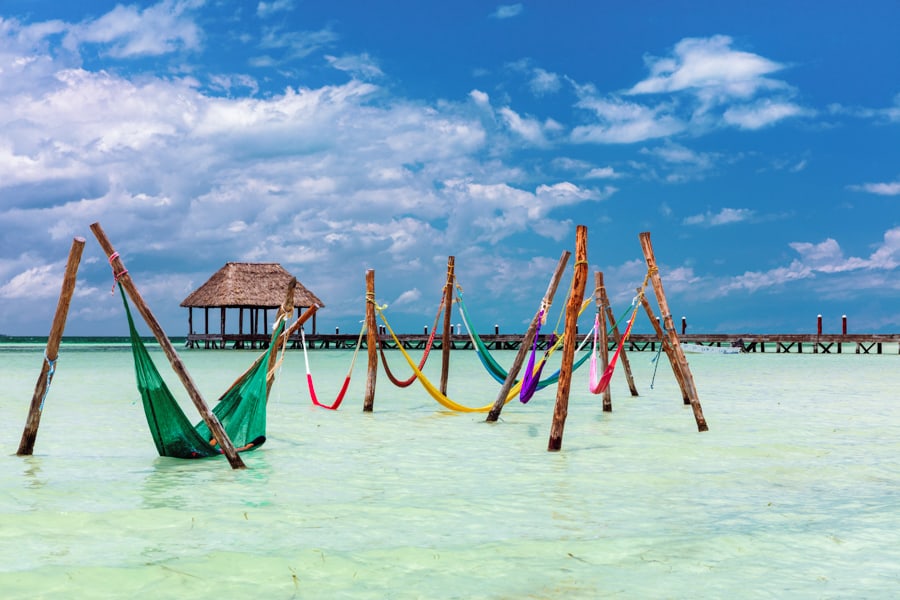 Bioluminescence Lagoon
Since there are no hotels or bars around it gets very dark in the area at night. As long as it is not a full moon you should be able to see the Bioluminescent Plankton there! It was quite the sight to see. Highly recommend.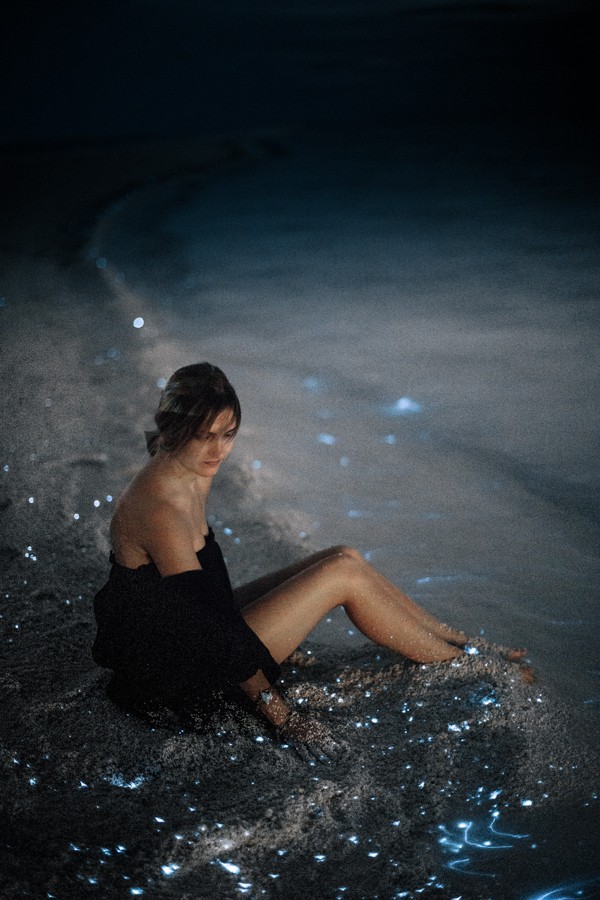 Mangroves
Find shade under the mangroves.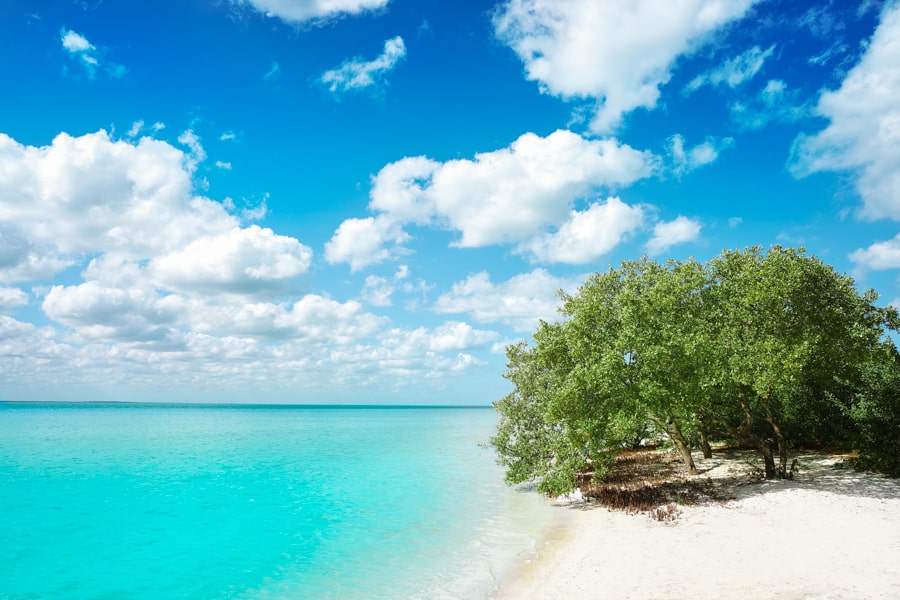 Incredible Sunsets
The sunsets from here are the best on the whole island.
What to bring
Reef safe sunscreen – This Raw Elements sunscreen is my absolute favorite. It also stays on really well in the water which you will need in Holbox.
Bug Spray – Mosquitos will eat you alive without it.
Snacks – I like to bring "That's It" bars with me basically everywhere. Ha. They are called "That's It" because the ingredients are only fruit. No added crap.
Towel – I always travel with this compact towel. It takes up hardly any room in my suitcase or beach bag.
Sandals – I LOVE my Teva sandals. They especially came in handy in Holbox when it was muddy and rainy and my flip flops kept getting stuck in the mud. I have the platform version as well but obviously those weren't the best for this trip.
Backpack or Dry Bag – I never travel without my Beis Backpack. It is small enough to carry around easily and easy to lay flat and pack in my suitcase. But big enough to be super useful. One of my best purchases of 2022. I have had this dry bag for years and love it. It's perfect if you are kayaking, paddle boarding or really doing anything in the water.