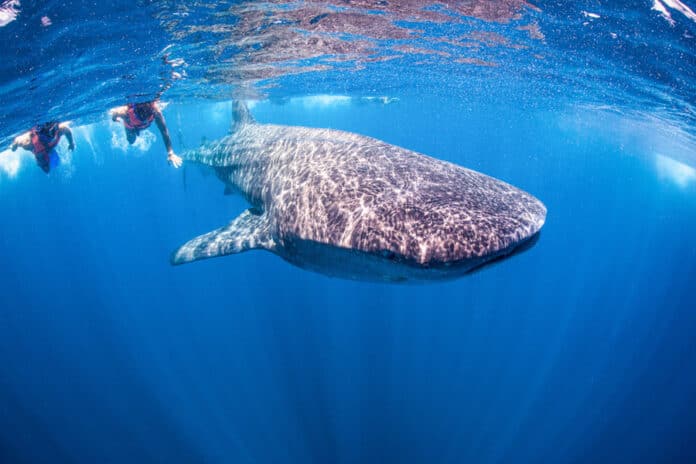 What are the best tours to see the Holbox Whale Sharks?
Who on Earth didn't dream of being able to swim with the biggest sea creatures on earth. We've all seen the pictures of people swimming next to enmrmous sea creatures, but most don't realize it's actually a possibility in Holbox, Mexico.
Yes, even if you aren't a marine biologist or scuba certified you can swim with these gentle giants!
Holbox is one of the few places on earth where they can consistently get spotted and planned around!
For a shockingly affordable price, experienced guides will teach you the required safety procedures and drop you off in a spot where you legitimately can swim with the whale sharks.
A Whale Shark Is A Fish
Just like Iceland has more green than Greenland, the Whale Shark is actually a fish and not a shark.
I'm sure it gets called a whale because of its enormous size. The biggest one ever found was over 60 feet, but ones that are about 45 feet long are found routinely.
Are They Predators?
You do not need to worry about being eaten by a whale shark. They somehow balloon to their massive size by feasting on small fish, planktons, and krill.
The fact that you don't need to fear these gentle giants allows you the opportunity to safely swim with them!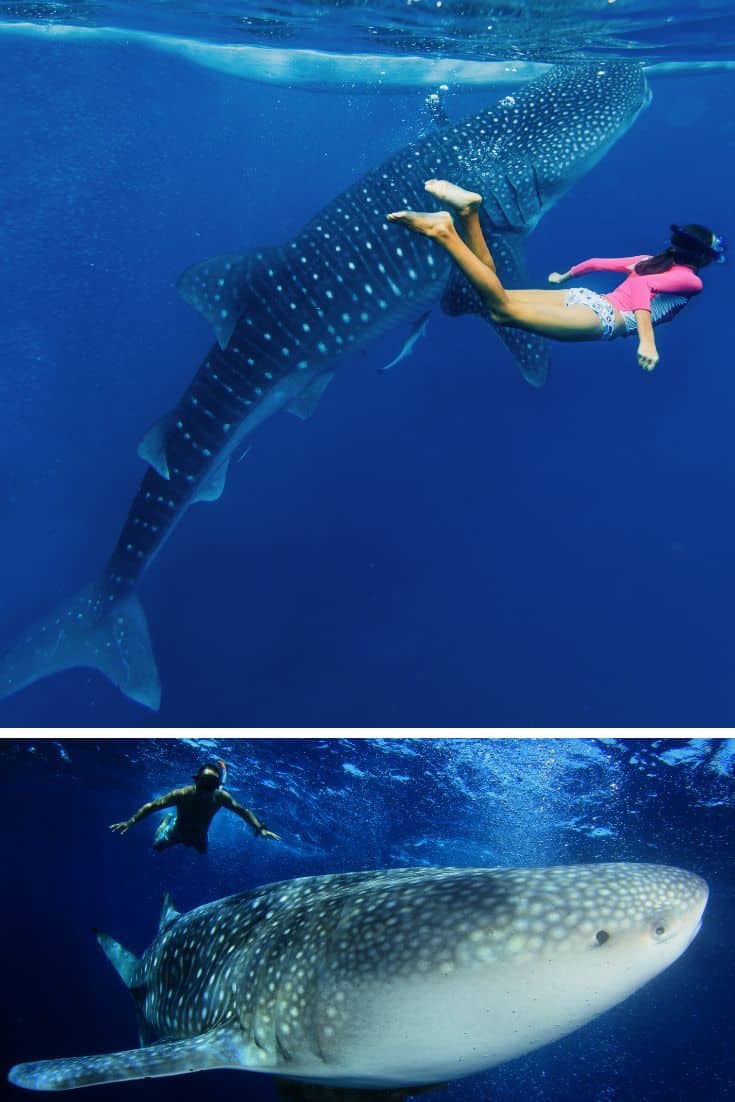 How the Holbox Whale Shark Tours Work
Generally the tours will pick you from shore early in the morning.
You will then be given appropriate snorkel equipment and driven out to the dive spots.
After a quick briefing the opportunity is yours to view the sharks up close and personal.
Probability Of Actually Seeing Them
While there is no guarantee that you will actually spot these majestic animals, if you are in the right season the guides will tell you that they are able to find them 95% of the time.
There is a reason Holbox is famous for spitting the whale shark!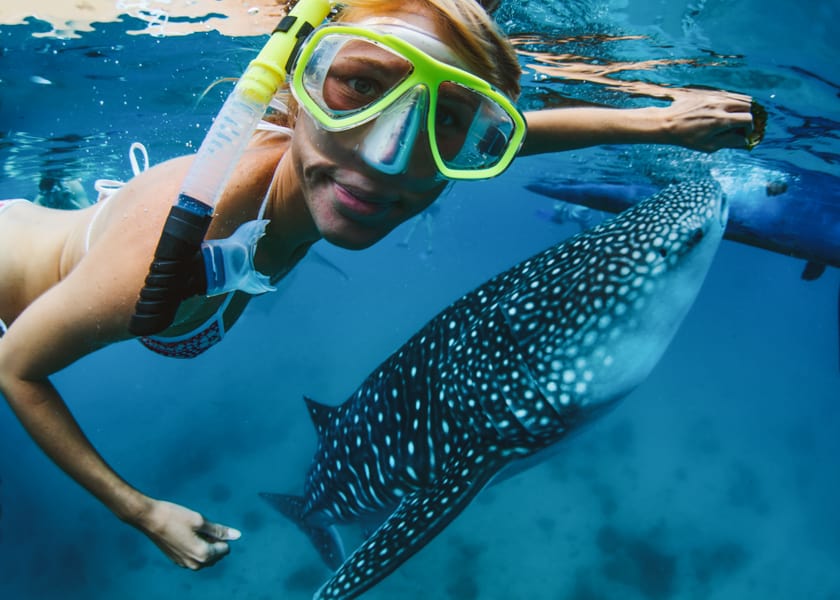 When is Whale Shark Season in Holbox?
Unfortunately the whale sharks can't be seen year round. The best season is generally mid-May through mid-September.
Ask around about the presence of sharks if you are worried about missing out.
General Cost for a whale shark tour in Holbox
Depending what other add-ons and how long your tour lasts, most are priced somewhere between $50 and $200.
This almost always includes the boat ride, equipment usage, and training.
Holbox Whale Shark Tours I Recommend
While there are a lot of tour operators out there, the ones I recommend come with the highest reviews.
Whale Shark Tour Conclusion
Not too scared to try? The experience of swimming with the worlds biggest fish is definitely available in Holbox Mexico!
What to bring
Reef safe sunscreen – This Raw Elements sunscreen is my absolute favorite. It also stays on really well in the water which you will need in Holbox.
Bug Spray – Mosquitos will eat you alive without it.
Snacks – I like to bring "That's It" bars with me basically everywhere. Ha. They are called "That's It" because the ingredients are only fruit. No added crap.
Towel – I always travel with this compact towel. It takes up hardly any room in my suitcase or beach bag.
Sandals – I LOVE my Teva sandals. They especially came in handy in Holbox when it was muddy and rainy and my flip flops kept getting stuck in the mud. I have the platform version as well but obviously those weren't the best for this trip.
Backpack or Dry Bag – I never travel without my Beis Backpack. It is small enough to carry around easily and easy to lay flat and pack in my suitcase. But big enough to be super useful. One of my best purchases of 2022. I have had this dry bag for years and love it. It's perfect if you are kayaking, paddle boarding or really doing anything in the water.