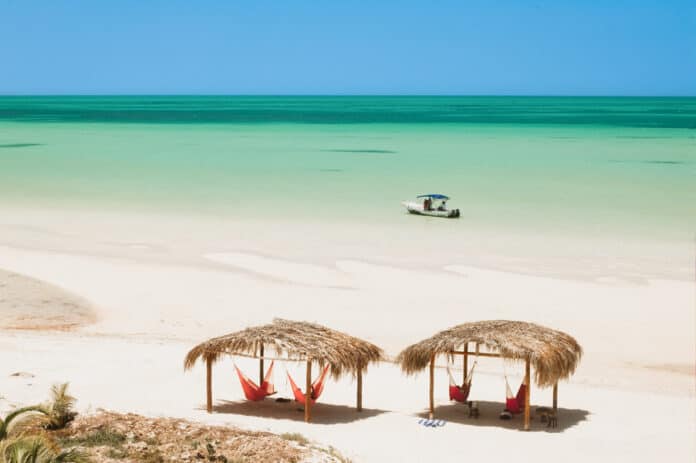 Somehow Holbox is not well known, but I can assure it won't stay that way for long.
Holbox is the perfect undiscovered laid back Mexican beach destination. It's pristine beaches aren't overrun with tourists, hotels and attractions are super cheap, and there is a much more local laid back vibe than other Mexican beach destinations.
When I say laid back I mean it, there are no cars allowed on the island (golf carts only) and virtually everything is walkable!
Also, it is so much more reachable than you would expect. Shockingly there are plenty of cheap flights to get you to the insanely gorgeous beaches and lots of other truly unique attractions.
Where is Holbox?
Holbox is a small island off the coast of the Yucatán peninsula, which is only about 2.5 hours away from Cancun.
The reason you can get cheap flights to Holbox is because you can actually fly into Cancun. There are tons of low cost airlines offering cheap flights to Cancun.
Best Things to do in Holbox
Okay, so what makes this beach destination unique? Keep reading to find out!
1. Holbox Whale Shark Tour
Yes, this is one of the few places on earth you can actually swim with whale sharks. Snorkeling with Whale Shark in Holbox is possible with this tour.
Yes, the whale sharks that are actually the biggest fish on earth and can be as long as 61 feet!
The experience isn't just for National Geographic researchers. You legitimately can book a tour to do this yourself for approximately $50 to $200.
Experienced guides will take you to the spot where they are frequently seen and teach you to safely swim with them.
While no sighting is guaranteed, I've heard that there were only 3 days the most recent season that they didn't spot the humongous creatures. This is the tour I recommend booking! You will not regret it!
Read more about what to expect on a Whale Shark Boat tour here.
Check out some of the most popular tours in Holbox below!
2. Bioluminescent Holbox
As if swimming with sharks wasn't enough, what do you think of the possibility of night snorkeling in glowing water?
For only about $30-$50 you can be taken to the world famous glowing bay. When conditions are right the local phytoplankton give off a full blue glow.
It's wild to be able to snorkel on shimmering glowing water.
If you want to learn more read here about seeing the Bioluminescent in Holbox.
3. Unique Beaches
Holbox Beaches aren't just famous for the clear turquoise water and white sand. While that is amazing in itself, there is even more offered by the beaches.
Calm Waters and Wide Sandbars
If you are looking to surf the Holbox beaches aren't for you. The waters are generally quite calm since the shallow depth goes really far away from the shore.
The long stretches of shallow water are perfect to wade through, lay down in, or even do yoga in (watched a number of people).
The shallow stretches also create some of the most picturesque sandbars ever.
Few People
Want your own stretch of beach? It's easily achievable here with a short walk away from the main areas.
Relax in the Hammocks at Punta Cocos
Go "Snorkeling" without a snorkel
While snorkeling may be intuitive to some, I just can't ever feel comfortable with it. I always get water in my mouth and feel like I can't breathe. It isn't the most pleasant feeling in the world for me.
Anyway, in Holbox you honestly don't even need snorkeling gear to see some of the most amazing marine life I have ever seen.
Since the water is so shallow and crystal clear you are able to see so many fish, sting rays, horseshoe crabs, star fish and so much more just from walking through the shallow water.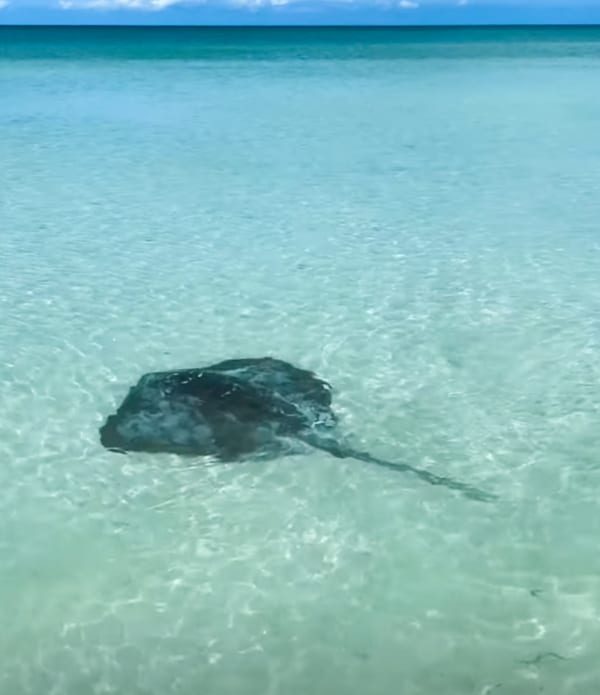 5. Visit Punta Mosquito (Via sandbar)
This was probably my favorite thing I did on the island. I felt like I was in Thailand.
6. Take a tour to see the Flamingos
Holbox is famous for their flocks of Flamingos! According to a local 3 years ago you used to be able to see them all the time, even from the main beach. But the tourists scared them off by getting too close to them.
Since then they have blocked off part of the island as a protected nature reserve so that the animals can live in peace.
Tour the protected area to see wildlife, marine life, and the colorful boats and houses.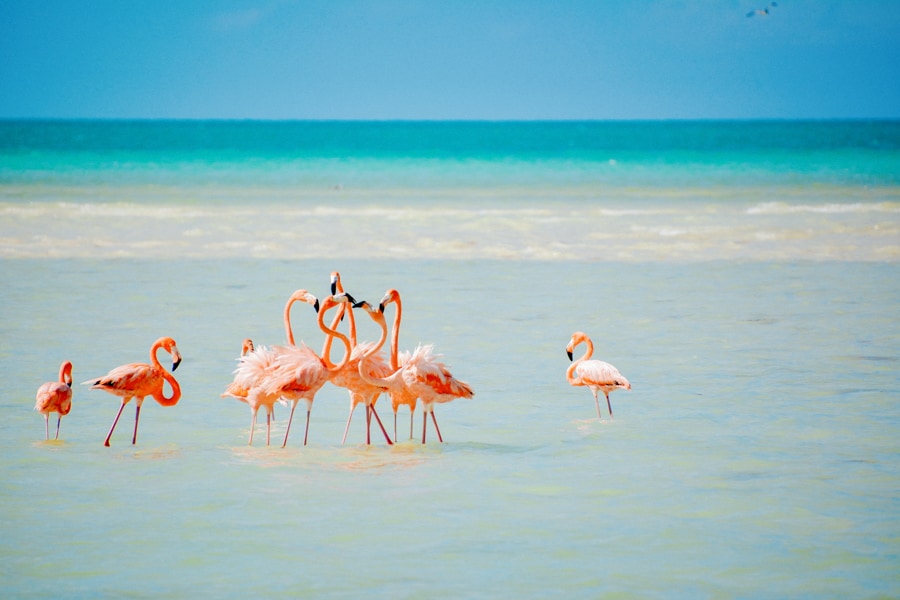 7. Beach Massages and Yoga
Want an hour long massage for only about $30/40 while calmly staring at the ocean?
Definitely available on Holbox.
I'm a sucker for a good massage, and Holbox did not disappoint!
There were also numerous yoga classes being taught on the beach. While I'm more of a self-guided yogi, the peaceful shores made me want to get a good stretch in.
8. Explore the island by Horseback
Are you a horse lover? Well you are in luck because in Holbox you can actually book this tour to explore the nature reserves in Holbox on Horseback.
9. Go Kayaking through the Mangroves
10. Rent Paddle boards
If kayaking isn't your thing don't fret, paddle boarding is an option as well.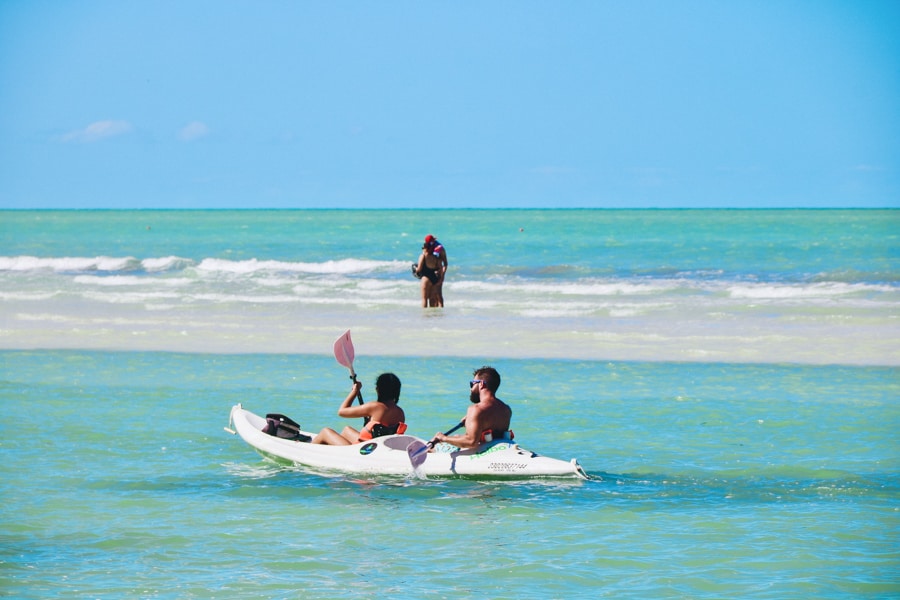 10. Drink fresh coconut water on the beach (and fresh mangos!)
All along the beach there are locals pushing carts selling cold coffee, Coco's (fresh coconut water), and mangos. I enjoyed fresh coconut water for only $3. Worth it!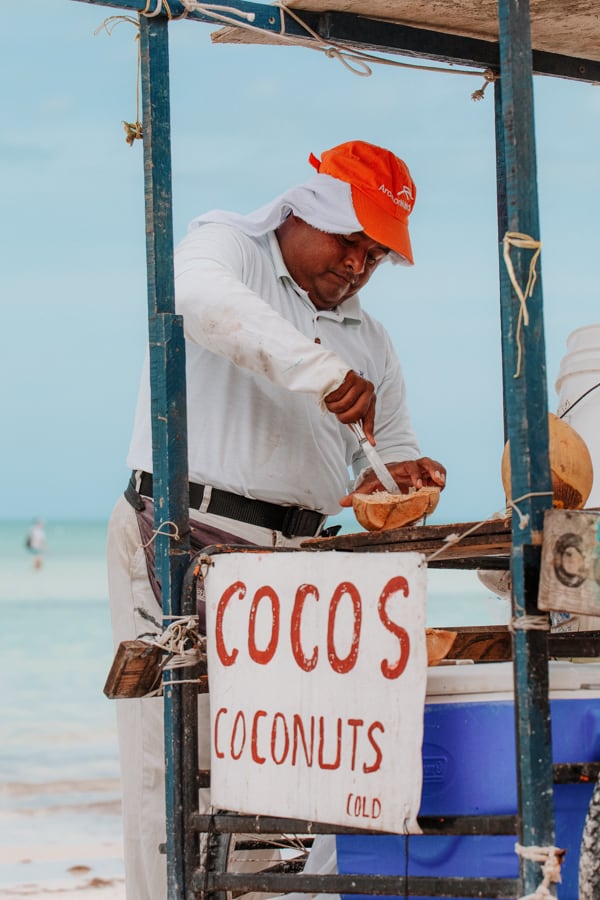 11. Eat at a beach side restaurant
There are so many amazing restaurants you can eat at (breakfast, lunch and dinner) right on the beach. A lot of them have music, swings and an overall vibe anyone would be down for.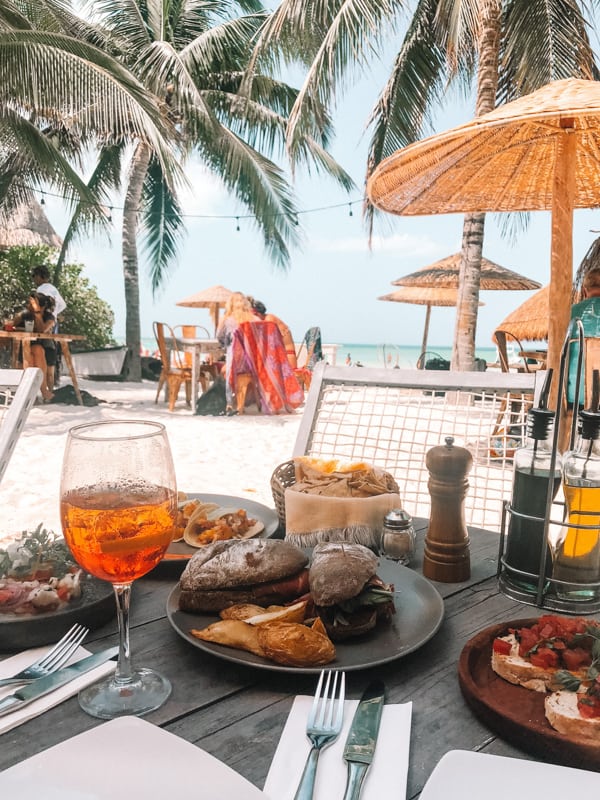 12. Watch the sunset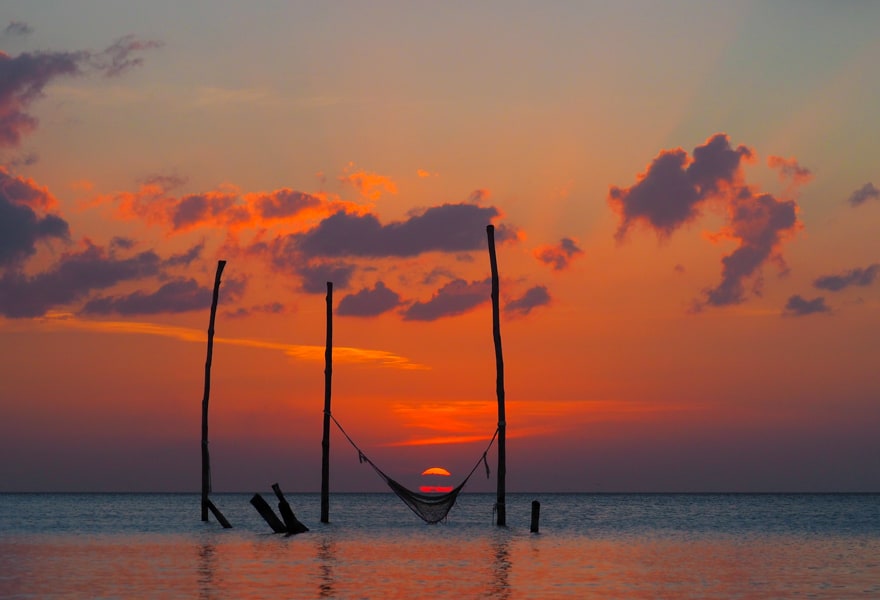 The best spot to watch the sunset in Holbox is right by the main pier.
14. Dog watch
In my opinion, dog watching in Holbox is severely underrated.
If there was ever an island made for dogs, Holbox is it. I have never seen so many dogs, (not stray dogs) but pet dogs on one island.
I had a lot of fun watching the dogs play in the water, or get their photo taken…in a hat, haha. See photo below.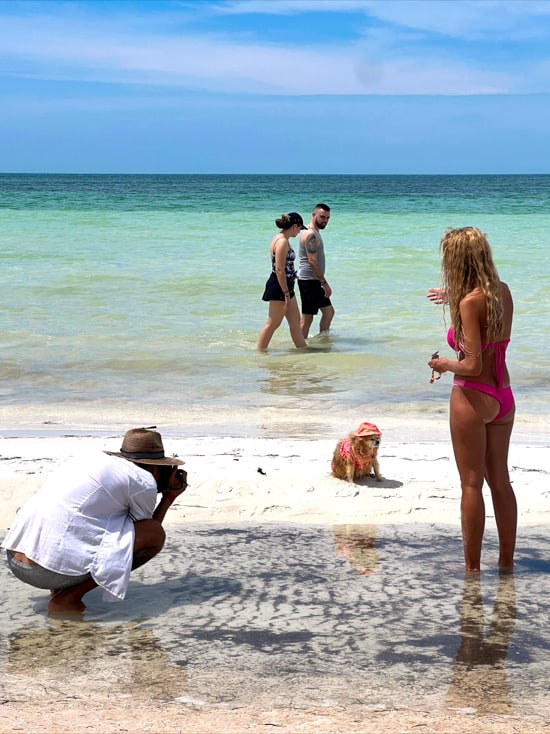 15. Take photos by the HOLBOX sign
Unless you go in the morning there will probably be a little bit of a line here. But it wasn't too bad. Definitely worth it for the photo.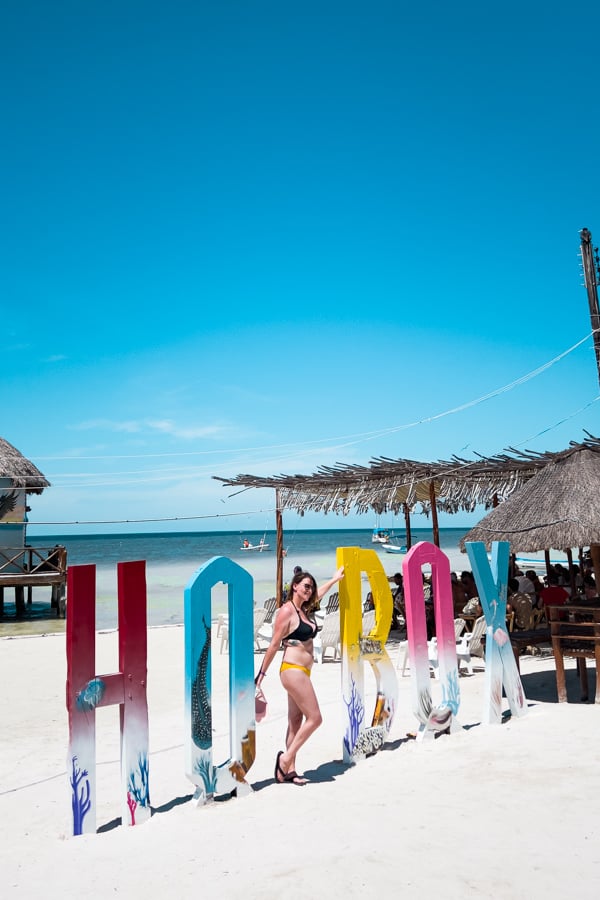 16. Go Shopping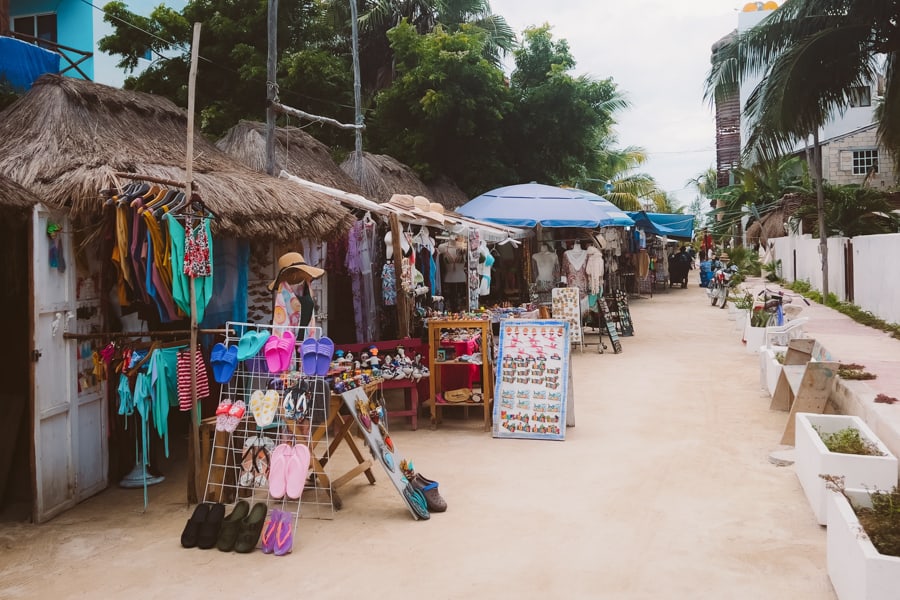 17. Rent a golf cart
Yes, that's right, you can actually rent a golf cart in Holbox Since there are no cars on Holbox you get around by either walking, bike, or golf cart.
It is definitely a unique experience to see Taxi golf carts driving around the Island. Definitely a first for me.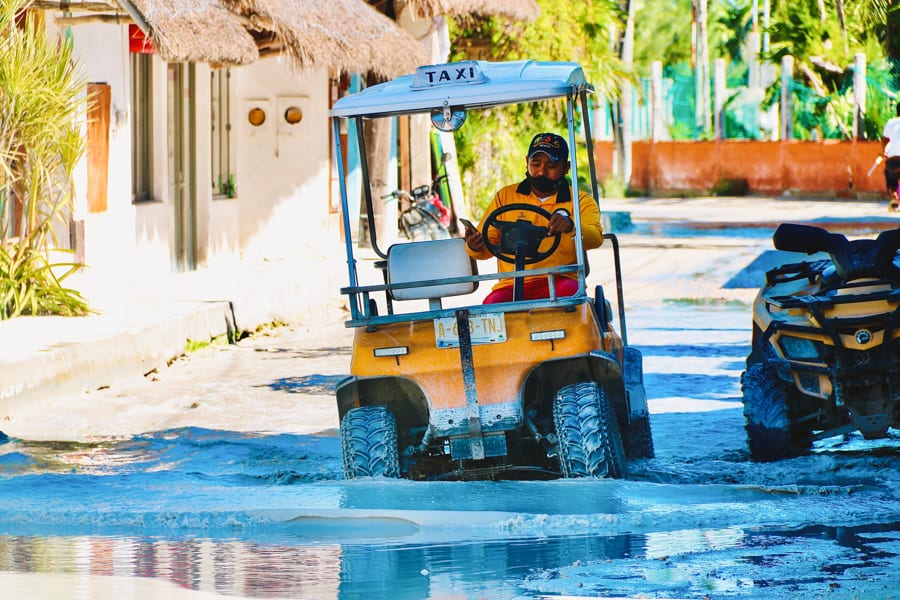 13. Enjoy a drink and music on the beach
In the evening Holbox turns into a completely different place. Think music and drinks without the obnoxious party crowd you can get in other places of Mexico. (like Cancun)
18. Eat Street Tacos
So delicious.
19. Explore the island by bike
Keep in mind that there is no bike riding allowed on the actually beach.
Things to love about Holbox
Much Cheaper Than Alternative Destinations
Another huge advantage of Holbox is that it is much cheaper than other Mexican beach destinations.
Our hotel on the beach was only $50 a night! We also were able to find street tacos for $2 a meal.
While I love Cancun and Cabo, deals that cheap will come with ecoli and bedbugs. I was shocked at the affordable quality of Holbox.
Super Laid Back Vibe
If you are looking for a spring break party atmosphere, then once again Holbox probably isn't the spot.
It prides itself on being slower paced and eco-friendly. Most hotels come with large water jugs to allow you to refill water bottles instead of purchasing plastic water bottles.
Things not to love about Holbox
It's dirty
This one really didn't bother me at all but I know it bothers a lot of people. The roads are mud. Every time it rains the entire town floods.
There aren't really any sidewalks. Basically every time you leave your hotel you will have to shower. It just is what it is.
The clay stained my sandals
I don't know what exactly the clay is made of but I was never able to get it out of my sandals. RIP.
How far is Holbox from Cancun?
About 2.5 hrs. This includes a 2 hour car ride and a 20-30 min ferry ride.
Cancun To Holbox: How to get to Holbox
The trickiest part is getting from Cancun to Holbox, but don't worry because the process is actually easier than you would think even though it involves a 2 hour drive and then a ferry ride.
Option 1 – Take a shuttle from the Cancun airport to Chiquila for $40
This option is by far the easiest and fastest way to get to Holbox.
There are private shuttles that leave directly from the airport that will take you to Chiquila, the last fort before you get on a boat to the island. The shuttle will cost about $40 USD.
Option 2 – Take the ADO bus from Cancun (not the airport) to Chiquila
You can take a bus to Chiquila for as little as $10, or a direct shuttle for about $40. This is a big red bus (looks pretty comfy from what I have seen) called the ADO bus. The ADO bus will not pick you up from the Cancun Airport like the shuttle will. But if you are planning on spending a few days in Cancun first the ADO bus could be a great, safe and budget friendly option.
Option 3 – Rent a car and drive from the Cancun Airport to Chiquila.
We rented a car our first time going to Holbox, mainly because we started in Cancun and wanted the freedom to explore some cenotes in the area before heading down to Holbox. The drive really was not bad at all. Besides from a few dead dogs on the side of the road (so sad!) there really wasn't much to see.
If you are only going straight from the Cancun Airport to Holbox I would 100% recommend taking the private shuttle option. It is as hassle free as it gets.
Read my detailed guide on How to get to Holbox here.
Holbox Ferry
Once in Chiquila, you purchase a ferry ticket for $11 to take you across the channel.
The ferry ride is only 20-30 minutes, and boats leave every 30 minutes throughout the day.
Seriously, the process sounds way more difficult than it actually is.
Chiquila is a dinky city that basically exists to be the ferry stop for Holbox, which means that the busses and shuttles drop you off steps away from where you need to be.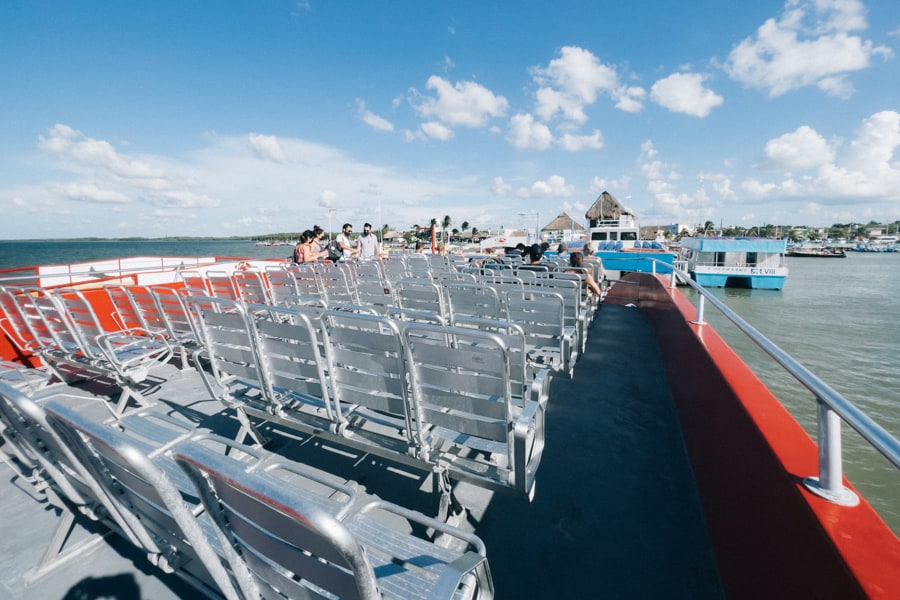 Conclusion: Is Holbox worth visiting?
If you are willing to put a little more effort into getting there, then the Holbox experience will not disappoint.
The affordability, unblemished beaches, and unique attractions make a stop at Holbox a must do!
What to bring
Reef safe sunscreen – This Raw Elements sunscreen is my absolute favorite. It also stays on really well in the water which you will need in Holbox.
Bug Spray – Mosquitos will eat you alive without it.
Snacks – I like to bring "That's It" bars with me basically everywhere. Ha. They are called "That's It" because the ingredients are only fruit. No added crap.
Towel – I always travel with this compact towel. It takes up hardly any room in my suitcase or beach bag.
Sandals – I LOVE my Teva sandals. They especially came in handy in Holbox when it was muddy and rainy and my flip flops kept getting stuck in the mud. I have the platform version as well but obviously those weren't the best for this trip.
Backpack or Dry Bag – I never travel without my Beis Backpack. It is small enough to carry around easily and easy to lay flat and pack in my suitcase. But big enough to be super useful. One of my best purchases of 2022. I have had this dry bag for years and love it. It's perfect if you are kayaking, paddle boarding or really doing anything in the water.