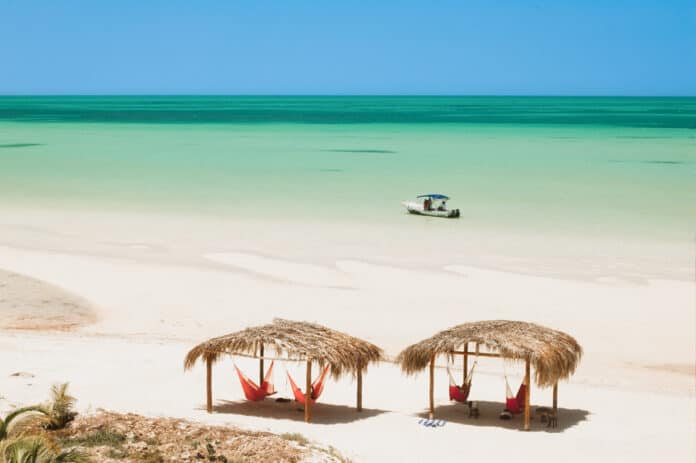 In this post I will cover exactly how to get to Holbox and everything you need to know along the way.
WHERE IS HOLBOX?
Holbox is a small island off the coast of the Yucatán peninsula, which is only about 2.5 hours away from Cancun.
How to Get to Holbox in 3 easy steps
Step 1 – In order to get to Holbox you will first have to get from the Cancun Airport to Chiquila.
Step 2 – Next you will have to get from Chiquila to Holbox via the Holbox Ferry.
Step 3 – From the Holbox Ferry port you have the option of either walking to your hotel or taking a taxi.
Step 1: Cancun to Chiquila – Best options
What are the best ways to get from Cancun to Chiquila? Below I will go over the 3 options you have.
OPTION 1 (Best Choice) – TAKE A SHUTTLE FROM THE CANCUN AIRPORT TO CHIQUILA FOR $40
This option is by far the easiest and fastest way to get to Holbox.
There are private shuttles that leave directly from the airport that will take you directly to Chiquila.
The shuttle will cost about $40 USD.
Are you a luxury traveler? If it's in the budget for you there is an option to book a Private Luxury Transfer from Cancun Airport to Chiquila Port.
Book Here – Private Luxury Transfer from Cancun Airport to Chiquila Port
OPTION 2 – TAKE THE ADO BUS FROM CANCUN TO CHIQUILA
You can take a bus from Cancun to Chiquila for as little as $10.
This big red bus (looks pretty comfy from what I have seen although I have never taken it) is called the ADO bus.
Please note – The ADO bus will not pick you up from the Cancun Airport like the shuttle will.
This option is best for those who plan on spending a few days in Cancun before heading down to Holbox. If this is you, the ADO bus is a great, safe and budget friendly option for getting to Holbox.
Read also: 18 AWESOME Things to do in Holbox
OPTION 3 – RENT A CAR AND DRIVE FROM THE CANCUN AIRPORT TO CHIQUILA
This is the option we took.
We rented a car our first time going to Holbox, mainly because we spent a few days in Cancun before deciding to go to Holbox.
If you decide to drive from Cancun to Chiquila this is what you can expect…
The drive really was not bad at all. Besides from a few dead dogs on the side of the road (so sad!) there really wasn't much to see. Mainly highway, with 1-2 towns towards the end.
Tolls – You will have to pay an $11 USD toll.
How long is the drive from Cancun to Holbox
The drive from Cancun to Chiquila is 2 hours.
Where to park your car in Chiquila?
Once you arrive in Chiquila you will need to find a place to park your car before getting on the Holbox ferry.
There are a lot of different car parks to choose from and they all have similar pricing.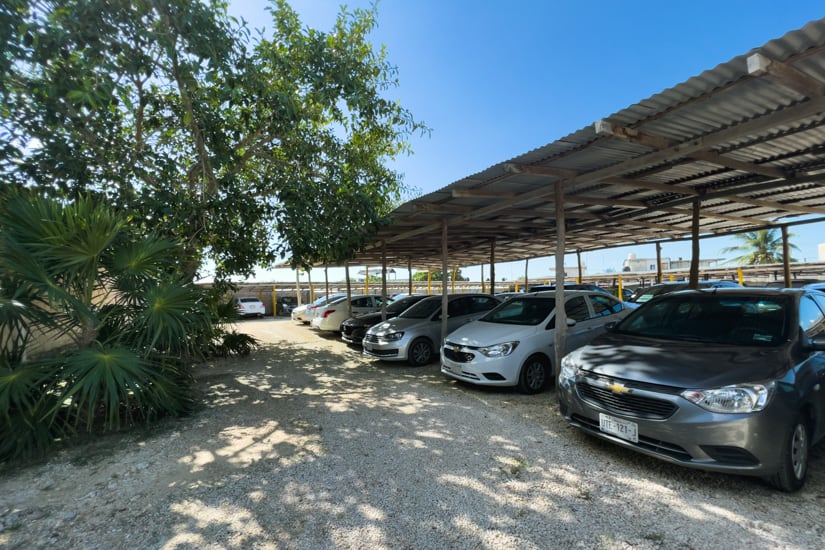 How much does it cost to park your car in Chiquila?
You can expect to pay around $5 per day. $2.50 for half day.
What is the best way to get from Cancun to Chiquila?
The airport shuttle is the fastest and easiest way to get to Chiquila.
HOLBOX FERRY
Once you have arrived in Chiquila you will move on to step 2, taking the Holbox Ferry to Holbox.
Once in Chiquila, you will purchase a ferry ticket for about $11 to take you across the channel.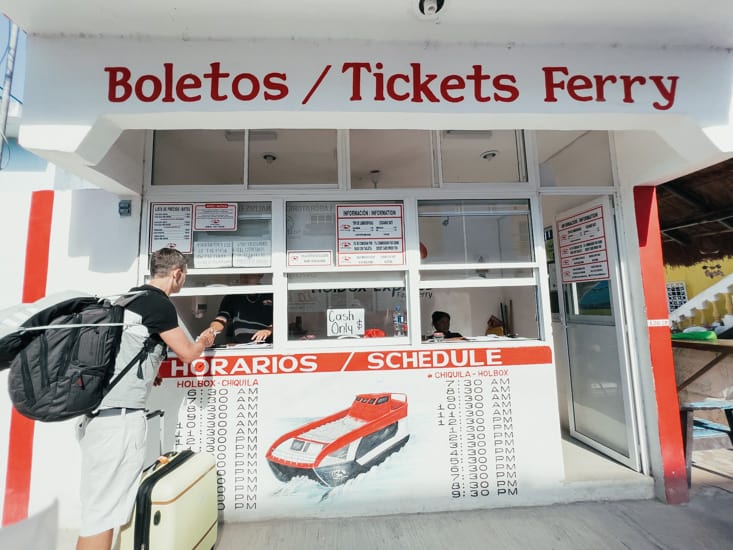 Chiquila is a dinky city that basically exists to be the ferry stop for Holbox, which means that the busses and shuttles drop you off steps away from where you need to be.
Once in Chiquila there are numerous places where you can buy tickets. They are everywhere.
How long is the ferry to Holbox
The ferry ride is only 20-30 minutes, and boats leave every 30 minutes throughout the day. The ferry trip there for us was exactly 30 minutes (we timed it).
The ferry ride back was 22 minutes exactly.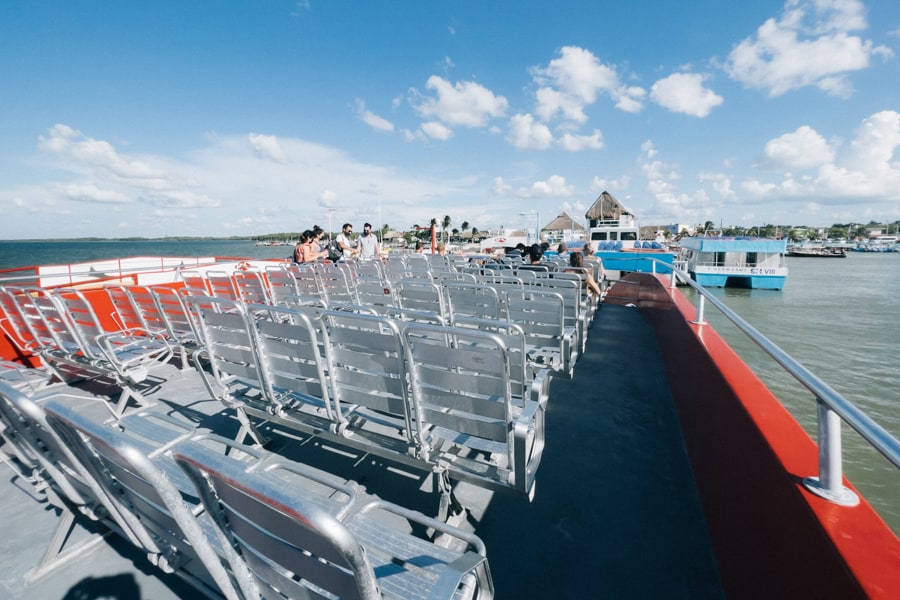 I know this may seem like a lot, but I promise the process sounds way more difficult than it actually is.
Book a Private flight to Holbox from Cancun
If you are really loaded you can book a private flight from Cancun to Holbox here. We didn't do this but the reviews are good. Read the reviews here.
This option will cost you about $1000.