Playa Caballo (Is it worth visiting?)
Playa Caballo or Playa de los Caballos, or Horse Beach if you want to call it by it's English translation is another awesome Puerta Vallarta Beach.
This beach isn't nearly as popular as others not because it's not gorgeous, but because it is a little bit off of the beaten path.
Puerto Vallarta has gorgeous beaches, but if you want to escape the crowds of the hotel zone you gotta head south!
There are so many beautiful beaches that hardly have any crowds because they are a little bit harder to access.
There are two ways to get to this beach, a water taxi/your, or a moderately difficult jungle and shoreline hike.
The last time I went Caballos Beach, I did both! I hiked in and took a water taxi out to save my legs!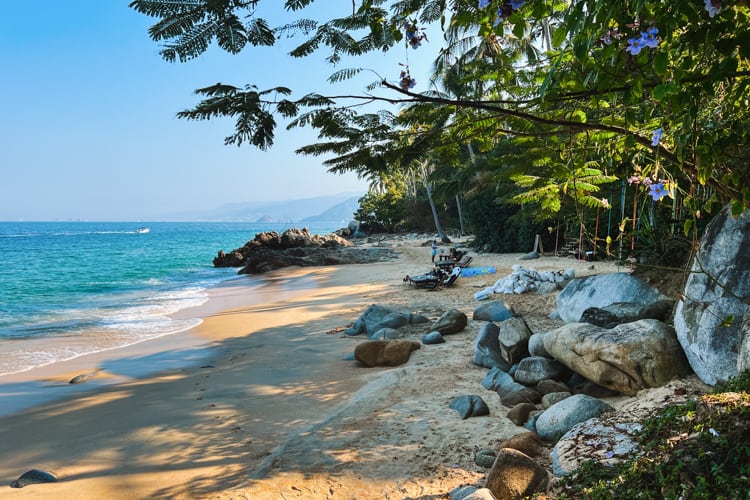 Playa Caballo Quick Facts
Other Names: Playa de los Cabellos, Caballo Beach, Horse Beach
Known For: Being part of the hike to Las Animas beach from Boca de Tomatlan
Facilities:
Lifeguards: not that I saw
Parking: water taxis are actually most likely to drop you off at the next door Las Animas Beach (it's worth a quick hop back to this one since it's less crowded)
Cost: Free, tours vary, water taxis are typically 100 Mexican pesos each way
Other: On the hike to Las Animas beach, this is the last beach before the trail ends at Las Animas Beach.
Playa Caballo Map
Check out the map below to see where Playa Caballo is located.
Getting To Playa Caballo
While it does take more effort, it is 100% worth the struggle! Just get ready for a boat ride or an amazing beach shoreline hike!
You can book a tour boat to take you all the way down to this beach from the hotel zone, or you can get south to the fishing village of Boca de Tomatlan and then take a cheap water taxi from there.
Most people choose to get to Boca de Tomatlan, and then take a water taxi from there.
Also keep in mind, when I say most people I'm not talking throngs of people because this beach (and others you can encounter via the water taxis or Las Animas hike) will have way less people than the ones in the hotel zone.
You can read more about the 2.8 mile hike to get here in my posts on Boca de Tomatlan or Las Animas Beach posts.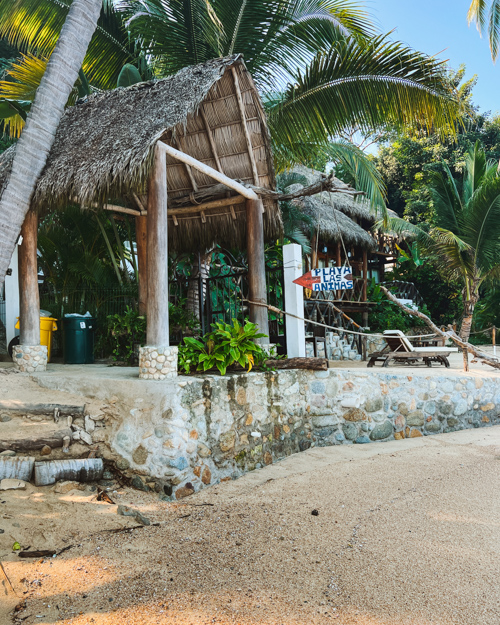 What to Expect At Playa Caballo
So why should you target Playa Caballo instead of one of the other beaches south of Puerto Vallarta? All of them are worth stopping at. The unique aspects of Caballo Beach are that it's bigger than most of the others, has less crowds than even Las Animas Beach, and less vendors if you are really just looking to relax.
I recommend the hike and stopping at Playa Colomitos, Playa Escondida, and then enjoying Playa Caballo for a good while before finishing at Las Animas beach.
Playa Caballo is almost as big as Playa Las Animas, but it lacks the pier of Animas, so the boats typically drop off and pick people up there.
There is a boutique hotel on the beach, and a couple other opportunities for snacks and drinks. I think it is the perfect balance.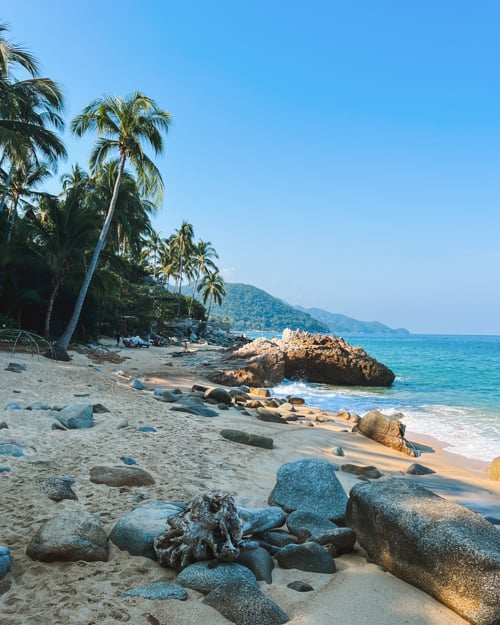 Conclusion: Is Playa Caballo worth visiting?
While the beach isn't that unique compared to the other beaches on this hike, it's size is what makes it a great choice to spend a good amount of time at!
It's also almost at the end of the hike, 2.8 mile of 3 miles in.
Remember, you can choose to take a water taxi in and out, hike in and out, or mix either way. If you want to take a water taxi just know that you need to leave by about 5, since that's when the last water taxis typically leave.