This post tells you everything you need to know to plan your visit to Cenote Zaci. I recommend including Cenote Zaci on your trip to Cancun/the Yucatan, especially if you are visiting the ruins of Chichen Itza or Ek Balam.
This cenote is perfect for a refreshing swim, snapping Instagram worthy pictures, one of the cheapest to visit, and one of the easiest to avoid the crowds. Due to all the benefits being wrapped into one, I think that Cenote Zaci is the most underrated cenote.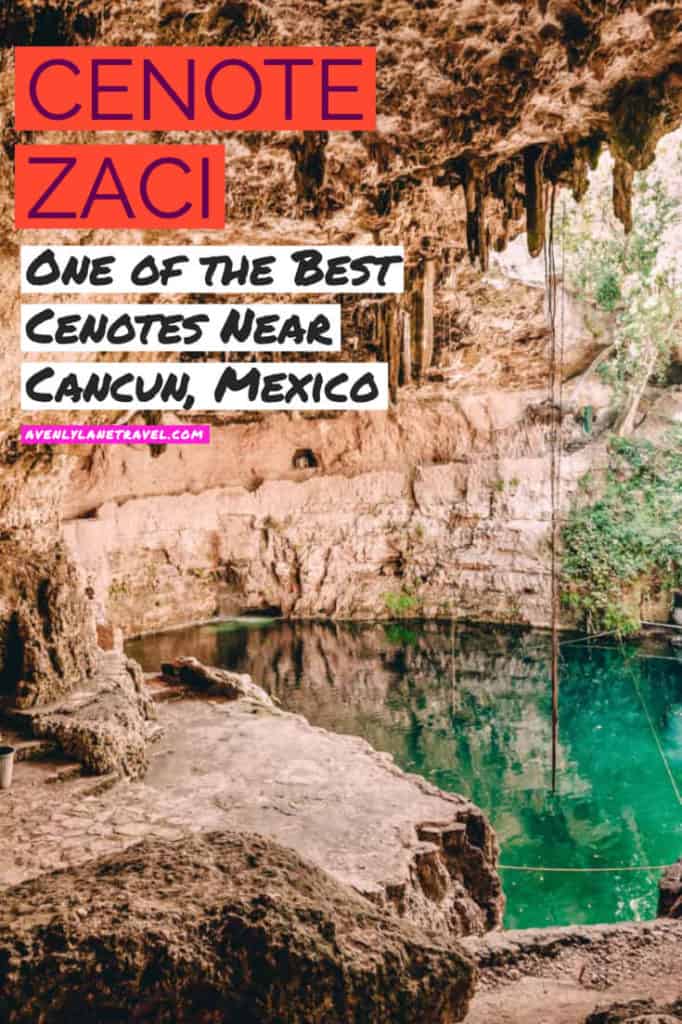 What to Pack?: Before you head off to Cancun, make sure you read my Cancun Packing List guide so you know what essentials you need to enjoy your tropical paradise.
Location of Cenote Zaci (in Valladolid Mexico)
Cenote Zaci is in the middle of the town of Valladolid (literally in the middle). Valladolid is basically the only town you will encounter on your drive from Cancun to Chichen Itza. If you leave the Cancun hotel zone and drive straight west, you will get to Valladolid in about an hour and a half.
Valladolid Mexico is a great place to stop if you are looking for a place to eat, want to encounter more traditional Mexican culture, or even are looking for "hoteles en Valladolid" (hotels in Valladolid). Hotels are cheap and perfect for a one night stop.
A trip to Cancun is not complete without visiting Mayan ruins and a cenote or two; Chichen Itza is one of the most popular ruins, so cenote Zaci fits in with that trip perfectly. I highly recommend renting a car on your Cancun vacation (read why it is a cheap and safe way to save money here). Not only is it cheap and safe, but it will give you access to some of the best spots that the tours won't take you to.
Hours of Cenote Zaci
Officially the Cenote Zaci hours are 8:30 to 5:30, but they sometimes change. I've heard that the person working the front gate can sometimes show up late and therefore the park opens late.
Even with this risk, I still recommend going early if you want a great chance of having the place to yourself, even though one of the best things about Cenote Zaci is that it doesn't get as crowded as some of the others, even in the middle of the day.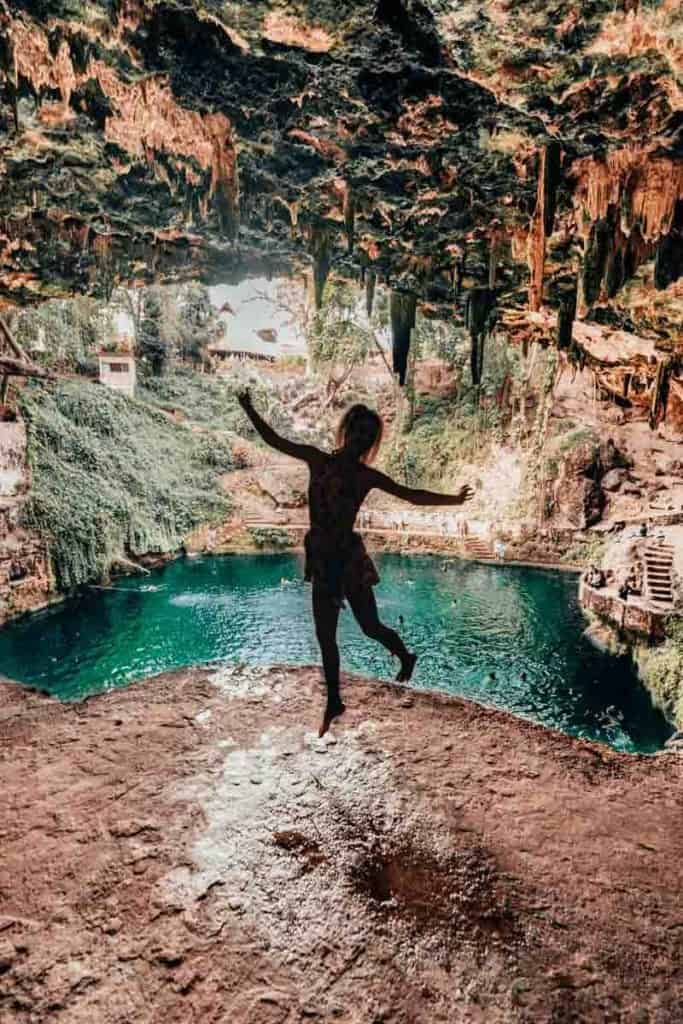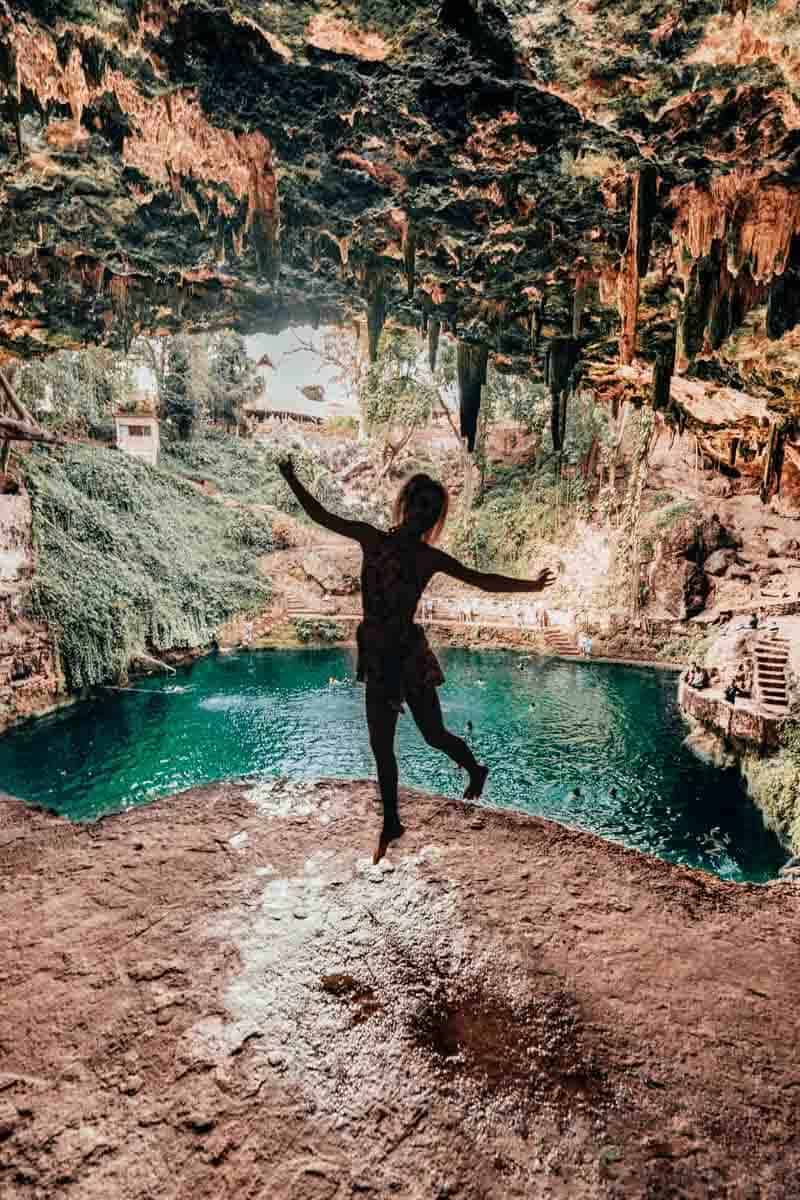 What to expect
Cenote Zaci is underrated because it offers way more than most people expect. With it being in the middle of the city of Valladolid Mexico, many people expect city noises and buildings to drown out the natural beauty. This isn't the case at all.
As soon as you step down the stairs towards the cenote the city melts away completely and you see a half cave half open air cenote. It is a bigger cenote than most people expect, and even though the water isn't clear, it is still a beautiful blue. I loved swimming in the refreshing water.
Even though you won't see the intricate rock features of a cave cenote like Cenote Samula or Cenote Xkeken the scenery is still gorgeous. There is all kinds of plant life with vines hanging into the water, and a slow waterfall often trickles into the cenote.
It is great to be able to balance your time between the parts of the cenote that are open to the sun, or being able to retreat into the shaded parts of the cave.
Cenote Diving
Feeling adventurous? There are platforms built in that you can jump off of into the water. They are that high, but they still felt pretty high to me. My guess would be that they are about 25 feet.
Drawback – Not the best snorkel cenote
One drawback of this cenote is that the water is not as clear as some of the others. This means that if you were hoping to snorkel, it might not be the best place.
Even though the water isn't clear, that doesn't mean the water doesn't feel fresh. It still has the dark blue hue and cool feel that make it amazing for a swim.
Cenote Zaci Entrance Fee
Another great feature is the Cenote Zaci entrance fee being only 30 pesos (about $1.60). This is less than half of most other cenotes (most cost between 80-140 pesos). Even though none of the cenotes are especially expensive, if you have a big group it is nice to be able to get in for so cheap.
One of the Least Crowded Cenotes
Compared to other cenotes, Cenote Zaci does not get crowded, even if you go in the middle of the day. Most of the big tour buses seem to go to other cenotes which is great if you want to be able to relax and snap some photos. I saw more locals at Cenote Zaci than any other, which is probably due to its cheap entrance price and its location in the middle of Valladolid. If you really want to have the place to yourself aim to arrive early in the morning or late in the day just before close.
All things considered I can't recommend Cenote Zaci enough. Once inside you will completely forget that you are in the middle of the city. The cheap entrance price will allow you to enjoy it, but not feel like you have to stay all day, though you may feel like you want to relax and enjoy for a few hours.
Have you been to Cenote Zaci? Do you think it is underrated?