Wanting to visit the incredible cenotes in Mexico?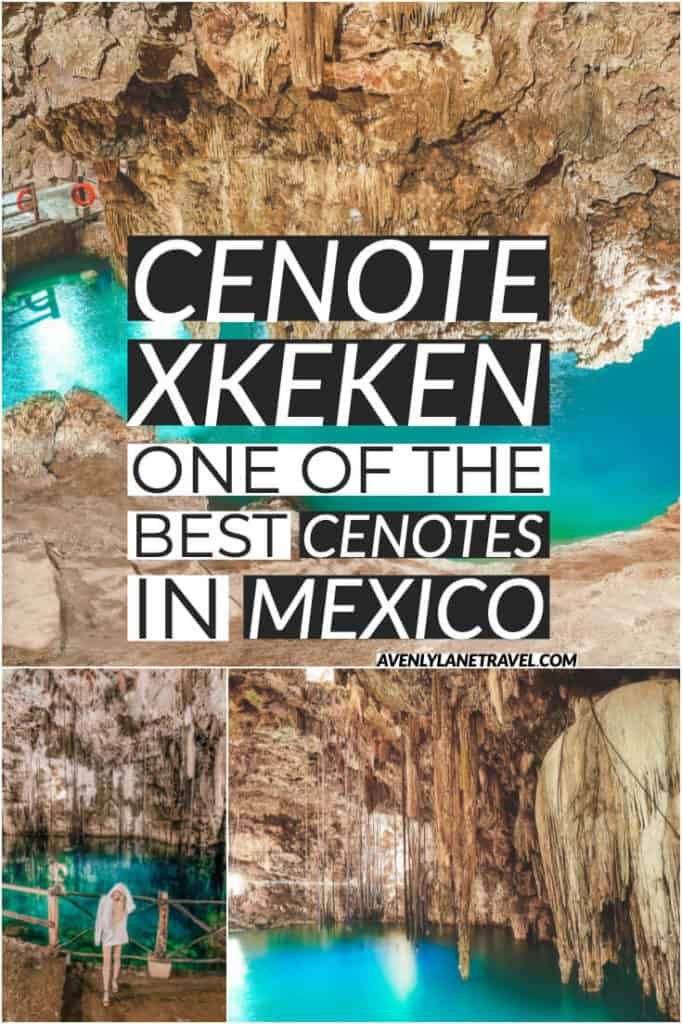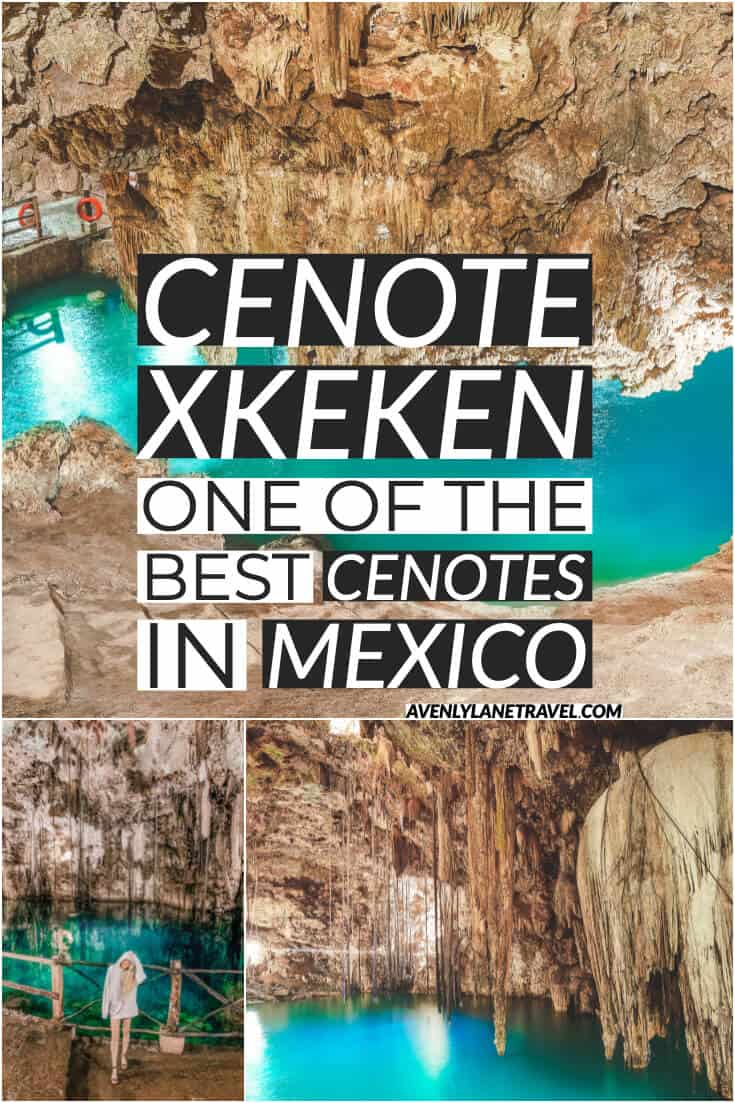 Cenote Xkeken, also known as Cenote Dzitnup is one of the best cenotes near Cancun.
Cenote Xkeken is sometimes spelled Cenote X'keken. This cenote is also known as Cenote Dzitnup, confused yet? To further confuse you, Cenote Xkeken is also located in the same park as Cenote Samula (touring both at once is a definite must).
The final confusing element is that Cenotes Xkeken and Samula are just down the road from Cenote Saamal.
It took me way too long to figure all of that out, but it will help you once you are there, trust me!
Unsure what a cenote actually is, read here.
What to Pack?: Before you head off to Cancun, make sure you read my Cancun Packing List guide so you know what essentials you need to enjoy your tropical paradise.
Cenote Xkeken is one of the Best Cave Cenotes in the Yucatan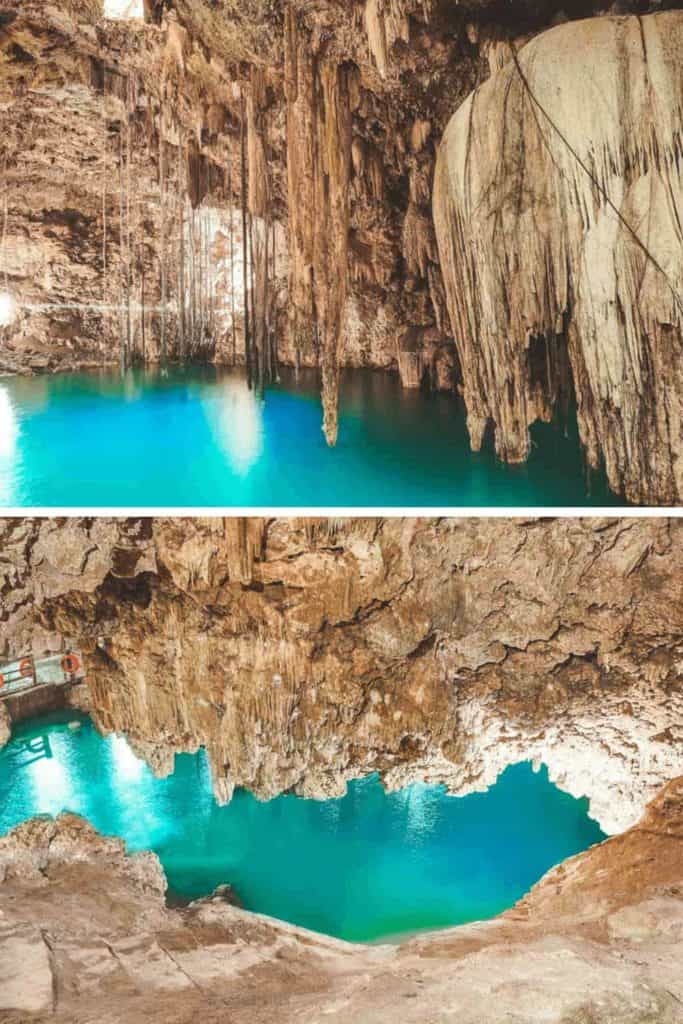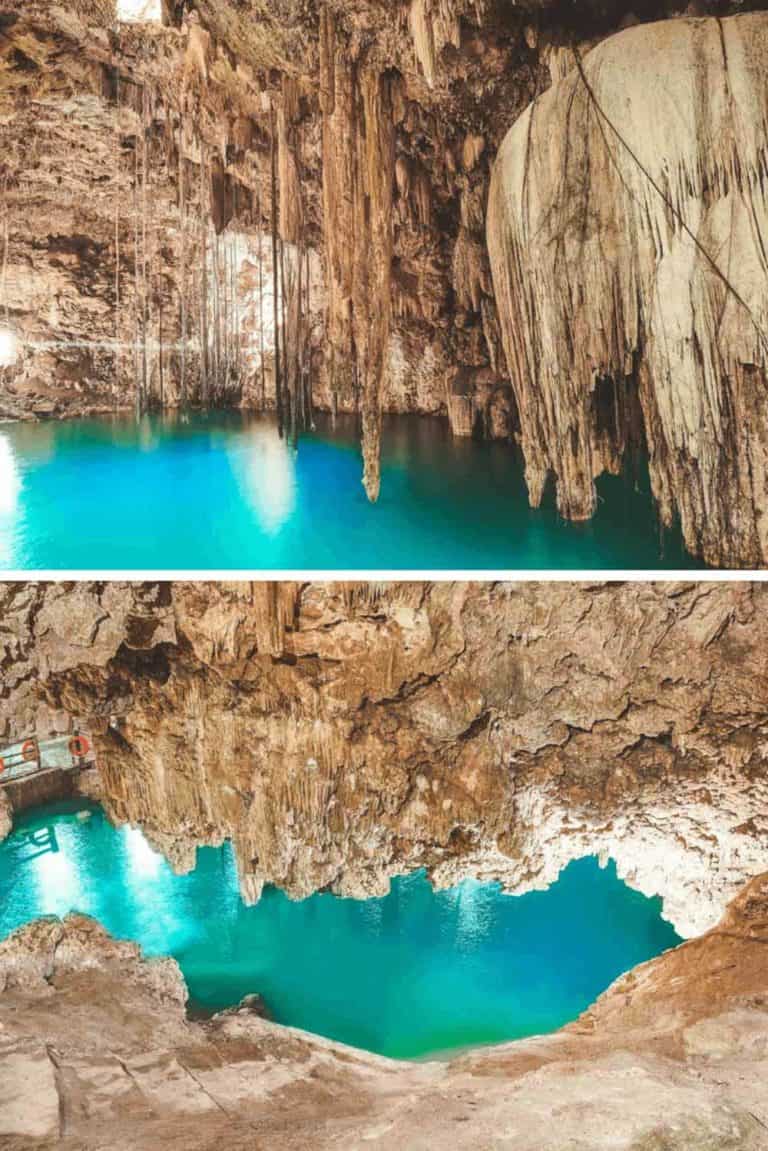 The ceiling over many Yucatan cenotes fall in so that they are open to the sky. This is not the case at Cenote Xkeken. The only opening to the sky is a single hole that lets in a celestial beam of sunlight when clouds aren't blocking it out.
What makes this cave cenote especially unique is the stalactites form a dome hanging down from the ceiling. Clusters of stalactites form one of the most gorgeous natural features I've ever seen. Even though there are bigger cenotes, and ones with higher ceilings, the rock formations in this cenote are truly breathtaking.
Swim in Cenote Xkeken
You may expect these caves to be cold, but they are almost always steamy and warm, which makes the swim even better. The water is cold, but not so cold that you can't actually swim in it without feeling like you are going to turn into an icicle.
For those who aren't strong swimmers, there is often a lifeguard on duty, or you can grab onto the ropes that are stretched across to pull yourself along.
Dive Cenote Xkeken
This is probably not a cenote you want to dive in since it is pretty shallow.
Location of the Xkeken Cenote
It takes about two hours to drive to Xkeken cenote from the Cancun hotel zone, but if you are planning to visit Chichen Itza, it is only 30 minutes from there. The best part is that if you want to stop by Cenote Dzitnup/X'keken it only adds about 15 minutes of additional travel time back to Cancun.
I highly recommend renting a car to get around Cancun Mexico. It is much cheaper and easier than you would think, read more why here.
The cenote is about 4 miles south of the town of Valladolid. It actually sits between Valladolid and the small town of Dzitnup (where the cenote get its nickname from).
There are plenty of other nearby cenotes if you want to visit more (Cenote Samula, Cenote Saamal, and Cenote Zaci are especially close).
If you are staying in Valladolid, it is easy to access via taxi or even by renting a cheap bicycle.
Cost of Cenote Xkeken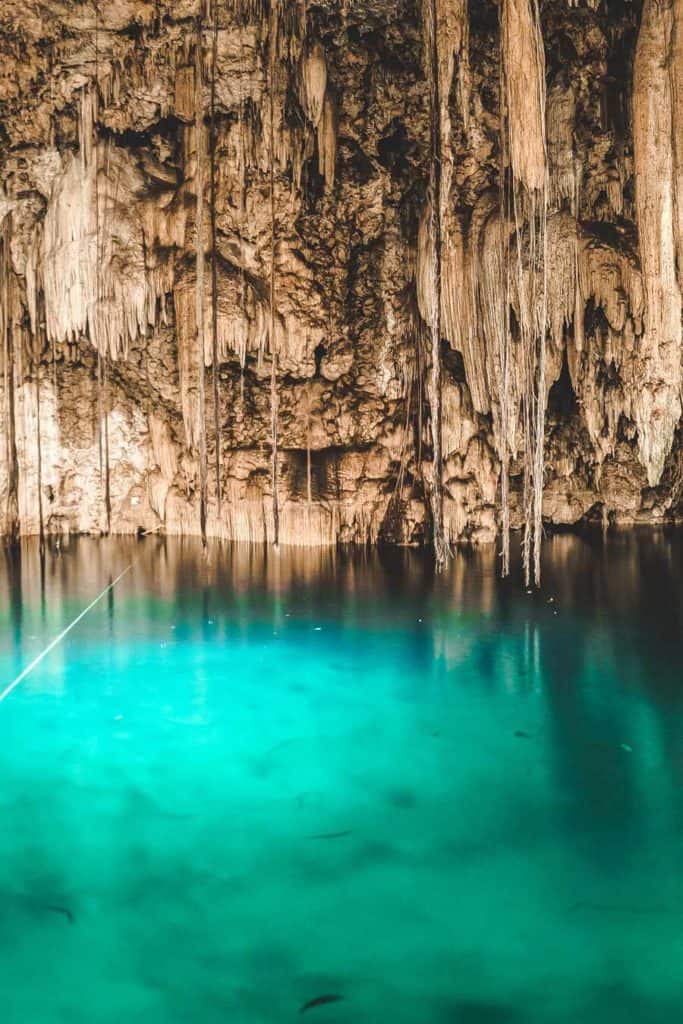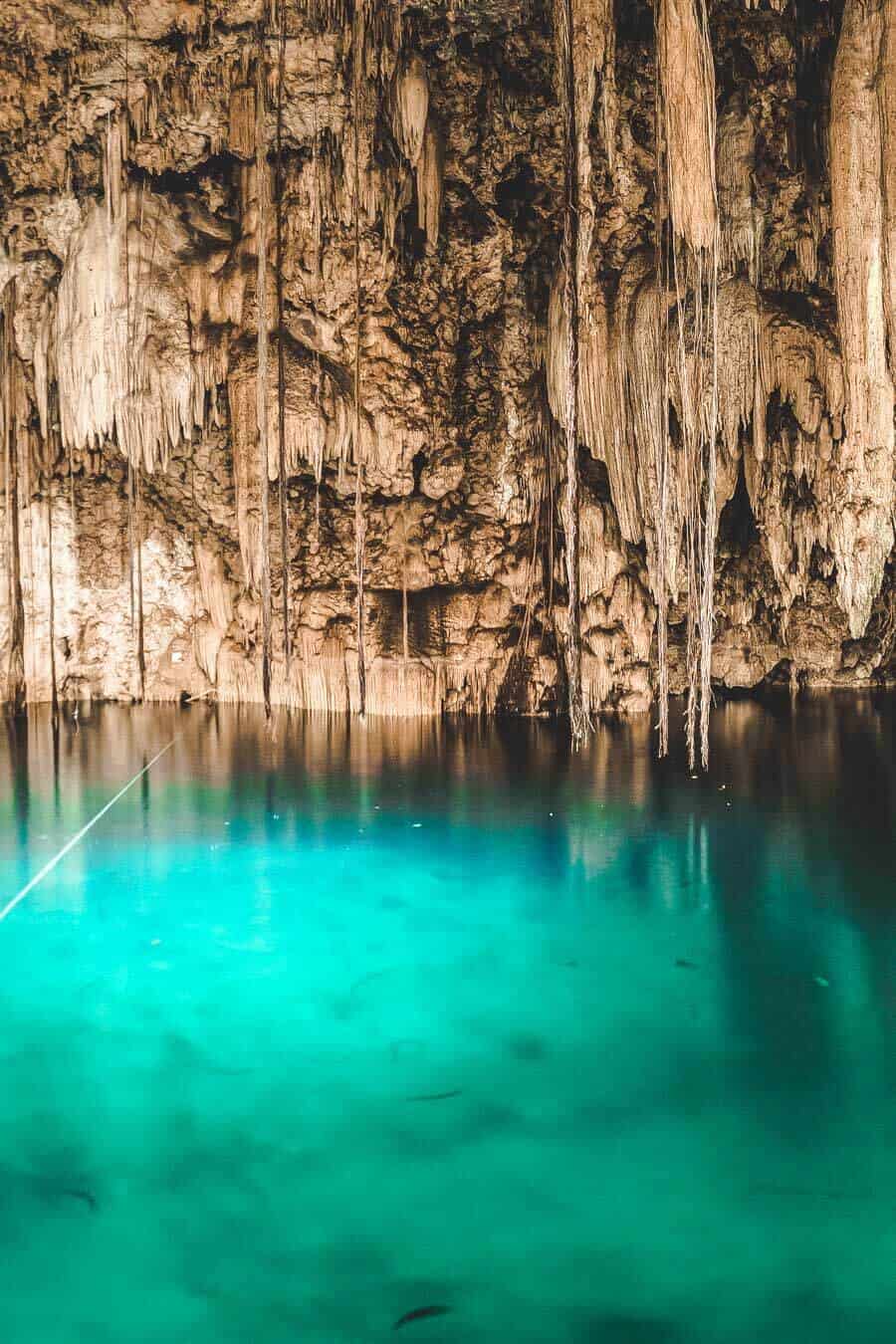 Yucatan Cenotes are usually cheap, and Cenote Xkeken is no different. To get into the park featuring Cenote Xkeken and Cenote Samula, you only need to pay about $4 USD/80 pesos to see one, or you can pay about $6 USD/125 pesos for both.
Even though they are each cenotes made out of Cancun caves, the experience at both is unique.
Xkeken Cenote Tour
Even though tour guides are available at the entrance of the park, I don't recommend hiring one to walk you around the park with you. We tried one for a little while and while he was a great guy, the information was pretty much what we read online before getting there.

Cenote Xkeken Hours
A post Chichen Itza cenote stop is perfect at Xkeken since it is open until 7:00 pm. Most cenotes close at 5:00; the extra couple of hours it remained open are what allowed us to be able to see it. It also opens earlier than most at 8:00 am.
Make sure to verify the hours before you go though as they sometimes change.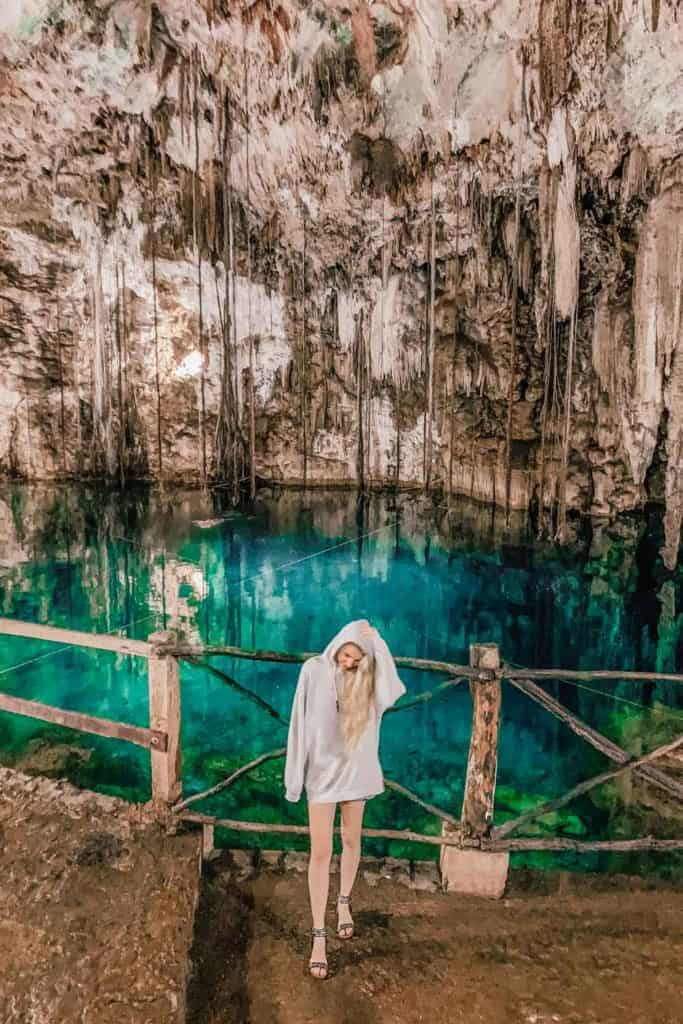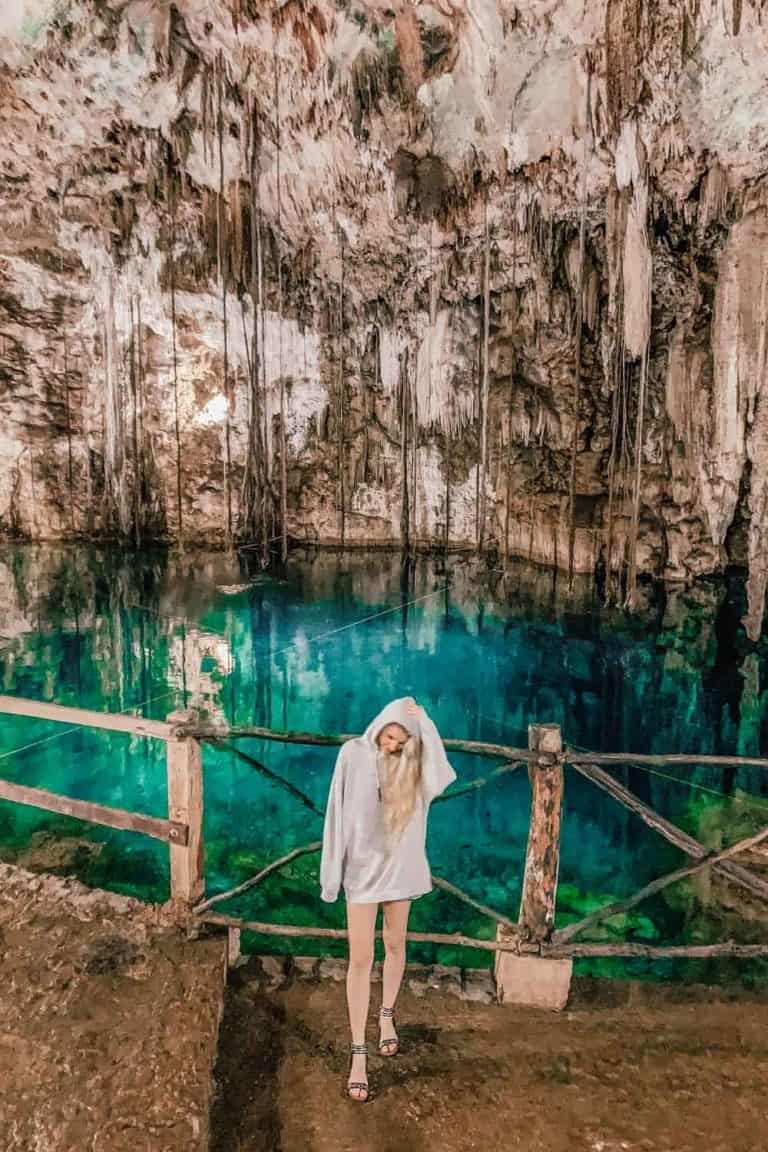 How to Avoid the Crowds at Cenote Dzitnup/Xkeken
If you are looking for the perfect cenote photo without crowds of people in it, then you should aim to be there first thing in the morning or just before closing time.
Also, given that locals often seem to enjoy these cenotes, you can avoid more people by going during a weekday as well.

So what do you think of Cenote Xkeken? Are cave cenotes one of your favorites like they are mine?