Cancun Cenotes are known for being amazing (unsure what a cenote is, read here). Cenote Samula is one that contributes to this well-deserved reputation. This cave cenote features jaw dropping rock formations and striking blue water you can swim in.
Even though you may not want to spend the entire day here, I highly recommend it if you are in the area and want to see a cave cenote.

What to Pack?: Before you head off to Cancun, make sure you read my Cancun Packing List guide so you know what essentials you need to enjoy your tropical paradise.
Cenote Samula – Best Cave Cenote in Cancun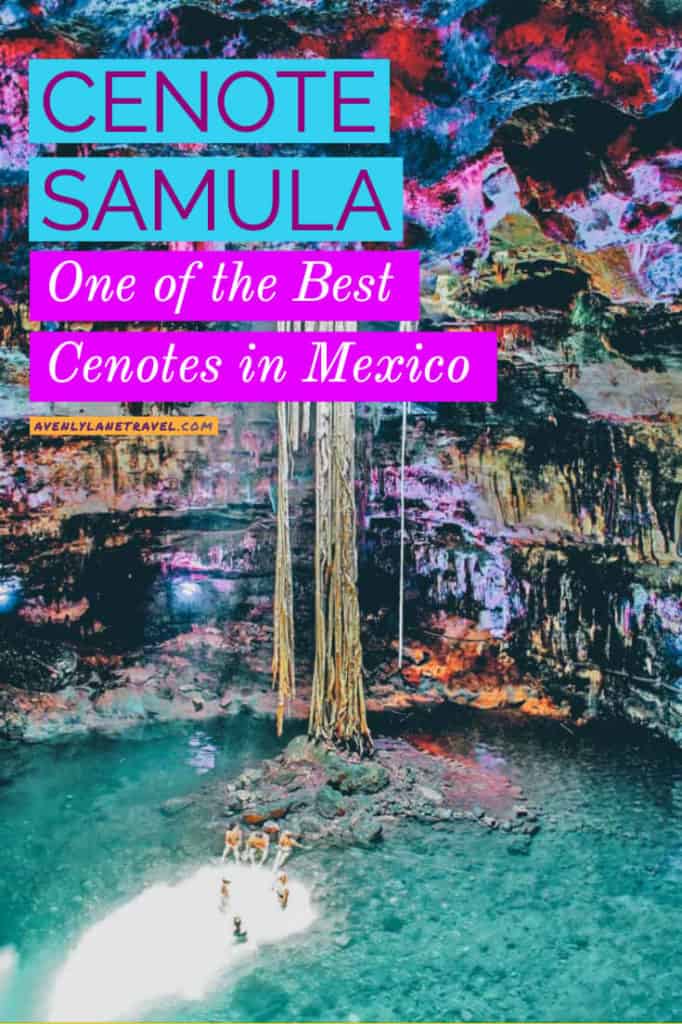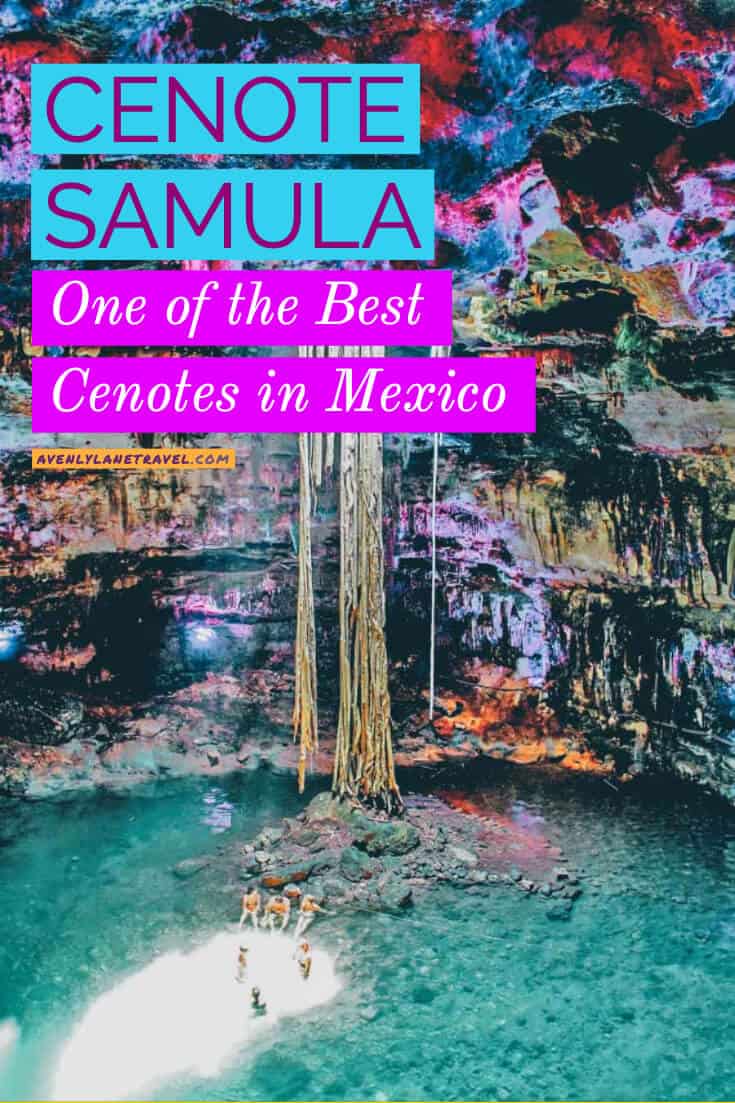 Cave cenotes are my favorite! A lot of places have great swimming holes, but there aren't many beautiful places like this. You can relax and swim underground with warm air and cool water. If you are like me, you may spend more time taking pictures than actually relaxing.
Related Post: Why you Can't Miss Cenote Zaci in Valladolid Mexico
Types of Cenotes Cancun Offers
There are three basic types of cenotes: open air, cave, and hybrid. Within the basic three types, some cenotes Cancun offers are great for swimming or snorkeling, some are great for relaxing, and some are great for photography.
The thing I think is best about the cave Cenote Samula is the opportunities for photography. Some people don't like cave cenotes because they can't work on their tans. Also, the water in cave cenotes can be cold. Even still I love taking the time to get out of the blazing sun allowing me to study intricate rock features.
Cenote Samula Location
Most of the cenotes near Cancun are completely open air. To see great cave cenotes you need to go farther inland. Even though Cenote Samula is about a two hour drive from the Cancun hotel zone, it is still on the way to Chichen Itza (one of the most popular Mayan ruins).
It is four miles south of the town of Valladolid Mexico. Valldolid is a great place to stop if you are looking for lunch or a one night stay. It is also located in the same park/directly across the road from Cenote Xkeken (also known as Cenote Dzitnup). Also, just a couple miles further down the road from Cenote Samaal.
If you are driving from the Cancun Hotel Zone to Chichen Itza, it is only about 15 minutes out of your way. It only takes about 30 minutes to drive from Cenote Samula to Chichen Itza.
What to Expect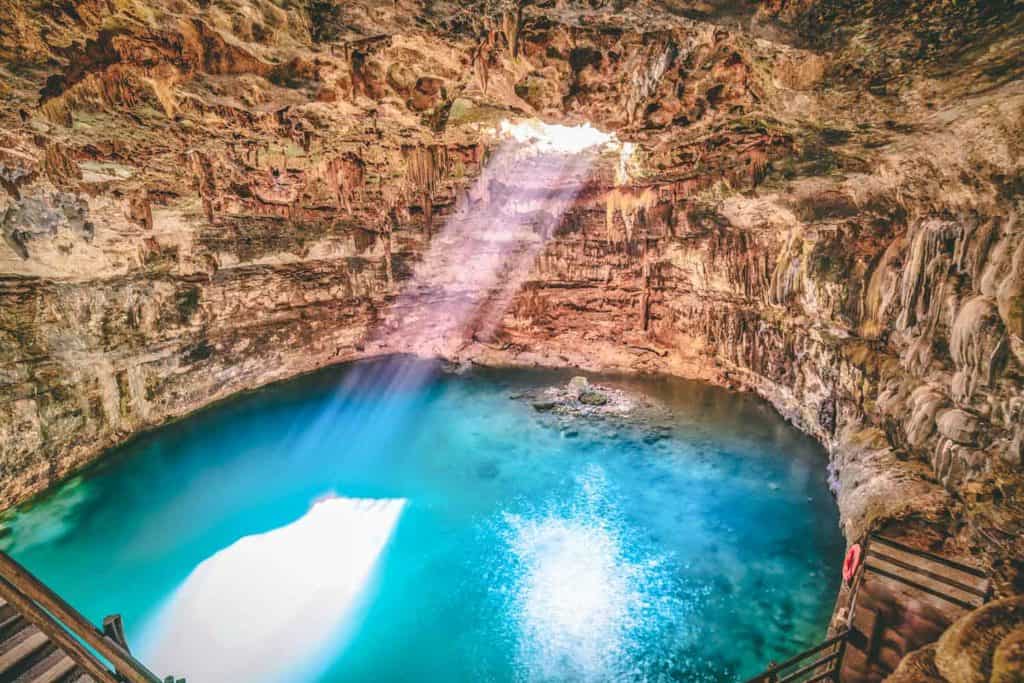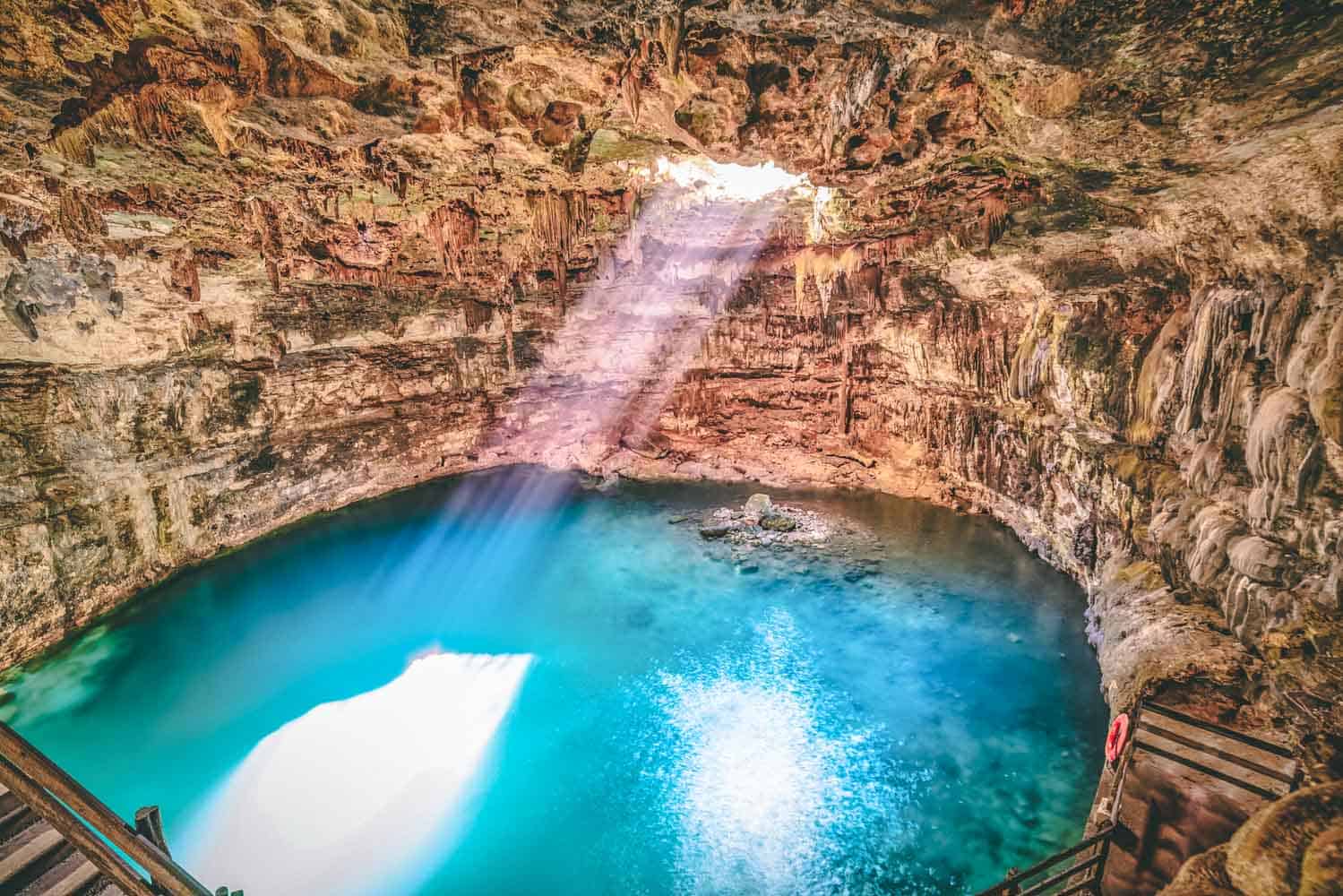 All Cancun Cenotes offer something a little bit different. The most unique features of Cenote Samula are that is a cave cenote with a hole open to the sky.
This hole allows a gorgeous beam of light to travel through. That is, if it isn't cloudy or the sun isn't too far down the horizon. This beam of light is a photographer's dream, especially when the sun is directly overhead. The beam is a lot like the one at Cenote Suytun.
The hole often lets vines through the hole and into the water. Some people think that this feature is a little bit eerie, but I love the look of it. The combination of the beam of sunlight, vines, blue water, and unique rock features make the cenote a photographer's dream.
Swimming in Cenote Samula
You will see people swimming in the water. Due to the water being a little bit colder than others, most people don't swim for too long. Cenote Xkeken (same park) has slightly warmer water, so you will find more people swimming there.
I'm not SCUBA certified, but for those who are it is supposed to be a great place for cenote diving due to the extreme depth. Our guide told us if you were really brave you could connect underground to Cenote Xkeken.
Cenote Samula Entrance Fee
The Cenote Samula entrance fee is only 80 pesos (about $4), but since it is the same park as Cenote Xkeken (aka Cenote Dzitnup) you can get a ticket to each for only 125 pesos (about $6). Even though both cave cenotes are similar, I highly recommend doing both.
Cenote Samula Hours
Another great thing is the Cenote Samula hours. It is open from 8:00 am to 7:00 pm. With these hours it is open later than a lot of other cenotes and attractions in the area, so you can make it one of your last stops of the day.
Another benefit of going by later in the day is that most of the tour buses will already be gone, and you are very likely to have the place almost to yourself. When we went late in the day, there were less than 10 people in each.
Drawbacks of the Samula Cenote
There are a few drawbacks of the Samula Cenote to be aware of before you arrive so you can plan accordingly.
Cold Water
The water is colder than other cenotes, and some people say it is too cool to swim in for anything longer than a quick dip.
Hounded By Cenote Tour Guides
Also, the second you park your car you will be hounded by guides offering a Samula cenote tour. We decided to give it a try, and even though our tour guide was a nice guy, it wasn't worth the hassle of having to follow him around. The information he shared was the same as what we read online ahead of time anyway.
If you want a chance to talk to a friendly local on a cenote tour you can hire one as they aren't that expensive (we paid about 150 pesos – $10).
Less Direct Access
It is hard to access Cenote Samula without a rental car as not all tours stop here, or the ones that do often don't stay that long. Renting a car is a safe and cheap way to be able to see the Yucatan, read why you should rent a car in Cancun here!
Maze of Shops
Once you enter the park you will have to walk through a maze of shops before getting to the actual cenotes. The wares for sale didn't really interest us, but if you are interested in cultural knick-knacks made just for tourists, then you will enjoy the stalls.
Even with those drawbacks, I still recommend visiting Cenote Samula on your Cancun vacation. It is still a perfect escape of the blazing sun, and an opportunity to fill up a memory card with amazing photos.
Look at those pictures, can you blame me for not taking the time to swim long?
If you enjoyed this post don't forget to share it with your friends to Facebook, Twitter or Pinterest! If you have remaining questions about visiting Cenote Samula, make sure to ask in the comments below!
Thank you so much for reading.