Want to see what all the fuss is about with these famous Cancun caves? The caves are cenotes (unsure what Cenote is? Check out our full post with everything you need to know about Cenotes here.
One of the best Cancun adventures to consider is a cenote tour.
The Ik Kil Cenote is one of the most popular cenotes in the entire region, but what many people don't realize is that Cenote Ik Kil is not the only one of its kind. There are actually hundreds of cenotes Yucatan vacations allow you to visit.
To help clear up common confusion – Yucatan is a state in Mexico within but not making up the entire Yucatan Peninsula. Cancun is in the Yucatan Peninsula, but not actually the state of Yucatan.
What to Pack?: Before you head off to Cancun, make sure you read my Cancun Packing List guide so you know what essentials you need to enjoy your tropical paradise.
Cenote Ik Kil (the Chichen Itza Cenote)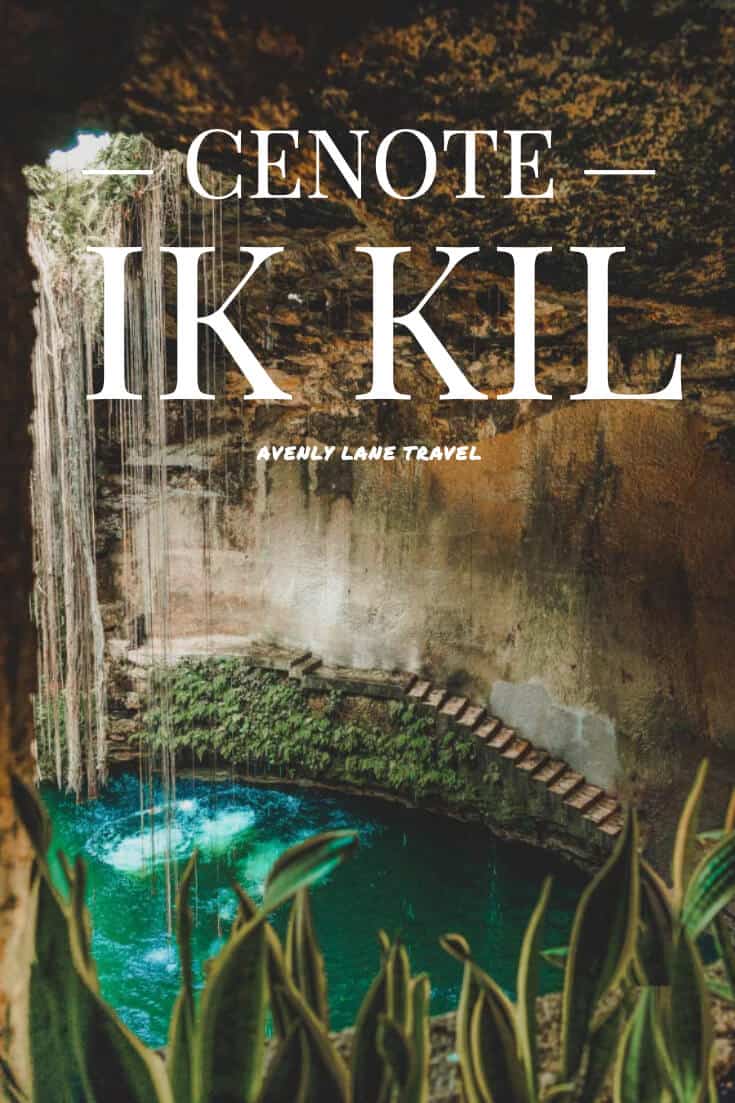 Cenote Ik Kil is an awesome example of what cenotes have to offer, gorgeous rock formations, fresh natural water for swimming and diving, and a great place to learn a little bit more about Mayan history.
Ik Kil Cenote Location
The main reason that Cenote Ik Kil is more famous that many others is because of its location. It is located right next to Chichen Itza, the most popular Cancun ruins.
For people visiting Chichen Itza, a stop at Ik Kil will not take them out of the way at all. If you buy a Chichen Itza tour it is likely to include a stop at Ik Kil. This happens so often that people will call Ik Kil the Chichen Itza Cenote.
Chichen Itza and Ik Kil are located about two and a half hours west of the Cancun resort area. The drive is incredibly easy, and one that I recommend people do in a rental car – read why. One fyi though, if you do this drive beware that there is a toll on the highway that will cost you about 275 pesos (approximately $15).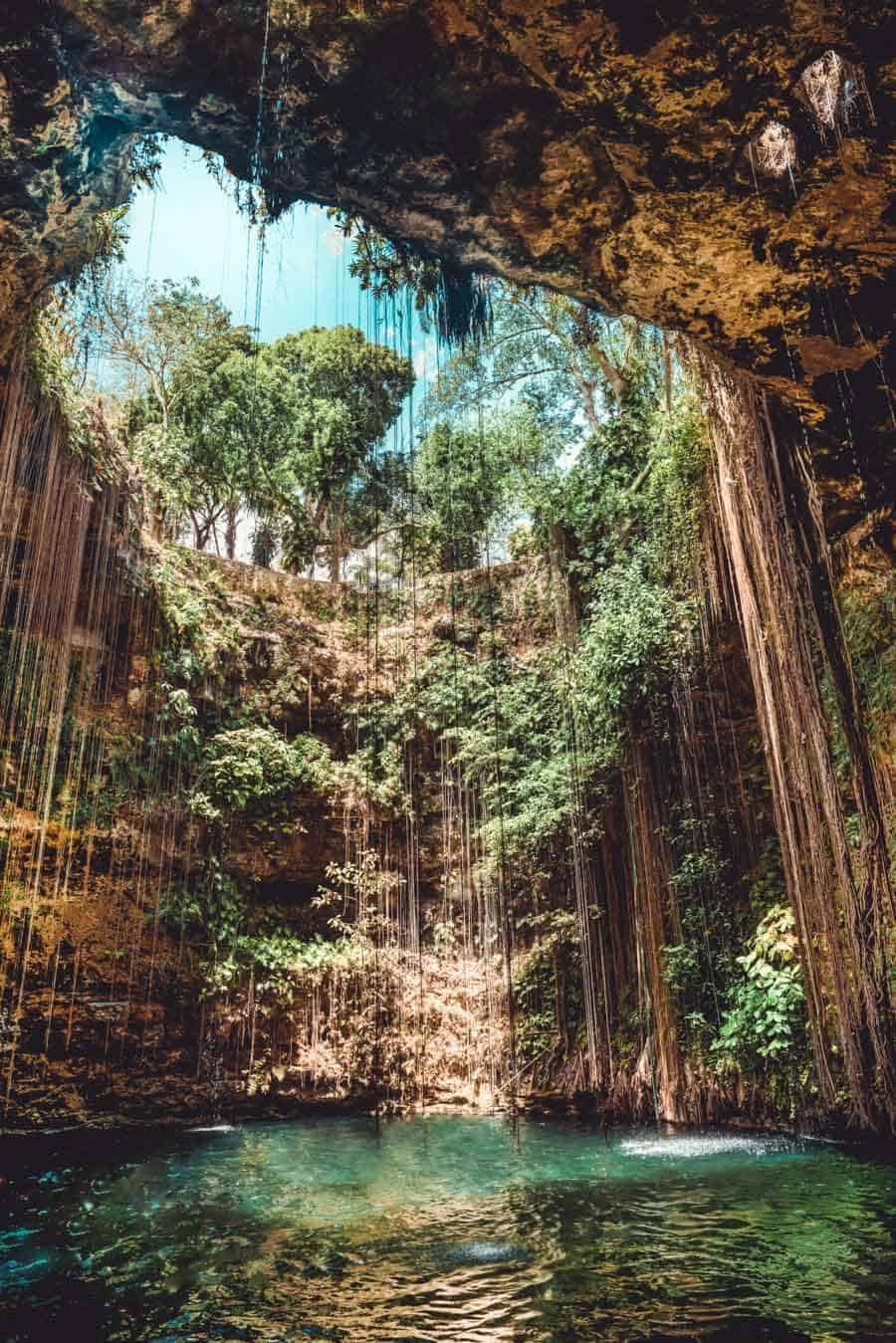 What to Expect On a Ik Kil Cenote Tour
A cenote tour shouldn't involve you following a guide around (though some cenotes offer them).
You pay to be admitted into the park at the front and walk yourself in and down the steps to the water.
There are changing rooms to change in, and towels for rent if needed.
Small waterfalls running into the cool blue water create the perfect setting. Vines running over the edges and down into the water only add to the ambiance.
Cliff jumping/Cliff Jumping – there are a number of platforms built into the side of the cenote that people line up to jump off of. The platforms are high enough to give you a rush, but not so high that your feet hurt when you hit the water.
Top rated cenote tours in Mexico
If you don't want to drive around Mexico yourself, there is an option for a fully guided cenote tour, including a professional guide, and lunch! Most of the tours offer pickup from your hotel lobby. I have linked the top-rated tours below.
Book your tour: Cancún/Riviera Maya: Chichén Itzá, Valladolid & Cenote Tour
Book your tour: Cancun: Chichen Itza, Ik Kil Cenote, & Valladolid with Lunch
The worst thing about Cenote Ik Kil
The worst thing about Cenote Ik Kil is that due to its incredibly convenient location, it attracts a lot of people. Many tour buses stop by bringing in crowds of people. Even though the cenote is one of the biggest, the buses full of people fill it up quick.
Of the eight cenotes we went to on our last Cancun excursions, Ik Kil was by far the most crowded. We had to wait our turn to jump off the cliffs, and even to get in and out of the water.
Even with the crowds it was still big enough to swim around and enjoy the water though. If you are looking for pictures without tons of people in the background, it is going to be incredibly hard to get them at this cenote.
Hours of Cenote Ik Kil
The cenote is open from 9:00 am to 5:00 pm (some cenotes are open later if you are looking to go to one after Chichen Itza closes).
Cenote Ik Kil Entrance Fee
It only costs 80 pesos (about $4.25 USD) to get in, so even if you don't stay long it is worth a quick drop in.
If you want to avoid the crowds, where should you go instead?
In the same area a couple of our favorite cenotes that can also provide awesome experiences are…
Cenote Zaci – This open air cenote looks very similar to Ik Kil; it is just a little bit smaller, but is often nearly empty.
Cenote Suytun – About 20 minutes out of the way on your drive to Chichen Itza, but this cave cenote with manmade platform is Instagram famous for a reason!
Cenotes Samula and Xkeken – These cave cenotes are close to Chichen Itza, and are in the same park so you can get double action!
In my opinion Cenote Saamal is the closest match to Ik Kil with way less crowds. Read more about Cenote Saamal.
Have you been to Cenote Ik Kil?