Guide to visiting the Charley Young Beach in Maui
If you are in the Kihei area and looking for a beach, then I highly recommend Maui's Charley Young Beach. It is a great beach that doesn't get as crowded as some of the others in the Kihei area.
It likely doesn't get as crowded as other beaches because most of the beach backs immediately up to a row of million dollar homes. The row of homes requires you to walk onto the beach from either end, which apparently deters most people.
The beach is perfect for its wide sand and shallow waters. There are even reefs for snorkeling and tidepools that are perfect for kids to swim in.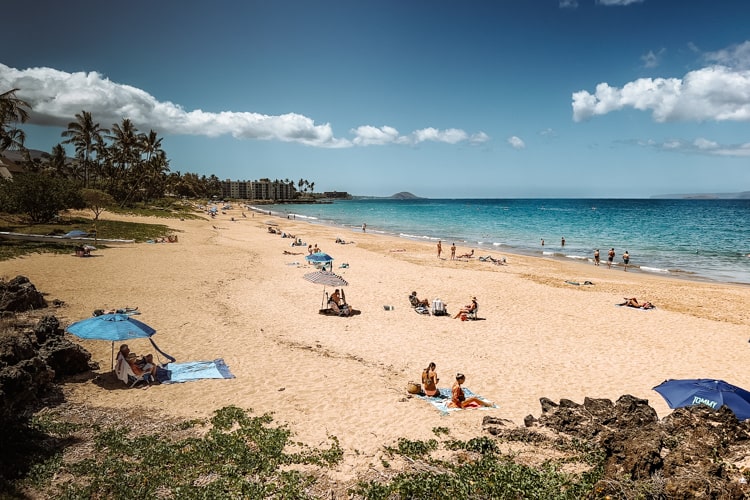 Quick Facts
Other Names: Charley Young Beach, Kamaole Beach 1 (immediately next to)
Best known for: wide sand, shallow waters, and kid friendly tide pools
Day and time I visited: saturday afternoon
Facilities: porta-potties and showers
Lifeguard: No
Cost: Free
Parking: limited, but full lot only 1 block away
Open from: 7 am to 8 pm
Location: Charley Young Beach Maui Map
Charley Young beach is on the south side of the island in the Kihei area of Maui, almost directly next to downtown Kihei. It also borders Kamaole Beach Park 1.
If you are coming from the Maui Airport the drive will take you about 25 minutes.
What to Expect
There are a number of beaches in the Kihei area of Maui, but this one has some features that make it slightly different from others.
For details on the exact conditions make sure to check our the Charley Young Beach Cam here.
Charley Young Beach Snorkeling Areas
At the end of the beach there is a rocky area with reefs that are decent for snorkeling. It's not the best snorkeling on the island, but you can still see some great aquatic life.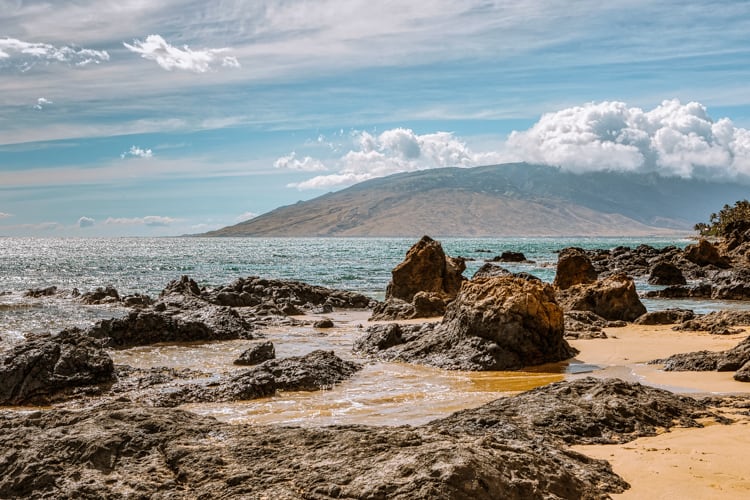 Charley Young Beach looking towards the West Maui Mountains
Kid Friendly Tide Pools
Looking for a spot for the little ones to swim without having to worry about them get sucked out to sea? This beach features some rocks that form some tide pools that are perfect for kids to swim in.
Sidewalk Along the Beach
There is a sidewalk that follows along the beach if you simply want to go for a stroll without your feet getting sandy.
Parking
There are only a couple of parking spots directly at the beach entrance, but if you are willing to walk 1 block to the highway there is a full parking lot that will likely have space. I visited on a Saturday afternoon and the lot was only ¾ full.
Another perk is that the parking was free!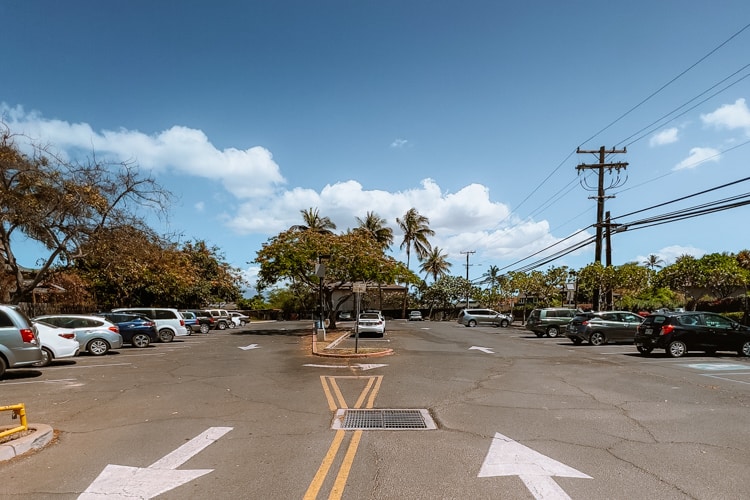 Charley Young Beach Parking lot
Trees for Shade
While it doesn't sound that unique, another perk of this beach is that there are a number of Ironwood trees lining the shore. They provide shade when you need a break from the intense sun.
Negatives
There are only really two ways to access the beach, and they are the entrances at either end. This means that you likely will have to walk further down the sand to get space away from crowds of people.
There aren't full restrooms, only porta potties.
Nearby Attractions
The closest attraction is downtown Kihei, which is perfect if you are looking to find a quick place for lunch or even go through various shops.
The beach also borders Kamaole Beach Park 1 as well as being really close to Cove Beach Park on the other end. If you want to drive further down the south side of the island you can get to the famous Makena State Park and then a completely underrated hike in the Hoapili Trail.
Final Thoughts on the Charley Young Beach
I think this is one of the best beaches in the Kihei area. All around, if I had to choose one that checked a lot of boxes and was easy to access, I would happily return here.
What to Pack for Maui