Kalama Beach Park Maui: A very large park with a very small beach
Looking for an all actual beach park and not just a beach that claims to include a park because it has a strip of grass?
Kalama Park offers a ton more than most of the other Maui beaches. Looking for a jog along the ocean?
Kids have extra energy that they want to get out on a jungle gym?
A table to have a picnic on?
How about hiring someone to give you your first surfing lesson?
All of those and more are available at this wonderful Maui beach.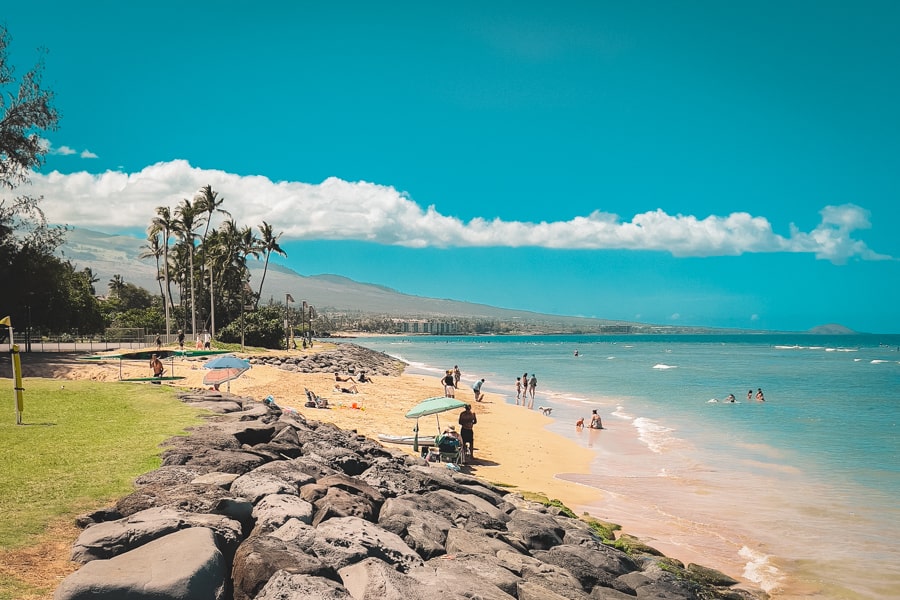 Kalama Beach Park Quick Tips
Other names: Kalama Park Maui, Kalama Beach, basically connected to Cove Beach Park
Best for: Diversity of offerings – beautiful beach, surf lessons, jogging paths, kids jungle gyms, etc
Day & time I visited: Weekend (not overly crowded)
Facilities: Bathrooms and Showers
Lifeguard: No
Cost: Free
Parking: Large Parking Lot
Open From: 7 am to 8 pm
What to Expect at Kalama Park
This beach offers a lot more than most of the others on Maui. Kalama Park is the perfect spot for an afternoon escape because there are all kinds of things to do besides the most obvious of sunning in the sand or swimming in the surf.
Surfing at Kalama Beach Park
Surf Lessons were offered out of trucks in the parking lot.
While it didn't appear to be an official offering, there were a number of surf vendors offering lessons in the lot parking lot. They pulled up in box trucks stuffed with surf boards and offered their services. The waves seemed to be perfect for first timers.
If you are looking for more "official" surfing lessons you can guarantee and book in advance, I highly recommend these surf lessons at Kalama Beach Park.
This 2-hour surfing lesson is a fun and easy, stress-free way to learn how to surf. Private lessons, semi-private, and group lessons are available at varying times throughout the day. All equipment is included.
Click here to check availability and reserve your spot.
Check availability for professional surf lessons below!
Picnic Tables
If you don't want to eat spread out in the sand you can lay out a blanket in the grass, or eat at one of the many picnic tables in the park. Even though it was a busy weekend in Maui in general, there were still plenty of tables available.
Jogging Trails
It's not the longest trail, but I would have no problem looping along this paved trail that hugs the shore. The waves (and probably my adjustment to sea level made my runs feel extra refreshing).
Jungle Gym
Kids have extra energy? There is a shaded playground where you can let the kids get their energy out. Yes, there are also swings!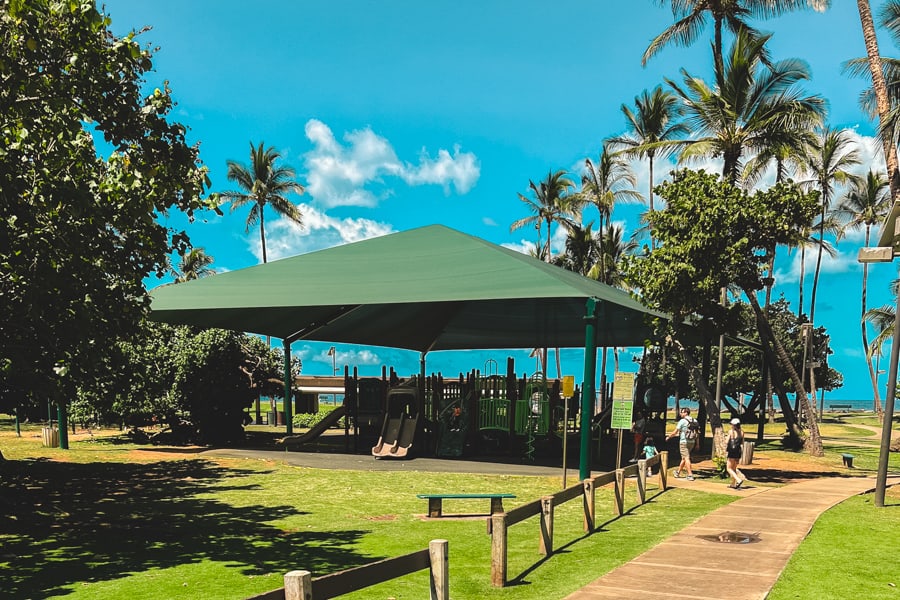 Restrooms and Showers
This isn't one of the beaches where you will have to hold it or end up going in the ocean (admit it, you've done it). It has showers to get the sand off, or to help you quickly clean up before walking into Kihei to explore the shops or a restaurant.
Rocks and Reefs that allow snorkeling
I didn't snorkel here, but there are rocks and small reefs that others were snorkeling at. While this isn't a well-known snorkeling spot if you are already at the park for other reasons then why not bust out the fins and snorkel to see what you can find under the water.
Sand Volleyball
Warning, the groups I saw playing here all looking much better than I am. While I wanted to jump in my lack of talent caused me to refrain.
Skate Park
Though it was closed when I was there, there was even a skate park for those who couldn't resist bringing their skateboard with them!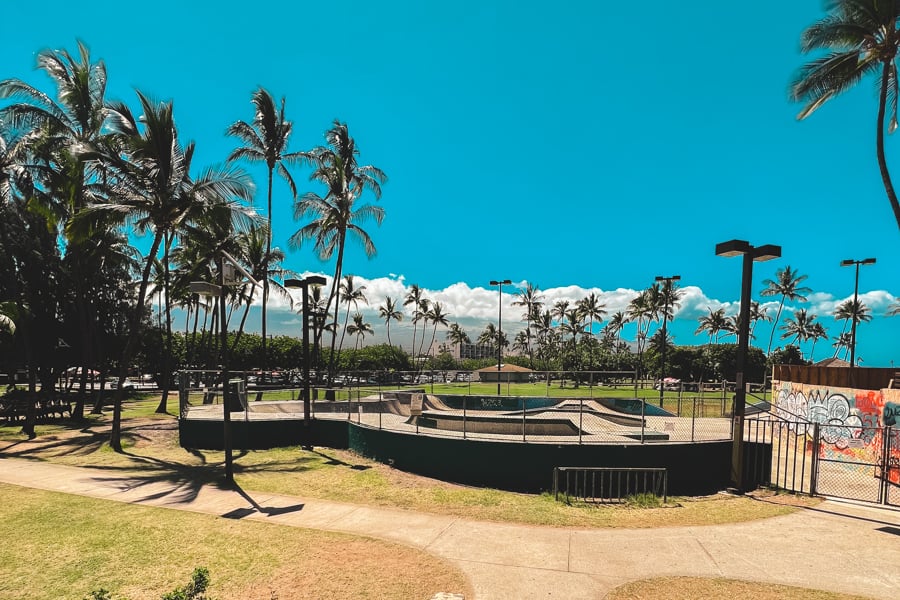 Kalama skate park
Baseball Fields
I can't imagine many visitors end up playing baseball here. The fields show that locals use this park for their little league games.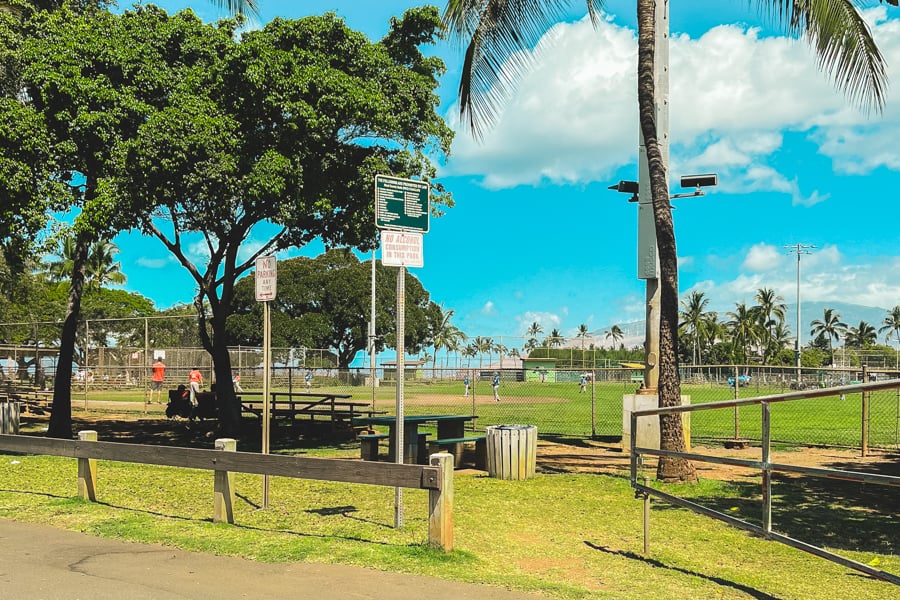 Fishing
There were a few people fishing off the rocks in this park. Some areas of the park have rocks going all the way out to the ocean while others have wide bars of sand.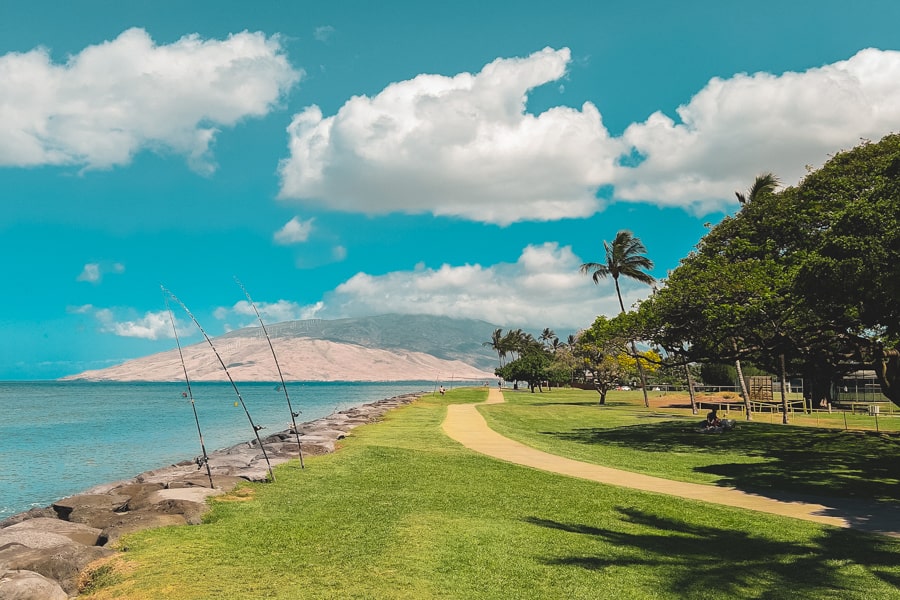 Location
This fabulous all around beach is located on the south side of the island of Maui. It is right next to the town of Kihei. This is one of the more popular (and more affordable) resort areas on the island, so this might be a beach that is in walking distance for you!
It is an easy drive from the airport, and only takes about 25 minutes.
Other Area Attractions
While in the area there are other things worth seeing. There are similar beach parks, but I recommend driving on to my favorite snorkel spot in Makena Cove or all the way south to the Hoapili Trail that leaves from La Perouse Bay to give you a completely different feel for Maui.
Parking
My biggest complaint on many beaches is that there isn't enough parking, or it is really expensive. That is not the case here as there was plenty of parking, and it was free. Even with little league baseball games going on, there were still a few spots in the lot over the weekend.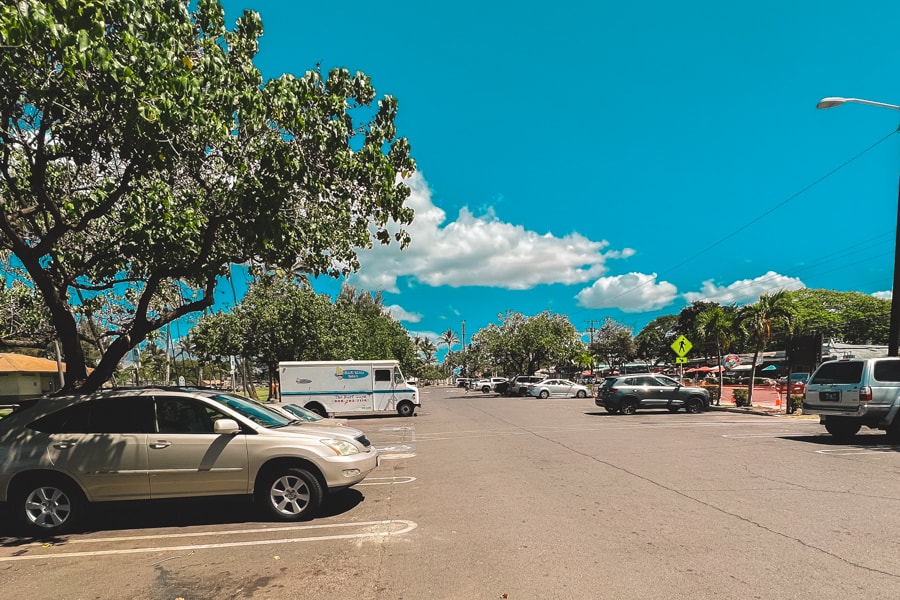 Kalama Park Maui is a Real Park
There is more to do at Kalama Park of Maui than just lounge on the beach. If you are looking for additional distractions and are in the Kihea area, this beach is worth a stop!
What to Pack for Maui