Are you a native English speaker? Are you looking for a way to live in a specific foreign country? For a summer? For a year? Permanently?
Are you looking for a cheap way to fund an international vacation?
Do you want a rewarding job? Are you looking to earn college credit? Are you looking to build your resume for grad school? Are you looking for an opportunity to master a language?
If you answered yes to any of these questions, teaching English abroad may be the choice for you! Surprisingly, teaching abroad can be quite simple and doable.
How to Get a Job Teaching English Overseas
You may not realize it, but speaking English is an incredibly marketable skill. English is affectionately called the language of money, and simply by being a native speaker, your skills are already in high demand worldwide.
International business is frequently conducted in the English language, so non-native English speaking countries are highly motivated to have everyone (from children to high level employees) learn English to ultimately help their country participate on a global scale. This is where you come in; as a native English speaker you can meet this demand by simply showing up and teaching English.
You may be concerned because you have no formal training on how to teach English, but worry not because demand definitely outstrips those with educational credentials. Depending upon your availability and desire, your English skills can easily be parleyed into a cheap way to see the world, a decent paying job, or even college credit.
There is a ton of information on teaching English out there, and knowing where to begin your search can be overwhelming because opportunities and requirements vary significantly depending on where you want to go and how long you want to stay. Also, you need to be careful because some organizations operate illegally or are quite shady.
Disclosure – This post contains affiliate links. If you purchase an item through my link I will earn a small commission. You will not pay more when buying a product through my link, in fact, you will save money. Thank you so much for all your support.
The most common questions are answered below…
Do you need a college degree to teach English Abroad?
The answer is sometimes, but not always. For the best paying jobs the answer is yes, but opportunities are still available for those without degrees. If you want to go to a more developed country with a high paying permanent position, then you will likely need a degree, but there are still countries that will give you a job without. Generally, these countries are going to be less developed.
Having a degree (even if in jazz tambourines) will open a lot of doors around the world.
What is TEFL certification? Do you need it?
A TEFL (Teaching English as a Foreign Language) certification is a world-wide program to help prepare English speakers to teach the language to non-native speakers. There are a ton of different courses available. Some are classroom based while others are online, and some are expensive while others are cheap. The length of the program also varies; the most common course employers look for (when required) is a 120 hour certification.
Some employers require a TEFL certification to hire a teacher, while others don't. Some countries require a TEFL certification, but do not require their teachers to have a degree. This is another thing that Nomadic Matt's e-book discusses in greater detail.
Don't get scammed!
Beware, there are a lot of TEFL programs that claim that a certificate is REQUIRED for all international positions. This is not true! Make sure you research the requirements of the country you would like to end up in, and you only pay for a course if the company is ACCREDITED, your targeted country requires it, you want to build confidence in your abilities as a teacher, or you are looking for help with job placement.
I recommend MYTEFL. They are an accredited company offering a quality product as well as, (the part I think is most important) help with job placement. The have a discount link on my page that can save you a bunch (type in the code LANE35 at check out to get 35% off the course), but I recommend shopping around and checking reviews on some of the others to make sure this program works for you. MyTEFL is a great program, but definitely not the only quality one out there.
While you may be able to get a job without the TEFL certification, having the certification will give you confidence and skills as an English teacher, and increase your chances of landing the job you want.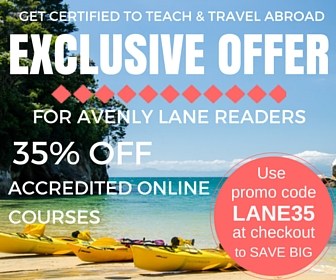 How can I volunteer to see the world, but on a tight budget?
Volunteering as an English teacher is one of the best ways to experience the world! Not only is it rewarding to be a volunteer, but it can be done in a surprisingly affordable manner (typically degrees and TEFL are not required).
Volunteering can be a phenomenal way to make international travel much less daunting as the volunteer organizations often provide airfare, accommodations, meals, transportation to and from the airport in one fixed fee, and you will be teamed up with other like-minded English speakers in areas of need.
If you have time (typically at least 6 weeks, but usually around 3 to 4 months) you can teach English as a means to be temporarily placed in a foreign country, often lining up perfectly with college semester breaks.
I have had 6 friends volunteer through ILP (ilp.org), and confirm it is an excellent organization with programs located in many countries around the world. The total cost for 3 months in a foreign country is only about 2500, including airfare!
Go from a volunteer to getting paid.
Also, through ILP it is very easy to ultimately get a paid position. First year volunteers pay their own way, but ILP (and other similar organizations) are always looking for people experienced with the program to come back for a paid position. While the money isn't great, it can be a cheap way to fund international travel.
One more benefit of ILP is that they often allow flexible scheduling for exploring. One of my best friends was able to canvas a lot of China on weekends in the middle of her volunteer program. Get a job teaching English overseas
You might also be interested in:
How do you get college credit?
The number one complaint I hear about college is that it doesn't provide enough real world skills. All the time people say that the skills they learn in the real world were simply not taught in college. Benefits from cultural immersion aside, volunteering abroad is the perfect way to gain real world skills, and frequently your university will agree. Would you rather get all of your credits sitting in a classroom, or would you prefer to get some credits teaching English in an exotic country?
Typically you can't get college credit if you were paid, but you can if you volunteer, so make sure you go through proper procedures before you leave. The most important thing is to meet with your university's career counselor/academic adviser.
University requirements vary, but typically you need to provide the organization you will be working with, their mission statement and basic program details, who you will be teaching, and a syllabus of coursework. After you've provided this, the university will review and let you know which credits you can count your time towards.
Many volunteer organizations have experience working with academic advisers, so search for an organization that can help "sell" what they do to help you qualify for as many credits as possible.
Again, ILP is a credible organization that regularly works with university academic advisers to get their volunteers college credit.
How do I find a job teaching English overseas?
The best way to find a job depends on the country you want to end up in.
For example, if you want to go to Thailand, there is a very specific job site here that works best for Thailand. Check it out here.
There are some pretty general job sites that have information based on each country, but they are more effective for some countries than others. The websites below are a good place to start, but some of them can get pretty "salesy", so be sure to do your research.
Some organizations are sketchy, or down right criminal. Make sure to do your research and know what you are getting yourself in to. A TEFL organization can be a great place to have the validity of jobs tested.
Word of mouth is huge in finding international jobs! Do you have any friends who have taught? How did they get hooked up with their jobs? Do they have any friends that they could introduce you to?
FINAL TIPS
Plan ahead for college credit! Do not be one of the people who doesn't get college credit for a trip that you could have simply by working with your university ahead of time (unfortunately this was my husband – posts on our teaching English experiences coming soon).
Do your research! Always check reviews and talk to previous program participants and teachers. If an organization will not connect you to these individuals, this is a huge red flag!
You do NOT want to end up in a foreign country waiting for someone to pick you up, only to find out that some rogue organization took your money and ran, leaving you abandoned.
Once again, if you want a lot more detailed information I recommend buying Nomadic Matt's e-book for a country by country requirements breakdown, interviews and contact info of previous teachers, and the best places to look for jobs in each country.
Do your TEFL research, and choose one with career placement unless you already have a job. If you aren't confident in your abilities to teach foreigners English, then you may want to investigate a TEFL program, even if not required in the job you are looking to get.
Don't forget to check visa requirements, or make sure your organization addresses them for you! Please do not get deported.
Go Abroad! There are so many experiences that you simply can't have at home, or even on a quick vacation.
I hope you guys enjoy these travel tips! Thank you so much for reading.