You do not have to look very hard to find waterfalls in Iceland. They are literally everywhere; while driving around the island we unexpectedly ran into amazing waterfalls we didn't even know were going to be there!
The Best Waterfalls in Iceland
Why are there so many waterfalls in Iceland?
A perfect storm of geography make Iceland the ideal site for the creation of waterfalls. Some of these include melting glaciers, mountains, volcanic rock, and minimal plant life. One really unique feature that can cause new waterfalls to temporarily form are the bursts of rain and snow. (We were there in November/December and it rained or snowed at least part of each day)
The weather is truly crazy in Iceland, one minute it will be sunny, the next minute you will be caught in a blizzard! This and other elements help create some of the world's best waterfalls, and when summer hits and the glaciers start to melt, they get even better.
This post separates the waterfalls into regions North, South Coast, West, and the Westfjords (a large peninsula in the northwest part of the island). It is important to note that when most people go to Iceland, they spend most of their time in the southwest. (Our post on the top 10 spots to visit in Iceland are all located in the southwest).
Some of the places in this region are Blue Lagoon, Vik, some popular ice caves, a ton of national parks, Reyjkavik, and the international airport. You can check out that post here.
Let me know which Iceland waterfalls you have been to, or want to go to in the comments below!
What to Pack for Iceland
What to Pack? Before traveling to Iceland, make sure to read my Iceland Packing List guide so you so that you are prepared for the unique elements this nation has to offer.
Warm Fleece Jacket (without hood)
Fleece Hoodie This will be great for adding extra layers when needed.
Warm Winter Hat – Shop my favorite winter hats from Nordstrom. I also really like this one here, it comes in a ton of different color options.
Fleece lined leggings – These fleece lined leggings were AMAZING to have on this trip. Not just warm, but so comfy and affordable! (You will thank me for these ;)
Warm scarf – I always like to bring a couple scarves for photos.
Touch screen gloves – There is nothing more annoying than having to continually take off your gloves so that you can use your phone to take pictures or videos, especially in the freezing cold. It's because of that that these touch screen gloves are my favorite. These are also an awesome choice. They will work with the iPhones, Android phones and iPad and are wind proof.
Warm socks – I have been loving these Heat Holder socks.
Where to Stay in Iceland (Reykjavik)
We stayed 4 nights in Reykjavik and it was the perfect location for us. We ended up staying at the Reykjavik Lights Hotel all 4 nights and it ended up being the perfect location. We stayed there all 4 mights. We loved it.
The hotel we rented was located in the Reykjavik city center. One of the top things we were looking for – location is everything!
The prices weren't bad but we were there in December, maybe the prices go up in the summer? It was about $100 a night. They offer an incredible and completely free buffet breakfast and wifi (Free wifi is a must!). The breakfast was REALLY good! Book or check current prices for the hotel here.
The Best Waterfalls in Iceland by Region:
Best Waterfalls in North Iceland
Godafoss Waterfall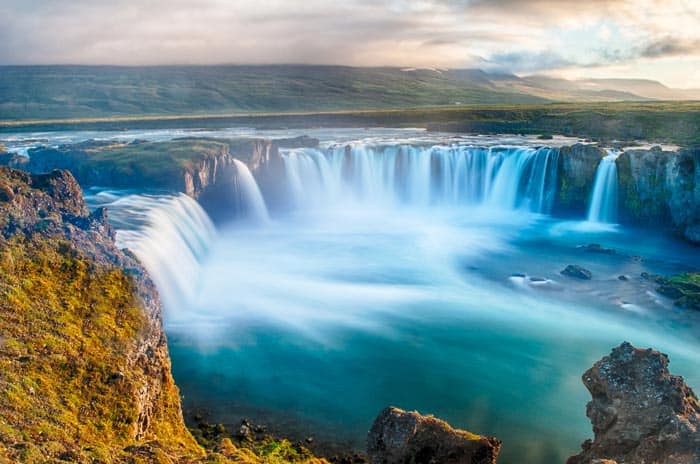 Godafoss, pronounced "GO-thuh-foss" (Never would have guessed that one, but I found out I am terrible and pronouncing anything Icelandic) is a one of a kind Icelandic waterfall. It is located on the north side of the island not far from the Lake Myvatn and the ring road.
If you drive the ring road in Iceland (popular trip) this will be one of your must see stops. This horseshoe shaped waterfall comes in at over 98 feet wide (30 meters) and 39 feet high (12 meters).
Dettifoss Waterfall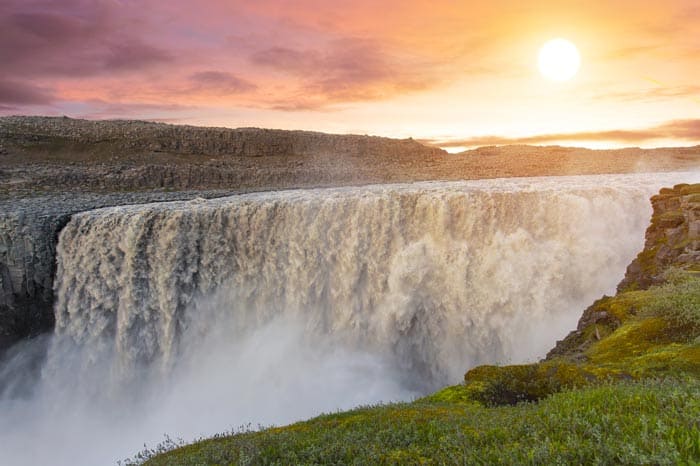 Dettifoss is located in Vatnajökull National Park in Northeast Iceland. It is the largest waterfall in Europe in terms of water flow, and is said to be the most powerful as well.
The falls drop 150 feet (45 meters) and are 330 feet wide (100 meters). The power of this waterfall not only comes from its size, but its water flow. Dettifoss squeezes through an incredible 4,400,400,000 gallons of water per day or, 3,059,436 gallons per minute!
If you don't want to rent a car you can book your tour here to see the amazing waterfalls like Dettifoss in Northern Iceland >> From Reykjavík: 4, 5, 6 or 7-Day Small-Group Ring Road Tour
Book your tour: Skaftafell: 5 Hour Glacier Hike Adventure
Selfoss Waterfall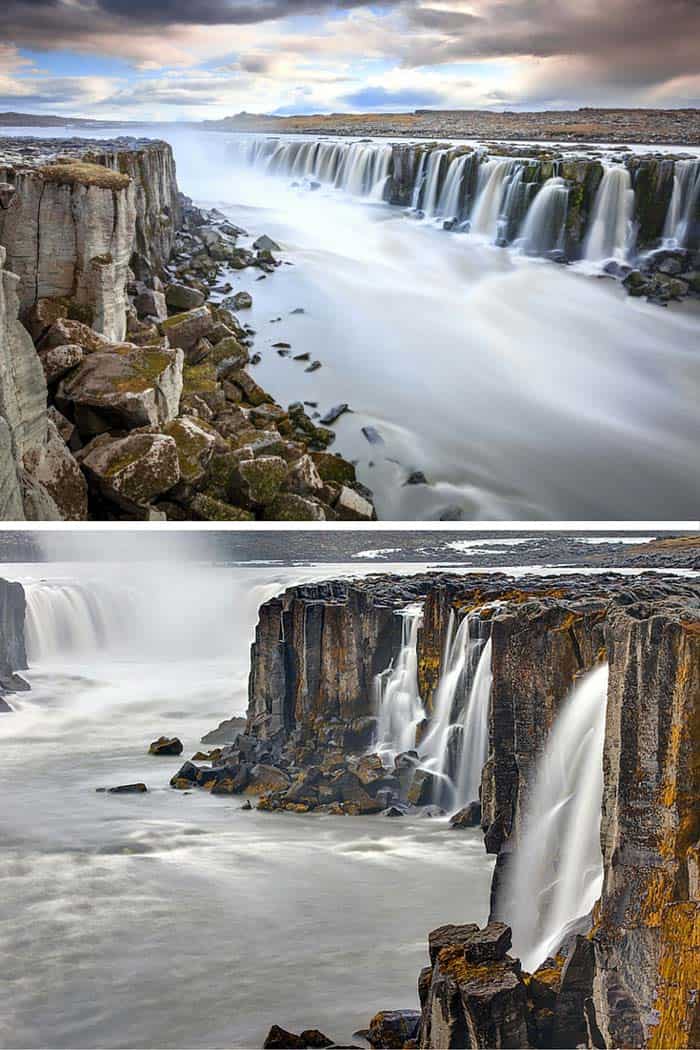 Selfoss waterfall is just upstream from Dettifoss. One of the things that makes this waterfall so spectacular is that it is not just a single waterfall, but a series of small waterfalls. These waterfalls are approximately 36 feet high (11 meters).
Hafragilsfoss Waterfall
The waterfall has a single drop of 89 feet (27 meters) and has an average width of 300 feet (91 meters). This incredible waterfall is often overlooked due to its proximity to Dettifoss and Selfoss.
Some people say this waterfall is less scenic than the others, but I have also heard that it is one you should not miss. I've found that overlooked places often end up being places that you should see the most.
Has anyone been to this waterfall? What did you think of it?
Aldeyjarfoss Waterfall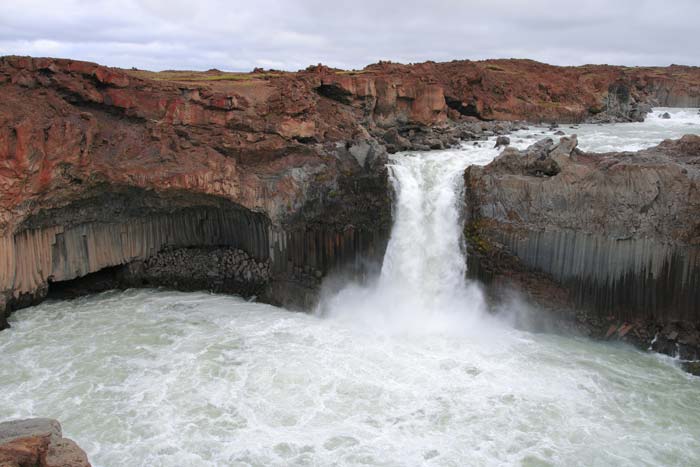 For travelers this waterfall is typically a bit out of the way, but what makes this waterfall truly unique are the tall basalt columns surrounding it. Like Godafoss, the Aldeyjarfoss waterfall is fed by the Vatnajökull glacier. The water flows into a narrow passage before dropping 65 feet (20 meters) into a wide basin.
Best Waterfalls on the South Coast Iceland
Seljalandsfoss Waterfall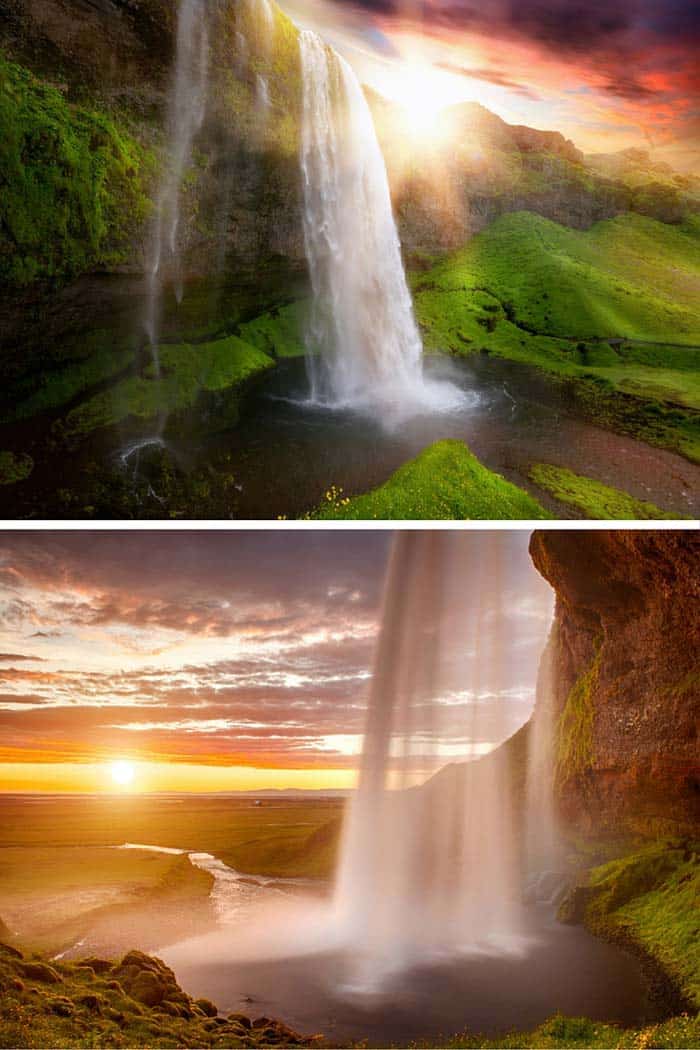 Seljalandsfoss waterfall of the river Seljalandsá, drops off of a 200 foot (60 meters) cliff into what used to be the coastline. While it is not the biggest waterfall on the list, it is amazing because there is a loop trail that allows you to go behind the waterfall. Pictures are possible from any angle! Warning – you may get wet.
The best tour for seeing this waterfall is the South of Iceland Full-Day Tour from Reykjavik. They offer free cancellation up until 24 hours before for a full refund. A few of the main stop are Skogafoss waterfalls, Vik, Black Sand Beach, and of course, Seljalandsfoss.
Skogafoss Waterfall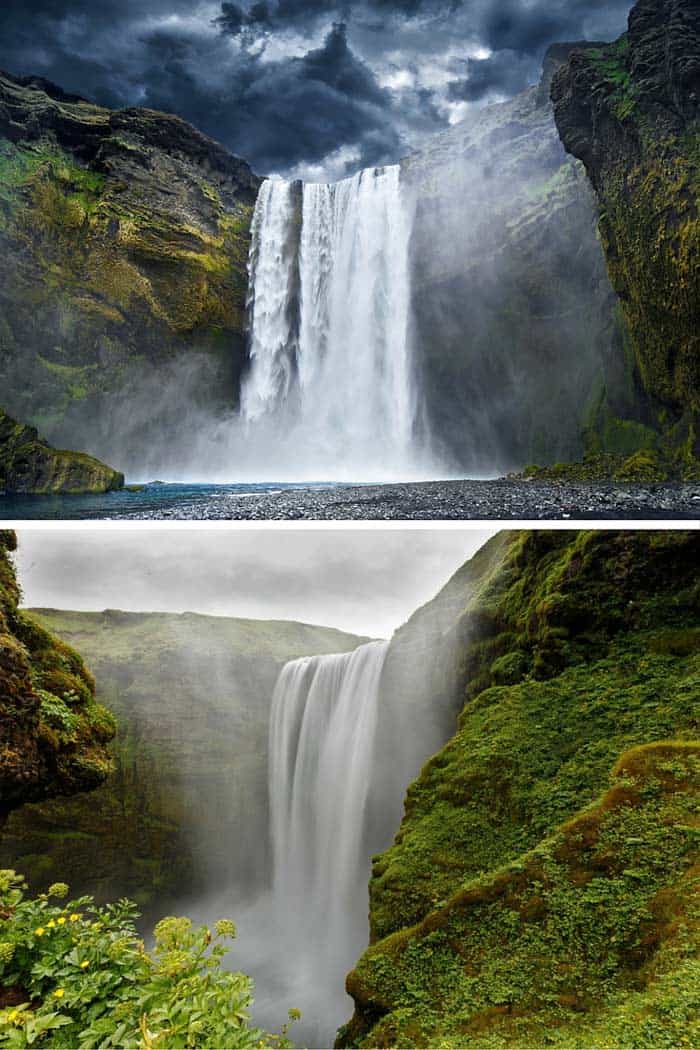 Photo: Gilad Rom / Flickr
The Skógafoss waterfall is one of the biggest and most popular in the country. It has a width of 82 feet (25 meters) and a drop of 200 feet (60 meters).
This waterfall produces a lot of mist, which often causes single or double rainbows on sunny days, and embarrassingly was a waterfall we happened upon rather than planned to see.
Haifoss Waterfall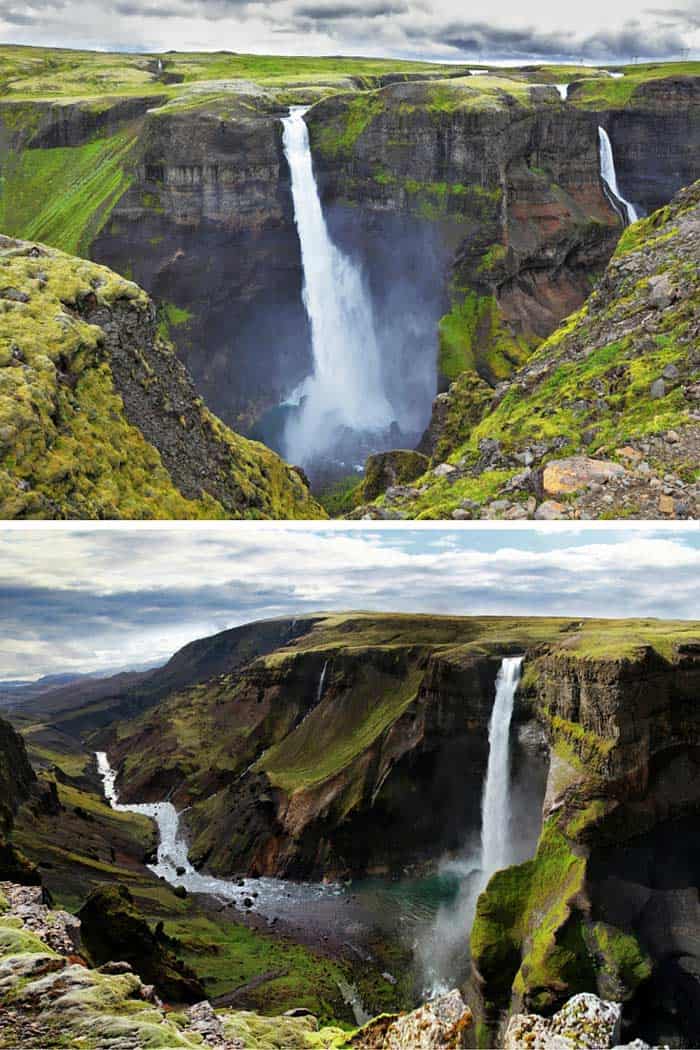 Háifoss plunges 400 feet (122 meters) over a cliff making it the second highest waterfall in Iceland (Glymur is tallest and also featured in this post). One feature that makes this waterfall unique besides its height is that it has a smaller waterfall named Granni immediately next to it.
Svartifoss Waterfall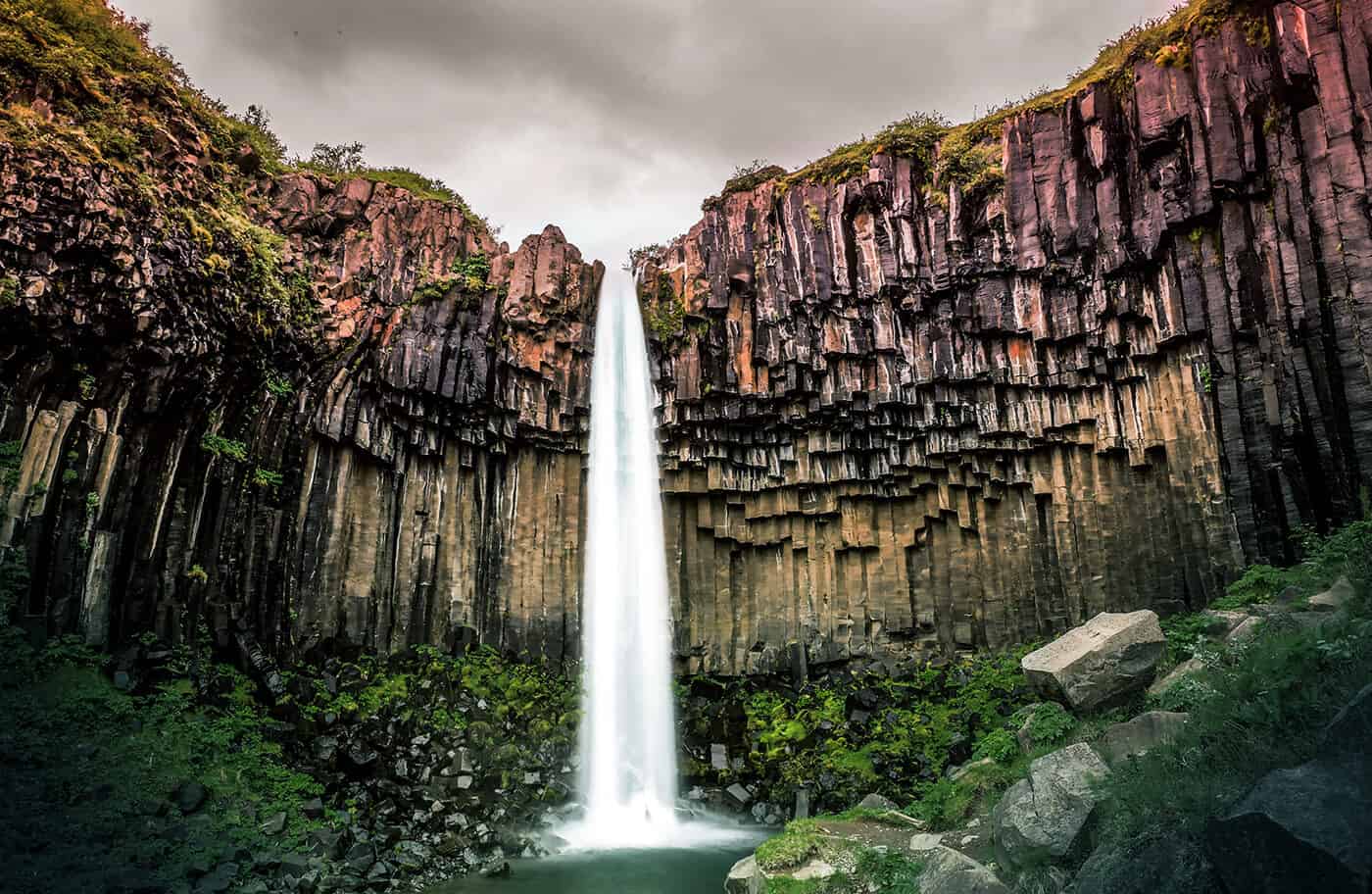 Svartifoss is a waterfall in Vatnajökull National Park in Iceland, and is one of the most popular sights in the park.
These basalt columns are formed by lava cooling slowly over time. Similar columns can be found in Gaint's Causeway in Northern Ireland. The columns also provided the inspiration for the Hallgrímskirkja church in Reykjavik Iceland (so beautiful, a must see). This waterfall is about 65 feet (20 meters) high.
Related Reading: Exploring Rekjavik, Iceland
Ofaerufoss Waterfall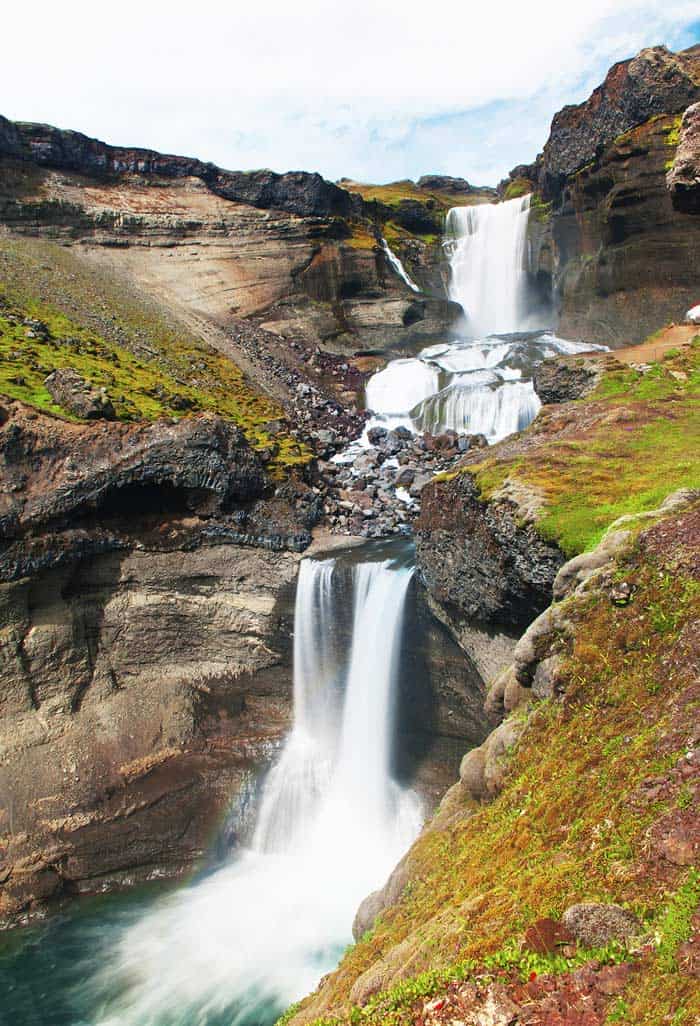 Located in southern Iceland, this beautiful multi-tiered waterfall once had a stone arch over the lower drop. Unfortunately it was destroyed in the 90's (likely from natural causes). Although the bridge is no longer there, this waterfall still makes the top of my list.
Gullfoss Waterfall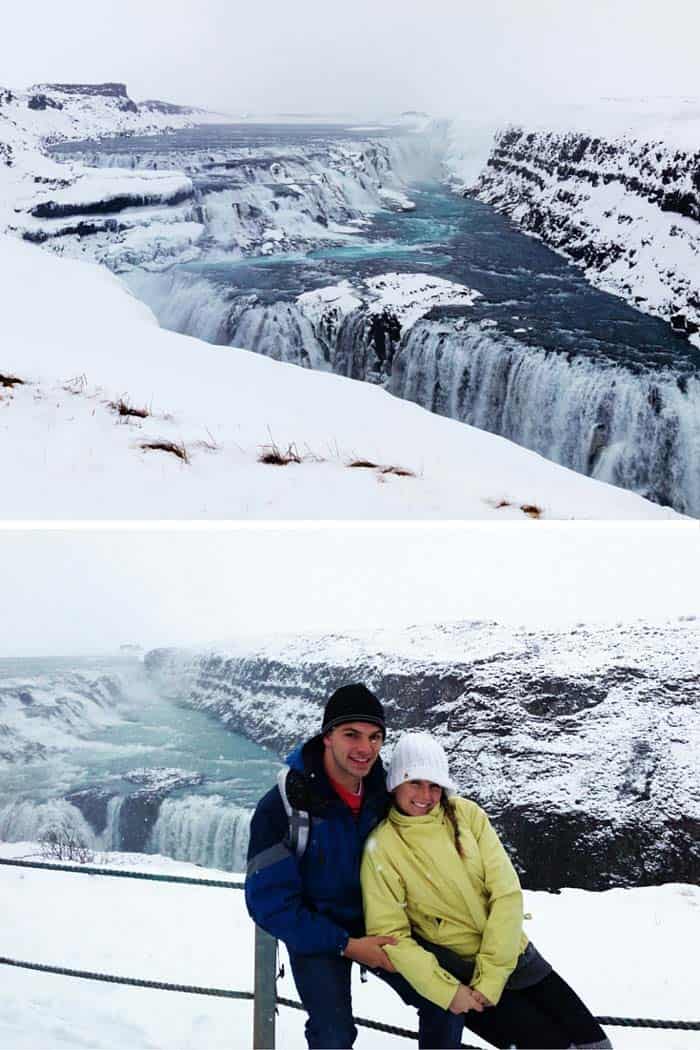 Gullfoss is deservedly Iceland's most famous waterfall. Photos cannot capture just how beautiful this waterfall is in person, or the endless roar it makes. In person, it is also a lot bigger than the pictures make it seem.
The water is glacier runoff that ultimately flows into the ocean. The average amount of water running over this waterfall nearly doubles in the summer, so imagine twice the volume you see in these pictures. In English, this waterfall means Golden Falls.
Book your tour to see Gullfoss Waterfall in Iceland here.
Read our picks for the Top 10 Things To Do In Iceland!
Hjalparfoss Waterfall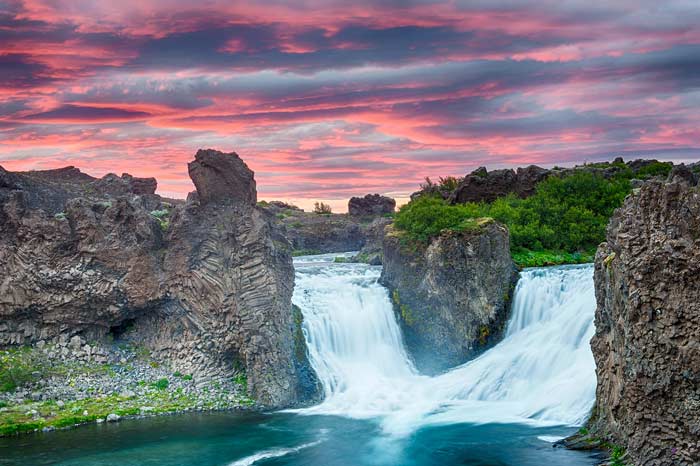 I love the double waterfall Hjalparfoss. The falls are located on the river Fossa, and are surrounded by beautiful basalt rocks. In English, Hjalparfoss means "helping falls." I have no idea what the naming of these falls were intended to help, but they help make an Icelandic vacation great.
West Iceland
Glymur Waterfall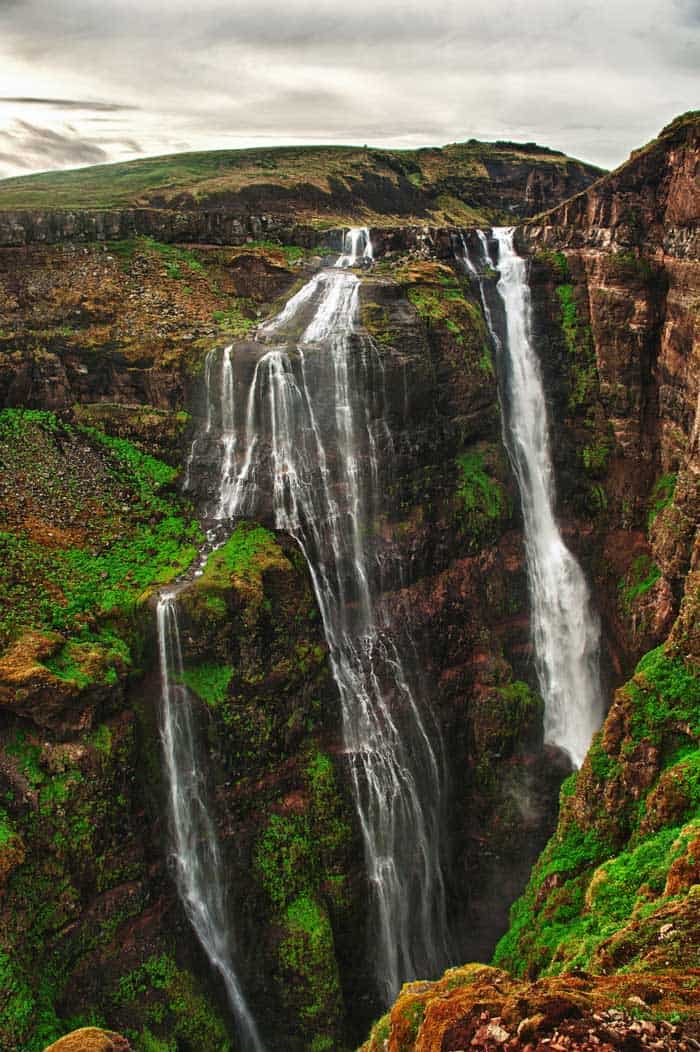 Glymur is Iceland's tallest waterfall coming in at 650 feet (198 meters). It is not visible from the road so you will need to hike there. The total hike up to the waterfall is about 3.5 hours, so make sure you are prepared. If you are staying in Reykjavik, the drive to Glymur is only an hour.
Kirkjufellsfoss Waterfall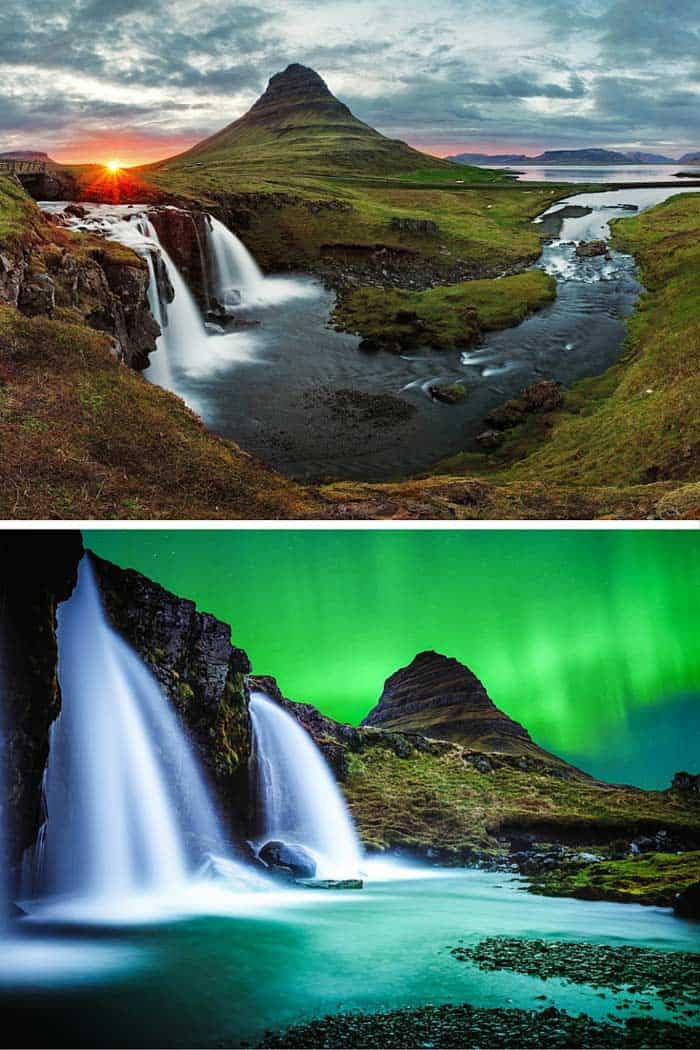 Photo: Andres / Flickr
Even though this waterfall is one that doesn't get seen by as many travelers, it is still worth the visit. It is easily accessible from the main road, and is also an amazing spot to see the Northern Lights and the famous Mount Kirkjufell.
Best Waterfalls in Westfjords Iceland
Dynjandi Waterfall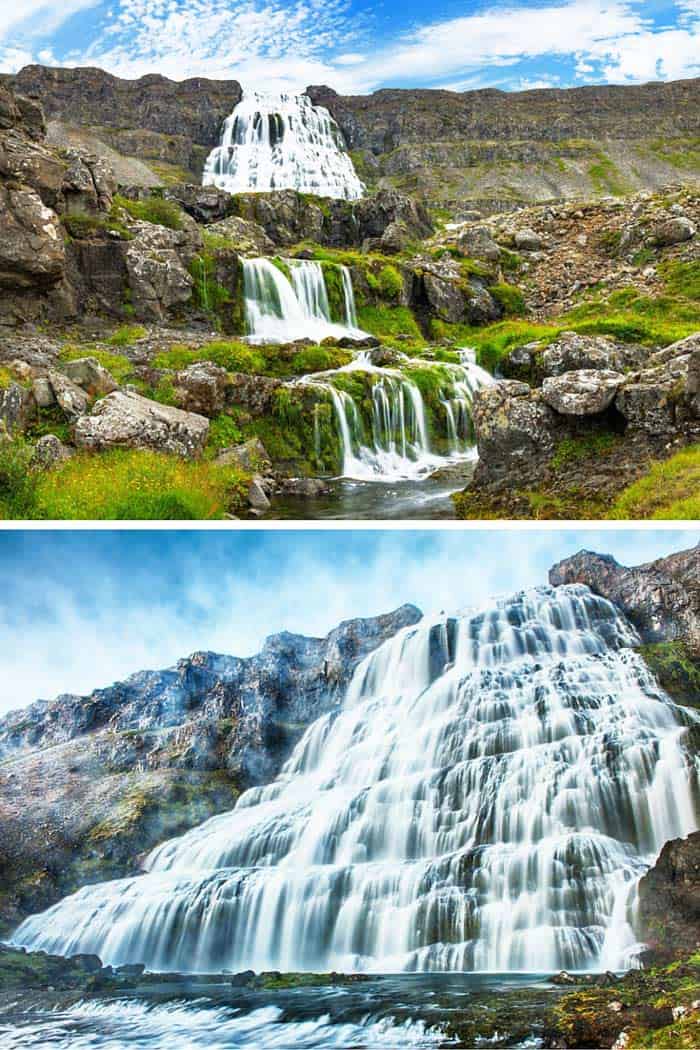 Dynjandi is the most famous waterfall of the Westfjords, and is one of the most beautiful waterfalls in all of Iceland. It is actually a cascade of waterfalls (7 of them) that make up a 300 foot (100 meter) drop total.
The top part of the waterfall is the one that is photographed the most and is said to be about 98 ft (30m) at the top and 196 ft (60 m) at the bottom.
The photos make it look a lot smaller than it actually is, but it is huge! I tried to find a photo with a person standing in front of it to show the size, but couldn't find a good one.
If you enjoyed this post don't forget to check out our most popular articles on Iceland