Halona Blowhole Lookout
Want to see the power of the Pacific Ocean rocket water 30 feet into the air? How about seeing this powerful display along with one of the most gorgeous views and beach coves on earth?
While in the area you might also be interested in exploring some of the famous lava tubes that Oahu offers. Make sure to include the Halona Blowhole Lookout on your next Oahu vacation.
Halona Name Meaning – "Lookout Blowhole Lookout"
First things first. I find it hilarious that Halona supposedly means "lookout." When you think about the Halona name meaning the result is a little silly.
Therefore, "Halona Blowhole Lookout" translates to the "Lookout Blowhole Lookout." Yes, it is a little redundant for us non-Hawaiian speakers.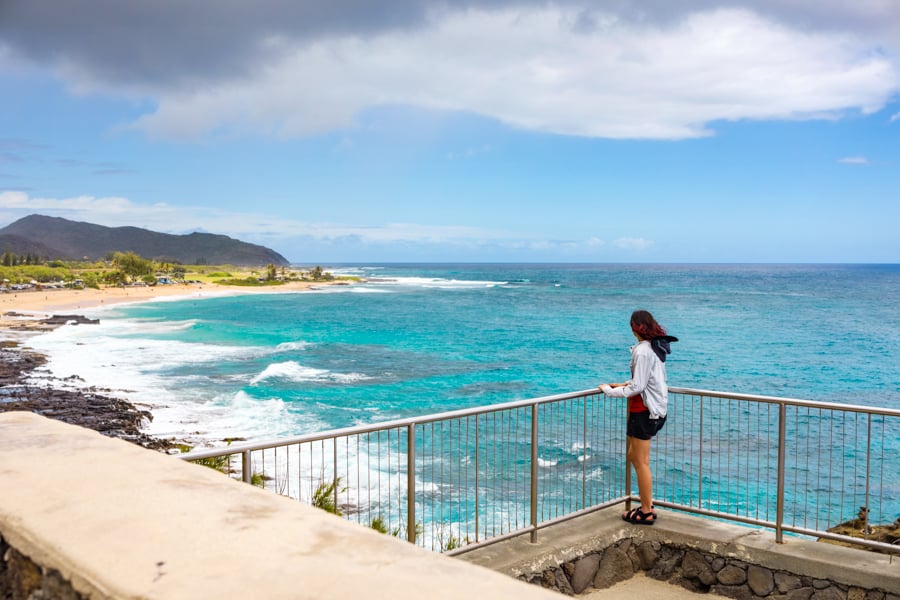 Halona Blowhole Map & Location
The Halona Blowhole Lookout is about 25 minutes from Waikiki on the east side of Oahu. Traffic can obviously slow the drive down, but even during rush hour it only added about 10 minutes to our total drive time.
This awesome attraction is really close to other famous Oahu hotspots that you are likely to visit. It is less than 2 miles away from Hanauma Bay – aka the most popular snorkeling spot ever.
It is also extremely close to my favorite Oahu hike, Koko Crater. While in the area make sure to save time for multiple stops.
The Actual Blowhole
The famous blowhole/water spurt is a result of Hawaii's volcanic activity. A few caves on the island include "Hawaii tubes" that create a perfect setup for waves to spray water straight up into the air.
It depends on conditions, but it is easy to see water shot straight through this cave/hole 30 feet in the air. As soon as I pulled into the parking lot I couldn't miss it!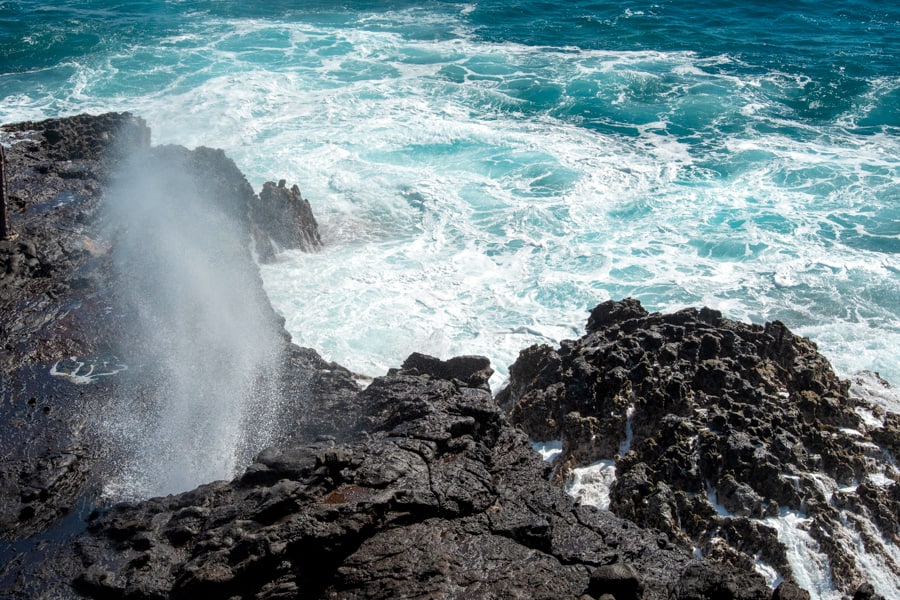 Halona Cove Beach (AKA Eternity beach)
Halona Cove Beach (AKA Eternity beach in Oahu) is easy to access from the lookout parking lot. You can see the path start from the side, and it only takes two minutes to get to the beach.
The waves in this area can be especially powerful, so be careful exploring. At a minimum you will want to make sure you have shoes on when you walk across the lava rock to get there.
So long as it is safe, this mini beach is awesome. We went later in the afternoon and shockingly had it to ourselves, though there were a few people looking down from the lookout.
Some people will snorkel here, but when I was there the waves were too violent for me to feel comfortable getting in the water.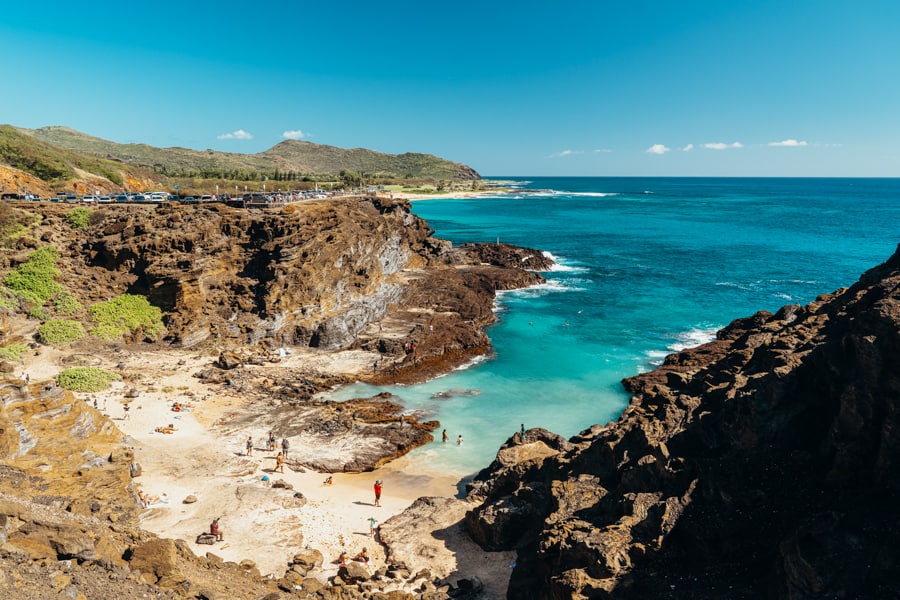 What is a Hawaii Tube?
The caves in Hawaii are completely unique. I'm no geologist, but I'll try to explain where the lava tubes Oahu offers come from.
A lava tube is the result of flowing lava. The lava on top cools off and hardens due to the exposure of the air. The lava underneath keeps flowing, which ultimately results in the underground tubes opening up.
Explore the Lava Tubes
The Halona Cove Beach is a perfect place to explore lava tubes. You can see how the lava previously flowed through these tunnels forming the lava rock.
Once again, the waters in this area can get extremely violent, so proceed with extreme caution, and pass if the waves are big.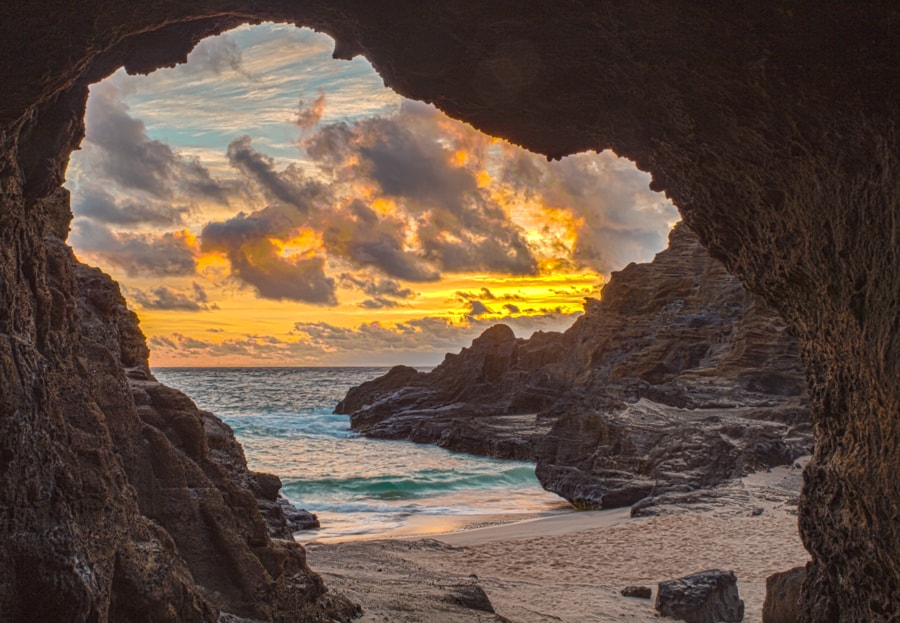 Halona Blowhole Lookout Parking
There is a dedicated parking lot that is free to access. Like a lot of places in Hawaii you might have to compete for a spot, but even if it is full you probably only have to wait for a couple minutes for one to open up because people tend to move on from here quickly.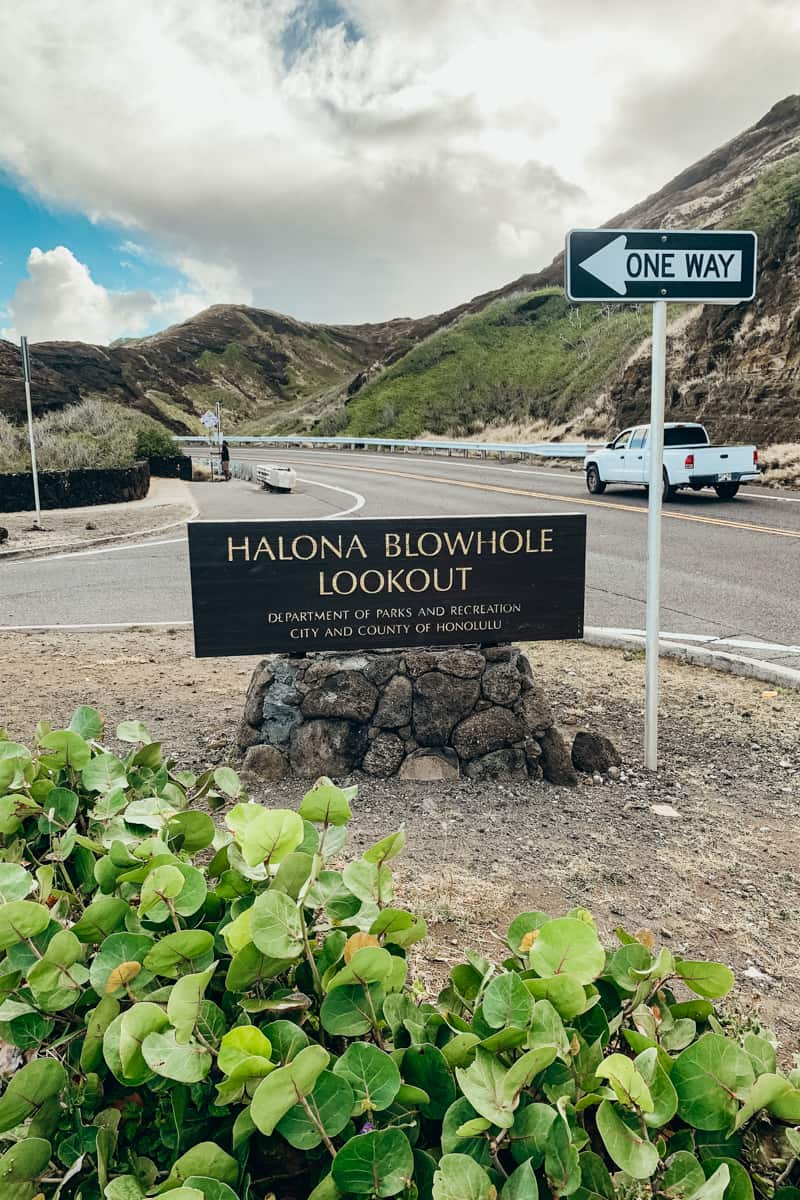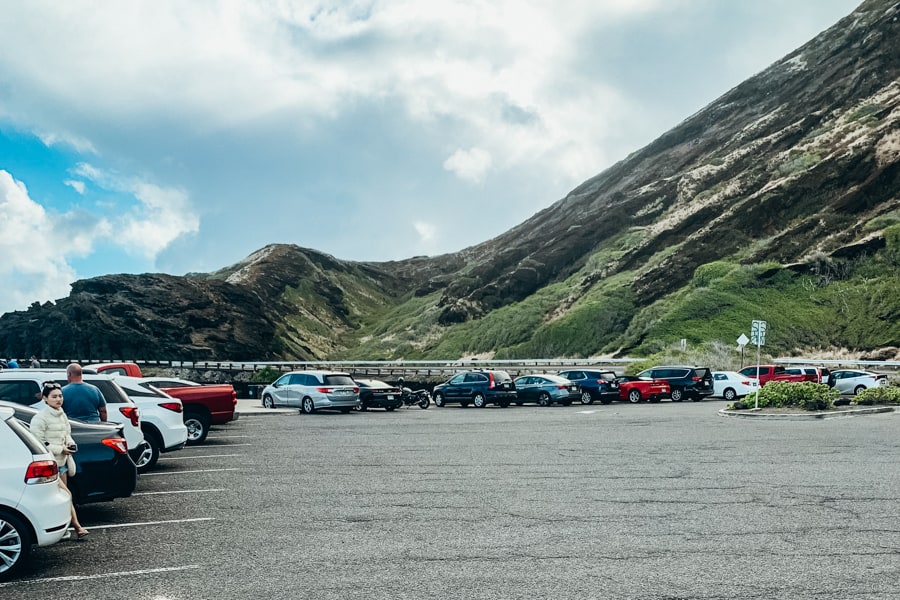 You can also find additional spots (and restrooms) at the nearby Sandy Beach.
Views in itself are amazing – especially at sunrise if you can get up early.