Halona Beach Cove, or Eternity Beach as it's better known is a super cool mini cove beach that you can't see from the main road. If you don't know where to look, you can inadvertently pass this hidden gem.
It is located just east of Hanauma Bay Nature Preserve on the east side of Oahu. Not surprisingly, it is also directly next to the Halona Blowhole.
Where is Halona Beach Cove located?
Halona beach cove is located about 20 minutes from Waikiki driving on Oahu's south eastern side. The drive can get a bit of traffic though, so at peak times it could easily take more than 30 minutes.
If you are coming from downtown Honolulu you could expect the drive to take around 45 minutes.
Halona Beach Cove is just "below" the Halona Blowhole. You can see the blow hole from the main road, but you can't see the beach.
How to get to Halona Beach Cove?
Halona Cove Beach is easy to access from the Halona Blowhole lookout parking lot. You can see the path start from the side, and it only takes two minutes to get to the beach. It is rocky, but short enough that you can do it in flip flops if you are super careful or willing to risk scraping your toes.
You will need to rent a car in Hawaii or take a more expensive Uber here as there are no current tours that I could find that will take you here.
Halona Blowhole and Halona Beach Parking
There is a small parking lot that you can park in for free directly next to the lookout. While the spots do fill up fast, lots of people just get out and snap a quick picture then move on. You can usually snag one pretty quick if you wait a couple of minutes.
Don't want to deal with the hassle of renting a car on Oahu? I recommend renting out a Hawaiian Style Moped for the Day! (Much easier to find parking.) If you've been to Hawaii before then you know EXACTLY what I'm talking about.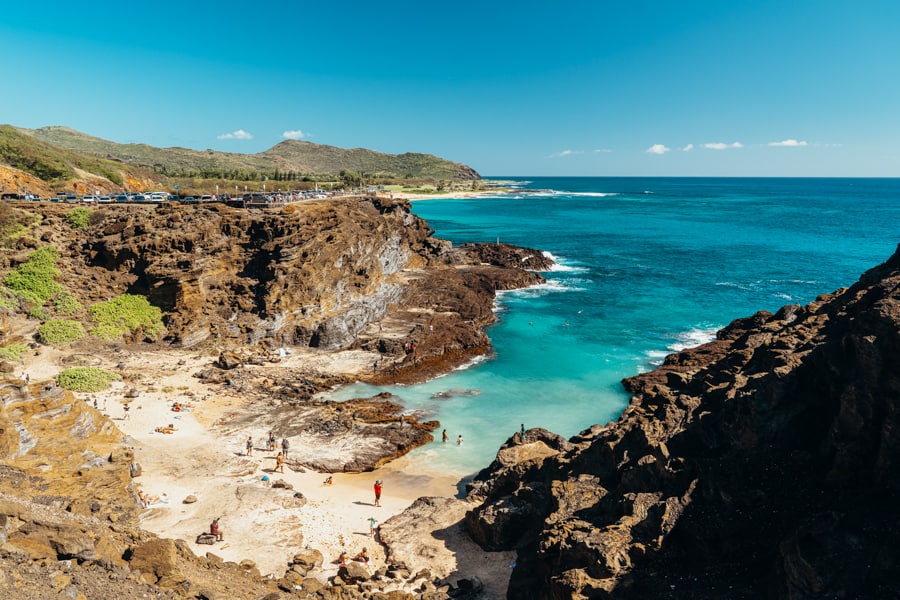 The waves in this area can be especially powerful, so be careful exploring. While you could do it in flip flops you will probably want to make sure you have shoes on when you walk across the lava rock to get there or want to explore it in more detail.
So long as it is safe, this mini beach is awesome. We went later in the afternoon and shockingly had it to ourselves, though there were a few people looking down from the lookout. I've seen pictures of it being quite crowded, but given that it is a little bit out of the way you might get lucky.
Some people will snorkel here, but when I was there the waves were too violent for me to feel comfortable getting in the water deeper than my knees.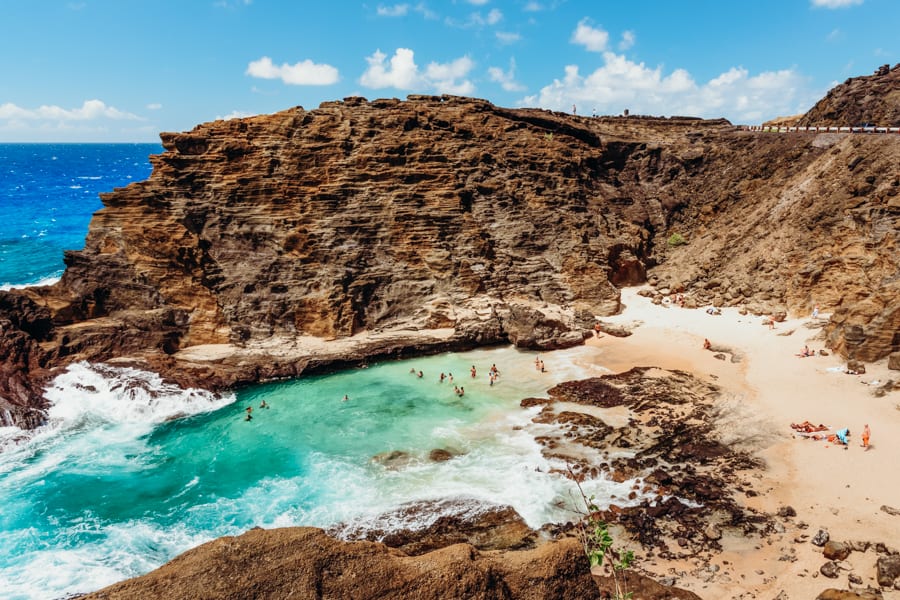 Lava Tube at Halona Cove Beach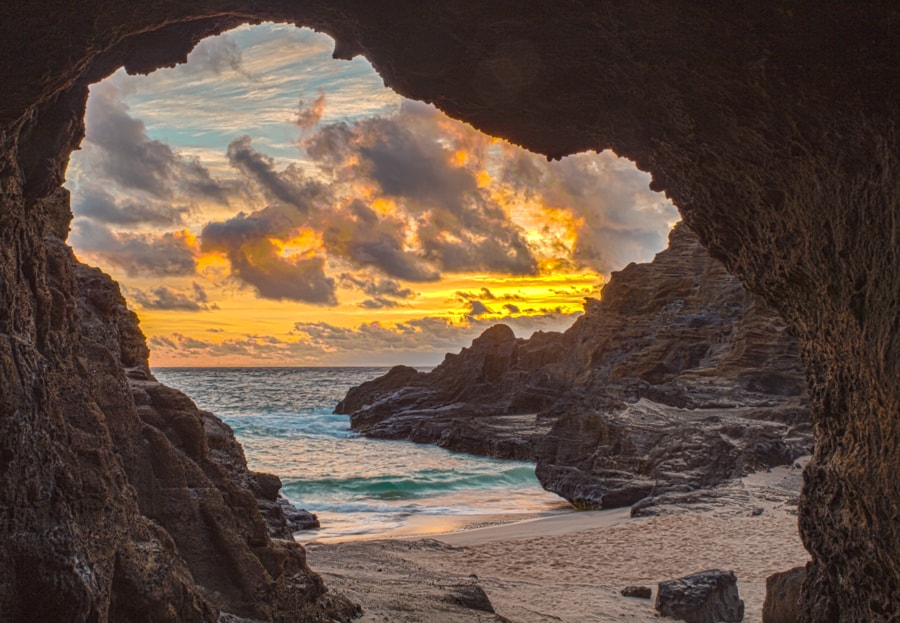 There is a super cool cave directly on the beach. Technically, it is better described as a lava tube, which forms as lava dries. You can read more about it here.
Movies that were filmed here
The intimate cove beach has been a perfect setting for various movies. It is relatively easy to access yet somehow looks totally exotic and far away.
From Here to Eternity– Evidently this is a super old movie that was quite popular. While I hadn't heard of the movie or the actors, it is where the beach gets its name Eternity Beach.
Pirates of the Caribbean– One of the Pirates of the Caribbean movies was partially filmed on this beach. Yes, it is ironic that Pirates of the "Caribbean" was partially filmed far out in the "Pacific Ocean." In the movie they called this area Whitecap Bay.
Jurassic World: Fallen Kingdom– While you won't see dinosaurs parts of the movie were filmed at Halona Beach Cove.
Halona Blowhole
Once again, you won't see this beach from the road. Make sure to visit Halona Blowhole while you are in the area, and once at the lookout you will be able to look back (south) and see the beach.
This natural ocean phenomenon occurs when waves enter a sea cave and force air and water to escape through a small hole in the roof of the cave.
Planning a trip to Oahu? Read more of our Oahu blog posts below!
My husband and I have been to Oahu many times and have written up more blog posts to help you plan your trip. These are my most popular blog posts and Hawaii travel guides to help you plan your trip.
Best Things to do in Oahu
Oahu Beaches
Best Cliff Jumping in Oahu
Best Snorkeling in Oahu
More Hawaii Blog posts: