Hanauma Bay is one of the most famous snorkeling spots on earth! Hanauma Bay snorkeling earns this reputation for good reason.
The bay is one of the world's best places for beginner snorkelers! There are not many places on earth where you can swim among sea turtles and more than 450 species of vibrant tropical fish so easily!
This natural bay is home to tons of coral reefs, a dizzying array of aquatic sealife, and is one of the easiest places to learn to snorkel in. Virtually anyone can snorkel and thoroughly enjoy the experience.
2023 UPDATE! THERE ARE A TON OF NEW PROCEDURES REQUIRED TO BE ABLE TO VISIT. MAKE SURE TO READ BELOW FOR UPDATES TO MAKE SURE YOU ARE UP TO DATE.
Hanauma Bay snorkeling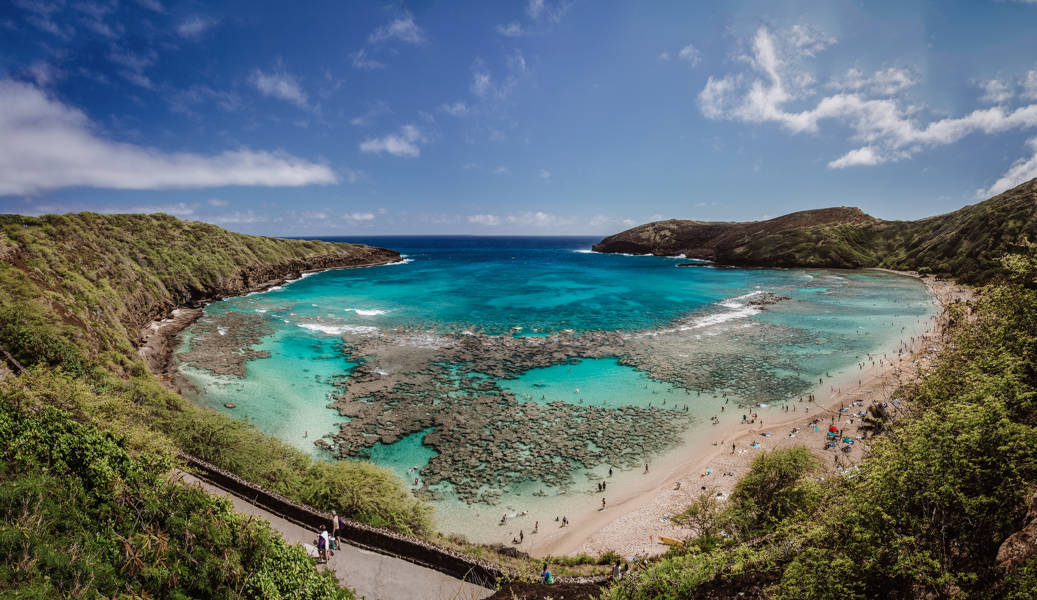 The bay formed in the crater of an extinct volcano. It got filled in with water and tons of marine life. The unique shape of the bay prevents rougher waters from disturbing the area and animals.
I'm a terrible swimmer and get anxious when underwater, but I still felt totally comfortable there. The water was calm, it wasn't too deep, and there were tons of coral reefs and amazing sea creatures directly in front of me! I also loved that I didn't have to go far from the shore to be able to access the reefs.
Read about the Best Snorkeling in Oahu here.
Hanauma Bay History
In Hawaiian "hana" translates to bay and "uma" translates to curved. Therefore, the idiot non-Hawaiian speakers like myself in effect call this area the "Bay Curved Bay." How is that for being redundant?
Hanauma Bay Overtourism
In 1967 the bay was set apart as a protected area. Visitors have been flocking to it to enjoy the wildlife and scenery ever since. Prior to 2020, the bay welcomed about 3,000 visitors per day. The bay isn't that big, so you can imagine that it would get crowded.
Not only was the bay crowded, but the resultant effect was that the tourists were often destructive to the protected area. This is one of the few places on earth that COVID was actually good for as it shut down and gave the reefs a chance to recover.
To help maintain the reef in its current state, authorities decided to limit the total number of daily visitors to 720 and even close the bay on Mondays and Tuesdays.
Don't want to deal with the hassle of renting a car on Oahu? I recommend renting out a Hawaiian Style Moped for the Day! (Much easier to find parking.)
NEW: Hanauma Bay Snorkeling Reservations Required
For non-residents, you can only enter Hanauma Bay with a reservation. Getting one is actually a rather difficult task that requires some careful planning. Let me explain.
Only 720 people a day are allowed to visit, and the Bay is closed on Mondays and Tuesdays.
Reservations can only be made 2 days in advance.
You must choose a time slot that you have to arrive at between 6:45 and 1:30.

Only 30 people per time slot are allowed.

The reservations open at 7:00 am Hawaiian Standard Time.

To get a reservation, you need to be up early and ready to purchase within seconds of it going live as they will sell out. The website will show you how quickly the previous day's slots sold out.
The earliest times don't go quite as quick, so even though it sucks to get up early strategically it may give you the best chance to get one.

It now costs $25 per person to enter, as well as a $3 parking fee.
You can read more and book your Hanauma Bay snorkeling reservations here.
NEW: No Hanauma Bay Tours, WITH A CAVEAT…
There are no more Hanauma Bay tours allowed, BUT a TOUR OPERATOR CAN STILL BE AN IMMENSE HELP.
Previously there were tours that would take you to the park and help you explore. Now, the only "tour" allowed and worth booking is one that will provide transportation to and from the bay.
Given that transportation and parking can be difficult (I waited in line to enter the preserve for 25 minutes and almost missed my entry time slot) you might want to consider booking Hanauma Bay Transportation.
This tour also provides you with transportation from Waikiki Hotels to Hanauma Bay, all the gear you need to snorkel, and your ticket and your reserved time slot to get into Hanauma Bay.
Basically it saves you a huge headache trying to navigate all the different pieces to get in, like parking, waiting in line, renting snorkeling gear etc.
It is honestly so worth it to avoid the hassle of getting in line and getting there at sunrise was amazing.
Pro tip: book in advance to get skip-the-line tickets to Hanauma Bay and don't waste time standing in line like I did. Use the time saved to enjoy a nice relaxing morning on the beach instead (that's what I wish did!).
Best time to go to Hanauma Bay
If you can get the earliest time slot on a Wednesday morning you will find the reefs at the absolute best condition. This is because the park will have been closed and undisturbed for the previous two days.
Realistically though, given the capacity and time constraints, the best time to go to Hanauma Bay is any time that you can actually get in.
What to expect once you actually get there (NEW info)
When I showed up there was a 25 minute line to even get into the parking lot.
Given the capacity restrictions it is now much easier to get a parking spot, though I still hear that it can fill up at times forcing people to park nearby and hike in.
Grouped By Time Slot
When I finally got into the preserve they grouped us by time slot, and then asked us to check in together. The process was efficient and didn't leave us waiting for too long.
Mandatory Reef Safety Video
Once our tickets were checked, they require you to watch a 10 minute safety video.
Basically, the video says don't ruin the reefs for others by touching the coral, touching the animal life, or poisoning the water with non-reef safe sunscreen. I use this reef-safe sunscreen and love it.
Downhill Hike or Hanauma Bay Shuttle
After you finish the video you need to make the trek down to the beach. It is a pretty steep hill that will take you about 5 minutes to get down.
If you aren't up for the hike there is the Hanauma Bay Shuttle or tram that drives back and forth. If you aren't feeling up to the hike the tram ride is free.
Hanauma Bay Snorkel Rental
If you don't have your own snorkel gear you can rent it on the beach.
How much does it cost to rent snorkel gear at Hanauma Bay?
It costs about $20 per set to rent snorkel gear. While the cost isn't exorbitant, rather than pay the Hanauma Bay snorkel rental rates you can purchase your own for about the same cost from a local store.
There are also locker rentals if you don't want to leave your valuables such as your phone and keys on the beach.
If you don't want to bother waiting in line to rent snorkel gear this tour will provide you with transportation, your ticket and time slot, and all the snorkel gear you will need at Hanauma Bay.
Oh, and one of the best Hanauma Bay snorkeling tips I have to offer is to make sure you try your mask on ahead of time! I went to get in and saw that my original one didn't fit at all!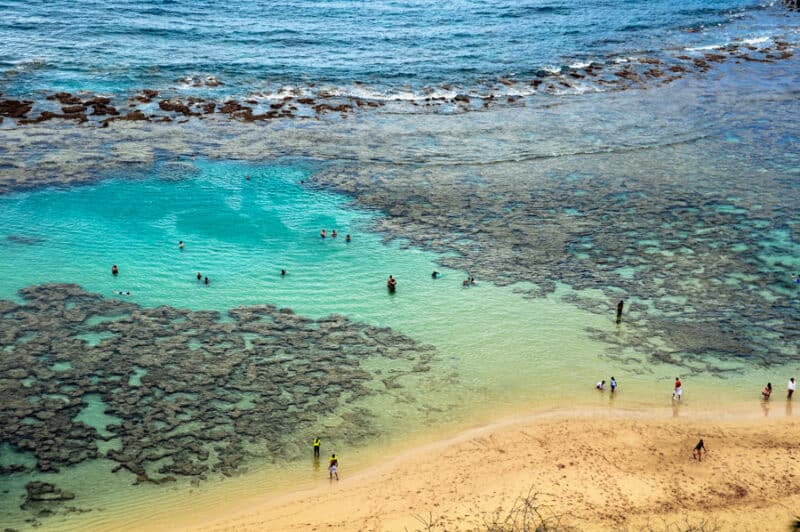 Snorkeling in Hanauma Bay in Hawaii at low tide.
Hanauma Bay water temperature
The Hanauma Bay water temperature average in the winter is about 77 degrees F. It stays around this temperature through spring and rises during the summer to an average of 78.8 degrees F. I.e. there isn't a ton of variation in the water temperature. It's basically perfect year round.
Conclusion: It is worth all the trouble to still visit Hanauma Bay?
Getting into Hanauma Bay is now quite a process. Given the difficulties you may wonder if it is worth it.
I loved the experience and the simplicity with which you can observe the reefs and sea life.
The bay is one of the world's best places for beginner snorkelers (and kids)! Swim among sea turtles and more than 450 species of vibrant tropical fish!
There are other amazing spots to snorkel on the island that are less crowded and free to access, but if you aren't the best swimmer and especially if you are looking to snorkel with kids, then the Hanauma Bay snorkeling experience can't be beat.
If you are looking for other Oahu snorkeling spots I highly recommend checking out Kahe Point/Electric Beach or Shark's Cove.
Planning a trip to Oahu? Read more of our Oahu blog posts below!
My husband and I have been to Oahu many times and have written up more blog posts to help you plan your trip. These are my most popular blog posts and Hawaii travel guides to help you plan your trip.
Best Things to do in Oahu
Oahu Beaches
Best Cliff Jumping in Oahu
Best Snorkeling in Oahu
More Hawaii Blog posts: