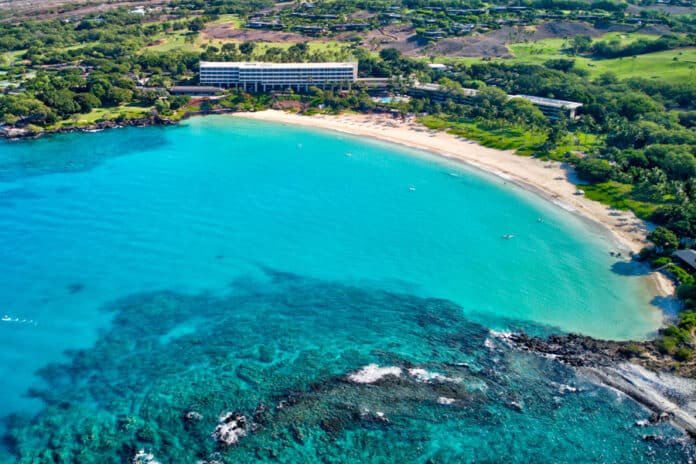 The Big Island doesn't have as many gorgeous beaches as other Hawaiian Islands – discussed in an overview of each of the Hawaiian Islands here. Mauana Kea is an amazing Big Island beach! The only catch is that this beach can SOMETIMES be a little bit tricky to access.
There are only 40 public access parking spots directly at the beach, but if you can't get one of the don't give up. This just means that you have to hike just under 1 mile instead!
This 1/2 mile long beach will be worth the effort as you will be greeted with gorgeous sand and the clear blue water that makes Hawaiian beaches world famous. It is a perfect spot for snorkeling as well.
Mauna Kea Beach Quick Facts
Other Names: Kauna'oa Beach, Mauna Kea Resort Beach
Known For: calm clear waters and soft sand and snorkeling opportunities
Facilities: restrooms, showers, lounge chairs (for guests)
Lifeguards: yes
Parking: extremely limited if no hike, if willing to hike .75 miles then plenty
Cost: $21 to park, or if you park with a hike at Hapuna Beach Park it is $10 to park and $5 per person
Crowds: the lack of parking and appearance that it's only for hotel guests keeps the overall amount of visitors low by comparison.
Actual Beach Name Kauna'oa Beach
The actual name of this beach is Kauna'oa Beach, but because a gorgeous resort named Mauna Kea Resort is immediately off the beach, everyone calls it Mauna Kea Beach.
Mauna Kea Beach Location
It is on the northwest tip of the big island of Hawaii. If you are driving from the airport it takes about 30 minutes.
If you are coming from Kona it is about 45 minutes. While not in the middle of tons of population/action, there are still a number of nice resorts in the area.
Accessing The Beach
When you follow your GPS to Mauna Kea Beach there large gate blocking access to the beach and fancy resort. This will make you think you can't get in; don't be discouraged!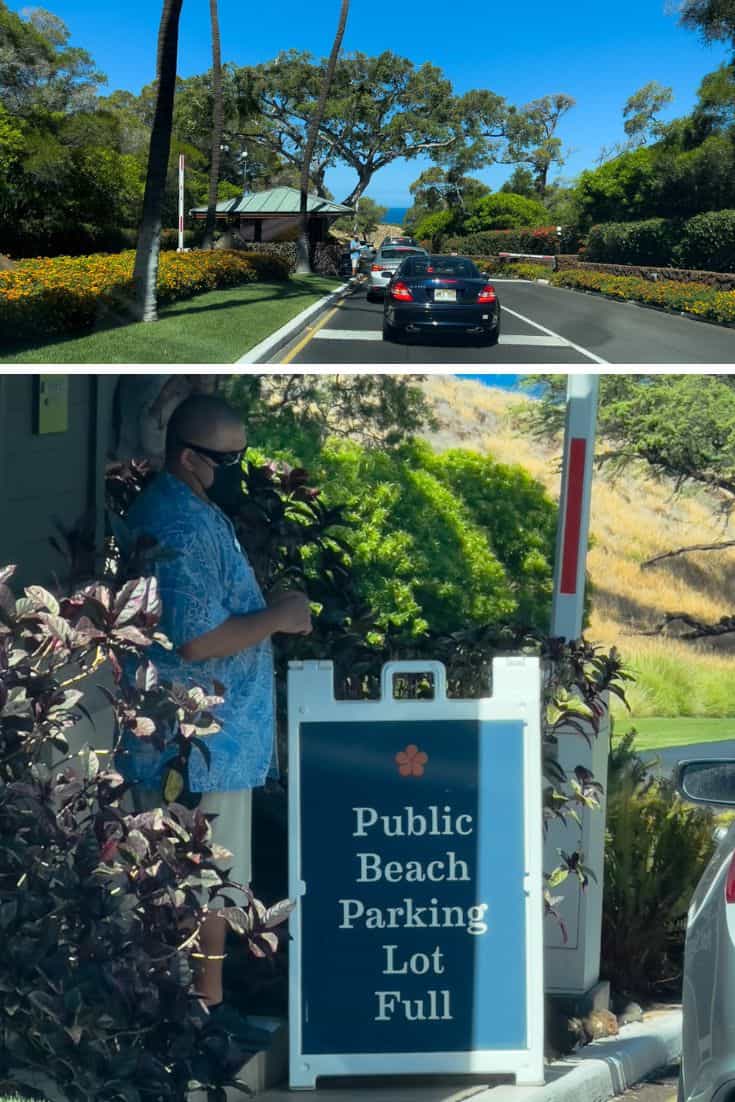 Public Parking Spots
Though I'm sure the resort would like to have the beach exclusively for their guests, Hawaiian law says that all beaches are public, and a certain number of parking spaces need to be made available. The resort here is required to dedicate 40 parking spaces dedicated to the public or non-resort guests.
The gated community resort seems impenetrable, but if you pull up to the gate and say you would like to park in one of the public spots they will charge you and then let you thorough (if there is space).
It costs $21 and you can then park directly off the beach. These spots fill up fast, so if you aren't there early in the morning, then it is probably not an option.
If the spots are full this just means you have a short hike to do instead!
Park at Hapuna Beach Instead
Hapuna Beach is only about a mile away and has a large parking lot with tons of spaces available. I last went on a busy Sunday and there were still plenty of spots.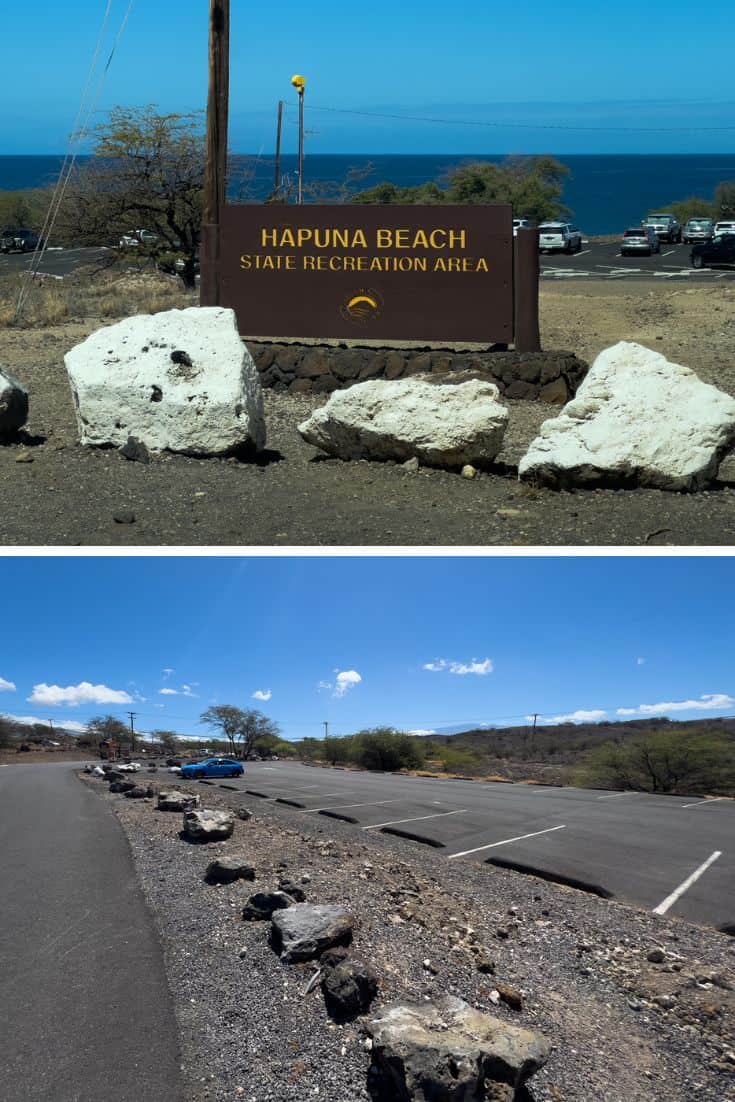 Hapuna Beach Cost
To get into the park you pay a $5 entrance fee per person and a $10 parking fee. Paying is easy at one of the kiosks.
Hike from Hapuna Beach State Park to Mauna Kea Beach
Hapuna Beach is one of my favorite on the entire island, so you might not want to hike away once there. If you do still want to get to Mauna Kea Beach you can hike there quite easily.
The Actual Hike
The hike begins on the north end of Hapuna Beach, or to your right if you are facing the water. The trail is easy to find and well marked. It cuts through lava rock and follows the coast.
The trail in itself is absolutely gorgeous, and doing the hike for fun is definitely advised. As I said, it was only .7 miles from beach to beach, so you can complete it in 15 minutes easy. Also, it's not a tough trail so flip flops wouldn't be a problem.
I've seen it posted that the trail is 2.5 miles round trip, but it was only .7 miles each direction when I did it. If you started at the far end of one beach and walk the entire length of both you might be able to make it that long.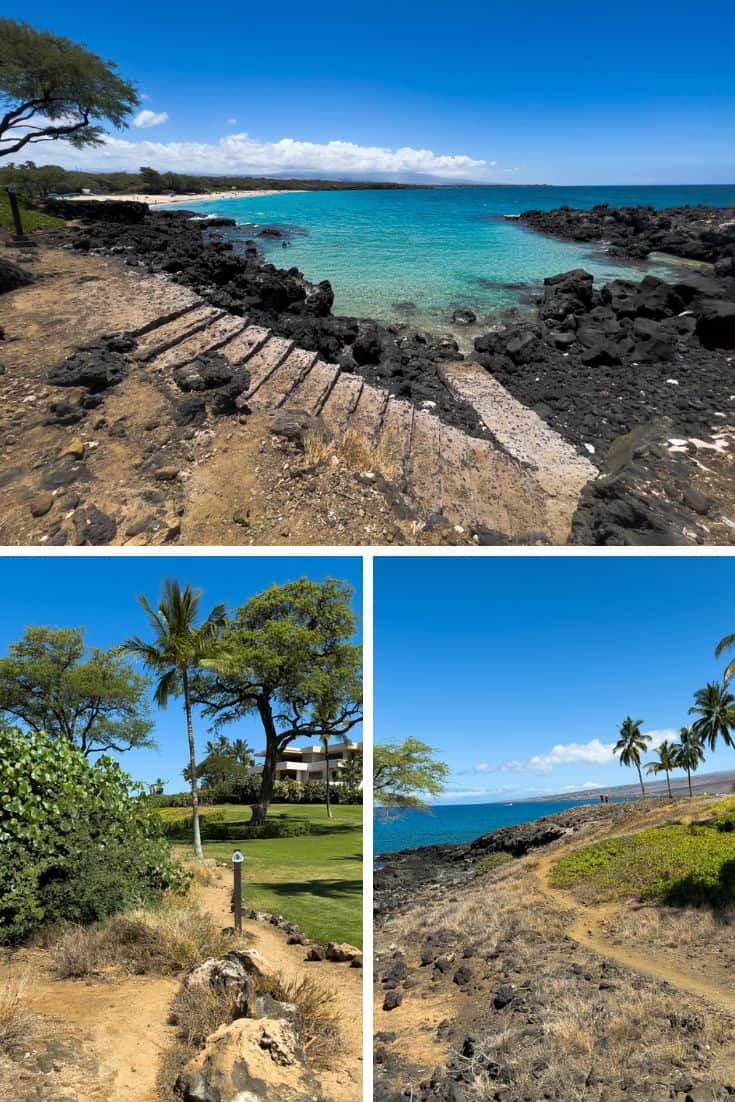 At Mauna Kea Beach
Once you are at the beach it is easy to enjoy. The gentle waves make it perfect for stand up paddle boarding or wading into the water. You can rent snorkel gear or other water equipment at shops just off the sand.
There are a few sea walls and trees that provide shade along the edges.
There are restrooms and showers available for use. You can only use the lounge chairs if you are a resort guest.
The sand is wide and the water is every bit as clear as the pictures show. Given that the waves aren't that intense, it is perfect for swimming.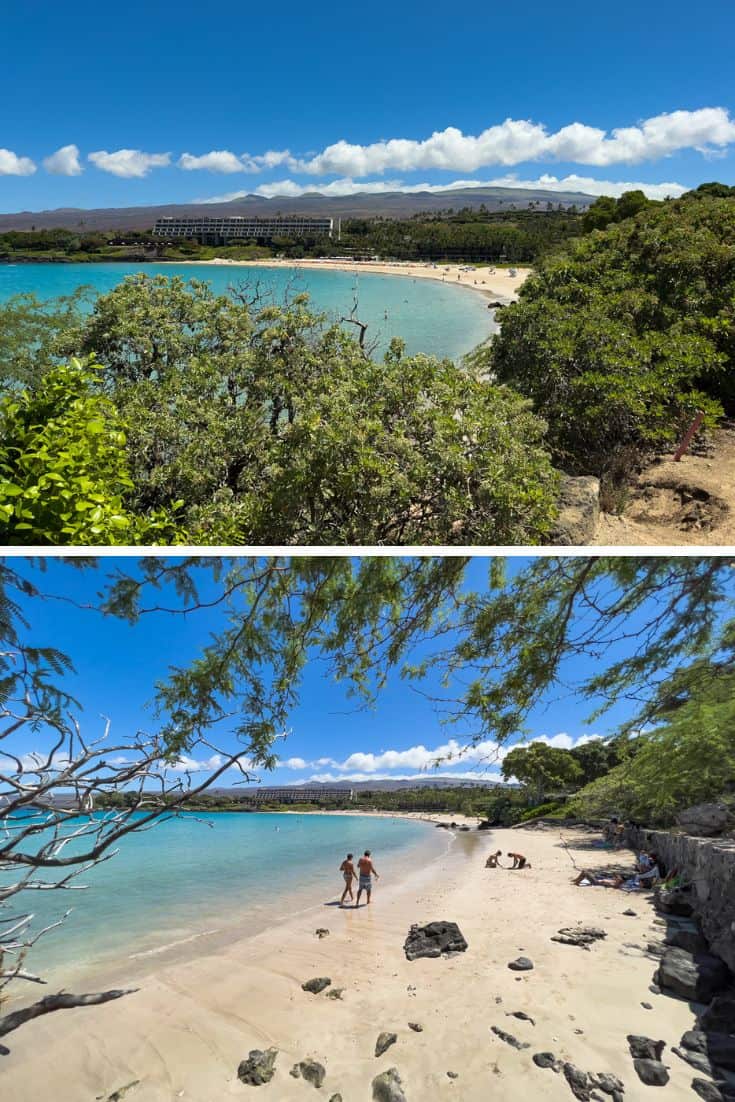 Mauna Kea Snorkeling
The long shallow stretches of water along with lava rocks jutting out into the ocean create a perfect environment for snorkeling. You will see a number of people out there searching for sea creatures.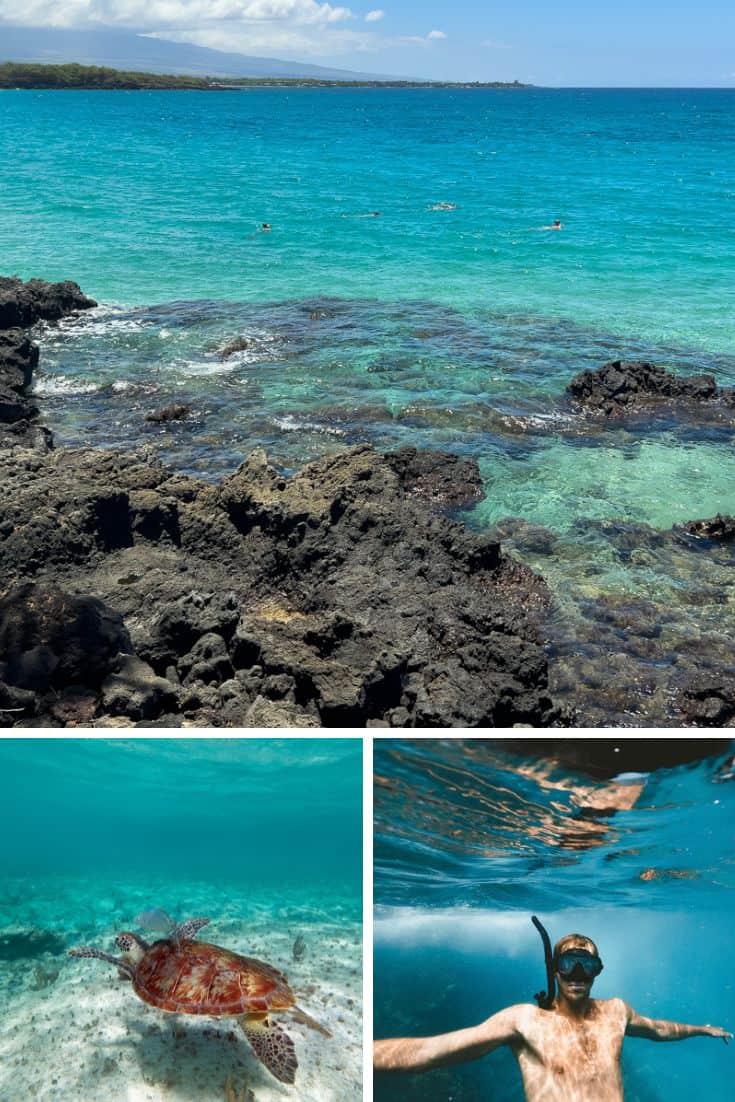 Conclusion
Mauna Kea Beach is one of the few that are truly beautiful on the Big Island and fit the stereotypical image of a Hawaiian Beach.
Accessing can be tricky, but if you get one of the public parking spots you are set! If not and you want to do a short but amazing hike, then walk in from Hapuna Beach.
If you don't get a spot and don't want to hike, then just stay at Hapuna Beach which is a similarity amazing experience.