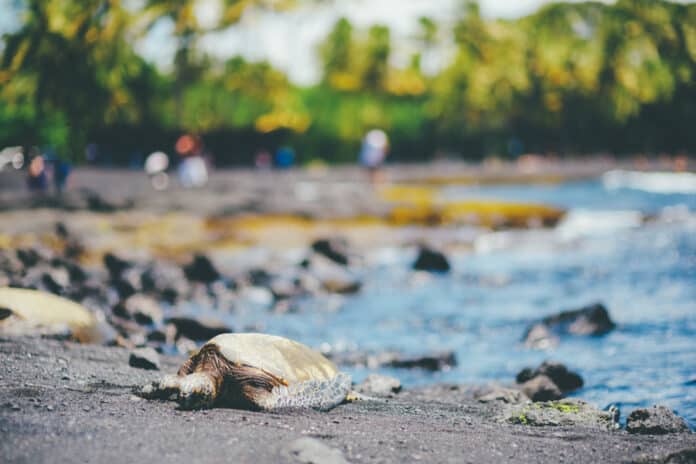 Planning a trip to Big Island of Hawaii? Here's some of what you need to know about a Big Island beach getaway.
The Big Island of Hawaii is often written off for not having the best beaches. But that's not true; The Big Island beaches are just a little different – in a good way!
You just have to know what to expect before you go.
While there aren't miles and miles of white sandy beaches like on the other Hawaiian Islands, there are still plenty of gorgeous shores for you to relax and sunbathe on. In fact, Big Island beaches are often far more unique – some of them are the only beaches of their kind on Earth!
What to Pack? Before traveling to The Big Island, make sure to read my Hawaii Packing List so you can know exactly what you need to bring to Hawaii.
Where to Stay on the Big Island (Kailua-Kona)
Royal Kona Resort (the exact hotel we booked) – Honestly, we did not have high expectations for this hotel as we ended up having to book it last minute. We were pleasantly surprised by how nice it was. Yes, the actual property was a little bit older, but was meticulously maintained and positioned in an awesome area. It was NOT on a beach, but it was right on the water and rocky shore that was beautiful to walk along and watch the sunset. Our hotel even had its own lagoon you could swim in. Super easy access from the airport. Book the Royal Kona Resort here on Booking.com
The Best Big Island Beaches: Hawaii
Big Island's Beaches are Adventurous
Big Island often gets called the 'Adventure Island' of Hawaii; this is true for its beaches too. Some of the best beaches may require a little adventure or a hike to access, but we promise you it'll be worth the effort. After all, lots of them are different from your traditional 'lounge and sip drinks all day' kind of beaches.
For example, Big Island's glorious green sand beach and the Waipio Valley black sand beach both require arduous hikes to get to them. In my opinion, this only adds to the fun! Once you get there, you'll realize just how photogenic they are, and you will forget the arduous hike.
Big Island Beach Sand is More Colorful
Big Island beaches are totally unique. Forget white sand (though you'll find some here too); here, you'll discover glorious green and black sand. While black sand beaches are slightly more common, there are only four green sand beaches in the world, so seeing one for yourself is beyond awesome.
These black sand beaches have been created from lava rock that's been ground into tiny fragments after years upon years of volcanic activity. So, while the sand isn't always as soft and it can get rather hot, it's absolutely amazing to look at. Perfect if you're big on Instagram!
I thoroughly enjoyed the island's unusually colored beaches and would highly recommend them.
Here are the 4 must-see Big Island Hawaii beaches:
1. Green Sand Beach Papakolea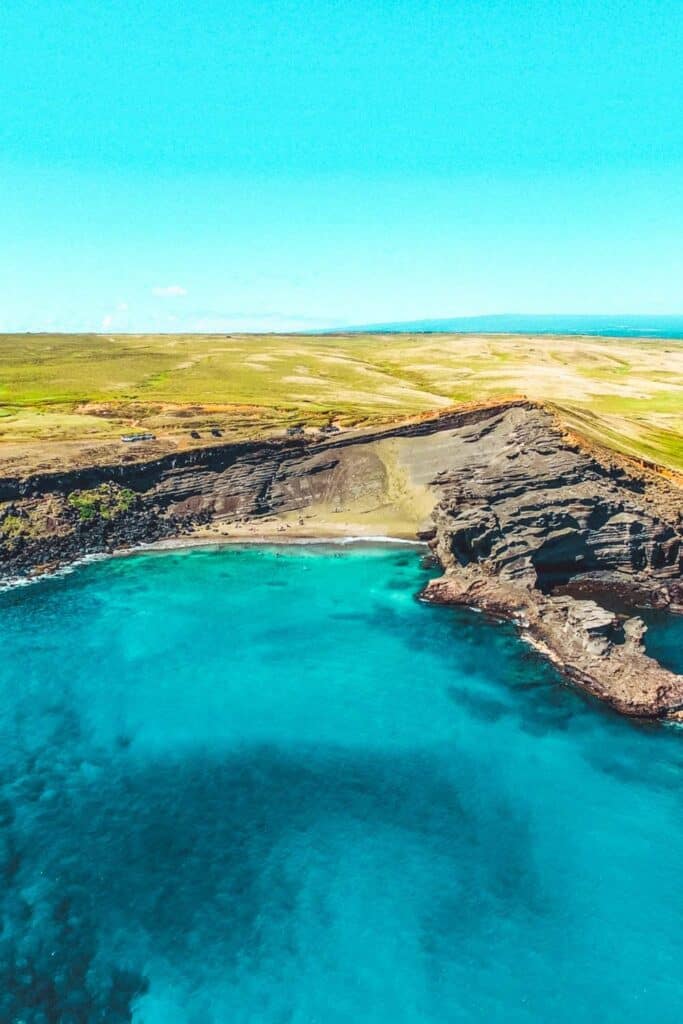 Green Sand Beach – or Papakolea Beach in Hawaiian – is one of the most exotic beaches in the world.
There are not many places on the planet where you'll find such amazing green colored sand tucked inside a secluded volcanic crater. In fact, there are only three others like it on the planet! Rest assured that the color of the sand is not caused by fungus, moss or seaweed, but instead by green olivine crystals as a result of thousands of years of volcanic activity.
Read more about Green Sand Beach here.
Access to the Green Beach
You will have to hike to reach this green beach though. It's a six-mile hike there and back and takes about 45 minutes each way. The views are gorgeous and totally worth it! But if you really can't manage the hike – though we urge you to try so you can get the most out of your time on the beach – you can grab a lift with one of the locals for $20 per person there and back. But bear in mind that you'll have to commit to a timeline.
Popakolea Beach is just an hour and a half drive from Hilo or Kona. It's close to Punaluu Black Sand Beach and the southernmost point of Big Island known for its cliff-jumping adventures, it's easy to work it into a day trip.
Our Tip: Take your time on the beach. We'd recommend spending the day there – or at least the afternoon. Pack a picnic, as there are no facilities. If you want to escape the crowds and get a good picture, midweek mornings are quieter, so aim to go early. Keep an eye out for Honu sea turtles feeding on the algae on the rocks!
2. Waipio Valley Black Sand Beach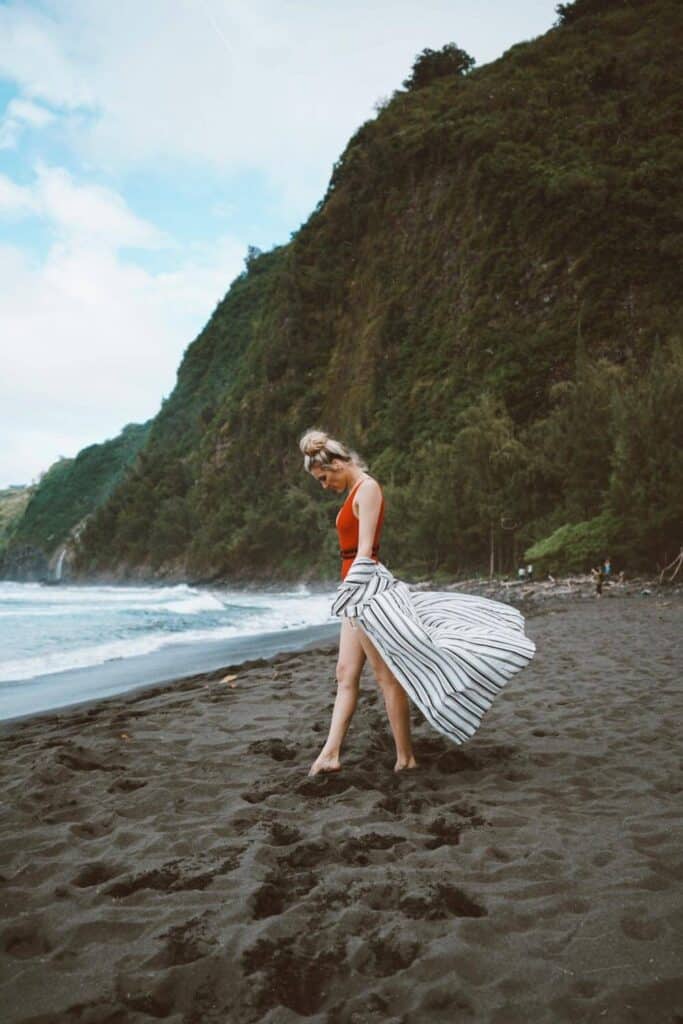 You've probably head of Punaluu, but not many people know about Waipio Valley's Black Sand Beach Big Island. And the ones that do tend to take pictures from afar, avoiding the steep climb down to the beach. That's a bonus for the adventurers – the beach is hardly ever crowded!
Tucked away in the picturesque Waipio Valley with its rainforest waterfalls and ancient temples, this black sand beach is one of the best beaches Big Island has to offer. The one-mile trail hugs the cliff and descends 1,000 feet down to the beach. If you have a four-wheel-drive vehicle, you can drive down, but you may prefer to walk instead when you see what the road is like. Read more about Waipio Valley Black Sand Beach.
Our tip: Watch out for strong rip tides and only swim here if you're confident. While the trail leading down to the beach is on public land, parts of the valley are privately owned. Always ask for permission first before trekking through to the nearby waterfalls.
Read more on Waipio Valley Black Sand Beach here.
3. Punaluu Black Sand Beach
Punaluu Black Sand Beach is a famous stretch of jet-black sand set between swaying coconut palms and the North Pacific. It's one of the best places to spot world-famous Hawaiian sea turtles (we saw four!) and is easily accessed from the Hawaii Volcanoes National Park.
You'll be happy to know that Punaluu Beach requires no hike to get to. It can be easily reached with a short walk from the parking lot. Bear in mind, that this also makes it a lot more touristy. It should come as no surprise that Punaluu is the most famous of Hawaii's black sand beaches.
With midnight black volcanic sand that tends to heat up quickly, the beach is not really the best for sunbathing. However, it is an excellent spot for a quick dip, a picnic, or just to grab a photo.
Watch out for the strong rip currents here; with rough waters and no lifeguard on duty, Punaluu Black Sand Beach is not the best swimming beach – unless you're a strong swimmer, of course. I found it fun!
Facilities include restrooms, showers, and a picnic area. The drive to the beach is the hardest part as it takes an hour and 45 minutes from Kona, and an hour and 15 minutes from Hilo to get here.
Read more about Punalu'u Black Sand Beach.
Our tip: Some of the best snorkeling Big Island has to offer can be found at Ninole Cove just a five-minute walk down the beach. Punaluu is known for its huge Hawaiian green sea turtles, but you may also spot some Hawksbill turtles if you're lucky, so keep your eyes peeled!
4. Hapuna Beach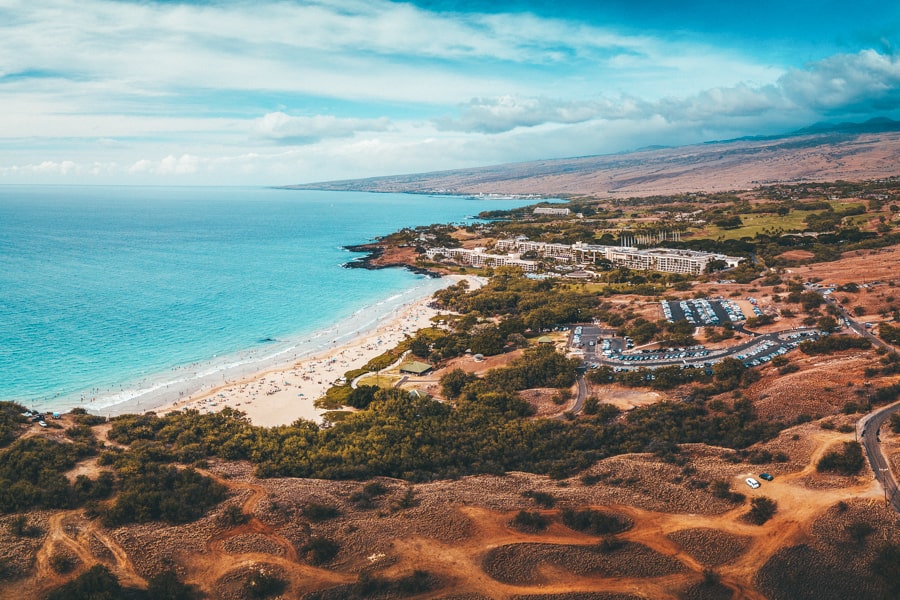 With soft white sand, this gorgeous half-mile long beach is one of the most classically scenic Kona beaches. It pretty much never rains here! Located just a 30-minute drive from Kona Airport, it offers plenty of space for traditional beach lounging.
It is perfect for swimming; the sea is generally calm. There are a few waves, but they're gentle rather than crashing waves. As the water is beautifully clear, you should try out the Hapuna Beach snorkeling, as it's one of the best activities on the island. You'll find a reef at the northern end of the beach, so you simply can't not see fish here!
Access to Hapuna Beach
As it's one of the best Big Island beaches, it will cost you $5 USD to park here. But there is a lifeguard on duty as well as changing room facilities, so at least you're getting something for your money.
Our tip: We stopped at Hapuna Beach on our way back to our hotel to appreciate the sunset. As the beach is west facing, the view is absolutely gorgeous with the sun shining across the water. Pack a picnic with some drinks, relax and enjoy!
Tips for Visiting Big Island Beaches
Wear good walking shoes for the hike down to Punaluu and Green Sand Beach.
Pack plenty of water, sunscreen, and a hat. The weather can be scorching and beach facilities lacking.
Don't swim at Waipio Black Sand Beach, Punaluu or Green Beach unless you're a confident swimmer. The rips currents can be strong.
There are usually no trash cans at the more secluded beaches. Take everything you back with you, and try to leave the beach cleaner than you found it.
Do not feed or touch the Hawaiian sea turtles. The NOAA (National Oceanic and Atmospheric Administration) and DLNR (Department of Land and Natural Resources) advise maintaining a distance of at least 10 feet from them at all times.
With startling green and midnight black sand, these four hotspots are some of the best beaches Big Island has to offer. But we've only mentioned our personal favorites; there are loads more to discover. Tell us, which ones are your favorite Kona Hawaii Beaches?
More on Hawaii: 27 Incredible Places to Visit in Hawaii