If you could only visit one city in Italy, which one of the most visited cities in Italy would it be?
The most visited cities in Italy
Whenever I begin planning a trip, I always first look at the ubiquitous Top 10 Lists. I love reading them to get a general sense of what people want to see in an area. Surprisingly, I've discovered that I've even missed some of the top spots on previous trips because I didn't do enough research.
I haven't yet had a chance to go to Italy. You may be thinking, "why are you blogging about it if you haven't been?" It is actually because I want your help!
My readers usually give really good advice about the top things to see and do. I like to blog about my trip planning process and then get feedback. I first did this with Scotland in this article here and I got so many amazing tips (almost 100 comments, read them here) Plus, I am a sucker for a good 'list post' (If you can't tell from reading my site already ha)
Keep reading to uncover the most visited Italian cities!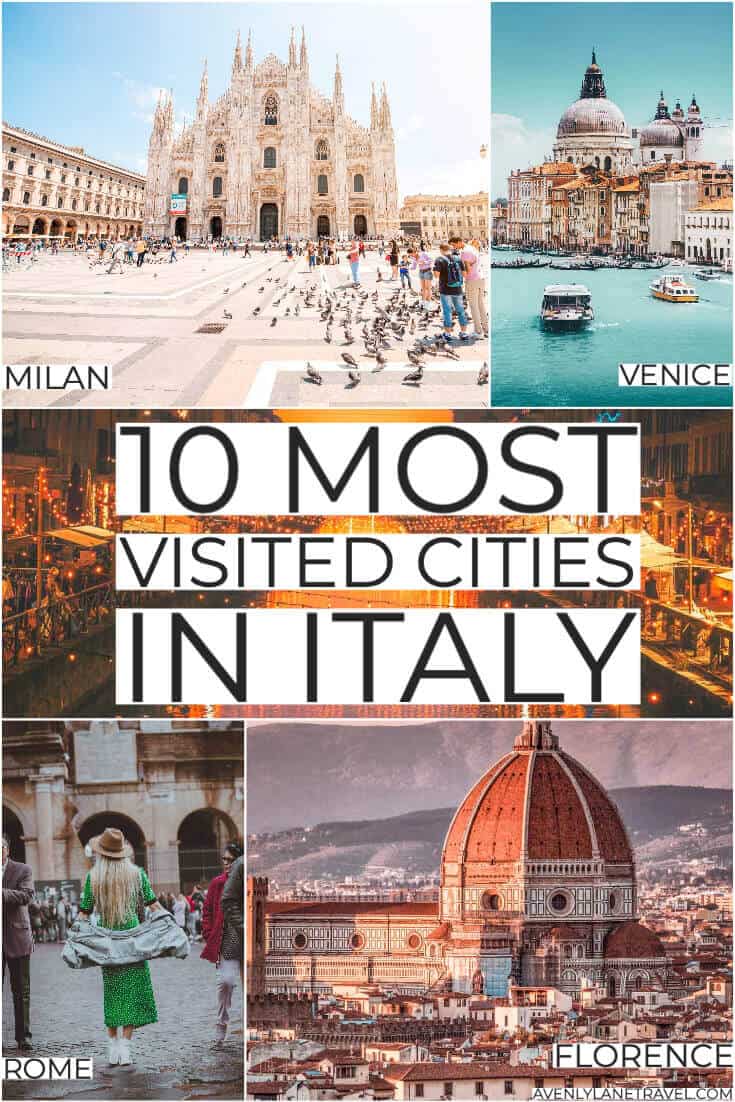 Why I can't travel as freely as I would like
I have had significant health issues that caused previously scheduled trips to be cancelled. It's hard because I kept thinking I was going to be good enough to go, but then had to cancel again. I definitely do not enjoy the roller coaster of getting your hopes up and then getting them crushed over and over again. I'm sure many of you know what I am talking about. But this blog has really helped me get through.
Blogging about future trips and interacting with my readers has been a huge help to. We had a Mediterranean cruise scheduled where we would hit some of these cities, but we had to cancel due to my health problems. Our family ended up going without us and told us how amazing it was.
This year we will go! haha If I have to get pushed around in my wheelchair periodically passing out I will. I refuse to let my health affect this trip
Anyway, I wanted to see which cities were the most popular among tourists and then from there decide where my husband and I will go.
(Update 2018) – my health did in fact affect this trip, and unfortunately we had to cancel.) If you're interested, you can feel free to read more about my story here.
(Update 2019) – We made it to Italy!
10 Most Visited Cities in Italy (and most beautiful)
For all you Italy travel experts, if you were to only choose three of these cities which ones would you choose? Do any of the Italian cities on this list surprise you?
Florence, Italy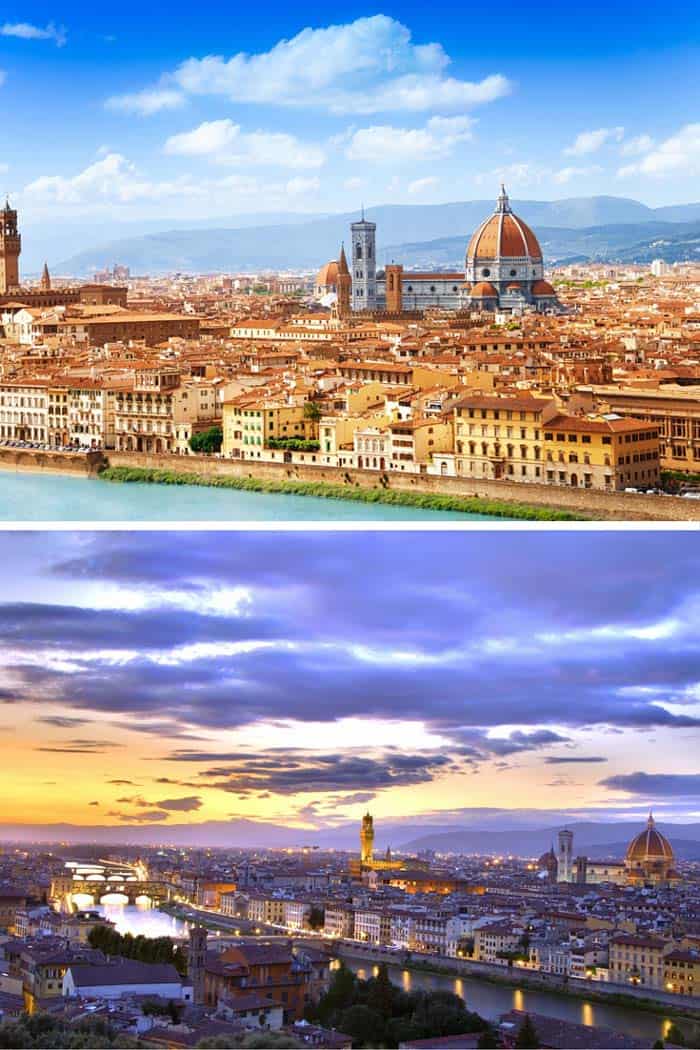 Florence is the capital city of Tuscany and the most populated area in the region with good reason. It is surrounded with historical and gorgeous sights to explore.
What to see in Tuscany
Why not go see the Cathedral of Santa Maria del Fiore in all of its Gothic glory. And look on in amazement at the largest brick dome in the World. Or how about a visit to Accademia Gallery of Florence to go say "hello" to David. Yes, THE David. Before you leave, make sure to have a Bistecca Fiorentina – the king of steak dishes in the region. Yum!
Check out the best tours in Florence below
Where to stay in Florence:
Budget Choice: Hotel Alessandra – The location of this hotel is perfect. It is within a stones throw of the famous Ponte Vecchio, while Florence Cathedral is less than 10 minute walk. The buffet breakfast is delicious.
Best hotel for families: Four Seasons Hotel Firenze – This hotel is next to the botanical gardens of Giardino della Gherardesca and includes an amazing upper terrace with pool and hot tub for the kids.
Rome, Italy (The most visited city in italy)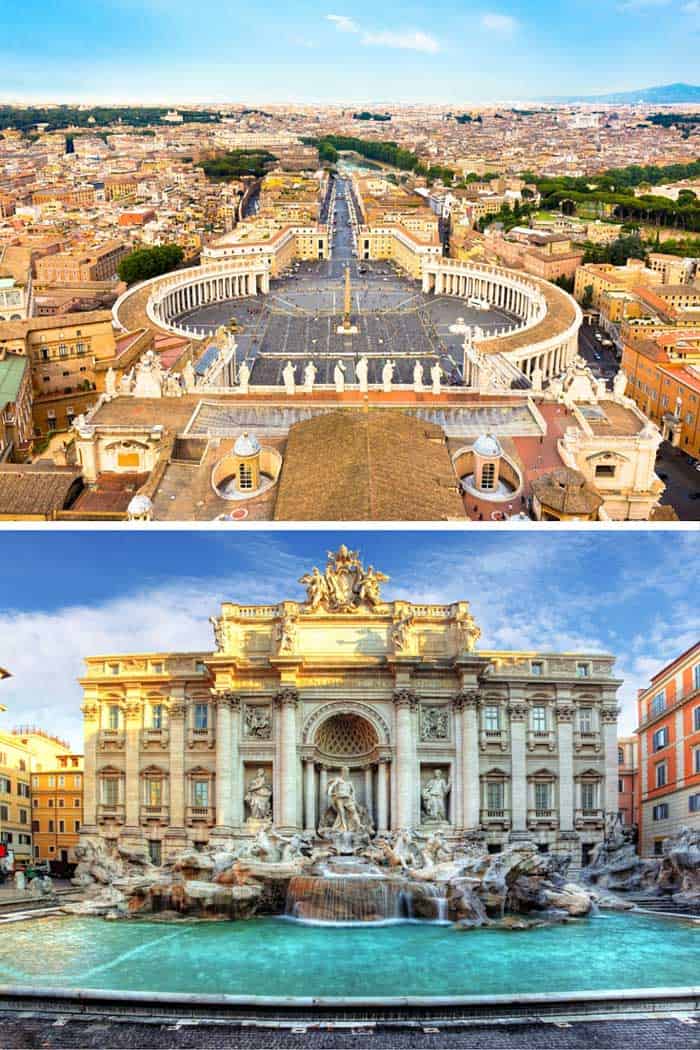 Rome is one of the biggest tourist cities in Italy as well as the most visited city in Italy. This doesn't happen by chance. You will never have a better Cacio e Pepe than in Rome. Do yourself a favor and find a bowl of this ancient dish. I can guarantee you will have a new and unexpected favorite pasta. Once you are done it is time to start sightseeing.
Best Things to do in Rome
What are the best things to do in Rome? The Colosseum, Roman Forum, or the Pantheon to start. The Vatican Museums & Sistine Chapel are another must see Buy your entry tickets in advance here (the lines are always LONG).
Maybe the statues atop of St. Peter's Basilica are calling you, go take the Dome tour. While it is not encouraged to take a dip in the Fontana di Trevi, you can see see the appeal.
The Colosseum is one of the most-visited landmarks in the world, and you can't go to Rome without paying it a visit. The line outside the Colosseum is very long, no matter when you arrive to wait in line. Pro tip: book in advance to get skip-the-line tickets and don't waste time standing in line. Use the time saved to enjoy a gelato instead (that's what I did!).
Discover the best food tours in Rome here.
Check out the most popular tours of Rome below
Where to stay in Rome: Hotel Foro Romano (Where we stayed) – The reason you book this hotel is because of its location. It is right next to the Roman Forum and Coliseum, easy walking distance. This is the area you want to stay in.
Wondering what Rome is like? Even though Rome is one of the best cities in Italy there still are things you should be aware of before going. Things that caught me off guard before I went. Read the full article >> 9 Bad Things about Rome
While there were things we didn't like about Rome, the good outweighs the bad. Read >> 10 BEST Things to do in Rome
Venice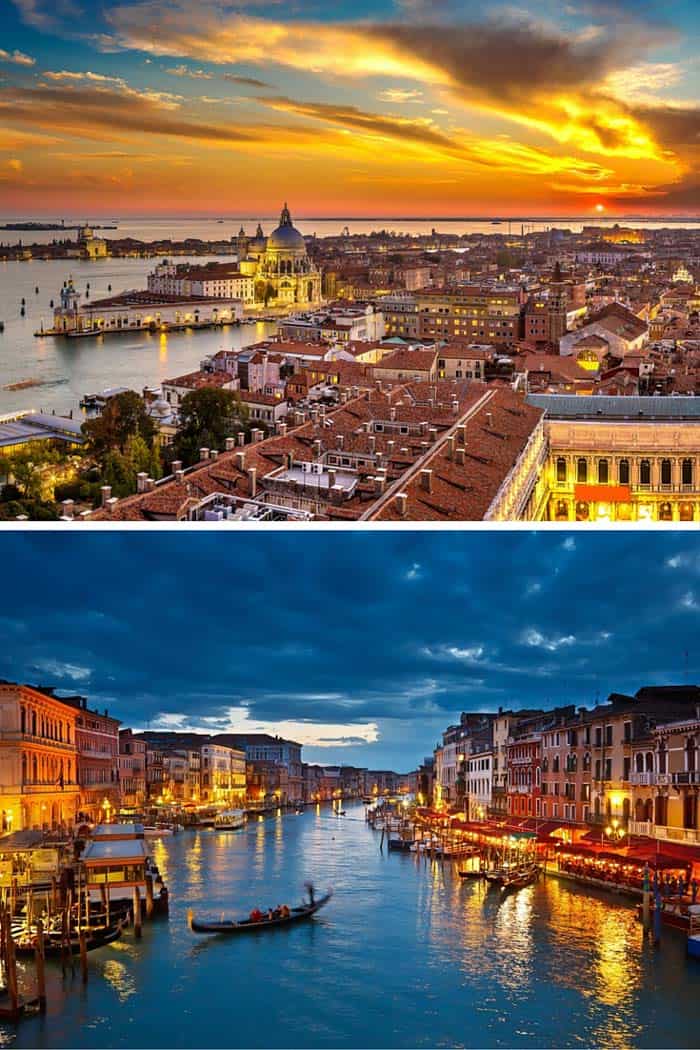 Oh come on, you know you want to ride a Gondola down Venice's Grand Canal! Sure it is clique but what a sight to behold. If being serenaded is not your cup of espresso then make your way towards St. Mark's Square. It has become known as the "drawing room of Europe" allegedly by Napoleon, because it was a wonderful place to relax. And speaking of caffè, make sure to get yourself one here. Coffee beans were originally imported into Europe through Venice. Add a side of Frittelle to make your people watching that much sweeter!
All these things and more make Venice one of the top cities in Italy to visit.
Side note – if you can't make it to Venice why not ride the gondola in Vegas? Yup, they have one that runs right through the Venetian hotel.
Where to Stay in Venice: Hotel Ai Cavalieri di Venezia – Located in the trendy Castello district is this amazing hotel. It offers easy access to the main attractions in Venice and is close to great restaurants, bars, restaurants and museums.
Bologna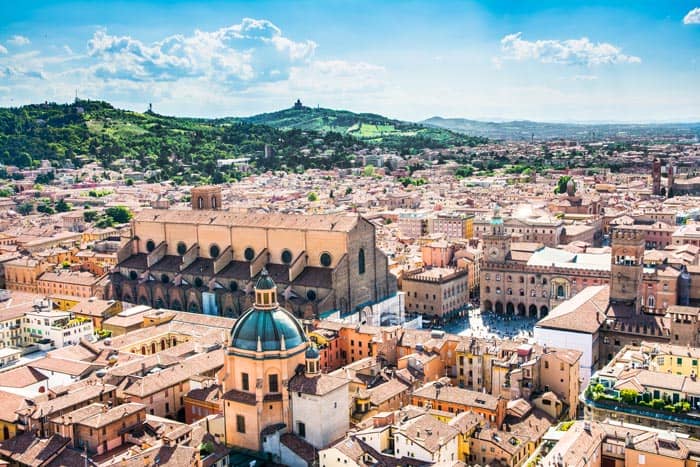 Gather the kids, it is time for gelato! Follow the locals and tourists alike and find your way to Trattoria da Serghei. You will find some of the best ingredients and creamiest flavors, the ricotta flavor is a favorite. If you are ready to burn off those calories take a stroll around the Sanctuary of the Madonna di San Luca. An annual procession from the Cathedral of San Pietro to the Sanctuary goes along a very accessible arched pathway.
Bergamo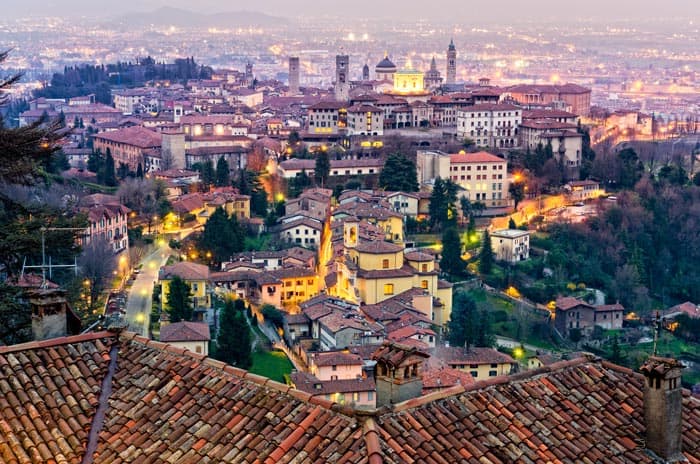 Bergamo is known as the city of rare Medieval beauty. The Città Alta or "Upper Town" is nestled into a group of hills. This walled area has a regional park and sweeping plains below. This walled area is guarded by a Venetian defensive system which are now a UNESCO World Heritage site! Santa Maria Maggiore is a must-see basilica in the area. Take your time inside to get a good look at the beautiful architecture and reliefs of Biblical stories.
Milan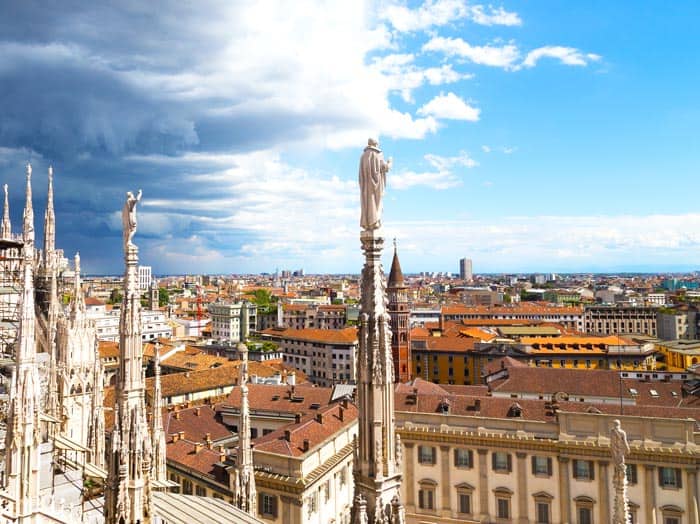 Slide into your best Ferragamo loafers, and grab your Italian leather handbag – it is time to go shopping! Milan is known for being a mecca for – that is right, fashion. Whether you are taking home a new wardrobe or simply gawking through windows, you are bound to have a wonderful time.
This economic powerhouse of Italy has some pretty magnificent historical locations as well. Go strut your new outfit down to the Duomo di Milano. This famous cathedral took 6 centuries to finish, is the seat to the local Archbishop, while dedicated to the nativity of St. Mary.
Where to stay in Milan: Best Overall – The Square Milano Duomo | Luxury Choice: Armani Hotel Milano
Naples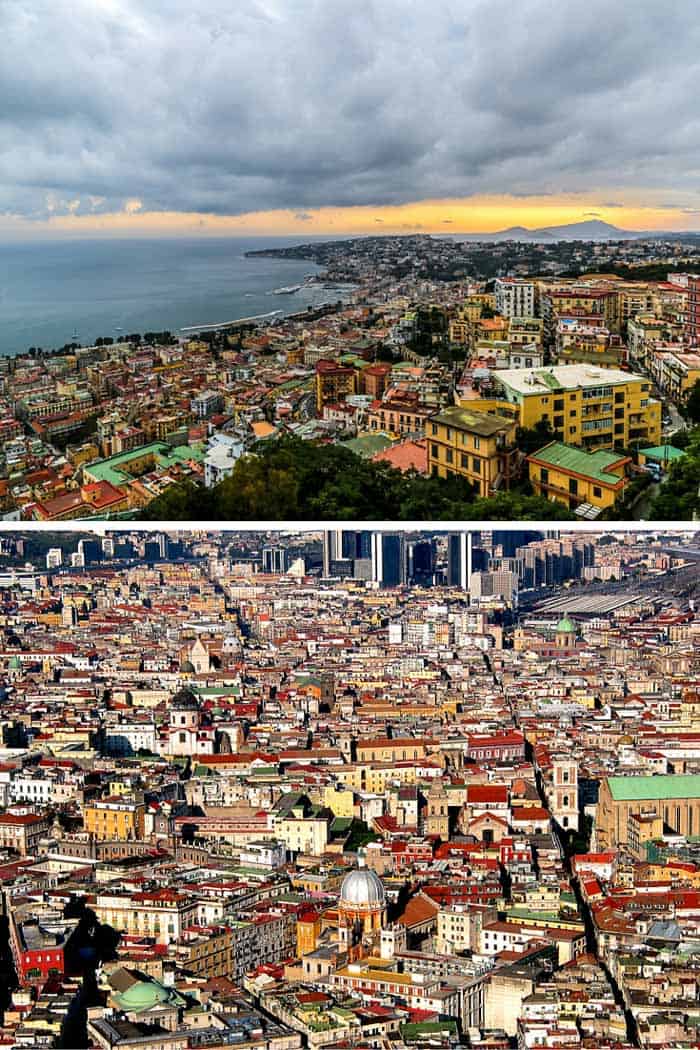 Naples is for the adventurous spirit. You will need to strap on an entirely different type of shoe to climb Mount Vesuvius.
Take a bus to the base of the slopes then make the 30 minute trek to the top and peer into the crater. This volcano has erupted in the last 100 years, making it extremely dangerous for the people of Naples. The most destructive explosion wiped out the entire city of Pompeii. Make these ruins your next stop in your journey. Then when you are ready to wind down find a quaint local watering-hole on the Naples harbor.
Where to stay in Naples: Luxury Choice – Grand Hotel Vesuvio | Budget Choice – Grand Hotel Europa
Positano, Almafi Coast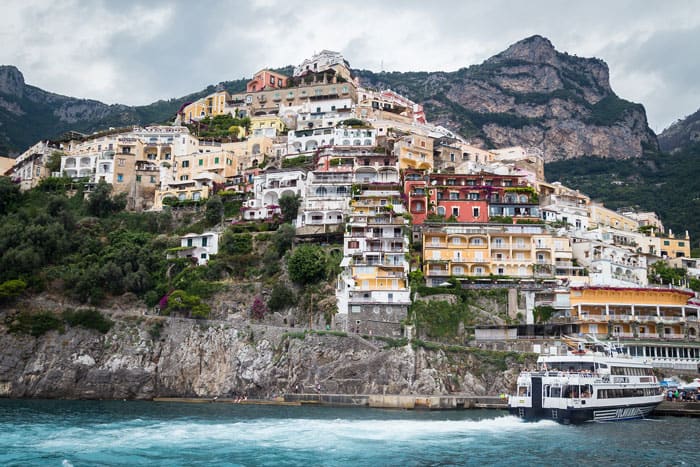 One of the most visited places in Italy, this famous vacation town is found on the cliff-side of the Amalfi Coast. Feel like you are in a dream as you weave through the winding and pebbled beach front roads.
The Amalfi Drive is like no other you have traveled. Views of the Tyrrhenian Sea are spectacular. Do not forget to pack your swimsuit and sunscreen. You will want to take advantage of the beaches. The orange striped umbrellas on Positano Spiaggia are as picturesque as a postcard. And the nightlight is not so bad either!
Torino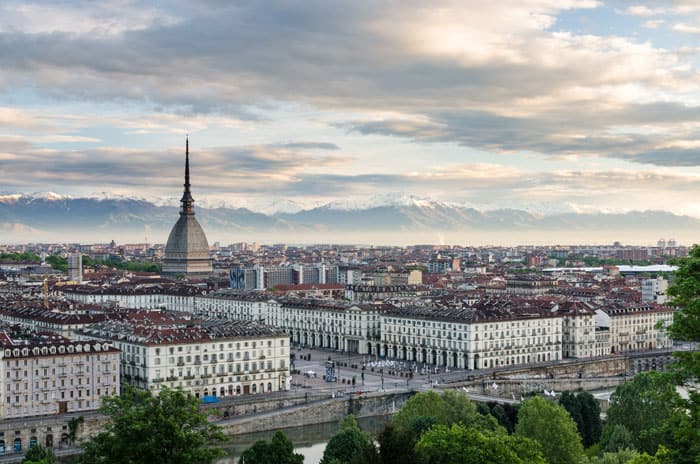 Originally the first capital of Italy, Torino continues to be a center for the economy. If you are one for long strolls, this city was made for you – the pedestrian. Walk yourself into one of the wonderful museums like the Royal Palace of Turin for the decor or the Egyptian Museum for one of the largest collections of Egyptian available. Maybe you will find yourself with a glass of local Barolo wine and a plate of risotto topped with the regional delicacy – truffles!
If your day has not been filled, make sure to take yourself over to the Mole Antonelliana. In Italian a mole is a building of monumental proportions, and this one holds the National Museum of Cinema.
Genoa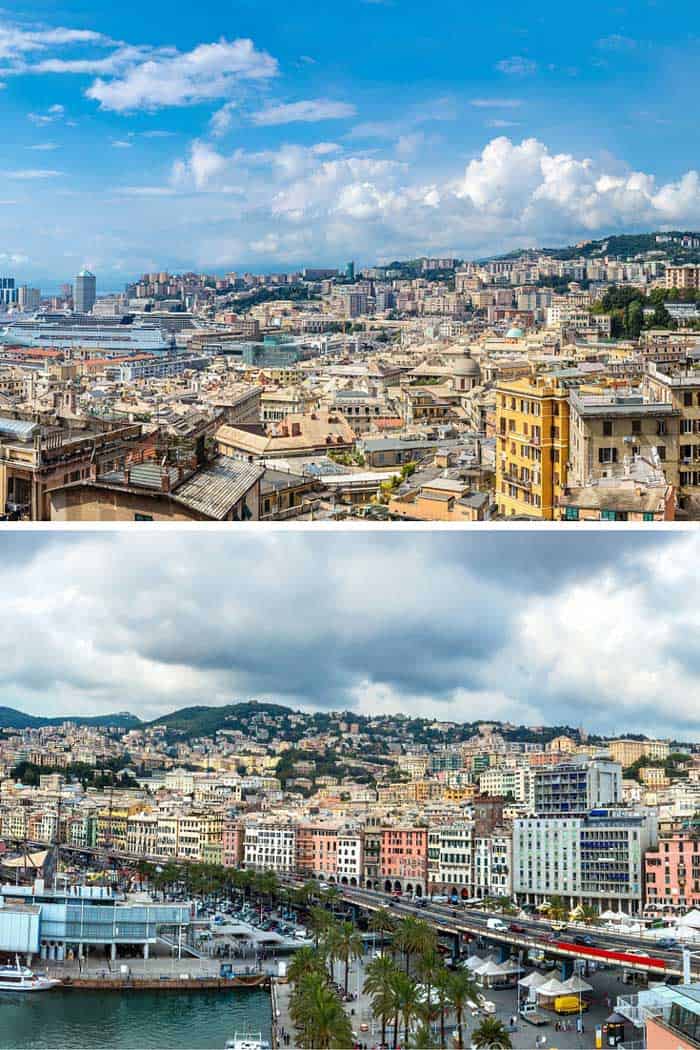 I know what you are thinking… salami! Haha. This delicious lunch meat should definitely be on your list of things to eat in Genoa.
This beautiful port city in Italy is so interesting. The sun shines differently here, making your surroundings seem dreamlike.
What to do in Genoa Italy
Try something a bit different and go to the largest aquarium in Italy, aptly named The Aquarium of Genoa. If you are craving beautiful architecture check out Piazza De Ferrari, the main square of the area. Explore the financial district and enjoy the fountain.
Do not miss the museums, explore the unreal opulence of Palazzo Reale – you will never forget it!
Are you ready to experience "La Dolce Vita"? It is waiting for you! Let me know where you decide to go!
Read Next: 10 Places you can't miss in Rome