Are you wondering what is Rome like?
Let me start by saying that there is a reason that everyone has taking trips to Rome on their Italy bucket list. If you haven't been there, you should know that the hype is well earned! It does perfectly blend the old world with a sophisticated romantic charm wrapped up in good food.
To help maximize the enjoyment though, you must prepare so that you don't end up missing out on some of the hot spots, spending more money than necessary, or getting stuck in unsafe situations. Keep reading this post as a Rome tour guide to best plan your trip.
Read next: 10 Places you Can't Miss in Rome
Rome Travel Tips – Advice On

Traveling to Rome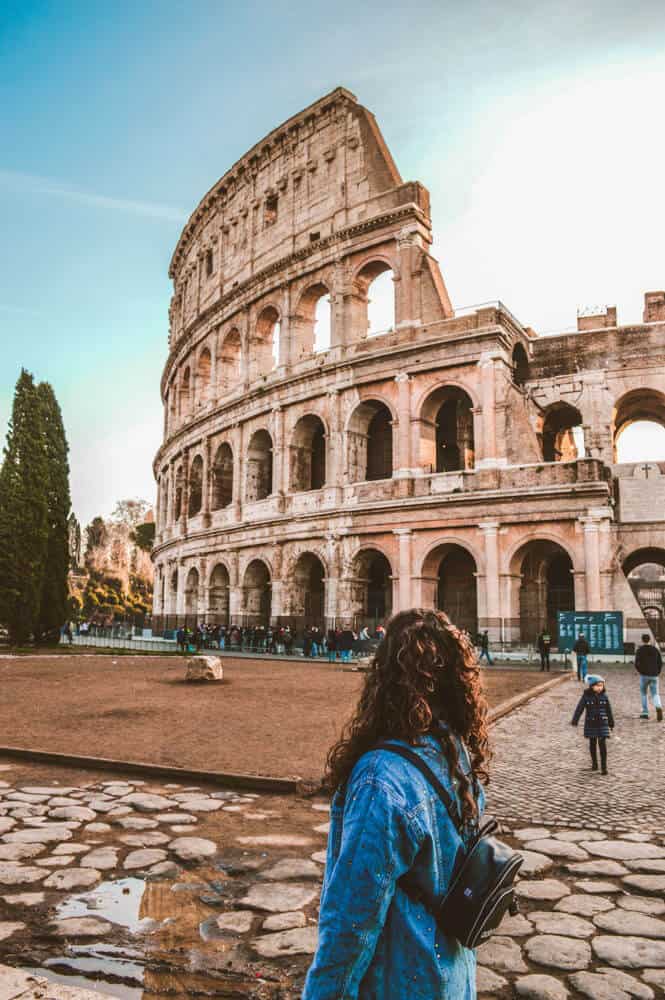 When is the best time to Visit Rome?
Realistically, any time of year can be the best time to go to Rome, if you don't mind the crowds and the high prices during the summer months. If you want to go during a less crowded and cheaper season we went in November and it was perfect.
When is the Worst Time to Visit Rome?
The worst time to visit Rome is in the summer. It can get super-hot in the summer, and a little cold for all the outdoor walking in the winter, but as long as you are packed appropriately there isn't a time where I wouldn't recommend it. The final decision should likely come down to other factors.
Summer will be is more crowded so keep that in mind when planning your trip. Hotels will also be more expensive in the summer.
9 Bad Things about Rome
Crowds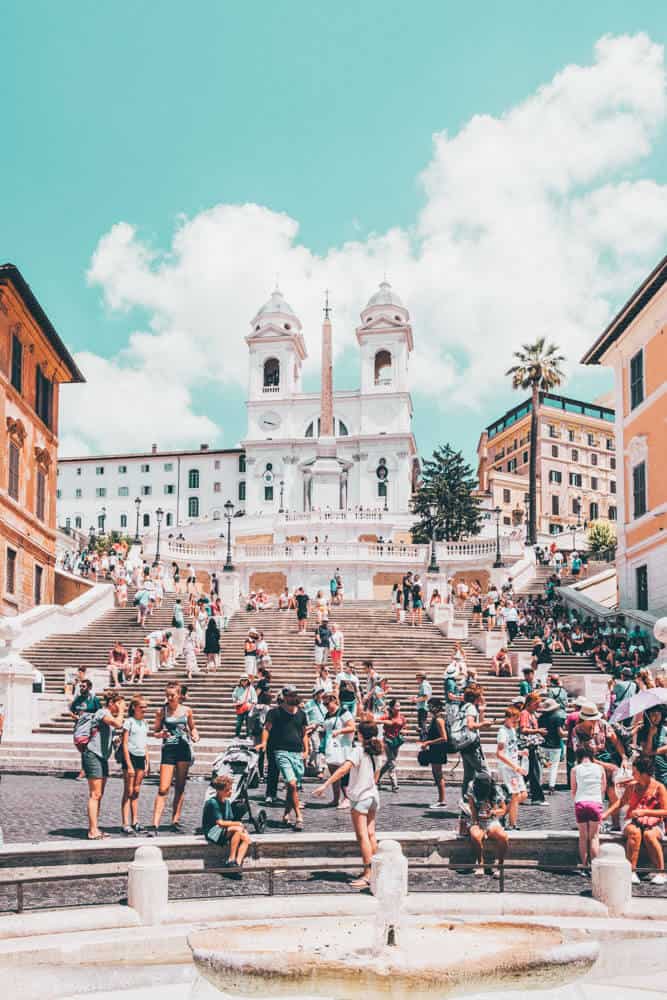 One of the best things about Rome is that most of what you want to see on your first trip there is concentrated in the city center; one of the worst things about Rome is that most everything you want to see on your first trip is concentrated in this city center.
Though this really can help you see more of the top attractions in a short amount of time, it really does contribute to massive crowds at the big attractions. Rome welcomes about 9 million tourists a year, and if you show up at Trevi Fountain on a summer day it feels like you can meet all of them.
The crowds are one of the worst things about Italy.
What can you do about this?
First, just accept the fact that you aren't going to get a picture of the Spanish Steps with them being empty, or if you do want to try plan on showing up at 3:00 am. Getting up super early helps, but the Colosseum hours and Vatican museum hours aren't as early opening as you may like (they don't open until 9:00 am). Although you will see other tourists year round, the fall and winter have much fewer than spring and summer.
Check out all the must do things in Rome.
Smokers

Everywhere
Unfortunately like some other European cities the locals in Rome seem to not have gotten the memo (or don't care) that smoking has devastating effects on your health. People choosing to smoke is fine, but a number of people (i.e. me) get sick when ingesting cigarette smoke.
Don't be surprised when you routinely have second hand smoke blown on you. What can you do about this? First just be ready for it and keep some distance, but make sure that if you are a non-smoker you book a non-smoking hotel room.
No Uber

in Rome

Italy
Is Uber in Rome Italy? No, unfortunately there is no Uber Rome, Lyft Rome, Taxify Rome or other ridesharing aps allowed. Ridesharing aps are especially useful in a foreign country because you can type in your destination in your own language and then follow the navigation making sure you aren't driven out of the way. Also, depending on currency exchange it often ends up being extremely cheap.
Not having Uber in Rome really is a big pain, but if you do need a taxi in Rome and hate having to wait to hail a taxi the old fashion way, make sure to download the My Taxi ap so you can request one and lock in your fare when you are ready to go.
Expect Lots of Traffic
Even if they did have Uber in Rome you might not want to use it that often since traffic can be brutal. Like many mega cities you are probably better off using the numerous public transportation options. In the city center the traffic gets especially bad during rush hour, which to me feels like it is 24 hours a day.
Thankfully the public transportation options in Rome are amazing, just make sure that you do your research ahead of time on which options will work best for your hotel location. If you fly into the main Rome Airport there is a cheap train for Rome airport transfers leaving every 30 minutes to the city center (Leandro Express) and then once there unlimited subway passes can be purchased pretty cheap (about $7 per day).
Crosswalks
Do you plan on covering the hot spots on foot? For many it is not a problem to walk from Vatican City to the Colosseum and then up to Trevi Fountain and the Spanish Steps and 700 other amazing spots between. The longest walk between all of these is only about 45 minutes, but the most frustrating part of the walks is that for some reason Italian crosswalks are not always on the corners of the intersections.
Crosswalks are often positioned in the middle of the roads rather than at the corners, with fences blocking jaywalkers from crossing at the corners. I still don't understand why this was done, but it is an easy enough fix to simply look for the crosswalks ahead of time rather than waiting for the corner.
Grafitti
Unfortunately much of this beautiful city has been spoiled with graffiti. Even though most large cities end up with their fair share, I always imagined Rome to be the exception before I went. You can see where city officials have cleaned up previous iterations of graffiti, but these enterprising artists seem to be ahead of the city officials.
No Photographs
A number of places you would most want your own pictures of do not allow you to actually take pictures in them. For example, the Sistine Chapel and various other rooms in the Vatican Museums tour don't let you take pictures inside.
I get why many of the places don't allow pictures since they are houses of worship, or they need to keep crowds moving, but it can be incredibly disappointing to not be able to take pictures if you planned on setting up a tripod. You will see rule breakers taking pictures in many of the banned areas, but as a compulsive rule follower, I can't bring myself to sneak the pictures in.
International Driver's License Italy Required
I love renting a car and being to explore more of a city and the surrounding countryside on my own. Lots of time I don't need to rent a car for the entire trip, but having my own wheels allows me to explore places where others generally don't go. Most countries allow you to rent a car by showing your home license, but renting a car in Italy requires getting over an additional hurdle and getting an international driving permit.
An Italian international driver's license is basically just an official translation of your driver's license from home, but the process involves an application, waiting period, and of course a fee. As an American the cheapest and easiest way to get one is typically through AAA; it costs about $30.
The good news is that if you do get an international driving permit the rental cars are generally pretty cheap. I would only do this if you are exploring things that are not in the city center as parking there is an absolute nightmare. If you don't have an international driving permit there are supposedly companies that will still rent to you and you just risk a large ticket if you get pulled over, but once again as a compulsive rule follower this wasn't an option for me.
Hustlers
As soon as you get off the plane in Rome and any time you are in the city center you will be greeted by smooth talking hustlers trying to sell you everything from Sistine Chapel tickets, shuttle bus rides, Colosseum tickets and Colosseum tours to random trinkets.
I'm sure some of them are selling legitimate products, but most are selling the normal products at inflated prices. For example, at the airport there are many shuttle bus drivers that offer to drive you to the city center telling you that it will save you time and money.
The prepared tourist knows to be dubious of these claims as the traffic to the city center can be unreal, and the trains to the city center are incredibly fast and cheap. Even if you say no to a shuttle, they will offer to sell you train tickets at an increased cost. The kiosks are going to have the cheapest prices.
At attractions like the Colosseum and Vatican Museums the hustlers will offer skip the line tours, but not all of them will actually save you any time or money. I highly recommend finding a reputable dealer online, or going with the attraction's actual site to purchase.
Expensive Hotels
Another downfall of all the main attractions being clustered in the city center is that the surrounding hotels tend to be quite expensive. With the area being so popular, there is intense competition for some really subpar accommodations.
The city requires a mandatory per guest tax be paid in cash on top of your reservation price. It can be a nightmare trying to track down cash after a long day of flying, or when you are rushing to check out.
Even though Uber in Rome isn't available, Airbnb is and you can find a lot of cool much more affordable places to stay.
Where to Stay in Rome for cheap
Hotel Foro Romano (Overall favorite) – The reason you book this hotel is because of its location. It is right next to the Roman Forum and Coliseum, easy walking distance. This is the area you want to stay in.
Why I recommend this hotel: It's super affordable and the Colosseum isn't the only thing it is close to. It is also close to the end of the leonardo express, the train that goes to the tourist hot spots from the airport. You can expect a short walk from the end of the train to the hotel, but not bad, we did it with all our luggage at night, but then we were in the best place to stay.
Hotel Foro Romano is right in the middle of all the action, all the amazing Italian restaurants, and subway access to everything else. Actual hotel was old (it's Rome) but not dirty and was suitable for what we needed. Want to be in the area on the cheap, then book this hotel, was so nice to be able to jump out the door and be at the colosseum. Check current prices here.
Have you previously been to Rome? Anything else you would add to help prepare future visitors?
Read Next: