Plage Caraibe Beach (Caribbean beach) in Guadeloupe is very rare with its black sand and pebbles. This is one of those beaches where you are reminded that you are indeed, on a volcanic and mountainous island.
Some things to be aware of before traveling to Guadeloupe
Language Barrier: Guadeloupe is a French speaking island and there is very little English spoken. Trust me, it will help to know a few beach terms in French.
I had to use google translate while doing my trip research because most of the articles were written in French.
Some Words that will be especially helpful to know are…
Plage – Beach
Anse – Cove
Plongée en apnée or "palme masque tuba" PMT – Snorkeling
Money – They use the Euro
Population – about 400,000 people.
Geography Clarification – most people think of Guadeloupe as 1 island, but there are actually 6 different inhabited islands. The biggest island is named Guadeloupe, but this island is split in two by a small sound – the west (left side on most maps) is called Basse-Terre and the east (right side on most maps is called Grand-Terre.
Where to stay in Guadeloupe
La Toubana Hotel & Spa – This hotel is in an amazing location in Sainte-Anne overlooking Les Saintes.
Guadeloupe is not known for their amazing resort hotels, and yet, if that's what you are looking for La Toubana Hotel is one of the nicest on the island. Located in Sainte-Anne, the location is ideal! So close to all the best beaches in Guadeloupe.
Make sure you book in advance as this place fills up really fast. We went to Guadeloupe in January and I checked prices for March and a lot of days were already booked out. Check availability here.
La Toubana has been recently renovated and upgraded to a five-star hotel, the first and only five star hotel in Guadeloupe. Vénite said. "It is our first five-star property; we've never had that before," she said. "It is in an amazing location in Sainte-Anne overlooking Les Saintes."
Nearby Beaches: Bois Jolan Beach, La Caravelle Beach and Sainte Anne Beach
Plage Caraibe Quick Tips
Water color: Blue
Sand: Black/brownish sand with lots of pebbles
Other names: Caraibe beach
Best for: Black sand and pebbles on the beach
Known for: Being more of a locals beach, Tamarind trees
Facilities: Lots of restaurants nearby
Swimming conditions: Not the best as the beach and shore is very rocky.
Lifeguard: none
Cost: Free
Parking: Large car park
Where is Plage Caraibe located?
It is located in Pointe Noire on the west coast of Basse-Terre in Guadeloupe.
Parking
Large car park
What you can Expect at Plage Caraibe Beach
This beach is only moderately suitable for swimming and snorkeling, as it is very rocky and does not have a ton of wild life.
The water is deep enough to immerse yourself up to your shoulders for a few meters and the sand very fine once in the water.
It is the only beach with tamarind trees.
The beach is bored by hills to the left and right.
It is a "pebble beach" so you can expect a lot of rocks in the sand.
More of a locals beach.
There are several restaurants here.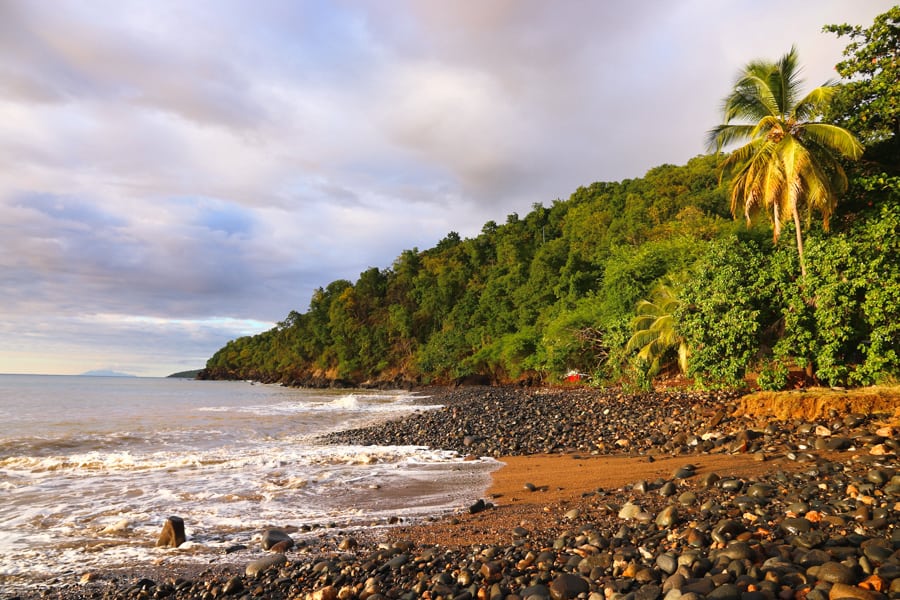 Pros and Cons
Pros
Pebbles and black sand are really unique for a Caribbean beach.
Lots of restaurants
Cons
Conclusion: Is Plage Caraibe worth visiting?
Meh, I would honestly skip this one even though the pebbles on the beach are really pretty. There are just so many other beaches that I prefer over this one.
Things to do near Plage Caraibe
Plage de Malendure (7 minute drive away)
Plage de Petite Anse (14 minute drive from this beach)
Plage de Grande Anse (25 min drive)