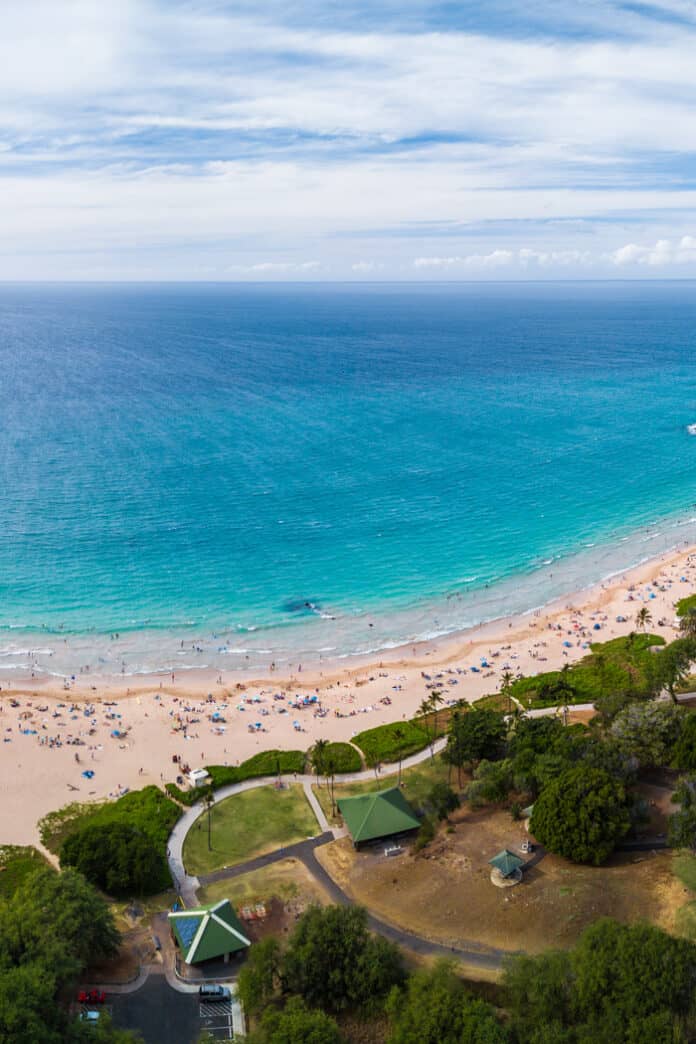 One of the best white sand beaches on the Big Island is Hapuna Beach Park.
There are only so many gorgeous Big Island Hawaii beaches. The island usually isn't the first destination people stop at when they come to Hawaii. I believe this is because there aren't as many mesmerizing beaches to lounge on.
People usually come back to Hawaii and do the Big Island on a second or third trip for unique adventures (such as helicopter lava tours or black sand beaches).
If you are on the Big Island you will still probably want to stop at a gorgeous beach. You can do that here! Officially, the beach is called the 'Hapuna Beach State Recreation Area'.
Read also: BEST BIG ISLAND BEACHES IN HAWAII
Hapuna Beach Park Quick Tips:
Known for: gorgeous white sand, clear water, and snorkeling
Facilities: restrooms, showers, picnic tables, pavillions
Parking: plenty!!!
Cost: $5 per person and $10 to park
Other: starting point for a hike to Mauna Kea
Where is Hapuna Beach?
Hapuna Beach is on the Kohala Coast north of Kona and Waikoloa. If you drive north from the main Kona airport it will take you about 30 minutes to get to Hapuna Beach. If you are coming from the Kona area it will take you about 45 minutes. There are other resorts in the area, but it definitely isn't crowded like the Waikiki area of Oahu.
Tip: When in Hawaii I highly recommend renting a car to get the most out of your experience. It would be difficult to see all the beautiful places in Hawaii without a car. Reserve a car here.
Hapuna Beach Hawaii Map
Where to Stay Near Hapuna Beach
The Big Island is huge compared to the other Hawaiian islands (hence its name). It takes about four hours to drive around the perimeter of the island, so plan accordingly!
Hapuna Beach Parking
The parking lot is HUGE by Hawaiian standards. There are so many parking lots that you have to wait or fight for a spot. I don't think that is the case here as I had no problem finding a spot on a super busy Sunday during a holiday weekend. The lot barely looked half full.
Hapuna Beach Hours
Open from 7am to 6:45pm.
Cost
Like a lot of Hawaiian state parks you have to pay $5 per person to get in. To park it will cost you $10 per vehicle. I didn't see anyone checking admission tickets (and never have at any of the state parks) but you are supposed to pay at the kiosks that surround the parking lot.
What To Expect Hapuna Beach
Water: Turquoise water with small waves and easy entry.
Length: .5 mi
Sand: Fine golden sand
Sea Bottom: Sandy
Swimming conditions: great for swimming; the sea is generally calm.
Cover: There are a few shady spots on the beach, but they fill up early.
This beach has some of the widest sand of all the Big Island beaches. The beach is over 200 feet wide. There is tons of room for you to spread out on. The water is generally (especially in the summer) calm enough for you to snorkel in. The sand is soft and golden.
This likely is NOT a good beach for you to surf at, but sometimes you can boogie board!
There are a few waves, but they're gentle rather than crashing. As the water is beautifully clear, you should try out the Hapuna Beach snorkeling, as it's one of the best activities on the island.
You'll find a reef at the northern end of the beach. You can't not see fish there!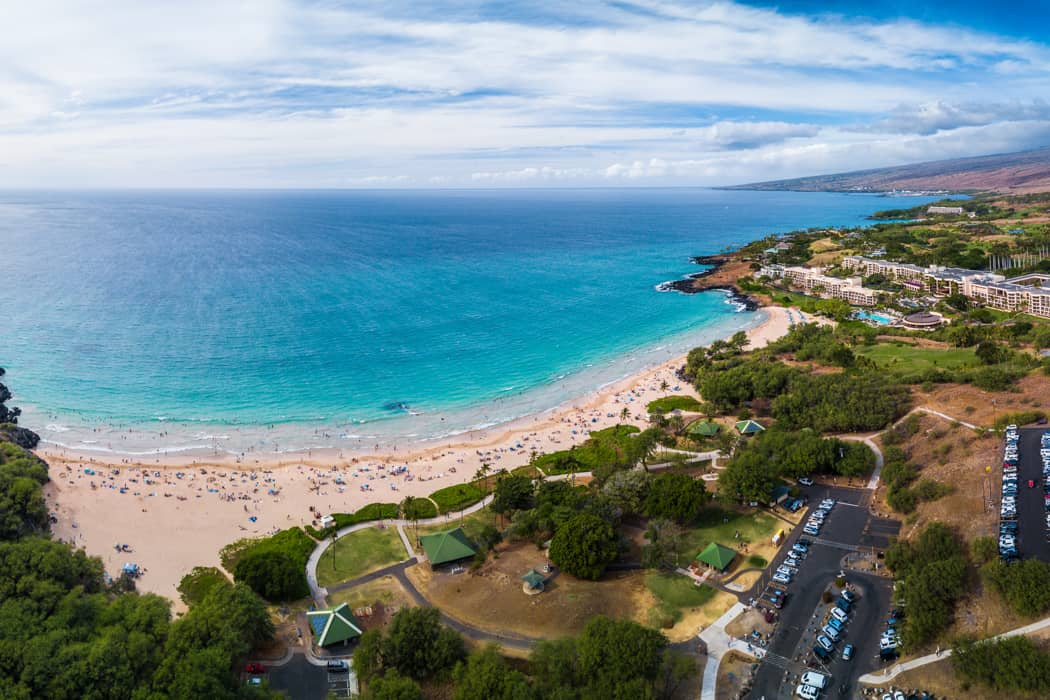 Beach Amenities
This beach has all the amenities you would want (except for restaurants and bars). There are showers and restrooms as well as pavillions and picnic tables if you bring your own food and plan to hang out for the entire day.
Hapuna Beach Snorkeling
The snorkeling at Hapuna Beach is decent. The currents can sometimes get strong and the water clarity isn't always amazing, BUT you can snorkel here.
The best snorkeling is located at each of the rocky ends of the beach.
You'll find a reef at the northern end of the beach.
Crowds
There are likely to be a good number of people here, but with the beach being so big it does not feel crowded!
Hiking to Mauna Kea Beach
Another hidden gem of a beach is Mauana Kea Beach. There is a hike that begins at the north (if you are facing the water the right side) end of the beach. It is just under a mile and takes you along the stunning coastline.
While both beaches are about the same, a benefit of hiking to Mauna Kea is that there is a restaurant at the resort you can access as well as rentals of water toys!
You can read more about the Mauna Kea Beach here.
Conclusion: Is Hapuna Beach State Park worth visiting?
If you are on the Big Island and looking for the stereotypical Hawaiian beach experience then Hapuna Beach is one of the few areas where you can get it. I highly recommend stopping here!
Other Big Island Beaches I recommend checking out:
OUR MOST POPULAR HAWAII BLOG POSTS
My husband and I have been to Hawaii many times and have written up more blog posts to help you plan your trip. These are my most popular blog posts and Hawaii travel guides to help you plan your trip.
The top things to do on Oahu – 15 Places You Can't Miss in Oahu (Hawaii) – our most viewed post ever!
The best places to see on all the Hawaiian Islands – 27 Incredible Places To Visit In Hawaii
Best Things to do in Maui: 10 Cool Things to do in Maui Hawaii
What to Pack for Hawaii: The Ultimate Hawaii Packing List
For those looking for more unique things to do in Oahu – 11 Best Things to do in Oahu (You Probably Haven't Heard of)
Guide to visiting one of the best beaches Maui offers – Red Sand Beach: Guide to Visiting the Red Sand Beach in Maui
The Ultimate Guide to Visiting the Hawaiian Islands – and what to expect on each island: What To Expect On Each Of The Hawaiian Islands
The Best and Most Easily Accessible Maui Waterfalls: 6 Easily Accessible Maui Waterfalls