The Seychelles are an awesome archipelago/country that most people know nothing about! If anything, people know the Seychelles have awesome beaches (100% true), but most people can't even find the Seychelles on a map (also 100% true).
These islands are located in the middle of the Indian Ocean, about 1,000 miles off the east coast of Africa. Somehow this island nation has remained relatively undiscovered. While there I saw no fast food chains, no American hotel chains, and a surprisingly low amount of tourists!
Seychelles Islands off the coast of Africa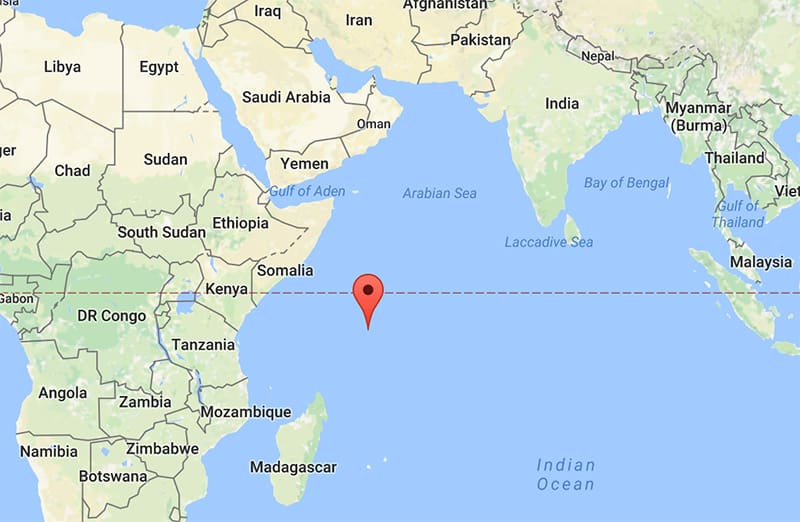 This pristine getaway may stay off many people's radar because it requires a series of LONG flights (I had 23 hours' worth of total flight time coming from Las Vegas) and its relative position next to areas of high conflict in Africa and the Middle-East. These are not legitimate reasons why you should avoid planning your next trip to the Seychelles!
Facts about the Seychelles
As a former British overseas territory, remnants of Britain remain (one of the three official languages is English, cars drive on the left side of the road, and the country is ruled by a stable government).
While there, I felt extremely safe. An airport employee warned me to be careful because 18 months ago there were some thieves that stole money from people that left it on the beach while swimming. Her warning for me to be careful only helped inspire me to feel safe! If the biggest crime was some petty thieves 18 months ago, I knew I was probably already safer than I would be at home.
This was further reinforced when I picked up my rental car. I filled out paperwork at the counter, and then the attendant pointed out to a parking lot where my car was sitting with the keys in it, and no further checkout required. To return, I was just supposed to re-park it there.
There were a couple of things surprised me while I was about the islands. The first was that I am not as good of a left hand side driver as I thought; even though I've done it before in New Zealand and the UK, I constantly turned on my windshield wipers instead of turning signal, and may or may not have hit a curb or two.
A second thing was that there were so few people on the beaches. I was blown away to find myself alone on Beau Vallon (a well-known beach on Mahe island) on a Saturday afternoon. Even if there were people on the main beaches, there are countless others where you really can have indescribable beauty and warm waters to yourself.
Speaking of the water, it really does look like these pictures almost all of the time. I've been to beaches where on a good day for 4 minutes you will see the clear turquoise blue water, but otherwise it is dark. That is not the case here as the ocean often looked even more amazing than the camera captured! Now on to the guide.
Best time to visit the Seychelles
The best time to visit the Seychelles is pretty much whenever you want. Haha. The weather is as close to perfect it can get with average temperatures between 76F (26C) – 82F (28C) year round! However, as with most tropical destinations you will get some rain, but it is typically over pretty quick.
If you are trying to avoid some of the rain showers then I would recommend going in June, July, or August as those are the driest months with the rainiest months being between November and January.
What to Pack for the Seychelles
With the weather being perfect all year long most of your time will be spent at the beach (more on that below). You want to make sure you have some sandals, sunglasses, Fast drying compact travel towel, swimsuit, hat, reef safe sunscreen and some clothes you can hike in.
How to Get to the Seychelles
To get there, you will likely need to fly into the Mahe Island airport (SEZ). This is a small airport where the gates are the only part that are actually indoors. While the features of big airports can be nice, the simplicity of SEZ and the perfect year round climate made checking in at an open air ticket counter nice. Mahe is the biggest and most populous island, and home of the capitol city Victoria.
Most flights connect through the Middle-East (Abu Dhabi, Dubai, or Istanbul), but there are a couple other European countries that connect to SEZ once a week. I was able to get a better deal by connecting down from Germany on the one day of week they fly between the two. When booking, be sure to check starting your trip on different days of the week to try and find the best deal.
Transportation
Flights and ferries to the next two biggest islands (Praslin and Le Digue) are easy to find and relatively inexpensive. Shuttles directly from the airport to the ferries can be arranged, but I opted to rent a car so that I could explore the entirety of Mahe island. This turned out great as I was able to find incredible hikes, explore many beautiful beaches, see the top snorkel spots, as well as meet locals in the capitol city of Victoria.
Victoria is small enough to explore on foot, and Praslin and Le Digue are famous for renting bikes to people that they can canvas the entire island with. You can rent a bike for the day for about $15 a day. Warning, if you want to explore the entire islands, be ready for some pretty intense hills and narrow roads!
The locals were extremely friendly, and maybe due to not being completely overrun with tourists, seemed happy to have us there.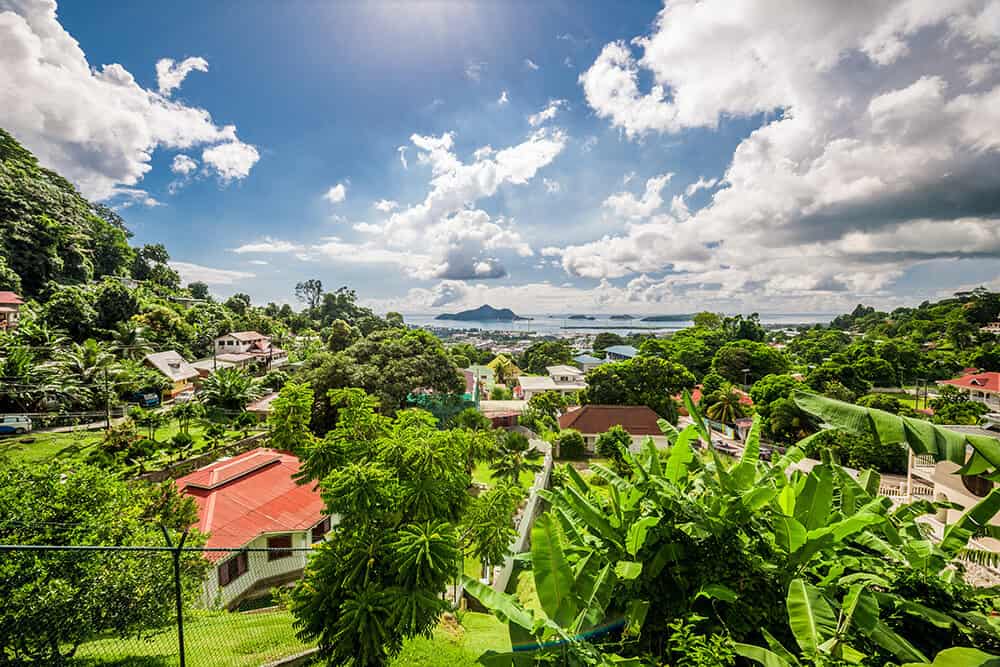 Hotels
Another huge benefit of the Seychelles is the affordability once there; I booked a nice hotel less than 500 feet from the beach for less than $100 per night! If money is no object, some of the best 5 star properties on earth are there, but you don't have to break the bank to stay in one of those fancy resorts to be able to enjoy a beautiful hotel.
Each of the three biggest islands feature a number of hotels (Mahe, Praslin, and La Digue), but there are other properties on the smaller islands. Generally, the smaller the island, the more expensive the hotel is going to be.
Food
Obviously, the food in the Seychelles tends to be based on a result of the population's proximity to the sea, and ability to grow in a tropical climate, and in my experience, all the food was fresh and delicious. For about $5 per meal, I was able to have fresh fish on rice, and fresh fruit. I recognized some of the fish and fruit, but others were entirely new to me. It is important to note that we did not eat any fancy restaurants which will add to the cost of food while there.
While there I didn't see any American food chains, but I could have missed them as I was totally hooked on the food from the local street vendors.
Best Places to Visit in the Seychelles
There is are so many places to visit in the Seychelles, I can honestly say it is a destination I would happily go back to. Anyone who knows me, knows that I don't say this very often, as I'm often ready to explore the next new place. Here are just a few of the places I recommend checking out while there.
Seychelles Beaches: Have your own private beach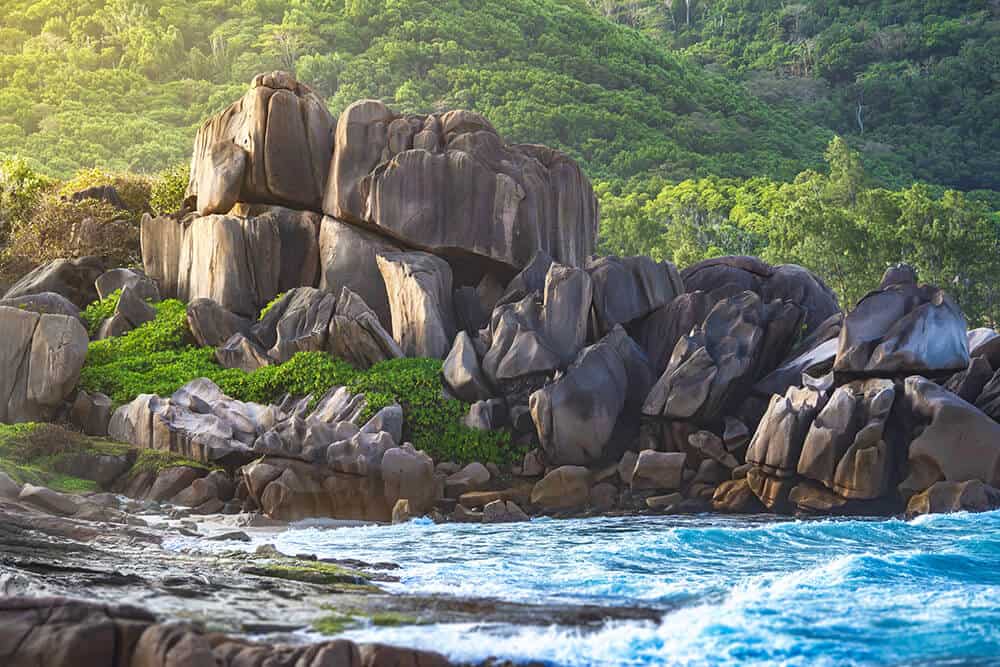 While there I was blown away to find myself alone on Beau Vallon (a well-known beach on Mahe island) on a Saturday afternoon. Even if you do find others on the main beaches, there are countless others where you really can have indescribable beauty and warm waters to yourself.
Speaking of the water, it really does look like these pictures almost all of the time. I've been to beaches where on a good day for 4 minutes you will see the clear turquoise blue water, but otherwise it is dark. That is not the case here as the ocean in these picture is not photoshopped, and in many cases looked even more amazing than the camera captured!
Snorkeling and/or Diving
My family loves SCUBA diving, but unfortunately being that far underwater scares me to death, so I opt to snorkel instead. People constantly point out that I am missing the best underwater creatures and formations by staying at the surface.
In the Seychelles, I did not have to SCUBA dive to see amazing reefs and the surrounding creatures (though if I wasn't a wimp I could have). There are tons of shallow reefs that cater to snorkelers, giving you the ability to right in the action without having to be deep underwater. Also, many popular dive and snorkel spots are often crowded by tons of tourists, but not surprisingly in the Seychelles there seem to be more dive spots than actual tourists.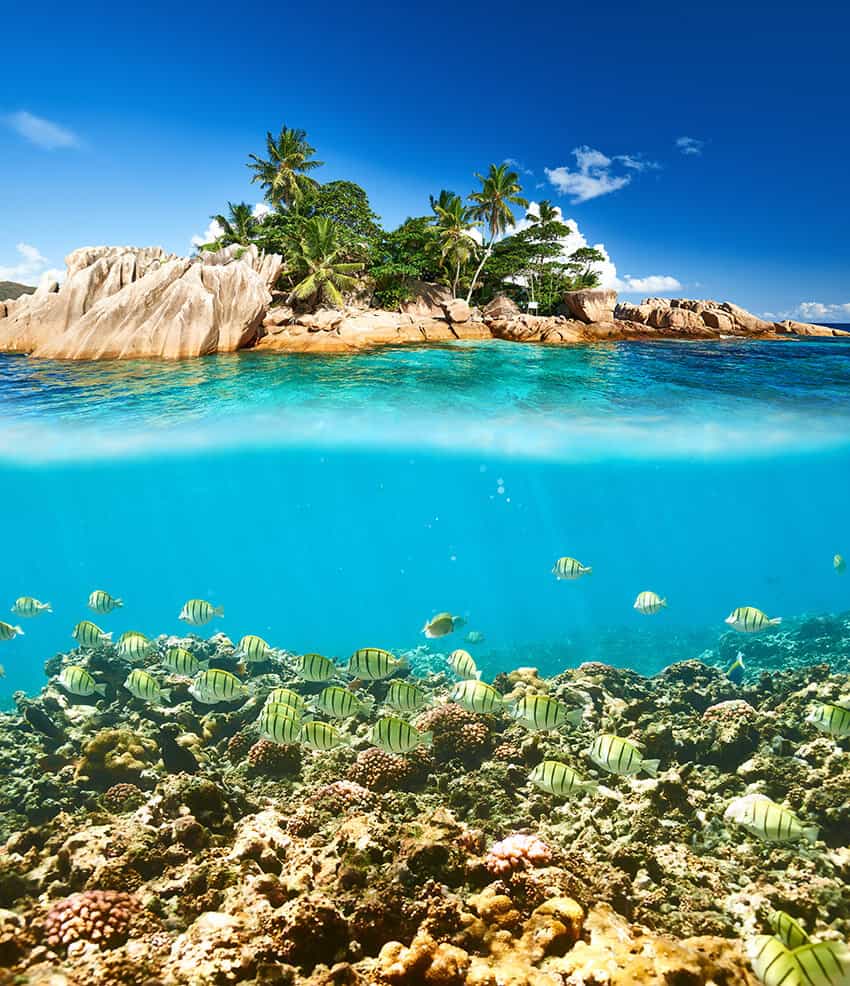 Side note, make sure to bring a waterproof phone case and keep your valuables safe from the water. UNFORTUNATELY, I learned this the hard way. There are simply too many amazing photo opportunities involving water to not have your phone/camera on hand. I couldn't resist this temptation, and while knee deep in the Indian Ocean learned my lesson. I was the idiot trying to use a selfie stick when an abnormally large wave knocked me back causing me to drop my phone. Losing your means of communication, GPS, boarding passes, and some of your pictures is a total nightmare. I learned my lesson and came home and immediately bought waterproof gear for my phone and camera.
Island Hopping in the Seychelles
Each island I saw had unique flair, though they all featured exquisite beaches. I highly recommend island hopping in the Seychelles.
There are flights between the big islands, and I've seen them selling for as little as $20 if booked in advance, but the way the I recommend getting between islands is on the ferries.
As discussed above, ferries between the biggest islands are frequent and affordable. Not only is it exciting to be able to see the various islands, but the trip of traveling by boat between them lets you see more of the islands, meet locals, and enjoy the fresh ocean air.
The Seychelles are made up of 115 islands total, but most are uninhabited. They do have Seychelles island hopping tours and day tours are also available to a number islands if you want one to yourself, but in my opinion seeing the big 3 islands is amazing enough.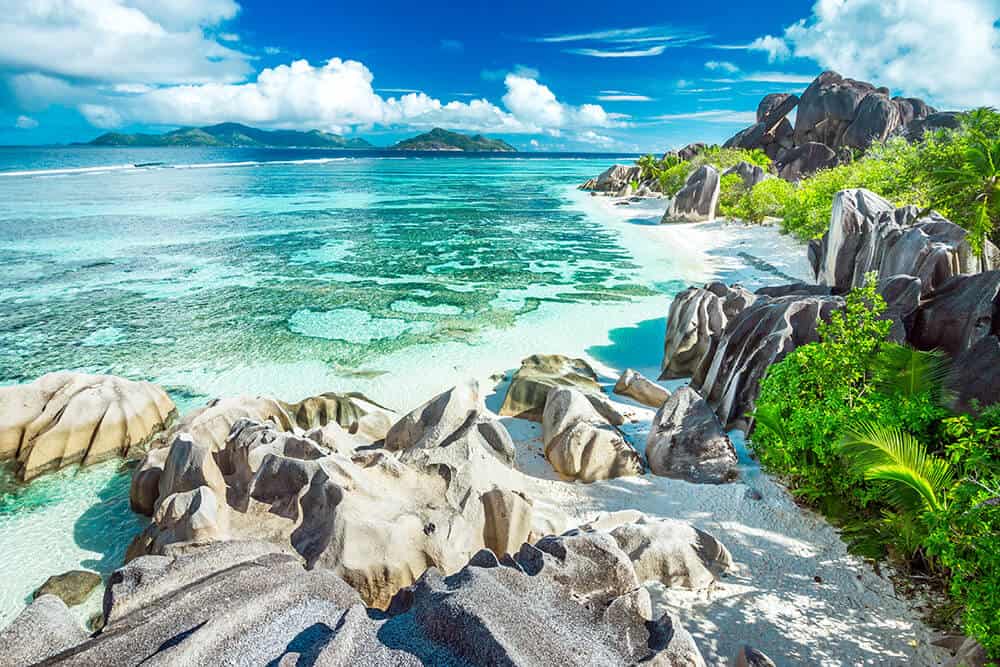 The main 3 islands are Mahe, Praslin, and Le Digue.
Mahe Island:
The main island that you most likely flew into, home of the capitol city Victoria.
Praslin Island:
Praslin is the 2nd biggest island, and approximately a 1 hour ferry ride away from Mahe. A ferry from Mahe to Praslin was $50.
Le Digue Island:
Le Digue is the 3rd biggest island. To extend your ferry ride all the way to Le Digue, it was only an additional $15.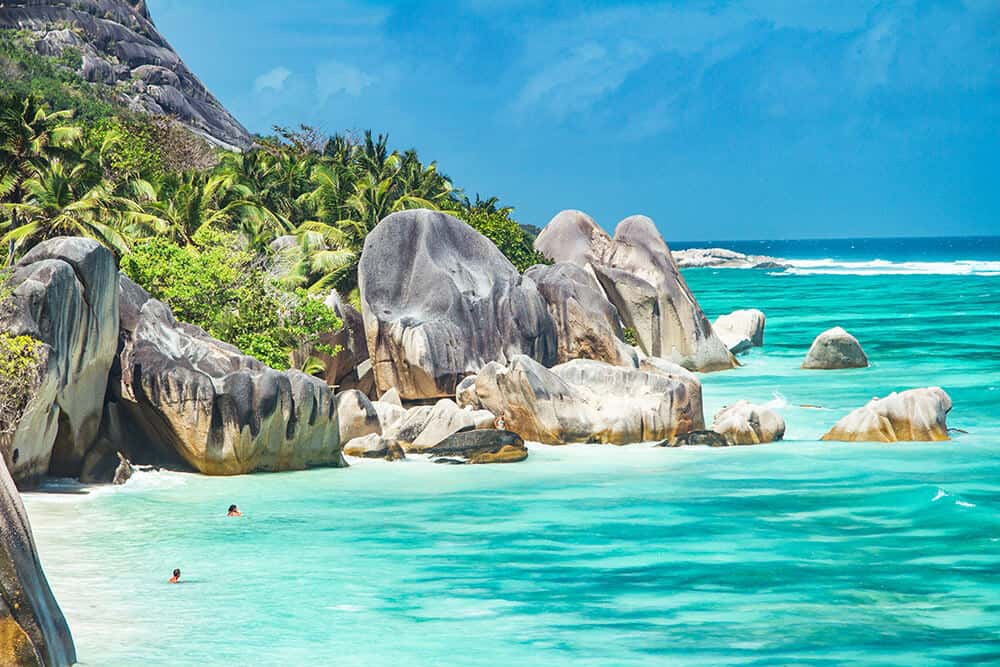 Take a hike
There are way too many hikes available to name which ones should be done, but the best part about hiking in the Seychelles is that there are tons to choose from, there are all fairly accessible to the hotels, and they don't require 2 days' worth of effort to get to stunning vistas.
My favorite hike was the hike to Anse Major. This hike takes you along the northwest coast of Mahe island, and ultimately delivers you to the secluded beach of Anse Major. The hike only takes about 1 hour each direction, and basically leaves from Beau Vallon (one of the most popular tourist areas). It is not too difficult to manage, and gives you the ability to climb a bit along rock cliffs, see wildlife, but not be dead by the time you arrive at the beach.
Another hike that I've heard great things about but didn't have a chance to do was Morne Blanc trail, which takes you to the top of a mountain, and ultimately delivers views of the entirety of Mahe island. This hike also can be completed in just a few hours, so camping gear is not required.
Copolia Trail is another popular hike that will give you equally amazing views as you can see from the photo below!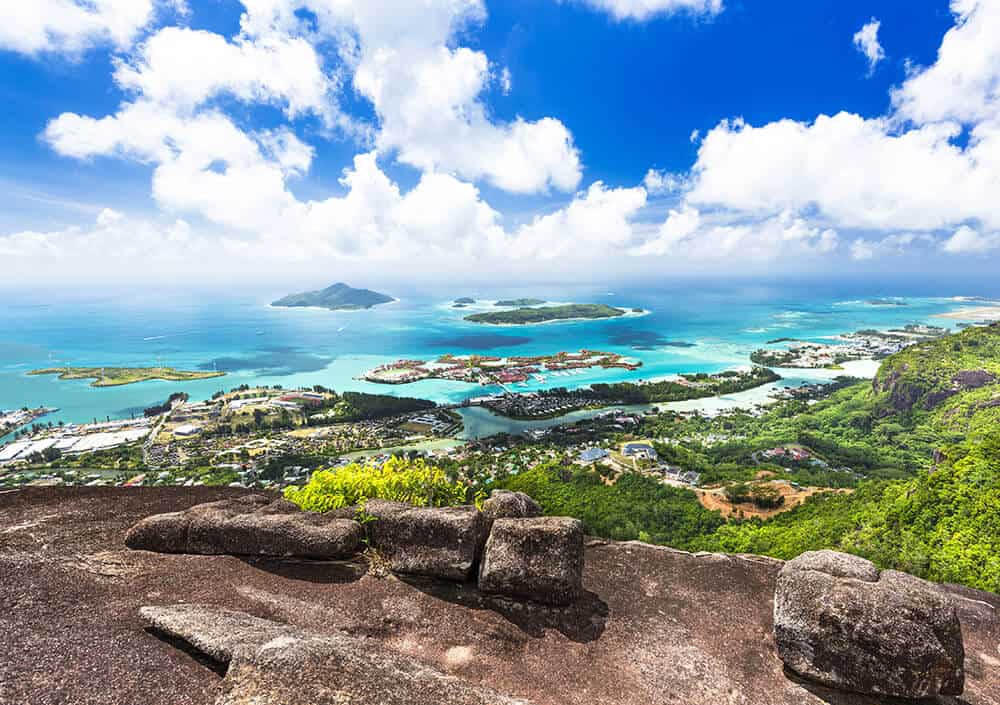 Visit a Hindu Temple on Mahe Island
Even though Hindus make up only a small percentage of the population in the Seychelles, local Hindus created a beautiful temple in the middle of Victoria. The temple is named Arul Mihu Navasakthi Vinayagar, the Hindu God of safety and prosperity.
The temple cannot be missed as one of the few busy roads in Victoria goes immediately by it. The bold coloring can be spotted from far away, and even though the streets outside are a bustle of people, the inside is often full of peaceful worshippers. Thankfully, they let tourists inside to see the ornate designs.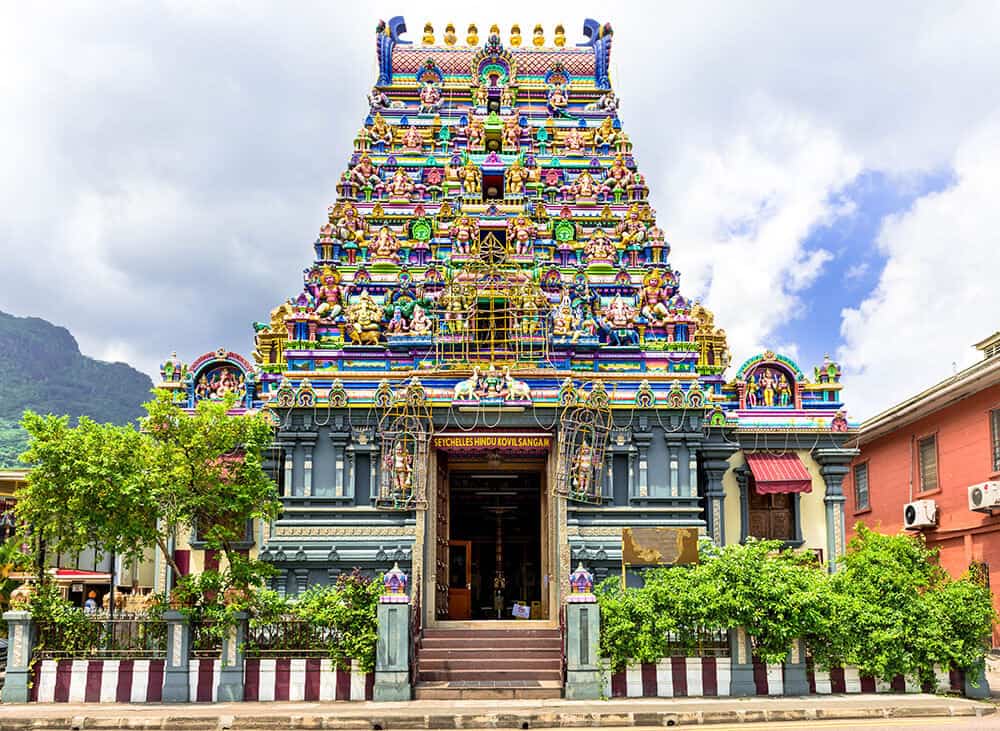 I hope this guide was helpful! Let me know any questions or comments you have in the comments below.
Have you guys been to the Seychelles? What was your favorite part of the island?
This post contains affiliate links and we will make a small commission if you guys book through our link. I want to thank you all for the support! It helps keep our little site up and running.
You may also like: 8 of the Best Beaches in the Seychelles