Finding the most beautiful places in Hawaii isn't hard. Before my first trip to Hawaii I knew to expect amazing natural beauty, but I completely underestimated just how much there was to see!
From the waterfalls, to the beaches, to the gorgeous grass covered mountains I just couldn't get enough. One mistake I made was not doing enough research before our trip; as a result I missed out on some of the most gorgeous spots on the islands. When I go back, that mistake will not be made again.
I wrote this post so you can know some of the lesser known parts of the islands, and make sure to make plans to explore them as well.
Also, one piece of advice is to make sure to island hop while there. It is fairly easy to get between the islands, and can add completely new elements to your Hawaiian vacation.
What to Pack? Before traveling to Hawaii, make sure to read my Hawaii Packing List so you can know exactly what you need to pack.
The 27 Best Places to Visit in Hawaii
There are so many amazing places in Hawaii to visit. Below are 27 of my current favorites.
Let us know in the comments what are your favorite places to visit in Hawaii is!
Waimea Canyon State Park, Kauai
Waimea Canyon is one of the prettiest places in Hawaii. This gorgeous park is lovingly called the "Grand Canyon of the Pacific." This canyon is located on the Southwest side of Kauai and even though the size may not compare to the actual Grand Canyon, you will not find anything else like it in the Hawaiian Islands.
Seven Sacred Pools, Maui
The Seven Sacred Pools are one of the most popular attractions in Maui. This beautiful park has pools for swimming and spectacular waterfalls. Even though it is prohibited, you will often see people jumping down the waterfalls.
If you go, make sure to go early as it can get quite crowded as the day goes on.
Waikapalae wet cave, Kauai
This cave is located on Kauai's northern shore, and is often called the Blue Room Cave due to its vibrant blue water. This blue tint is brightest when the sun is shining into the cave.
It was also used in Pirates of Caribbean movie, but warning, the water is super cold. Definitely one of the coolest places in Hawaii in visit.
Shark Diving Oahu (North Shore)
An Oahu shark dive in infested waters while you are protected in an underwater cage sounds like something that only National Geographic researchers would get to do right? Shockingly, shark cage diving in Oahu really is something that you can book! Check it out here.
The tour takes about two hours. You will take a boat out to the shark hot spot and if you aren't too afraid, you can get in the safety cage where you will be mere inches away from sharks that grow up to 15 feet. One caveat is that you won't be in the actual shark cage for the full two hours (that part only lasts for about 20 minutes). Click here to book the Oahu shark dive tour.
If you are feeling extra daring you can book the cage free shark swim here.
Rainbow Falls, The Big Island
Rainbow (Waiānuenue) Falls is a waterfall located in Hilo, Hawaii. It got its name because if it is sunny in the morning, you will be able to see a rainbow from the falls. It is 80 ft (24 m) tall and almost 100 ft (30 m) wide. Check out the most spectacular waterfalls on the Big Island here.
Kilauea Crater (caldera), The Big Island
Kilauea is the most active volcano in Hawaii, which may be why in Hawaiian its name means "spewing". The name obviously refers to the lava spewing out of the earth through this volcano.
Waihee Ridge Trail, Maui
This 5 mile hike is not for a beginner, but provides exquisite views of the western mountains of Maui, the ocean, and even of Makamakaole Falls.
Read the full post on the Waihee Ridge Trail here.
Not sure what to pack for Hawaii? Read our full Hawaii Packing List.
Black and white rock beach in Kona, The Big Island

This beach may not be ideal for laying out but the black and white lava rocks sure do make for a great photo!
Enjoy the view (in Palolo) from some of the best hotels, Oahu
Kaihalulu Red Sand Beach, Maui
Photo: Courtney Nash / Flickr
Most people are surprised to learn that Hawaii features some exquisitely beautiful red sand beaches.
Kaihalulu Beach in Hana, Hawaii is one place where you can observe this phenomenon, but be prepared for a decent hike to uncover this gem. Also worth noting is that due to the secluded nature of this little piece of paradise, Kaihalulu is known unofficially as a clothing-optional beach.
This red sand beach is one of the most beautiful places in Hawaii.
See also: 15 of the World's Most Awesome & Unique Beaches
Thurston Lava Tube in Volcano National Park, The Big Island
This 500 year old lava cave is a must see spot if you are on The Big Island. There are quite a few lava tubes on the island, but Nahuku is one of the easiest and biggest to get to. These tubes are formed from flowing lava cooling and hardening.
Byodo-In Temple, Oahu
The Byodo-In Temple is a must see in Hawaii. It was built to commemorate the 100 year anniversary of the first Japanese immigrants to Hawaii, is a replica of another from Kyoto, Japan, and is a perfect way to pay homage to Hawaii's Japanese influence.
This beautiful temple is surrounded by lush Japanese gardens and koi ponds. It is also featured in a few tv series including Hawaii Five-O, Magnum, Lost and House of the Rising Sun.
Waterfalls at Ko'olau Mountain Range, Oahu
This mountain range was formed by ancient volcanoes erupting. Today, there are dramatic cliffs left on the Eastern side of Oahu. On a rainy day water pools at the top and you can see spectacular waterfalls coming down the cliffs.
Punaluu Black Sand Beach, The Big Island
Usually due to very active volcanoes, you will find beaches of just about every color in Hawaii, including black. This beach is located on the southeastern Kau coast. Punaluu Beach is one of the most famous black sand beaches in Hawaii.
Read the full article on visiting Punalu'u Black Sand Beach on The Big Island Hawaii.
Heart-Shaped Rock, Maui
Although most people call this the heart shaped rock, it is more of a heart shaped hole. Either way, this romantic spot is definitely worth a visit. It is located right by the Nakalele Blowhole.
Stairway to Heaven, Oahu
This hike is now illegal due to private land ownership and liability issues, though I know many people are still doing it. The Stairway to Heaven Hike used to be one of the most popular places in Hawaii. I include it because it is something you will hear about when planning a trip to Hawaii. The metal stairs and ladders create a challenging but amazing hike.
Nakalele Blowhole, Maui
The Nakalele blowhole is a result of a deteriorating shoreline below a lava shelf where each wave of water is pushed into a hole in creating a geyser-like occurrence. Water spewed from the blowhole can rise as high as 100 feet in the air!
Waimoku Falls, Maui
Wow. Just wow! This 400ft waterfall is one of the most beautiful on the island.
Read also – 10 cool things to do in Maui
Volcanoes National Park, The Big Island
This was my husband's favorite thing to see in all of Hawaii. There are not many places on earth where you can plan on consistently seeing molten lava without burning to death. Volcanoes National Park is one of the few areas where you can experience this. If conditions are right, the experience is AMAZING.
Glass Beach,

Hanapepe, Kauai
This unique beach is located in Kauai and the shoreline is formed with pieces of thousands of old glass bottles. This is similar to the famous glass beach feature in Fort Braggs, California.
Papakolea Beach – Kaʻū, The Big Island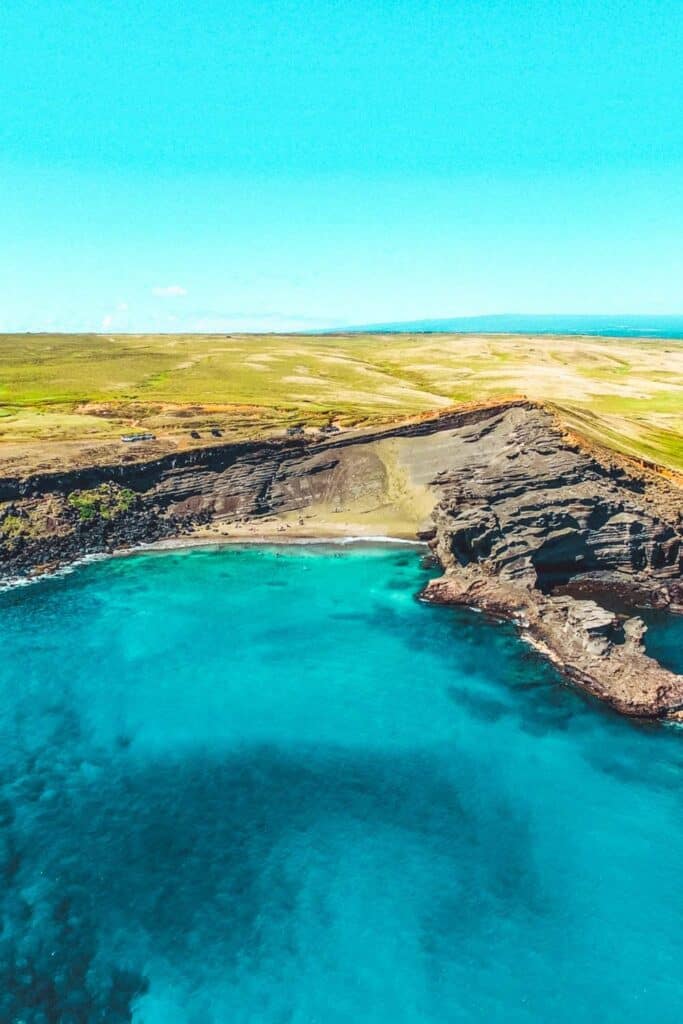 Photo: Anita Gould / Flickr
Not only does Hawaii feature the typical brownish white sand beaches, red sand beaches, and black sand beaches, but Papakolea Beach features a uniquely olive colored sand.
This secluded beach gets its green sand from a silicate mineral named olivine, which comes from Hawaiian lavas. I've seen green beaches and thought they were gross (they were gross because they were overgrown with algae and filled with rotting seaweed), but the green on Papakolea beach is entirely different and awesome.
Read Next – Best Big Island Beaches
Diamond Head Hike, Oahu
The mountain in the distance of the photo is Diamond Head.
Diamond Head is probably the most popular hike in all of Hawaii. The mountain/volcano is located right off Waikiki beach, and the quick hike gives everyone beautiful views of the ocean, city, and lush green island. If you've never been to Hawaii, you can't miss Diamond Head. Book your tour here.
Akaka Falls, The Big Island
This park is a great choice for those wanting to see multiple waterfalls, but not wanting a long hike (less than ½ a mile). The first 100 foot waterfall you will see is Kahuna Falls, and the second is the 442 feet Akaka Falls.
Here are some more of our most popular posts to help you plan your trip to Hawaii!
OUR MOST POPULAR HAWAII BLOG POSTS
My husband and I have been to Hawaii many times and have written up more blog posts to help you plan your trip. These are my most popular blog posts and Hawaii travel guides to help you plan your trip.
The top things to do on Oahu – 15 Places You Can't Miss in Oahu (Hawaii) – our most viewed post ever!
The best places to see on all the Hawaiian Islands – 27 Incredible Places To Visit In Hawaii
Best Things to do in Maui: 10 Cool Things to do in Maui Hawaii
What to Pack for Hawaii: The Ultimate Hawaii Packing List
For those looking for more unique things to do in Oahu – 11 Best Things to do in Oahu (You Probably Haven't Heard of)
Guide to visiting one of the best beaches Maui offers – Red Sand Beach: Guide to Visiting the Red Sand Beach in Maui
The Ultimate Guide to Visiting the Hawaiian Islands – and what to expect on each island: What To Expect On Each Of The Hawaiian Islands
The Best and Most Easily Accessible Maui Waterfalls: 6 Easily Accessible Maui Waterfalls