Working as a flight attendant is a great job, but it can be really hard to actually get hired. Recently Delta Airlines needed to hire 1,000 flight attendants, but got more than 125,000 applicants. (NY Post).
*UPDATE* Given the coronavirus pandemic some airlines have had to layoff flight attendants, which is likely to make it even harder to get a job as a flight attendant.
So how do you actually distinguish yourself to get one of those coveted spots? Do you need to have experience? Do you need to be a college graduate with a specific major? Read on to find out how to become a flight attendant with no experience.
How to become a flight attendant with no experience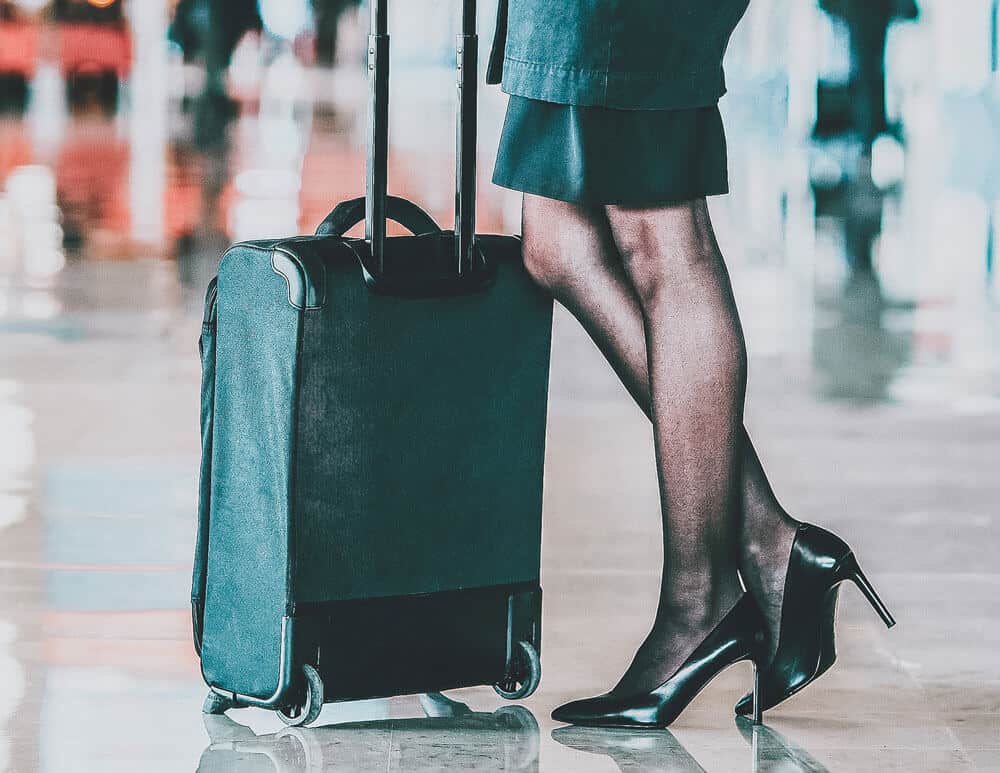 Tip – So are you considering becoming a flight attendant? Absolutely committed to wanting to do it? To help you make up your mind read about the best and worst things about becoming a flight attendant.
Understanding the process of how to become a flight attendant makes all the difference
There isn't really one set path of how to become a flight attendant. It varies based on what airline you ultimately want to work for, and where you want to be based out of. Lots of people want to be a flight attendant based in Los Angeles that gets to fly to and explore world famous cities like Tokyo and Paris, but not surprisingly this is much harder than working for the airline that will routinely have you fly from Philadelphia, Pennsylvania to Bangor, Maine multiple times a day.
Knowing the process you need to go through to get to the airline you actually want makes the difficult process manageable. I.e. knowing things like the best thing you can do to help get hired at the big international airline is have experience with the small regional airline. Knowing details like that can also help you set proper expectations to know how long it should take you to ultimately get to the airline and routes you want to fly.
What are the flight attendant requirements?
At first glance the flight attendant qualifications may seem to be easier than you think. For most airlines the flight attendant requirements say you only need to be 18 years old and have a high school diploma or G.E.D. Some airline's flight attendant requirements say you to be older, but none older than 21.
There are no subjects needed to become a flight attendant. Flight attendant qualifications rarely say you do not need to be a college graduate, and you do not need to have experience in the hospitality, travel, or tourism fields.
That being said, while the requirements to become a flight attendant aren't extensive, what it actually takes to get hired is a completely different story. How do you distinguish yourself from the myriads of other candidates?
Even though there are no courses or subjects needed to become a flight attendant, there are things you should do. The absolute best thing you can do to make yourself more likely to get hired is to have previous experience as a flight attendant. Seem counterintuitive to have to have experience to be able to apply for the job you want?
The answer is that there are often smaller airlines flying out of airports that don't have as much demand. The biggest secret is being willing to take one of those jobs to start out (even if it means you have to temporarily move to Cedar Rapids, IA).
Apply to be a flight attendant
Lots of times there are airlines hiring for flight attendants, but they probably aren't the airlines you want to work at right away. You probably want to do those trips to Paris, or have a really flexible schedule that you've heard about. Even if you do get a job at one of those big airlines, it often takes a few years to build your seniority enough to be able to bid on those flights.
You can find open applications by periodically checking airline websites, or by going to indeed or glassdoor. By searching on those sites you will find openings, and my biggest piece of advice would be to apply to all of them, and to apply often.
For more tips on the application process read 7 Tips to Becoming a Flight Attendant.
What is a flight attendant salary?
Wondering how much does a flight attendant make? Flight attendants can make good money, BUT yes there is a but, it doesn't happen right away. Lots of people look up the median flight attendant salary and see about $55,000 per year and think that they will be receiving that once they get hired. Unfortunately, the starting pay for most airlines is much lower.
You will likely make about $35,000 your first year as a flight attendant, with incremental raises built in based on time of service. A big reason why the median flight attendant salary is so high is that lots of flight attendants hold onto their jobs for a long time, which means that they keep ticking up their salary scales for more time put into the job.
You can see specific salaries by airline on glassdoor.com.
What are the flight attendant interview questions and answers?
The flight attendant interview questions vary by airline, but you can find them online. Search for specific terms like "Delta flight attendant interview" or "delta video interview questions" on YouTube, Google, Glassdoor, and Indeed.
I've helped a lot of friends prepare for a flight attendant interview, and we almost always can find the exact flight attendant interview questions they will be asked. If you know what is coming, you can be much better prepared.
What to expect at flight attendant school?
Flight attendant school is the same as flight attendant training, and it is almost done at the actual airline you work for. The FAA is the governmental organization that oversees airlines in the United States. This means that they in part set the curriculum for flight attendant training and dictate what will be in the flight attendant job description. You need to get FAA certification as part of your flight attendant training, but the airline helps you through that process.
The flight attendant job description dictates that In training you can expect many hours of coursework and tests on airline, airport, and aircraft terminology, and most importantly a heavy emphasis on safety. You will also do drills in a cabin trainer (fake airplane cabin setup). My favorite part was doing the raft drills in a swimming pool in case of an over-water aircraft ditching.
The training requires a lot of memorization, and lots of people do not make it through the training, so if you do make it to training, take it very seriously.
While training is grueling, at least you get paid while going through the process. Also, you inevitably have the opportunity to get close to your fellow trainees.
How long is flight attendant school?
So how long is flight attendant school? How long will you be in training for? Typically, it last for about 6 weeks, though I have heard of it in as little as 2, and as many as 8.
Even though the actual training is pretty short, you should think of your
Conclusion
If you want to work at Southwest or Delta they are much more likely to hire you if you have experience working at another airline, even if it is only a small regional carrier. To get a job at one of the smaller airlines, you need to apply often, and I would recommend being willing to take the first job wherever you can get on, even if it means moving temporarily. Remember, even if the job is based out of another city, flight attendants often have the option of commuting after training.

To nail the interview process make sure you are prepared, and do hours and hours of research on your specific interview process, not just general airline interview questions. Even though you are likely to have some boring overnights and painfully early AM reports at your first flight attendant job, I loved working as a flight attendant and think you will too.
MORE BLOG POSTS ON HOW TO BECOME A FLIGHT ATTENDANT
The process to becoming a flight attendant can be overwhelming. These are my most popular blog posts to help guide you through the process.
How to pass the cabin crew interview: The #1 Secret to Passing the Cabin Crew Interview
Our Best Tips to Become a Flight Attendant: 7 Tips to Becoming a Flight Attendant
How to Become a Flight Attendant if you have no experience: How to Become a Flight Attendant (With no Experience)
What you Need to Know Before you Apply: 5 WORST things about being a Flight Attendant
Things you Don't Know About Becoming a Flight Attendant: 5 Random Things you Probably Didn't Know about Being a Flight Attendant