The secret of Iceland being one of the best vacation spots on earth is getting out. Iceland has been getting more and more tourists each year, and the only part that surprises me is why it didn't happen sooner.
Part of the allure of Iceland is that the attractions are generally unique compared to the rest of the globe. For example, many countries have beautiful beaches, but far fewer have black sand beaches made of volcanic rock.
What to Pack? Before traveling to Iceland, make sure to read my Iceland Packing List guide so you so that you are prepared for the unique elements this nation has to offer.
10 Places to Visit in Iceland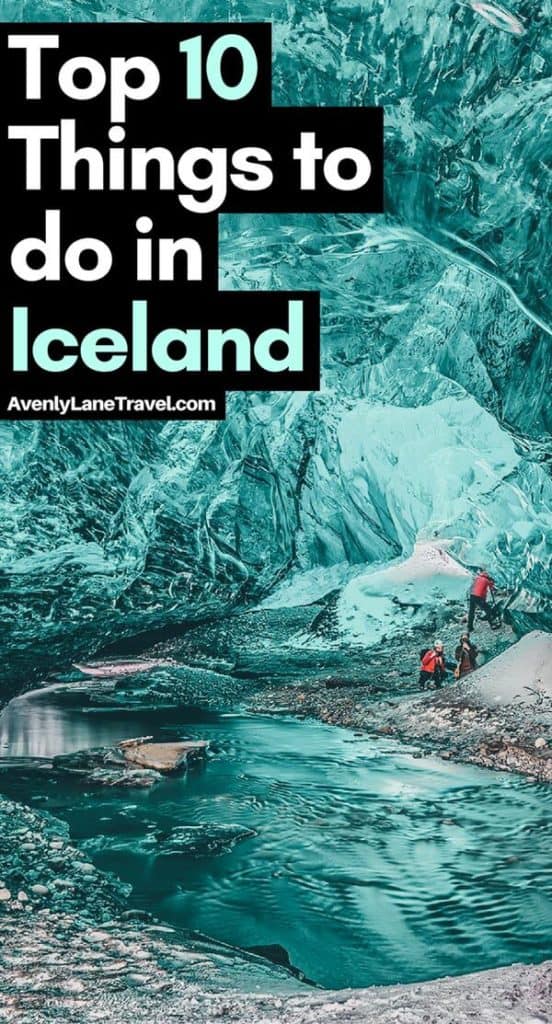 Packing for Iceland can be tricky depending on the time of year you go. Even in the summer though you will need to pack for cooler weather. Here are some of my favorite products for Iceland on Amazon. Let me know if you have any questions in the comments!
This post contains affiliate links and we will make a small commission if you guys book through our link. I want to thank you all for the support!
Where to Stay in Iceland (Reykjavik)
We stayed 4 nights in Reykjavik and it was the perfect location for us. We ended up staying at the Reykjavik Lights Hotel all 4 nights and it ended up being the perfect location. We stayed there all 4 mights. We loved it.
The hotel we rented a in Reykjavik right in the city center. (One of the top things we were looking for – location is everything!) The prices weren't bad but we were there in December, maybe the prices go up in the summer? It was about $100 a night.
They offer an incredible and completely free buffet breakfast and wifi (Free wifi is a must!). The breakfast was REALLY good! Book or check current prices for the hotel here.
10 Amazing Places You Must See in Iceland
The list below highlights 10 of the most common attractions Iceland has to offer, but you are guaranteed to find other things exciting while there as well.
1. Visit The Black Sand Beach In Vik Iceland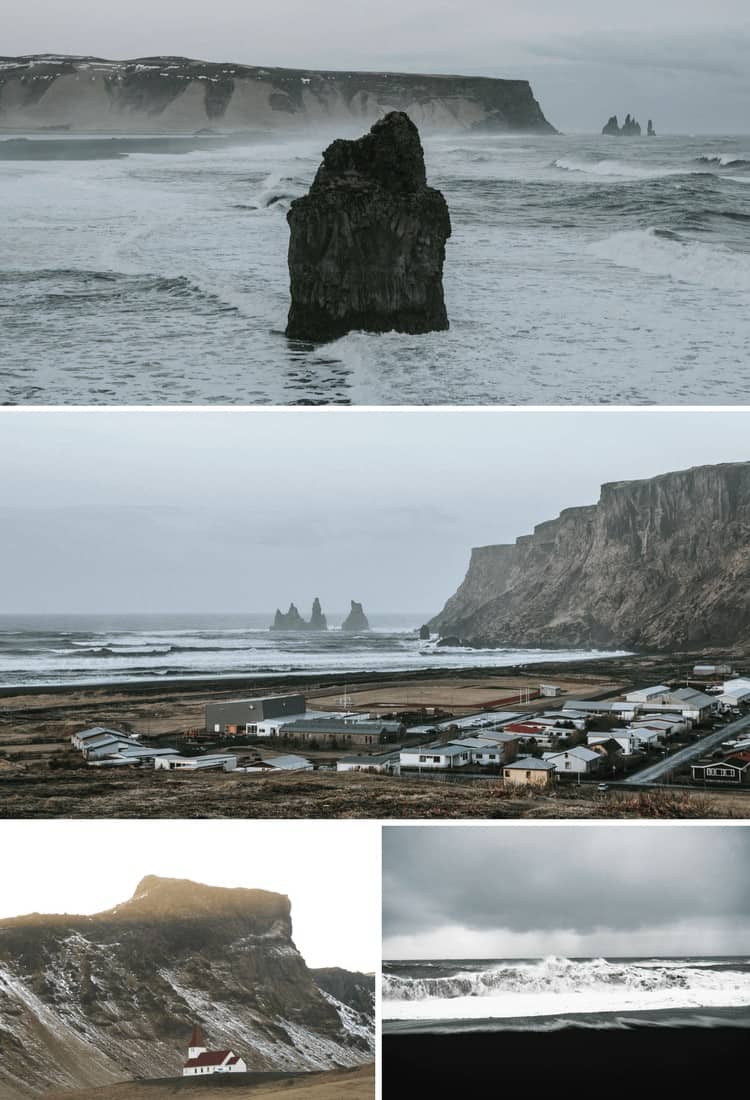 Visiting the black sand beach in Vik is definitely a must. The sand is crushed lava rock formed when it reaches the frigid ocean. A beautiful beach to visit, but not where I chose to sun tan.
Half way down the beach is a large vaulted cavern called Hálsanefeshellir (obviously really easy to pronounce).
Read more on Vik Iceland here.
2. Visit A Volcano
Iceland has about 130 volcanoes on the island. This is incredible to consider when you realize that Iceland is about the size of Georgia. Fears of a volcano erupting are a real concern there!
3. Jokulsarlon Glacier Lagoon Tour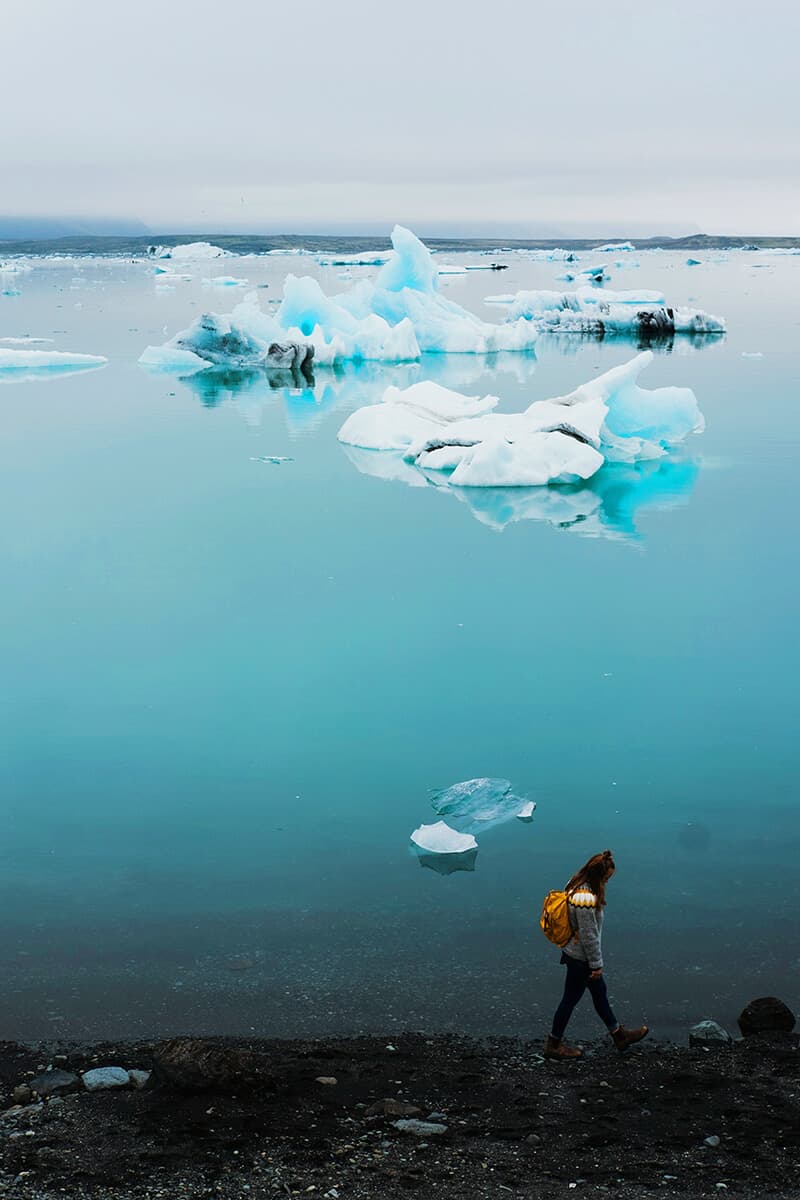 The glaciers in Iceland are UNREAL! Some of the best are only 2 hours past Vik. I couldn't help but think that one of these guys sunk the titanic.
4.

Take An Ice Cave Tour in Iceland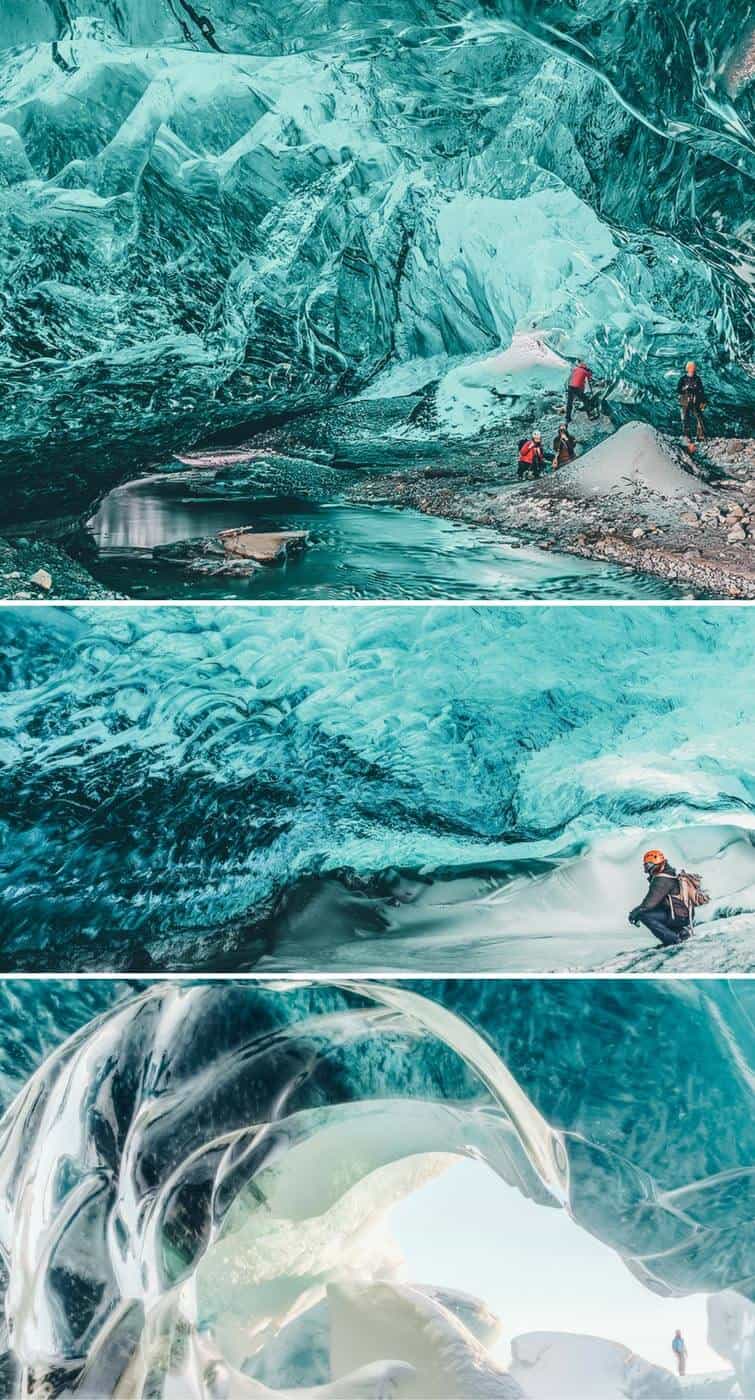 Sometimes called Crystal Caves, the ice caves inside Iceland's glaciers are a truly remarkable wonder of nature. They are hard to get good pictures of, but your eyes will be able to take in an amazing view.
If you plan on seeing the ice caves in Iceland you have to go with a tour and they are only available in the winter. I linked a few of the most popular ice cave tours below.
Book your tour: Skaftafell: Ice Cave Tour & Glacier Hike
Book your tour: Ice Cave by Katla Volcano Super Jeep from Vik
Book your tour: Vatnajokull Glacier: Ice Caving and Glacier Hiking
5. Visit The Abandoned Plane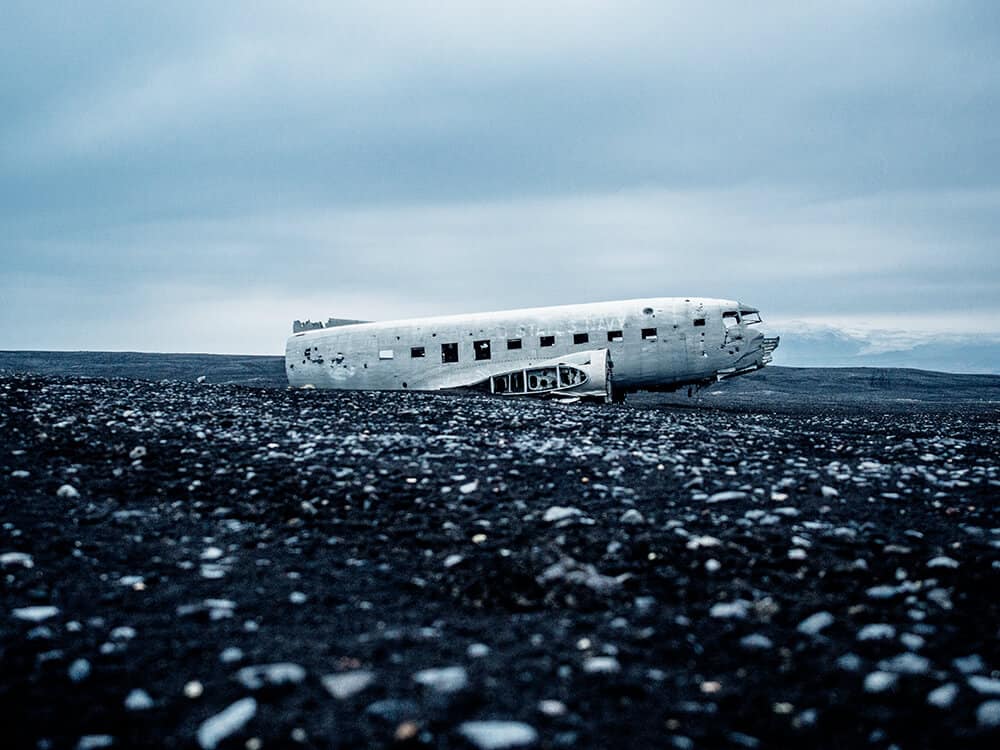 On the Saturday of Nov 24, 1973 a United States Navy airplane ran out of fuel and was forced to land on Sólheimasandur's beach in the south of Iceland. The crew survived the landing and the airplane's remains are still at the crash site. I'm glad I wasn't on board as flying is already stressful enough!
6. Drive Through Thingvellir National Park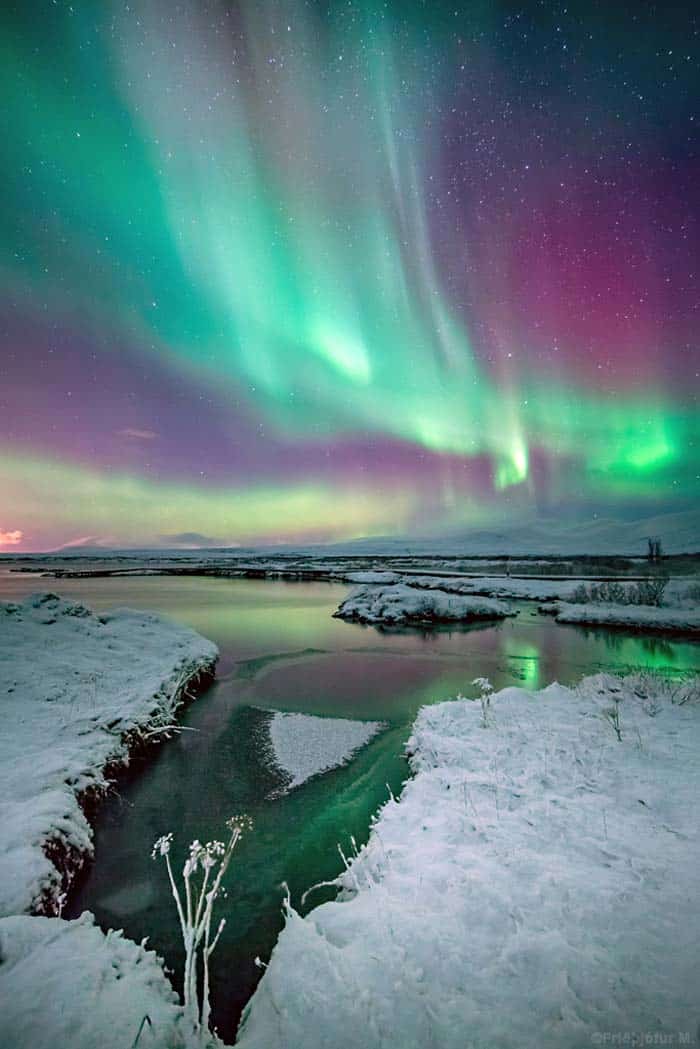 Photo: Friðþjófur M. / Flickr
In Thingvellir National Park you can see the Mid-Atlantic Ridge that splits Iceland further apart each year. On the drive you can see bubbling hot springs, beautiful lakes, and Iceland's famous super hairy horses.
Side note – Did you know that you can now book a one day tour over to Greenland from Iceland?! It would be an amazing opportunity to see Iceland AND Greenland on the same trip.
Book your tour: From Reykjavik: Golden Circle, Kerid Crater, and Blue Lagoon
Book your tour: Reykjavik: Golden Circle Full Day Tour with Kerid Crater
7. Gullfoss Waterfall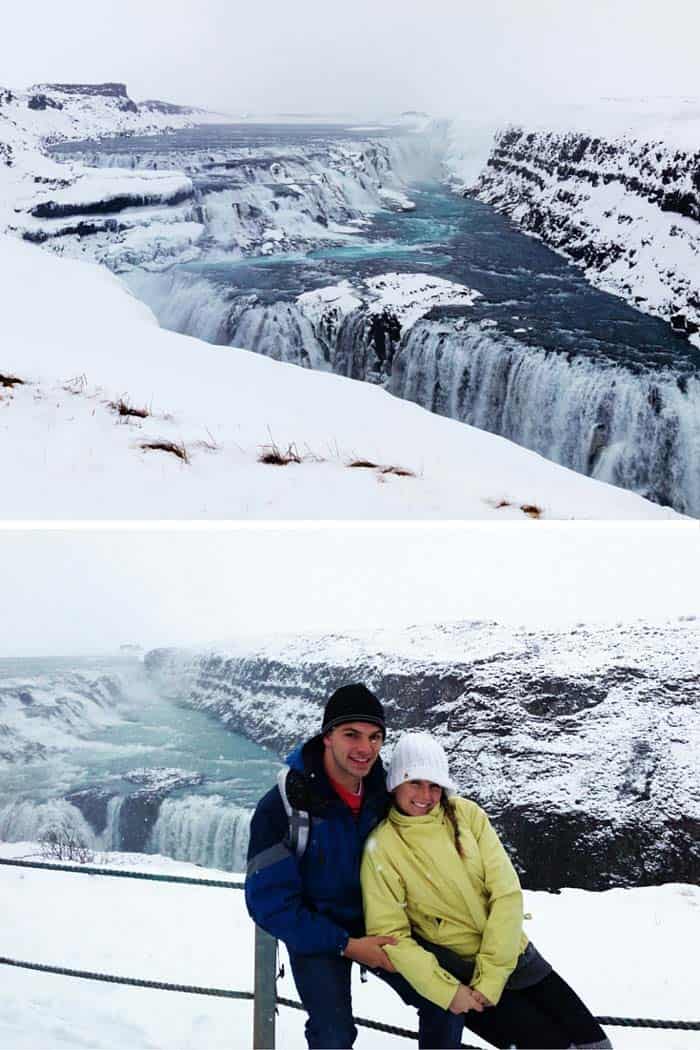 Gullfoss is Iceland's most famous waterfall. The pictures can't show just how big this waterfall really is. The water is glacier runoff, and ultimately flows into the ocean.
Read also: The 15 Best Waterfalls in Iceland
8. Visit Blue Lagoon Iceland & Soak In Geothermal Hot Springs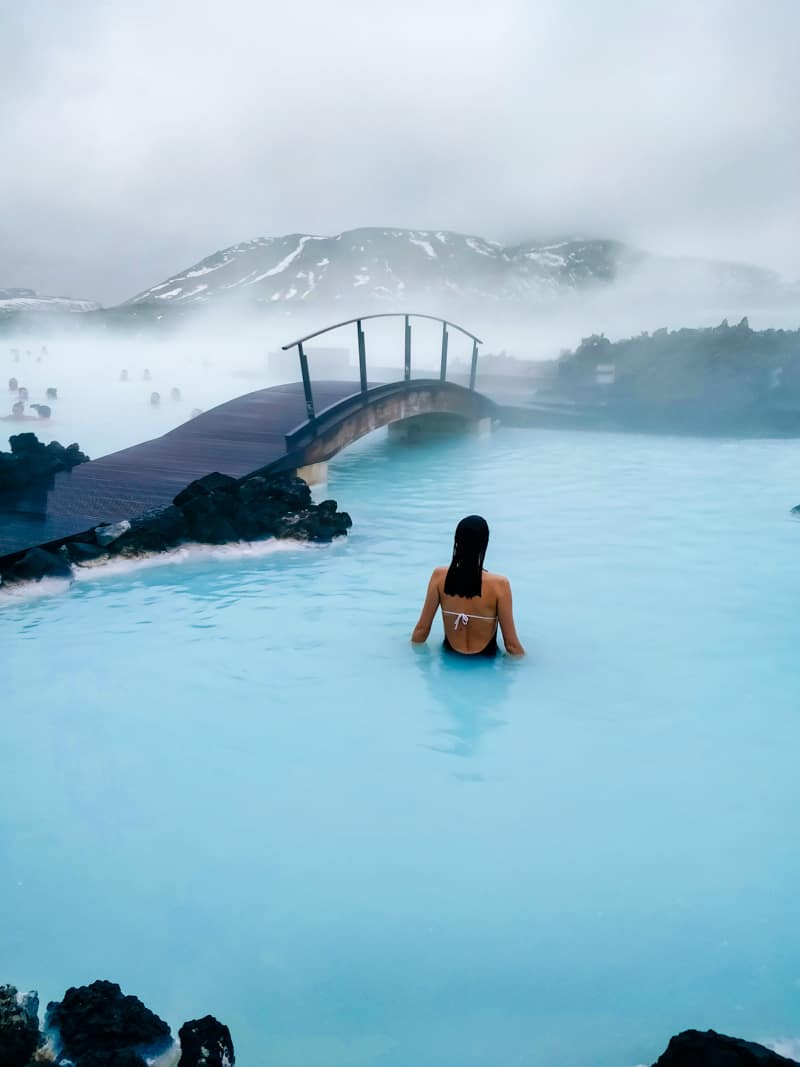 Blue Lagoon is deservedly Iceland's most popular tourist attraction. It is basically a football field sized hot tub that is powered by hot water shooting up from the center of the earth. It is an awesome sight and super relaxing in the cold.
Don't worry, the hot spring even goes inside so you can get back into the locker room without having to be out in the cold.
Skip the lines and buy your ticket in advance here. The Blue Lagoon has become so popular that you have to purchase your tickets in advance now to guarantee a spot
Read more on the Blue Lagoon Iceland.
9. Snorkel Between Tectonic Plates at Thingvellir National Park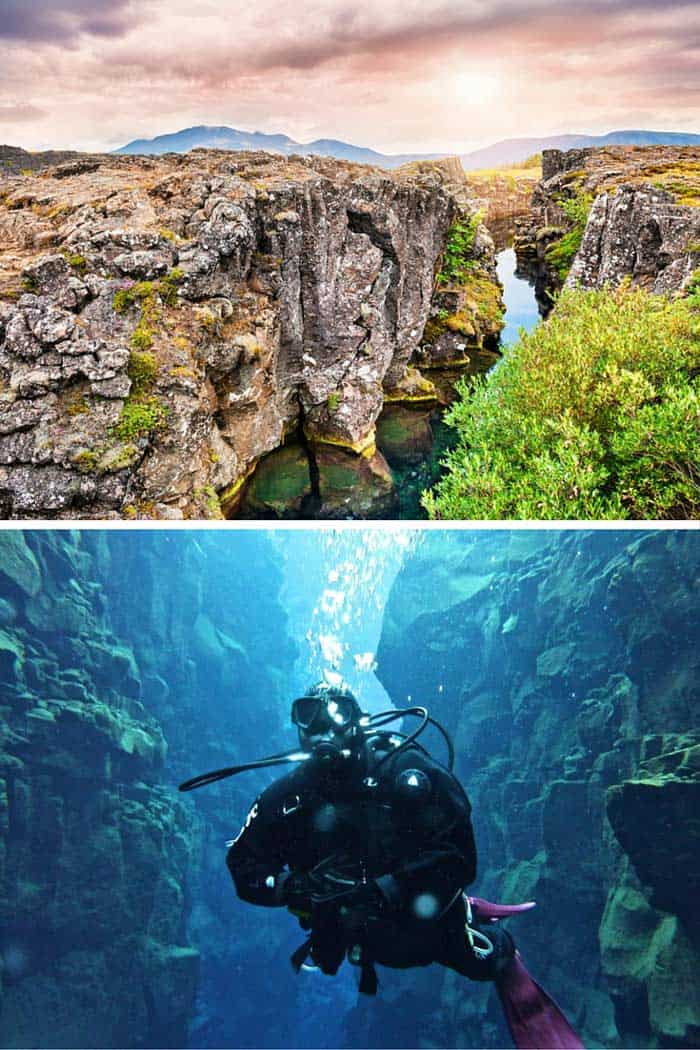 At Thingvellir Park you can see the island literally being ripped apart by earth's crust pulling in opposite directions (explanation below), exposing the Mid-Atlantic Ridge.
This rare occurrence obviously causes a number of geographic phenomenon, and excites snorkelers with views to the center of the earth.
Book your tour: Snorkeling in Silfra Fissure – Small Group Adventure
Book your tour: Silfra Fissure Snorkeling Tour with Underwater Photos
Book your tour: Silfra: Snorkeling with Underwater Photos Without Transport
10. Watch Geysir Blow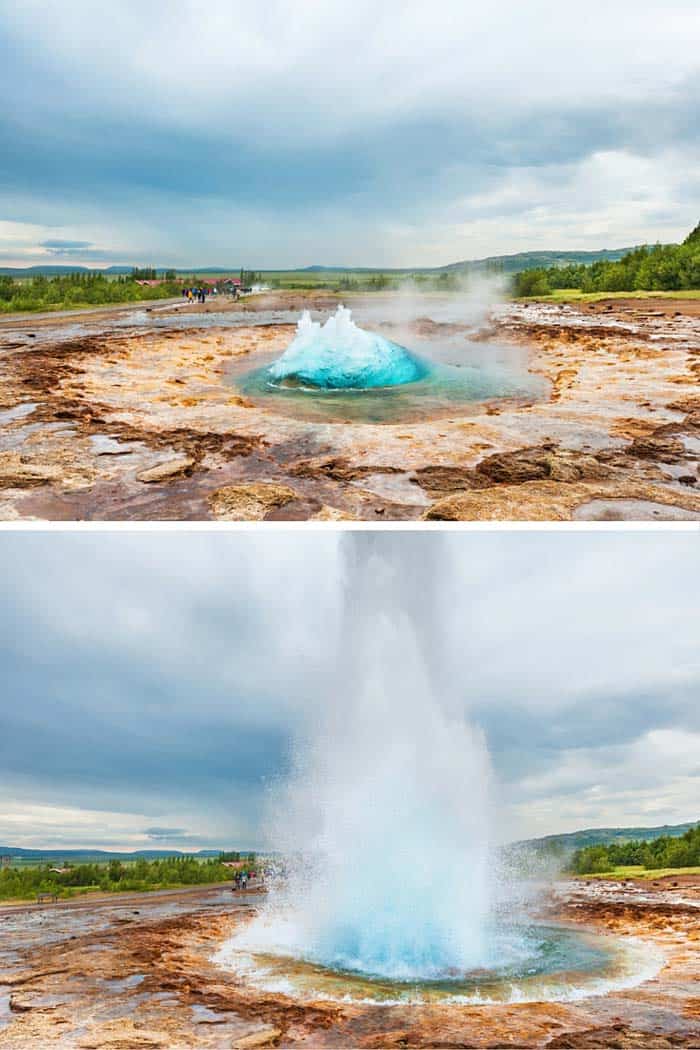 Every few minutes within the Golden Circle you can see the Strokkhur Geysir spout boiling water up in the air. These powerful earth burps can sometimes shoot as high as 100 ft above the ground. Also cool to see are the boiling mud pits, but warning, they are not bubbling chocolate pits.
Book your tour: Reykjavik: Golden Circle Full Day Tour with Kerid Crater
What to pack for a trip to Iceland
Warm Fleece Jacket (without hood)
Fleece Hoodie This will be great for adding extra layers when needed.
Warm Winter Hat – Shop my favorite winter hats from Nordstrom. I also really like this one here, it comes in a ton of different color options.
Fleece lined leggings – These fleece lined leggings were AMAZING to have on this trip. Not just warm, but so comfy and affordable! (You will thank me for these ;)
Warm scarf – I always like to bring a couple scarves for photos.
Touch screen gloves – There is nothing more annoying than having to continually take off your gloves so that you can use your phone to take pictures or videos, especially in the freezing cold. It's because of that that these touch screen gloves are my favorite. These are also an awesome choice. They will work with the iPhones, Android phones and iPad and are wind proof.
Warm socks – I have been loving these Heat Holder socks.
UPDATE: I have had a lot of questions about where we stayed in Iceland. We rented a hotel in Reykjavik right in the city center. The prices weren't too bad but we were there in December. It was about $100 a night. They offer free breakfast and wifi. The breakfast was REALLY good! You can book or check current prices for the hotel here.
If you enjoyed this post to share it with your friends! Thank you so much for reading.