Growing up my dream travel destination was always Iceland! Though it seems random, whenever someone would ask me where I would go if I could go anywhere in the world, "ICELAND" was always my immediate response.
Check out all our Iceland posts here.
It always seemed like a random dream, and not like a place I would actually get to go. Thankfully when I got married my husband insisted on taking me to Iceland for our honeymoon! It was such an incredible trip and I honestly can't wait to go again.
Iceland Packing List: What to Wear in Iceland in the Winter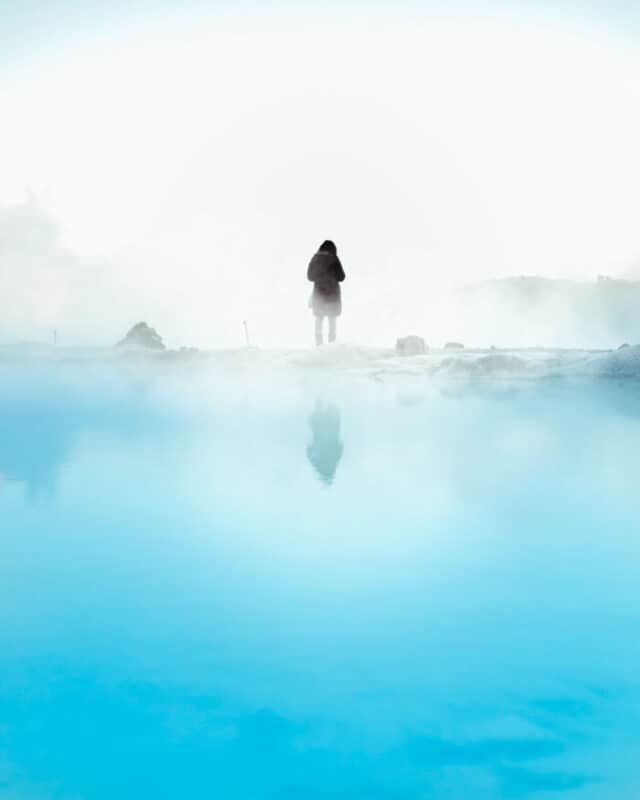 To say I was unprepared for my trip would be an understatement, haha! I was new to traveling and did not do an appropriate amount of pre-trip "leg work" (especially for a trip abroad in the middle of winter). The only shoes I brought were my $20 Target riding boots, which were not waterproof at all!
Hopefully this post gives you some guidance that I didn't get before I went, so you wont make the same mistakes that I did.
Check out our guide on the top 10 things you have to see in Iceland.
What you can expect when traveling to Iceland in the winter
Visiting Iceland in December
We went at the beginning of December and surprisingly the weather wasn't too bad. I thought it was going to be a lot colder, after all it is called ICEland right?
Conveniently the island lies in the path of the North Atlantic Current, which means the temperature is generally much more moderate than you would expect for an island just south of the Arctic Circle.
Did you know that Iceland in the winter is often not even as cold as New York?
As long as you dress properly and come prepared with extra layers the cold shouldn't be an issue. Be sure to pack waterproof shoes and coats as it will probably be wet and windy.
You can expect the temperature to be between 32-40 degrees F on the southern part of the island (where you will most likely be).
With all that in mind, here is what you should pack for your trip to Iceland! Note – Links are updated regularly so everything should be in stock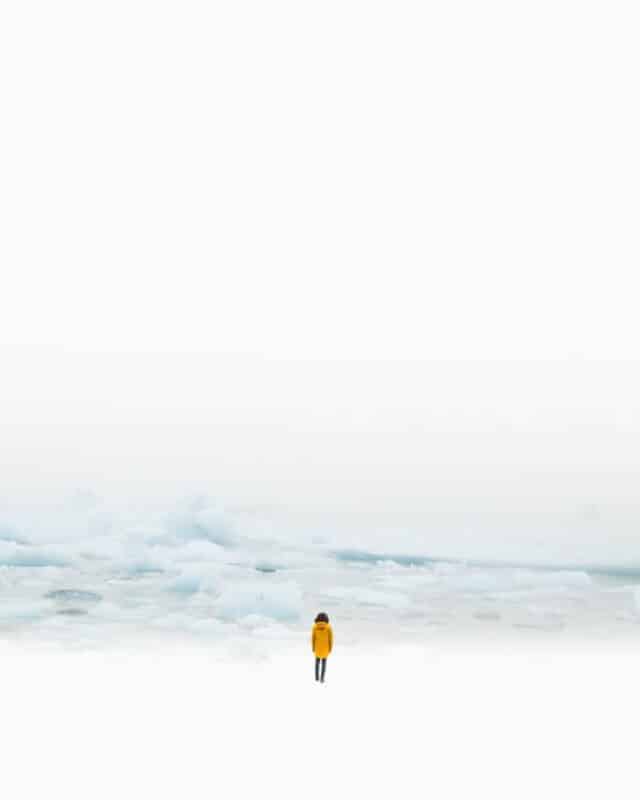 The Best Coat For Iceland
Having a coat in the winter is obvious, but you do want to make sure you bring at least one that is waterproof. This North Face Water Resistant Down Parka is amazing and stylish!
This jacket is another one of my favorites. North Face coat with a fur hood, definitely a must have.
As I mentioned above the weather is in a state of constant flux, and no matter what time of year you are there you are most likely going to run into some sort of crazy weather seemingly coming out of no where (snow, rain, hail, and wind). If you are prepared, it won't be a problem.
Iceland Clothing Essentials
Having a few layers on in Iceland will save you a lot of discomfort if the weather changes unpredictably (which it will).
You want to make sure you have some thermals, light weight long sleeve shirts, a fleece or some kind of sweatshirt you can wear under your coat.
Warm Fleece Jacket (without hood)
Fleece Hoodie This will be great for adding extra layers when needed.
Warm Winter Hat – Shop my favorite winter hats from Nordstrom. I also really like this one here, it comes in a ton of different color options.
Fleece lined leggings – These fleece lined leggings were AMAZING to have on this trip. Not just warm, but so comfy and affordable! (You will thank me for these ;)
Warm scarf – I always like to bring a couple scarves for photos.
Touch screen gloves – There is nothing more annoying than having to continually take off your gloves so that you can use your phone to take pictures or videos, especially in the freezing cold. It's because of that that these touch screen gloves are my favorite. These are also an awesome choice. They will work with the iPhones, Android phones and iPad and are wind proof.
Warm socks – I have been loving these Heat Holder socks.
North Face Fleece Jacket
They can't keep these fleece jackets in stock! Osito Fleece Jacket is super warm and is the perfect layering piece.
Fleece Lined Leggings
For pants I wore fleece lined leggings and/or jeans the whole time. You can add additional layers or snow pants if you are going to be glacier climbing or hiking.
Trust me, you will be glad you brought layers.
Winter Photography Gloves
These are the most amazing gloves for photography. I used to just take my gloves off when I was taking photos are using my phone but these gloves are incredible for a few reasons. They have a 100% Merino Wool Inner making the super warm.
Iceland Packing List Item: Vallerret Markhof Pro Winter Photography Glove
If you are doing more of the adventure stuff (Glacier hiking, climbing, exploring ice caves etc.) then you will want to make sure you bring a nicer pair of gloves that can handle the snow like these. If you don't plan on doing any of that then a lighter pair would do just fine.
Winter Hat
A cute hat is convenient not only for the weather, but if you are anything like me then you don't feel like doing your hair on vacation, but still want to look cute in photos. Wake up, throw on a hat and you are good to go! This beanie is expensive, but one of my favorites if you can afford it.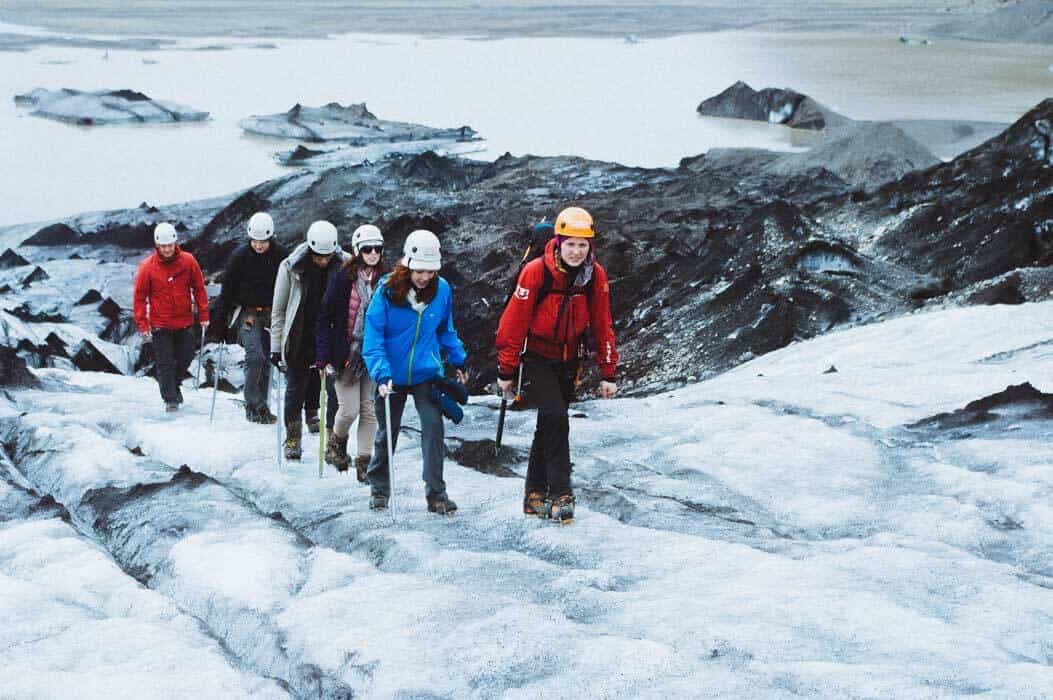 Waterproof Boots
Trust me when I say you want waterproof boots in Iceland. Especially during the winter, the chances of you running into wet weather is extremely high. We had rain, snow, and hail pretty much every day we were there (this wasn't abnormal either). Let's just say the Target riding boots I wore did not get the job done.
Even if it isn't raining or snowing, there are so many waterfalls you will want to go see that require a walk through puddles and small streams. Everything I linked in this post is waterproof.
Sorel and UGG is my favorite brand when it comes to winter boots. They have a large selection, reasonable prices, and they are warm and comfy. I love this pair and these are my new favorites for Iceland.
Christmas couldn't come sooner this year! Haha!
You shouldn't worry too much about whether your boots go up to your ankle or higher as either should be fine. Ankle boots or knee or even mid-calf boots all work pretty well.
Do you need to pack a swimsuit when traveling to Iceland?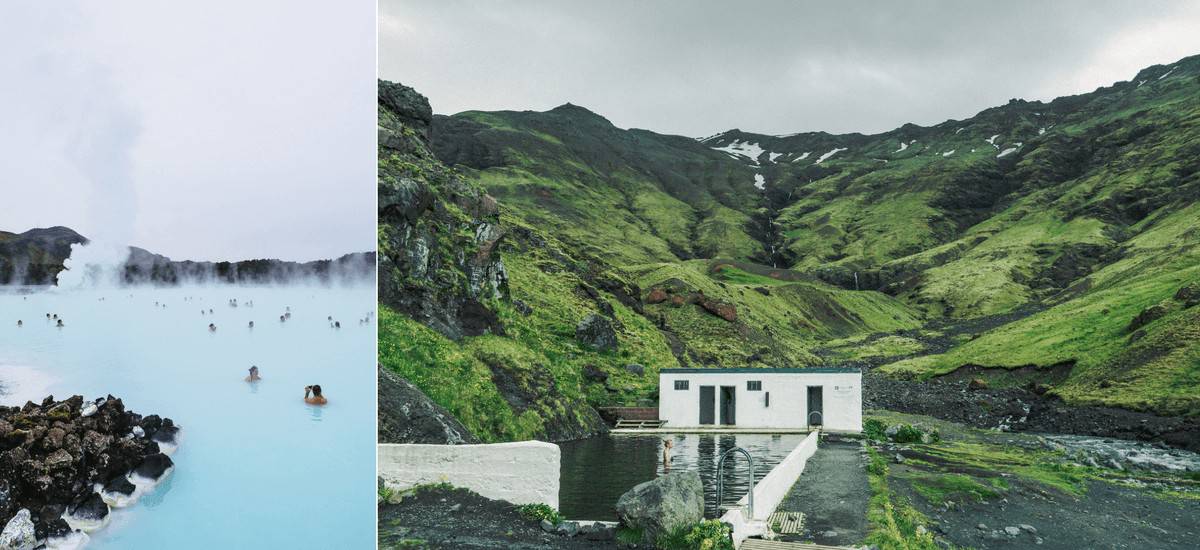 When you think of packing for a trip to Iceland "what swimsuit should I bring?" is probably not your first thought, especially if you are traveling in the winter.
You may not be packing a swimsuit for the sunny and warm beaches, but you will need one for the endless and incredible hot springs you find scattered all over the island.
There is nothing better than being out in the cold all day and then jumping into a warm relaxing hot spring (for as long as you can stand to).
EarthPak Dry Bag
We never travel without this. It is just too stressful to be out in the rain and worry about whether or not your electronics will still work when you get inside.
Iceland Packing List Item: Earth Pak Waterproof Dry Bag
What Gear & Tech to Bring to Iceland
If you are anything like me, then you probably have been looking forward to an Iceland trip for a long time. The last thing you want is to get there is realize you didn't bring the proper camera gear.
This happened to me; I ordered a nice tripod from Amazon right before our trip, and only when packing my carry-on bag (we only ever bring carry-on's on trips) did I realize it didn't fit.
Luckily, I did have this smaller tripod that ended up working incredibly well! It comes with a bluetooth remote so you can take as many photos as you want. This keeps you from having to run back and forth to reset the timer.
Phone cameras keep getting better and better every year! Unless you are super into photography or don't have a phone that takes good photos, you honestly won't even need a fancy camera. (I just bought the iPhone 12 Pro Max and WOW is it amazing! Highly recommend.)
However, if you looking for something that gives you more options than a camera phone, we recommend and currently use the Sony A7iii. It is a lot smaller than a DSLR (major bonus when traveling). It is water resistant, and there are a number of water resistant lenses available.
Sony A7iii Mirrorless Camera
I have been using the Sony A7iii for a couple years now and I love it for traveling. It is a lot smaller than a DSLR (major bonus when traveling). It is water resistant, and there are a number of water resistant lenses available. We bought ours on Amazon. Check out current prices here.
Note – Sony recently released a newer model of the Sony A7iii, the a7R IV. This is great because now you can get the A7iii for a lot less than we paid. I'm still really happy with the Sony A7iii, so I haven't looked into upgrading, so I am not sure how it compares. Let me know if you have it in the comments below!
Camera Rain Covers
These really comes in handy when it starts to snow, or rain, or when you are trying to get a photo of a waterfall and it's super misty. If it is pouring rain, then you will definitely want to cover it up.
I use these camera covers they've worked great and for only a few bucks, you really can't beat it.
Packing List Item: Camera Rain Covers
Go Pro
Yes, I'm a camera nerd, but no, I'm not a professional photographer. This means that my experience is much closer to the average user. Given my frequent travels, I've had plenty of opportunities to experiment with new equipment to see what works well, and what doesn't.
If you aren't familiar with the insanely popular GoPro series of cameras, you need to get a quick understanding of what the big deal is. It allows you to take underwater photos at a very affordable price. They are also built to be able to withstand wear, pressure, or damage. Very durable. Go pro's are honestly the Best Camera for Travel right now.
The best current GoPro models are: Hero 9, Hero8 Black and GoPro Max.
Hawaii Packing List Item: Go Pro Hero 9
Our Sony lenses
16-35 mm Wide Angle Lens
16-35 mm Wide Angle Zoom Lens – Great for wide angle shots and the perfect travel lens.
Tip – If you buy the 16-35 mm with a F4 (linked here) instead of the F2.8 it is A LOT cheaper. (Shhh, don't tell my husband as I opted to get the more expensive lens for better night shooting. ;)
Sony 24-70 mm Lens
Great for literally everything. Every day use.
Packing List Item: Sony 24-70mm 2.8 Lens
85 mm lens
This one is great for portraits, fashion, & food photography, etc. It will give you that blurry background that gives your photos a 'professional' look. It is a little bit more expensive, but it is my favorite lens! If you are looking for another alternative, I recommend the Sony 35mm lens.
Packing List Item: Sony 85mm 1.8 Lens
Tip – If you are new to photography and not sure what lens will give you the look you want, I recommend checking out the Amazon reviews. They have a super useful photo section in the reviews that shows you exactly what the lens can do.
Other gear & tech we use
Power Bank
Portable charger – My husband is incredibly hard to buy gifts for, but when I saw this portable charger I knew I actually found something he would use. Thankfully, I was right! This thing is amazing and gives you so many full charges. I love that it has multiple slots so that we can charge our devices at the same time. I guess you can say it was a gift to myself as well. Haha!
Selfie Stick & Tripod with Bluetooth Remote – This is another one of those finds that I keep patting myself on the back for. This has been such a life saver on trips. It is so compact it won't take up much room at all.
Bose Noise Cancelling Headphones
Okay, so these aren't totally necessary, but once you have them you can never go back. I always had a hard time watching movies on planes because the engines were so loud. I felt like I could never hear the movie without turning the volume up all the way.
Am I the only one that has this problem? These headphones were a game changer for me. I use them every day. They look bulkier than they actually are; they fold up really nicely for travel.
Packing List Item: Bose Noise Cancelling Headphones
Want to read more on Iceland? Check out these articles below!