Planning a trip to Dubai? Curious to know what the Dubai dress code is all about? These are the 10 things you should be aware of when deciding what to wear in Dubai.
In this post I will tell you everything you will want to know about the Dubai dress code. Including, what I read online before going and what I actually experienced while there. Hint – Not everything you read online is accurate or up-to-date.
Related post: Top 10 Things to See and Do in Dubai
Dubai Dress Code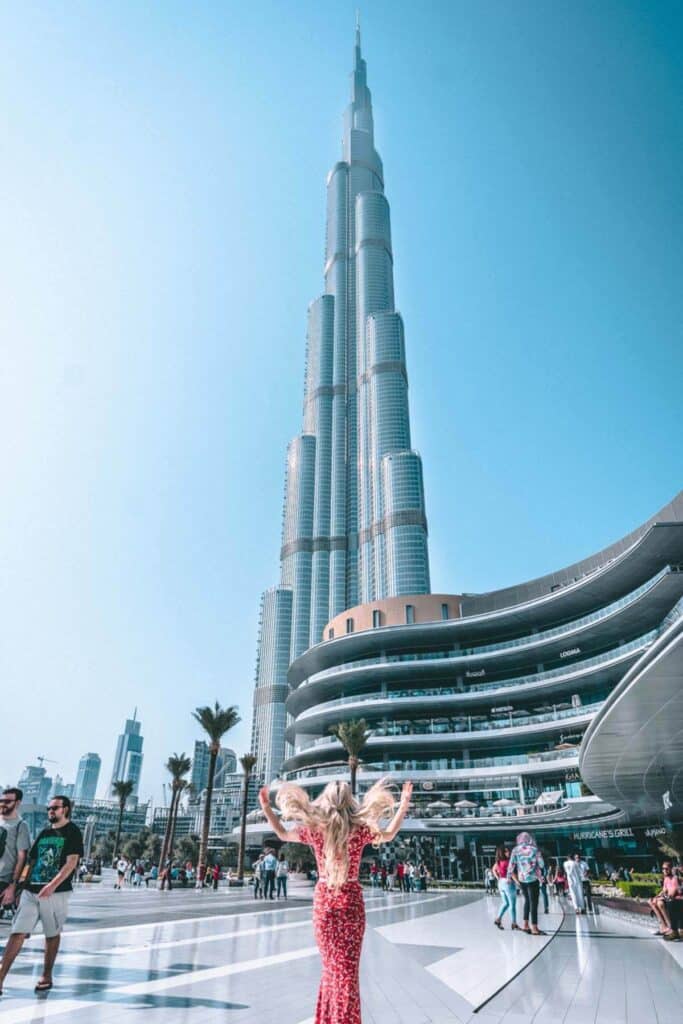 Anytime you travel to a Muslim Country there are going to misconceptions. Sadly, many people freak out just seeing people with a burqa on. We (society) are often afraid of things that are unfamiliar to us.
But trust me when I say, I felt much safer in Dubai than I do in my own hometown. Dubai is built for tourism – with that comes less strict rules. If they want to keep attracting tourists, they can't scare them away.
Read our post on why you shouldn't be afraid to visit dubai here.
With that being said there are rules you need to know before going about clothing standards and how to respect the local culture and local families.
One of those ways is to honor the Dubai dress code.
To see all of my Dubai Outfits check out this post here.
Why is there a dress code in Dubai?
Dubai is located in the United Arab Emirates or the UAE. Islam is the official religion of the United Arab Emirates. Virtually all Emirati citizens are Muslims. More than 80% of the population of the United Arab Emirates are non-citizens making it one of the most liberal Muslim countries in the world.
What you should not wear in Dubai
Daisy Duke shorts, mini-skirts, tops that show your midriff, tube tops, and see through dresses can violate the dress code.
Make sure your underwear is not on display for the whole world to see.
When does the Dubai dress code apply?
It only applies when you are in public. You may wear whatever you want when you are at home or in your hotel. EXamples of public places would be driving in your car, shopping at the mall, or going out to eat. Basically everywhere that is not in your house or hotel room.
Can you wear shorts in dubai?
Yes. Men and women can wear shorts in Dubai. Just make sure they aren't super short.
What types of shoes can you wear in Dubai?
Can you wear flip flops in Dubai? There are no restrictions on shoes. Only in mosques, shoes must be off, so if you're heading there, it would be a good idea to wear socks as well.
Yes.
Is it appropriate for women to wear sandals or flip-flops in public?

Yes, feet can be shown in public as they are like the hands and don't need to be covered.
Can you wear bikinis in Dubai?
Yes, bikinis are allowed in Dubai but make sure your bikini bottom covers your butt (no thongs). Beachwear is only to be worn on the beach or at the pool. You may not go topless, (big shocker, I know) it is illegal.
What I saw while there – I saw lots of girls in bikinis on the beach and I even saw a girl in a thong. It's her choice to wear that but please keep in mind that this is the locals home and we want to be as respectful as possible to their traditions and beliefs. There were families with little kids on the beach and I know I never want to make the locals uncomfortable in their own home.
Do you have to wear a hijab in Dubai?
No. I saw more women without them then with.
What to wear to the Dubai Mall?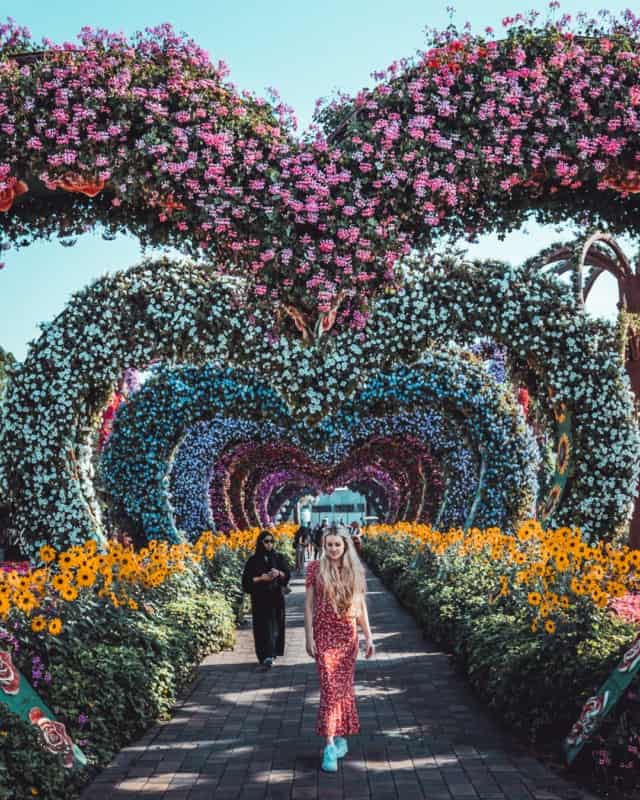 The Dubai Mall is located right next to the Burj Khalifa (the tallest building in the world) and is one of the top tourist attractions in Dubai. The area is packed with tourists.
I saw tourists wearing a wide variety of clothing there. From women wearing mini skirts, short shorts, basically everything they ask you not to wear. No one seemed to be bothered by it. I wore a dress with sleeves and below my knees.
Weather in Dubai –
The winter season in the UAE goes from October to April and is very mild. Think 6 months of spring weather. It was January when we went so it was spring like weather around the 70's.
Warning, it is ridiculously hot in the summer. August is the hottest month with a record 55 C or 131 F. I told you it is HOT!
If you go In the summer like my husband it will be ridiculously hot.