Wondering what the Dubai rules for women are? Or maybe you are wondering if there is a "Dubai dress code" you have to follow while visiting.
What to wear in Dubai – These are my 5 favorite Dubai Outfits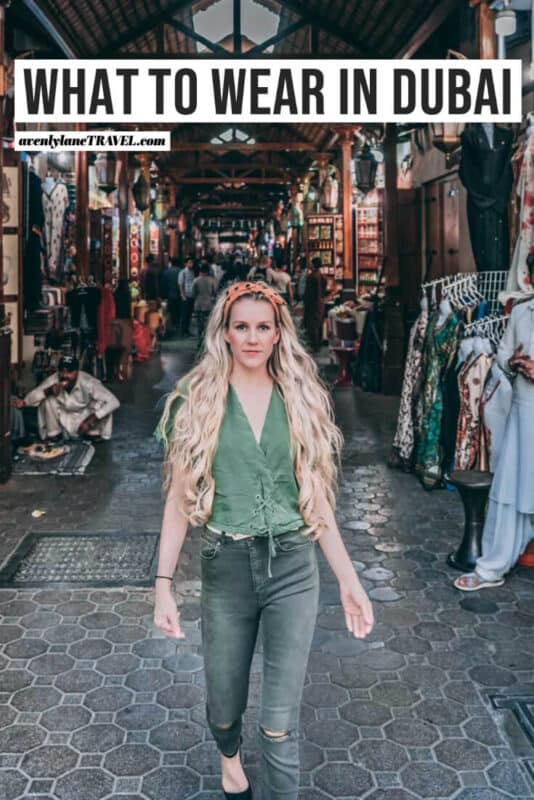 Read also: 10 Places You Can't Miss in Dubai
I know it can sometimes be more helpful to actually see what others wore, rather than just reading descriptions. Included in this post are are all of my Dubai outfits and where I wore them. I tried my best to follow all the dressing rules, and can report I never felt uncomfortable or had someone say I was out of line.
Before we get into what I wore in Dubai, I first want to mention where we went because that could impact what you plan to wear. For example, if you go to the Gold Souk in old Dubai you will not see as many tourists and may want to dress more conservatively than in some of the other more "touristy" parts of Dubai.
Find all: Hotels in Dubai
Is it safe to visit Dubai as a female? Read my post on why you should not be afraid to visit Dubai.
So where did we go?
Dubai Top Attractions:
Here is a short list of the Dubai top attractions I recommend seeing:

Dubai Garden Glow – (One of the best things to do in Dubai as night)
Burj Khalifa – Tallest building in the world.
Dubai Mall – HUGE mall right next to the Dubai Fountain and Burj Khalifa. Read more about the Dubai Mall here.
Dubai Fountain show
Dubai Miracle Gardens
Jumeirah Beach
The Frame
Also visited Abu Dhabi (The Grand Mosque was amazing!!)
Dubai Gold Souk in Old Dubai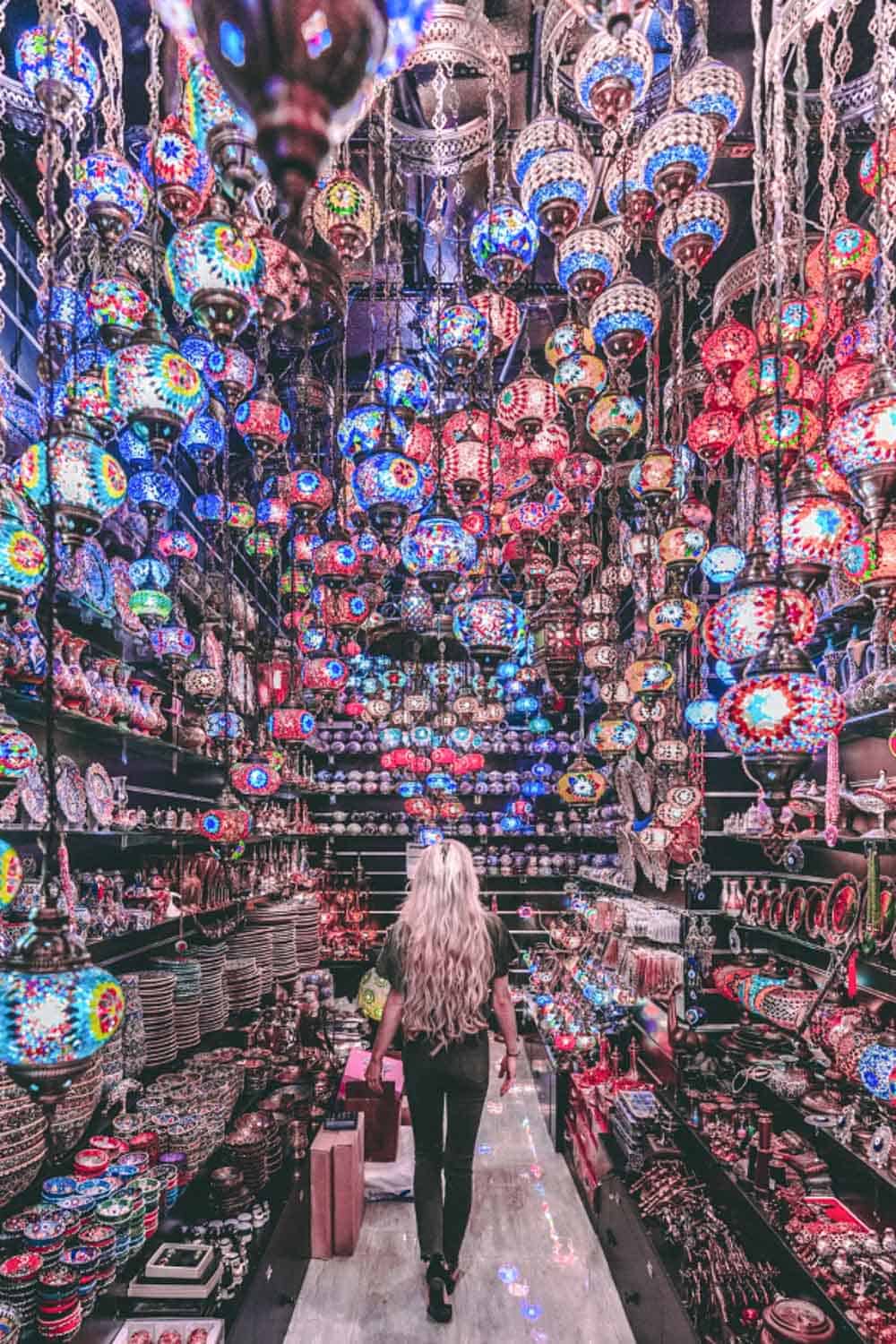 If there is a place in Dubai to dress more conservatively, it is here. Men were staring and shouting out "Shakira". By the way, for those more experienced than me, what is up with the whole Shakira thing? I got the same thing in Egypt, is it because she is partially Lebanese?
What I wore in the Dubai Gold Souk:
Green Skinny Jeans – Old (Similar jeans here)
Headband – linked similar.
Jumeirah Beach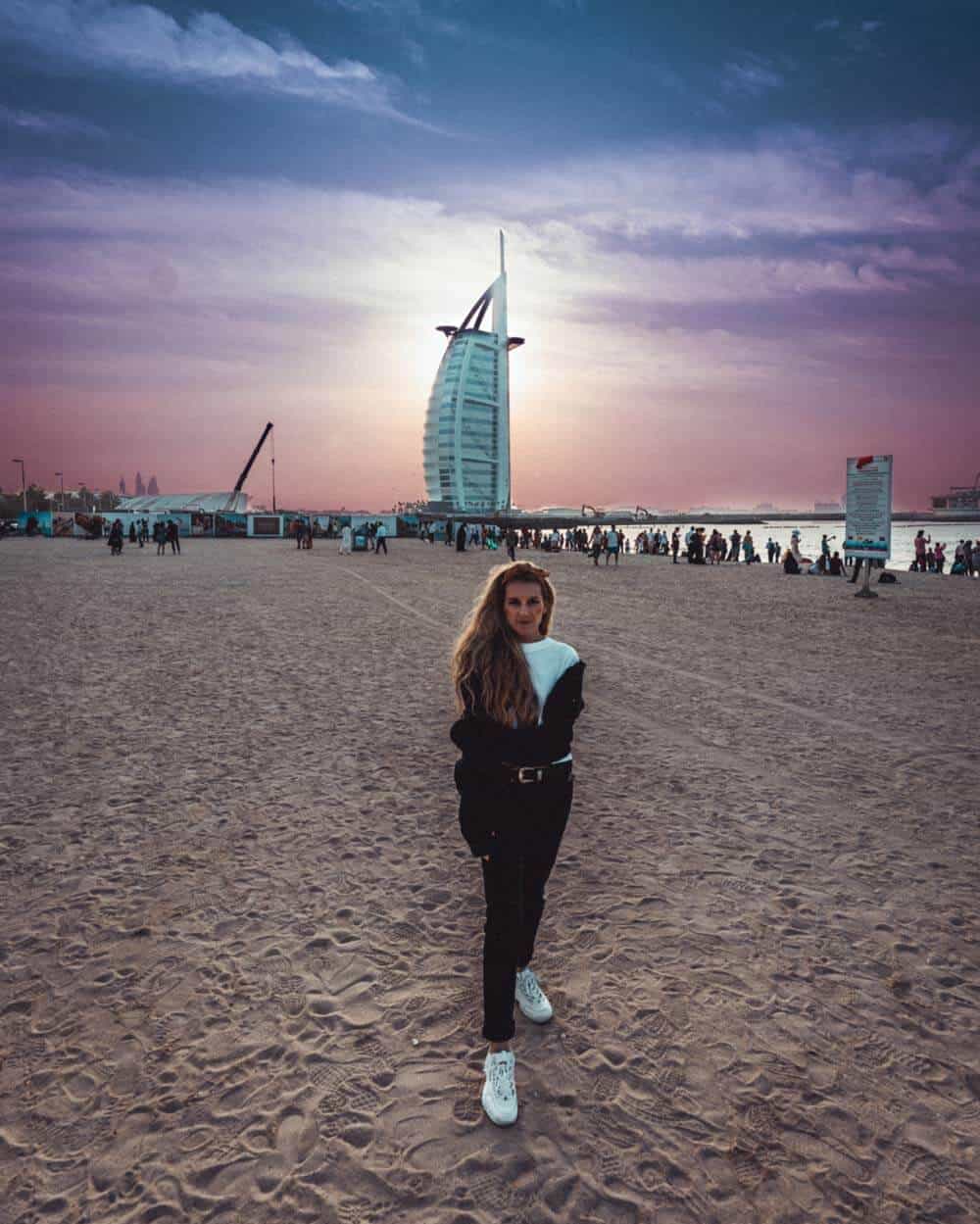 We didn't swim here, but I was shocked to see girls in thong bikinis. People were definitely staring. I recommend wearing a one piece or a bikini with full butt if you plan on swimming in the Dubai beaches. The hotel pools or private hotel beaches are not as strict since they are closed to the public.
What I wore to Jumeirah beach:
Dubai Miracle Gardens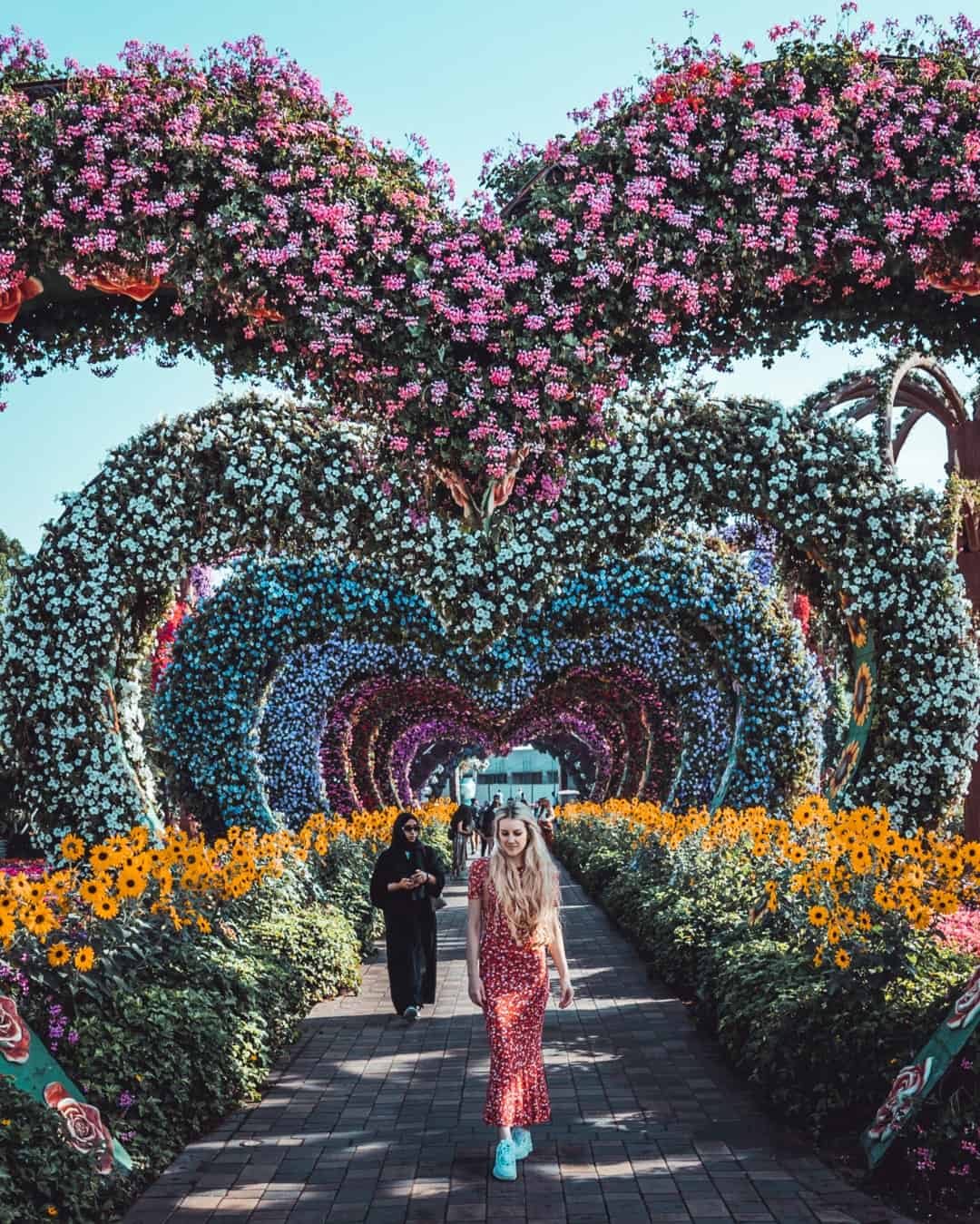 The Dubai Miracle Gardens were beautiful. They were so much bigger than I expected. I assumed it wasn't that big since most of the photos on Instagram are from the same two spots. I was wrong; this place was huge!
Tip – if you have sensitivities to pesticides I might consider skipping this place. I have a weakened immune system and chemical sensitivities (POTS Syndrome) and as soon as I came up to the front gate my entire body started itching. I didn't get a rash (thank goodness) and was able to walk through fine – but they definitely use a lot of chemicals to maintain the plants.
Note – I wore the same red dress to the Dubai Mall, Dubai Fountain show, and the Dubai Miracle Gardens. It was form fitting, but not too form fitting (I think). Either way, I did not have any issues. No one stared, I didn't feel uncomfortable, and no one asked me to cover up.
What I wore to the Dubai Miracle Gardens, the Dubai Mall and the Burj Khalifa
Dubai Garden Glow
One of the biggest surprises in Dubai was the Dubai Garden Glow. I had no expectations going in, but it ended up being one of the best places to visit in Dubai at night. Get all the details here.
I hope this has helped you see what Dubai outfits are okay to wear on your trip to Dubai. If you have any questions leave them in the comments below, or on my Instagram at @avenlylanetravel. Thank you so much for reading. I hope you have an amazing time on your trip!
Read Next: Top 10 Things to do in Dubai